Online booking terms and conditions (B2B and B2C)
This booking agreement template is designed to be used in connection with a web-based booking facility for courses, workshops or similar events, where the person or company operating the booking facility is the same person or company that will contract to arrange the event in question for the customer. The document may be used in relation to bookings made by both consumers and businesses.
Special terms have been included in the document, allowing the supplier to vary certain matters relating to a booking - for example, the exact time at which a booked event will take place. In addition, customers may be permitted to cancel a booking by giving written notice of cancellation. The reasonableness of any given notice period and the amount of any given deduction will vary from case to case.
A clause has been included to help the supplier comply with some of the requirements of the Consumer Contracts (Information, Cancellation and Additional Charges) Regulations 2013. This clause will only apply to B2C contracts made under the document, and not to B2B contracts.
In accordance with standard warranty terms implied by English law, the supplier undertakes to provide the booked services with reasonable care and skill.
A fairly standard set of limitations of liability is incorporated into the document. These may protect the supplier against claims for losses arising out of events beyond the control of the supplier, business-related losses and consequential or indirect losses. In addition, the supplier's liability may be capped.
A force majeure clause protects the supplier in the case that an event beyond the supplier's control leads to a failure or delay in contractual performance. This protection may be qualified by express requirements that the supplier keep the customer notified of such events and take reasonable steps to mitigate any effects such events may have.
An optional indemnity contained in the template provides that, if the customer breaches any provision of the agreement, the supplier may recover resulting losses on an indemnity basis - a more generous measure than standard contractual damages.
Note that, unless adapted as appropriate, the agreement should not be used in relation to services that are subject to special regulation - for example, air transport or package holidays - or give rise to special risks.

Ask about this document
Online booking terms and conditions (B2B and B2C) contents
Introduction: purpose of document: governing bookings; express agreement to document upon order; no abridgment of consumer statutory rights.
Interpretation: informal definitions for booking terms and conditions.
Order process: booking advertisement as invitation to treat; no contracts except in accordance with order process; bookings order process; input error correction and identification.
Prices: prices quoted on website; prices changes on website; amounts inclusive or exclusive of VAT.
Payments: payment of booking prices; methods of paying prices.
Variation of booking: variation of booking by customer; variation of booking by operator.
Cancellation of bookings by us: cancellation windows and refunds; method of cancellation; full refund upon cancellation under section.
Cancellation of bookings by you: rights additional to statutory rights; cancellation windows and refunds; method of cancellation; default no refunds on cancellation.
Distance contracts: cancellation right: cancellation right for consumers; cancellation right for services and digital content; consumer agreement to provision of services; exercise of cancellation right; refund upon services distance contract cancellation; refund method; refund timing for services and digital content.
Warranties and representations: customer warranties and representations; warranty relating to bookings; no implied warranties or representations relating to bookings.
Limitations and exclusions of liability: caveats to limits of liability (with consumer protection); interpretation of limits of liability; no liability for force majeure; no liability for business losses; no liability for loss of data or software (with consumer protection); no liability for consequential loss (with consumer protection); aggregate liability cap under contract.
Force majeure: obligations suspended for force majeure; force majeure notification and information; mitigation of effects of force majeure.
Indemnity: indemnity from second party.
Variation: revision of document by publishing new version on website; variations govern future contracts.
Assignment: assignment by first party (with consumer rights); assignment by second party.
No waivers: no unwritten waivers of breach; no continuing waiver.
Severability: severability of whole; severability of parts.
Third party rights: third party rights: benefit; third party rights: exercise of rights.
Entire agreement: entire agreement - bookings.
Law and jurisdiction: governing law; jurisdiction.
Statutory and regulatory disclosures: copy of document not filed; language of document; value added tax number.
Our details: website operator name; company registration details; place of business; contact information.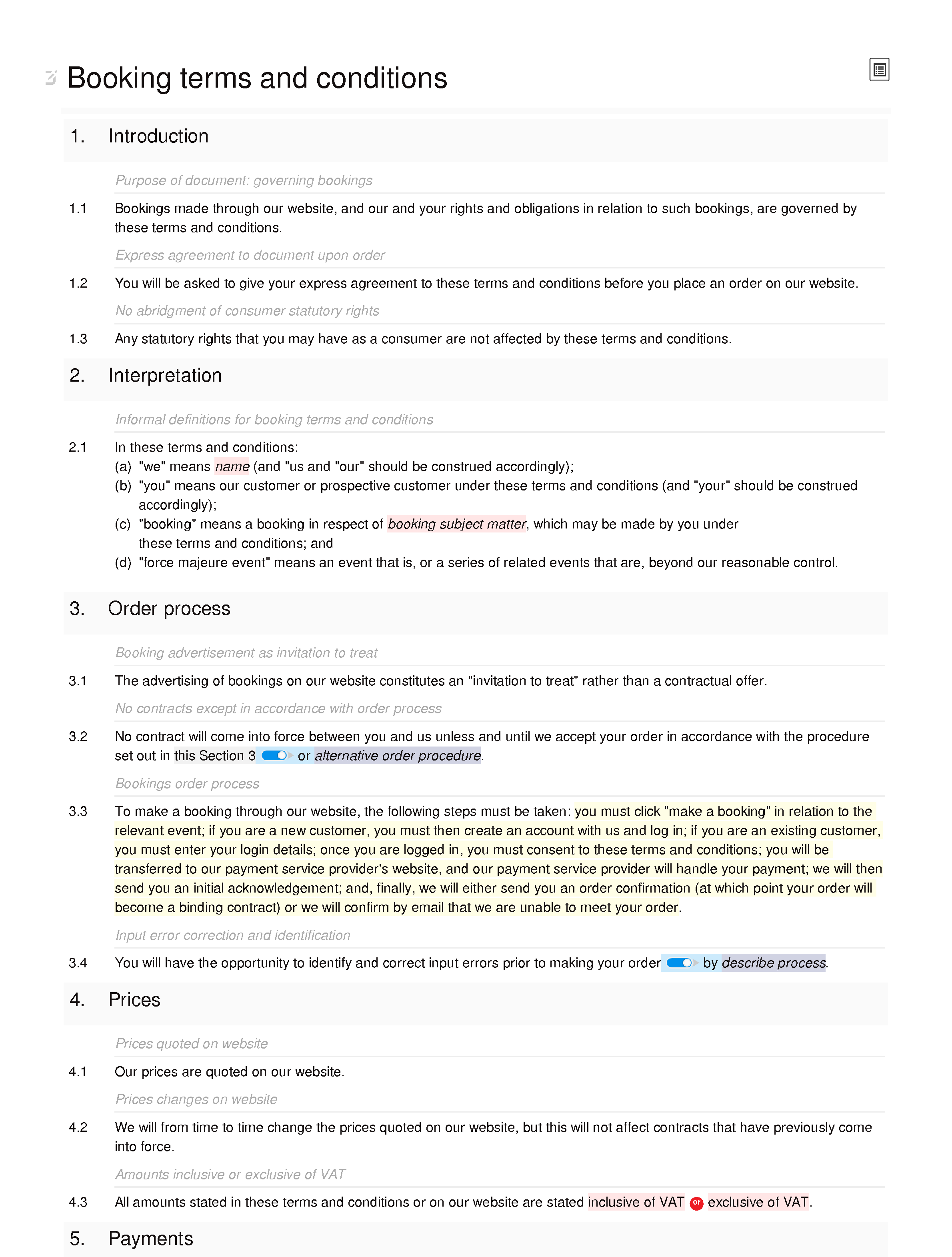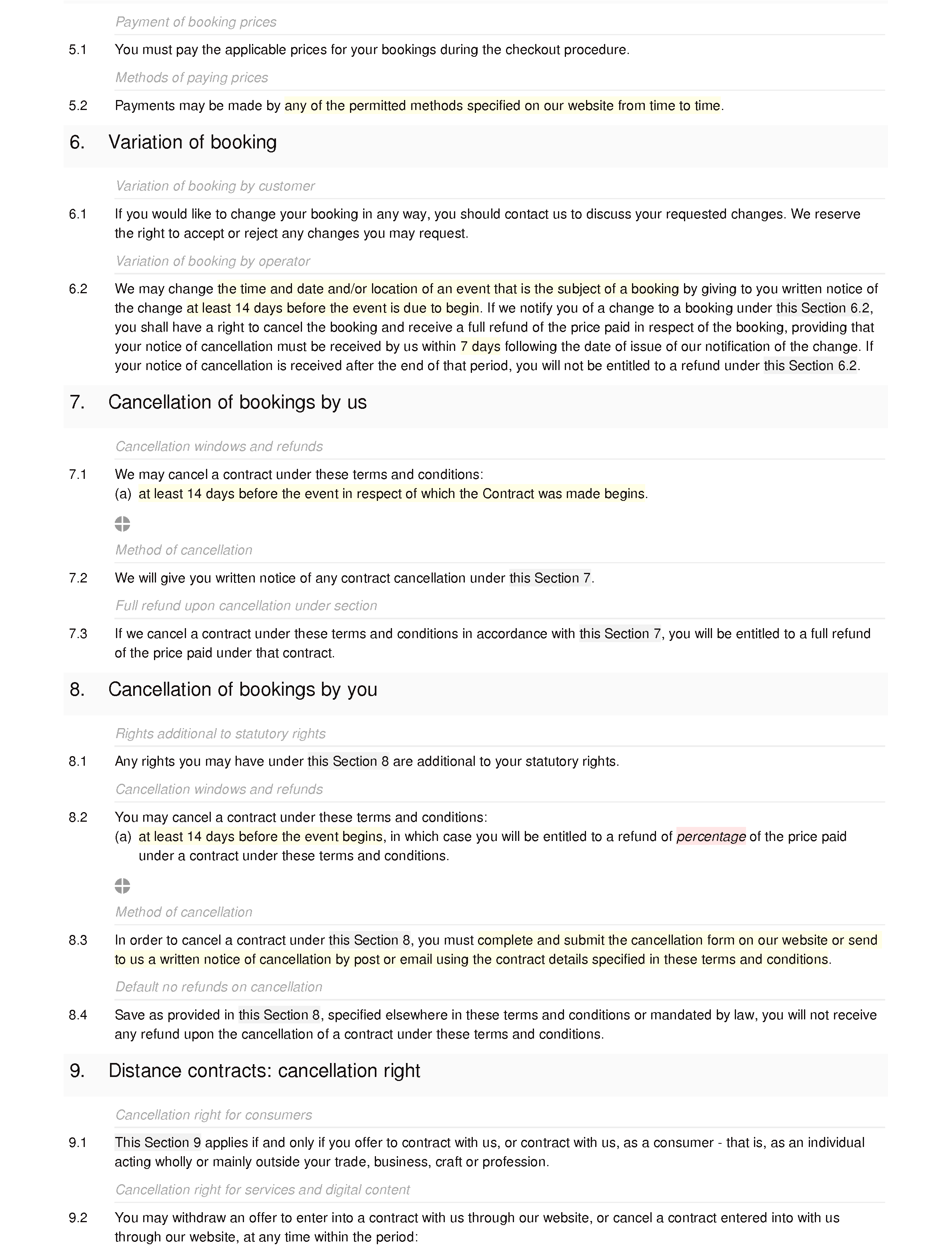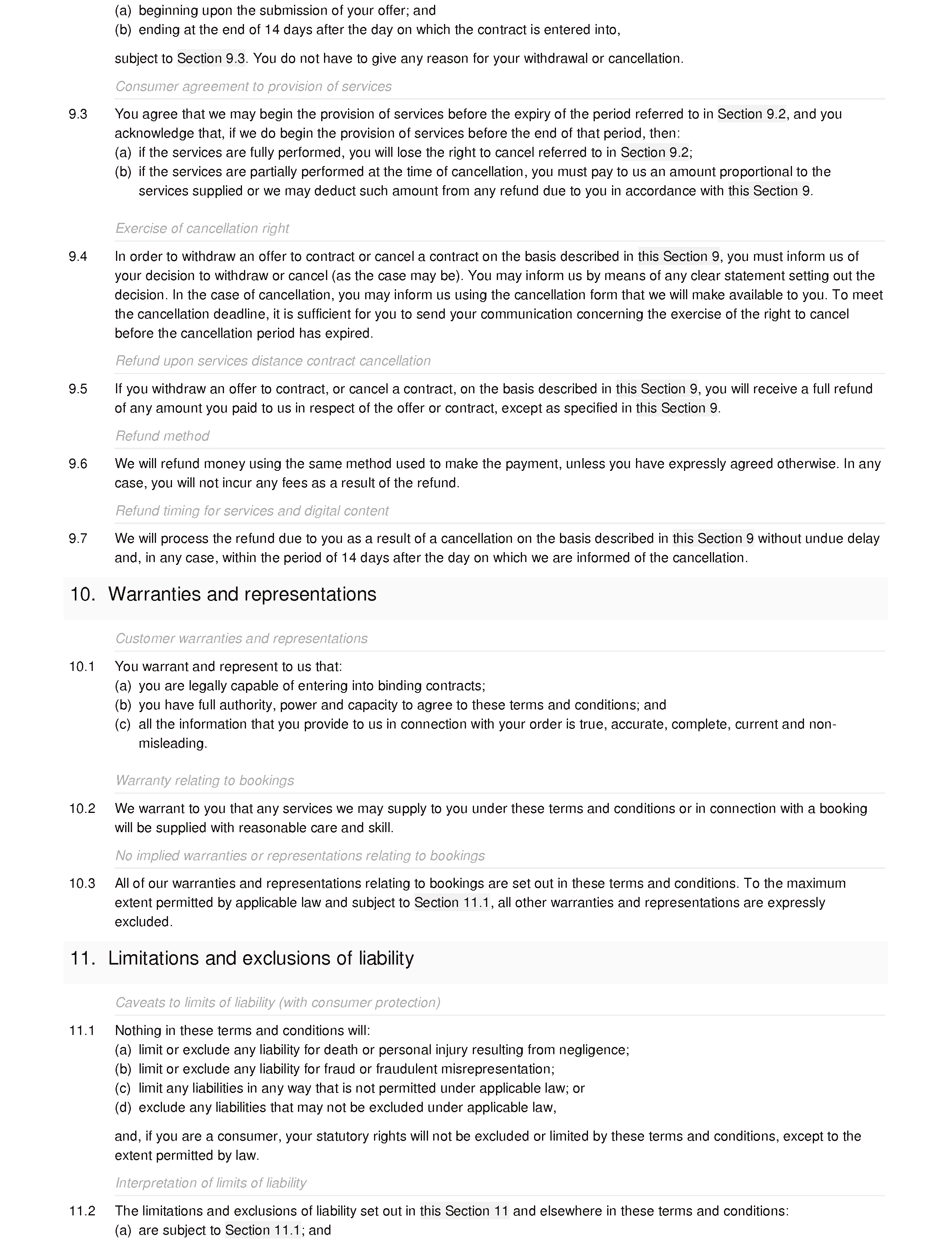 This is a shortened preview of the editor interface; once you create your instance you'll be able to edit the full document in our online editor.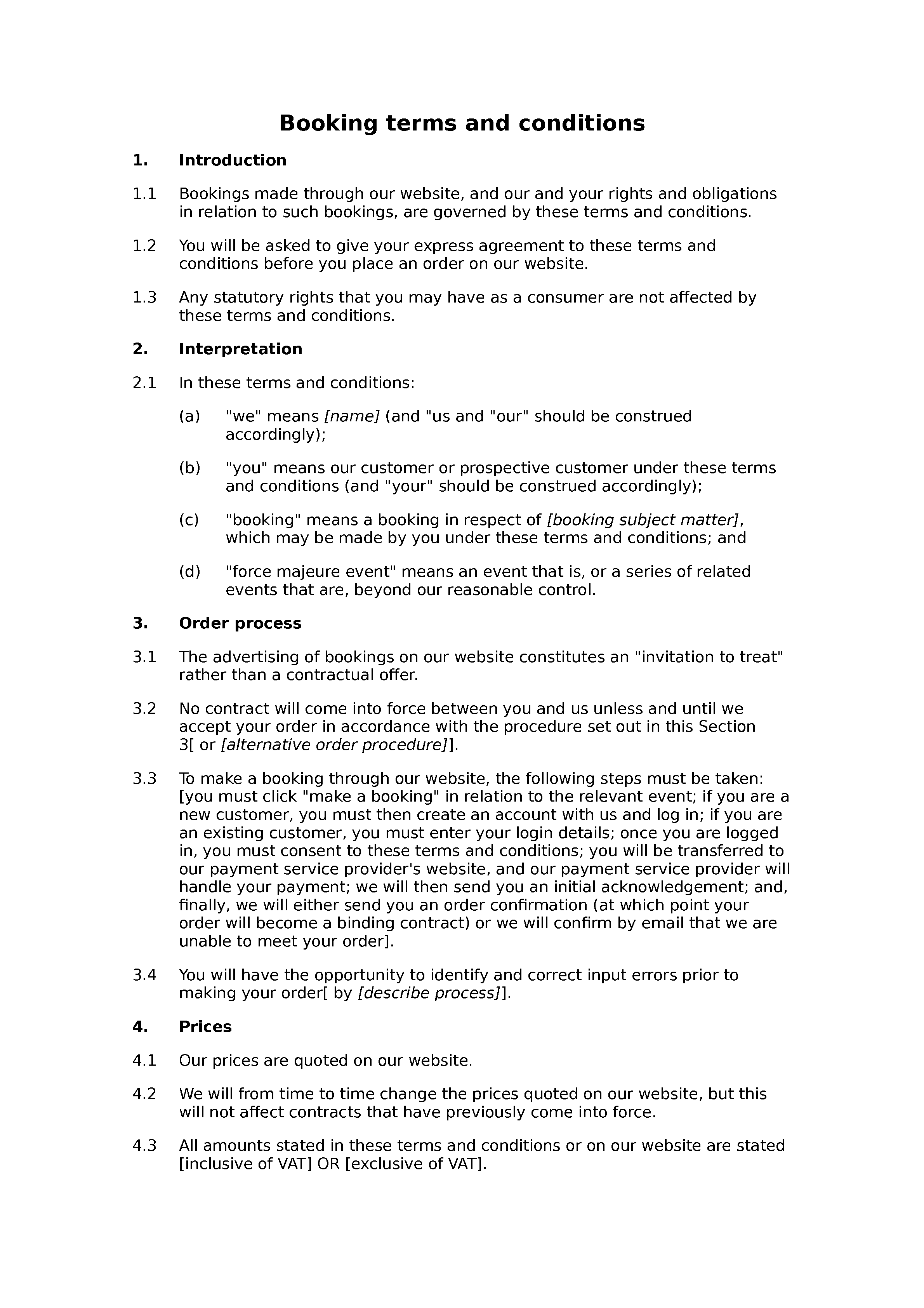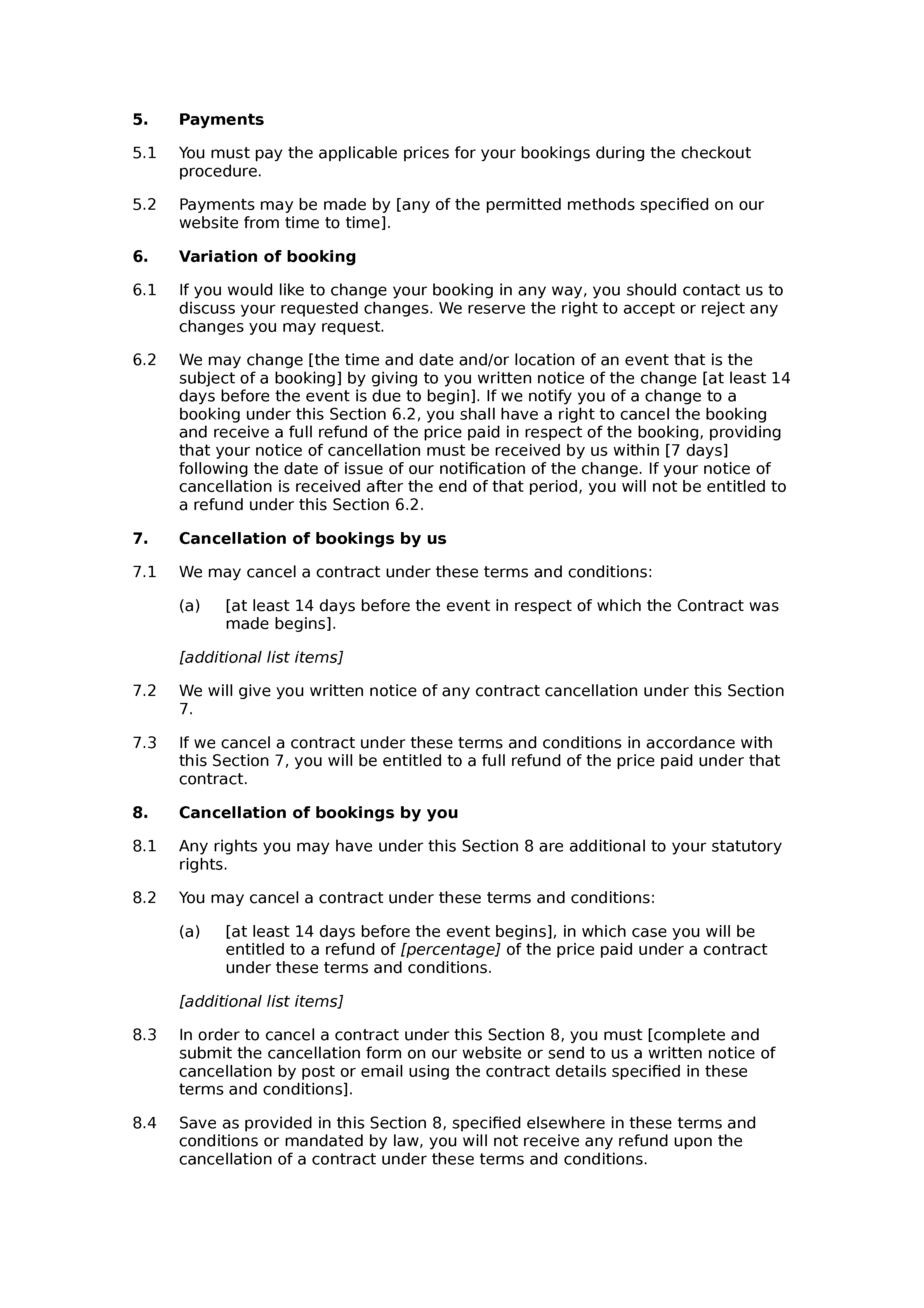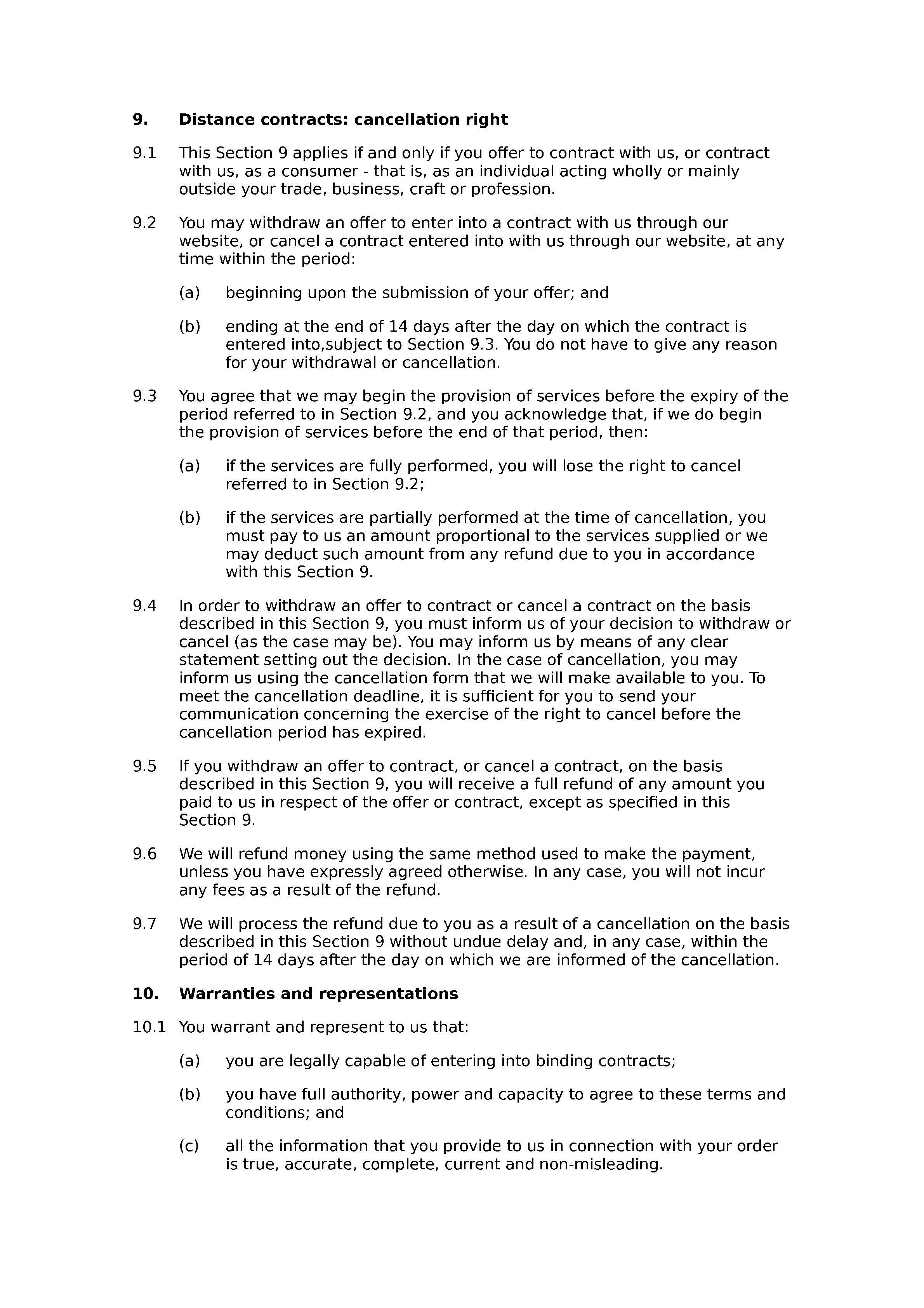 This is a shortened preview of the DOCX output; once you create your instance you'll be able to download the full document in PDF, HTML, RTF and/or DOCX (Microsoft Word) format.