Terms and conditions of sale via website (B2B, customisations)
These terms and conditions are for web stores selling products to businesses.
They are based upon our terms and conditions for sale via website (B2B) document, and include all the clauses from that document. Those clauses cover such matters as the purchase process, the supply of the products, warranties in relation to the products and order cancellation.
In addition to the provisions of base terms and conditions, this document includes provisions covering the supply of customer works and materials (such as digital image files) to the seller for use in customising the products. There is a licence for those works and materials, a set of warranties relating to the content of those works and materials, and a special disclaimer of liability.

Ask about this document
Terms and conditions of sale via website (B2B, customisations) contents
Introduction: purpose of document: governing product sales via website; express agreement to document upon order; warranty that customer is business.
Interpretation: party description definitions.
Order process: product advertisement as invitation to treat; no contracts except in accordance with order process; online products order process; input error correction and identification.
Products: types of products; products may change.
Your content: licence: definition of user content for customised products; licence of user content for customised products; sub-licensing of user content; delete or withhold products if user content in breach.
Rules about your content: user content warranty; no unlawful user content; user content rules.
Your content: liability: responsibility for user content; no liability for user content in customised products.
Prices: prices quoted on website; prices changes on website; amounts inclusive or exclusive of VAT; website prices may be incorrect; delivery charges.
Payments: payment of product prices; methods of paying prices; non payment of product prices; unjustified charge-backs.
Credit accounts: accounts for business customers only; payment date for account customers; account credit limits; interest payments on business debt.
Deliveries: document governing deliveries; address for delivery; time for delivery of products; delivery location restriction.
Risk and ownership: risk in products passes upon delivery; ownership of products passes delivery or payment; hold products as bailee; all customers to store products separately etc.
Warranties and representations: customer warranties and representations including delivery of products; seller warranties relating to products; no implied warranties or representations relating to sale of products.
Breach of product warranty: return of products that breach warranties; refund or replacement if product warranties breached; return of product in contravention of document.
Limitations and exclusions of liability: caveats to limits of liability; interpretation of limits of liability; no liability for force majeure; no liability for business losses; no liability for loss of data or software; no liability for consequential loss; no personal liability; liability cap upon product sale.
Order cancellation: cancellation by first party upon breach; cancellation upon insolvency; cancellation by first party upon force majeure.
Consequences of order cancellation: consequences of cancellation of contract to delivery products.
Scope: document does not cover IP; document does not cover licensing; document does not cover services.
Variation: revision of document by publishing new version on website; variations govern future contracts.
Assignment: assignment by first party; assignment by second party.
No waivers: no unwritten waivers of breach; no continuing waiver.
Severability: severability of whole; severability of parts.
Third party rights: third party rights: benefit; third party rights: exercise of rights.
Entire agreement: entire agreement - sale of products.
Law and jurisdiction: governing law; jurisdiction.
Statutory and regulatory disclosures: copy of document not filed; language of document; value added tax number.
Our details: website operator name; company registration details; place of business; contact information.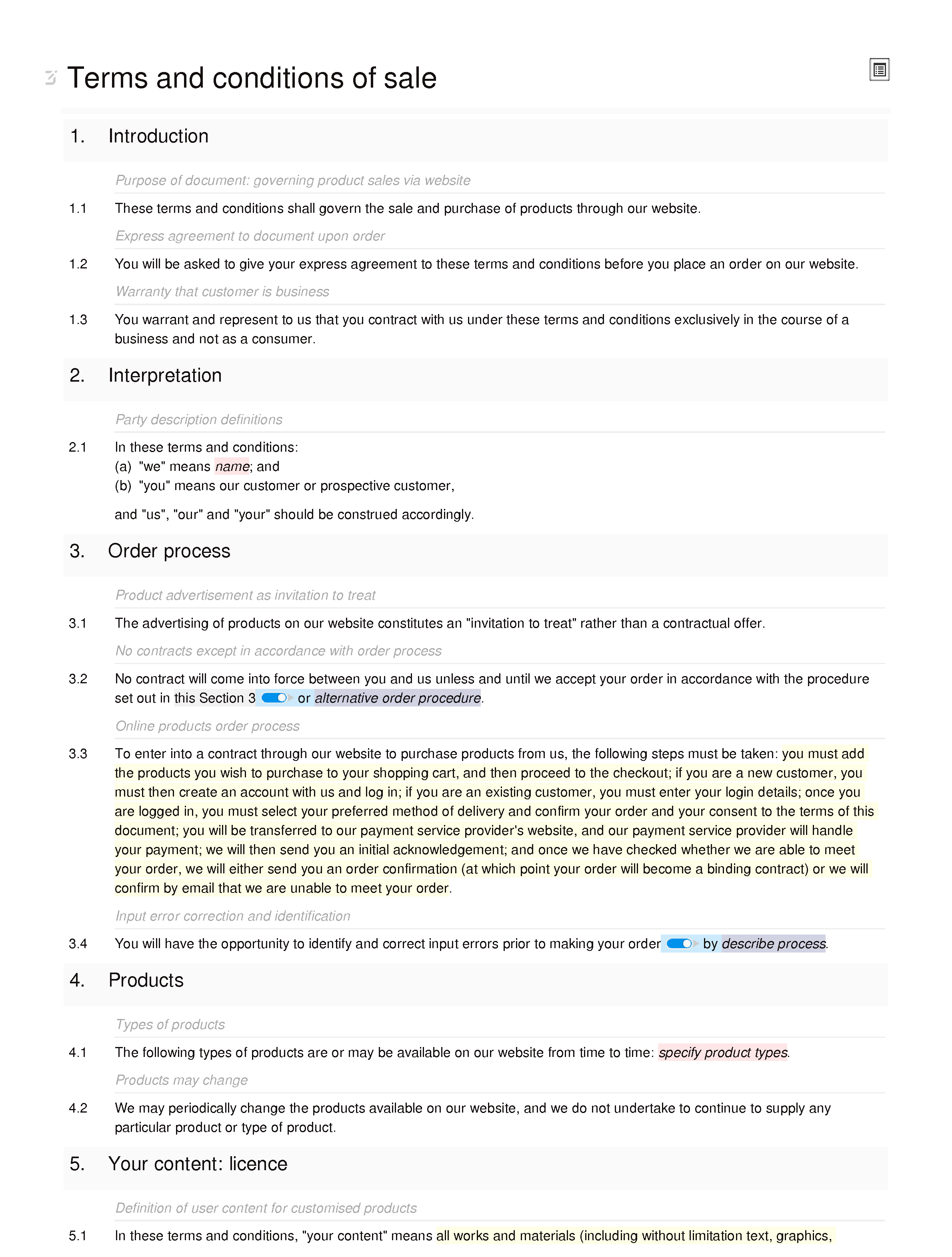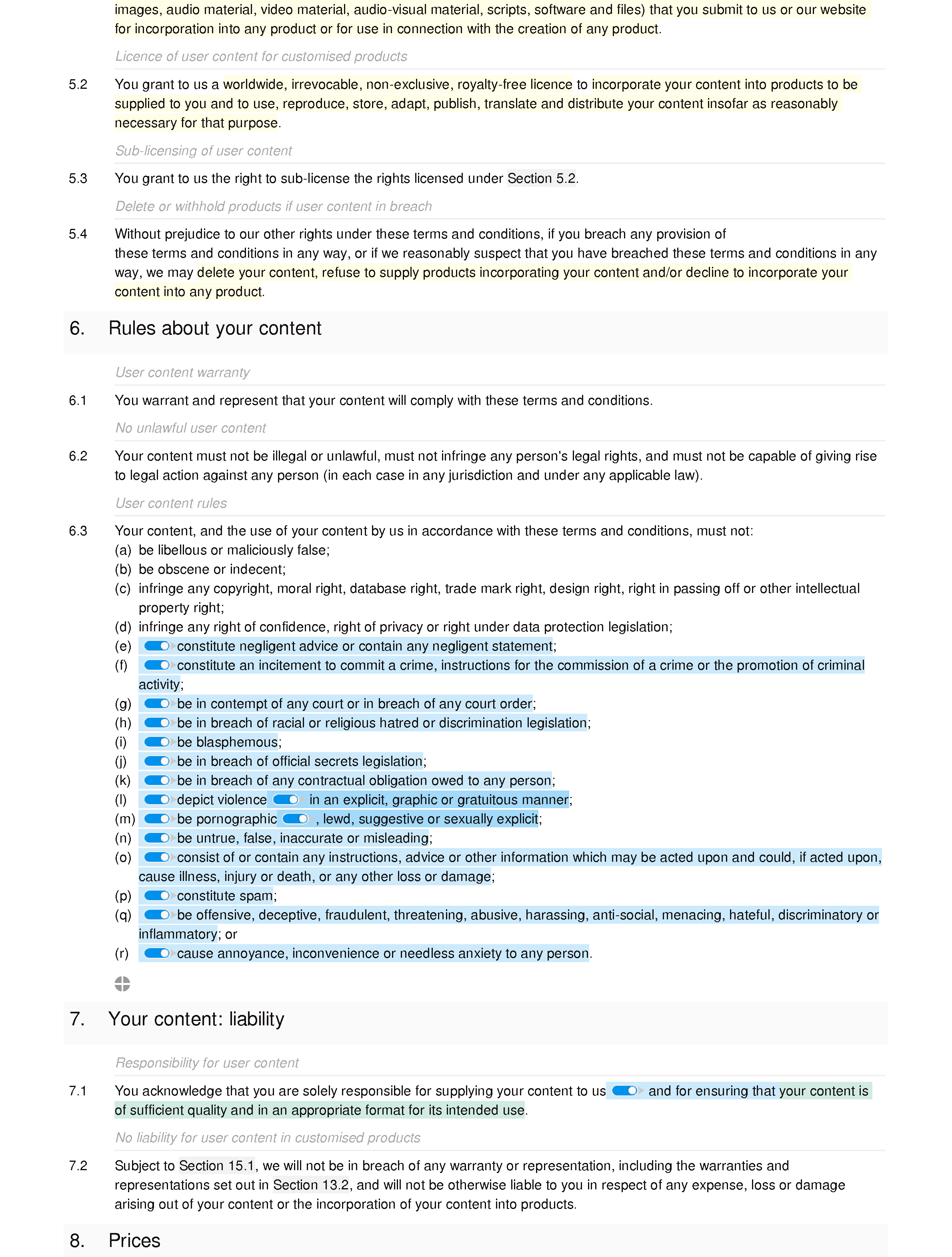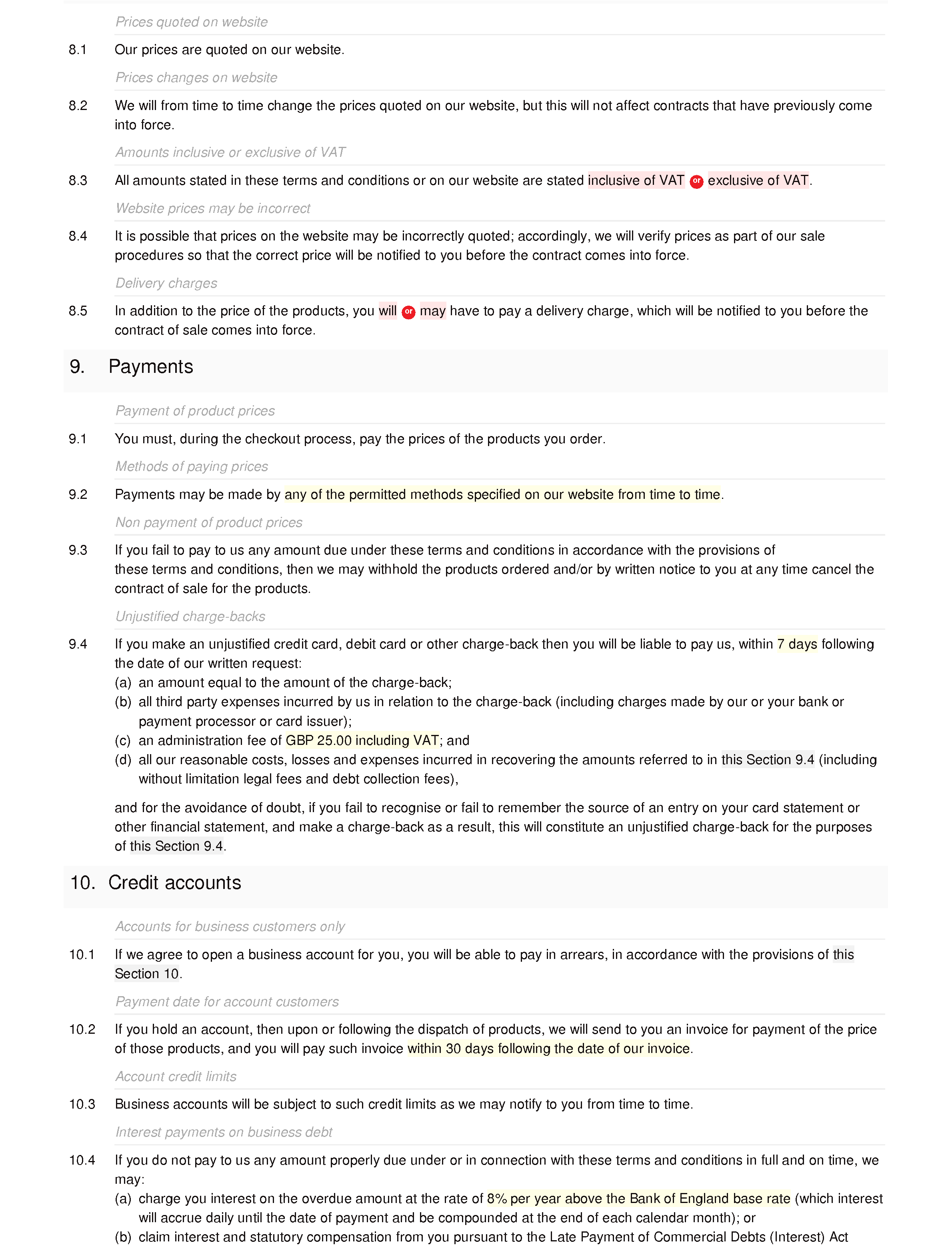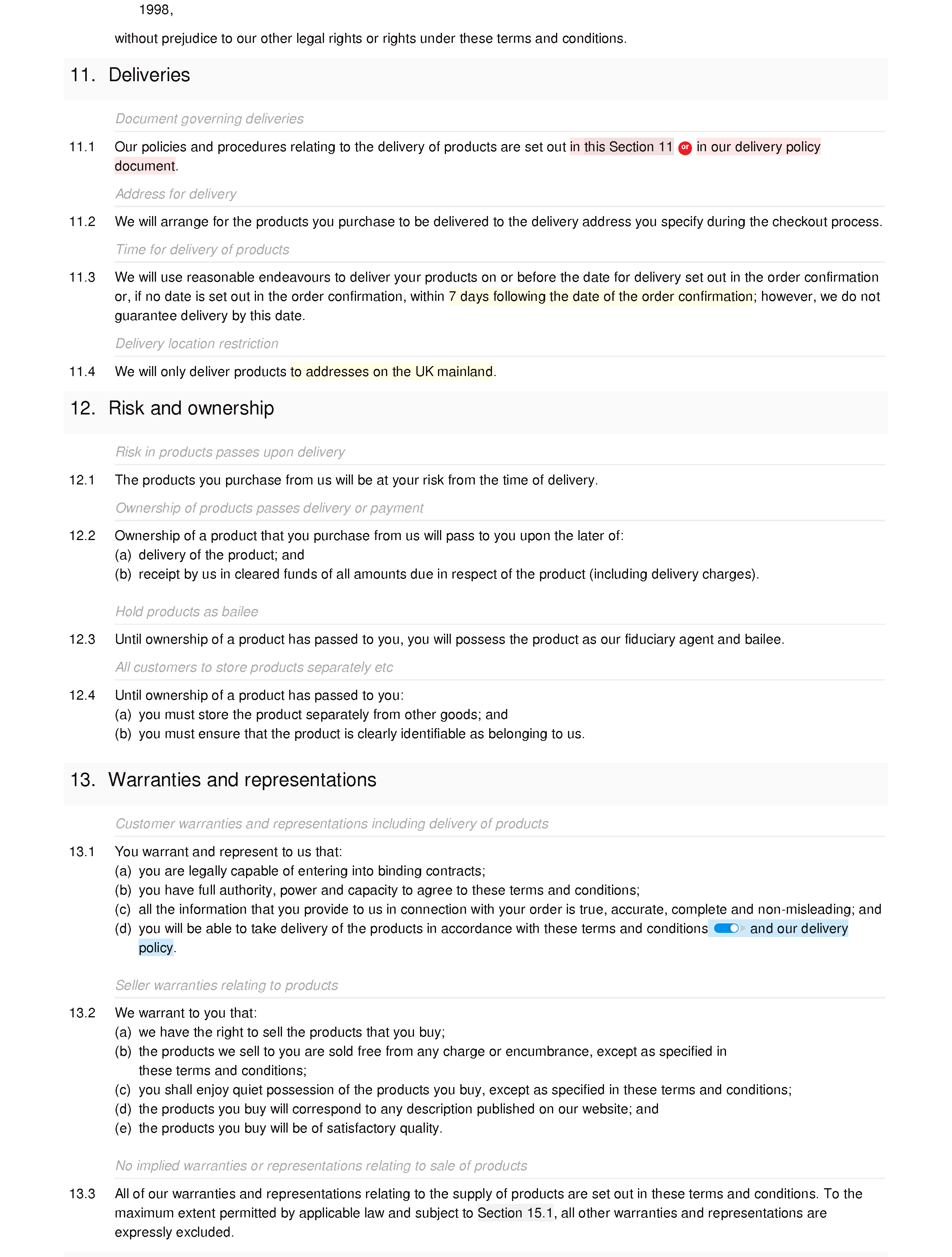 This is a shortened preview of the editor interface; once you create your instance you'll be able to edit the full document in our online editor.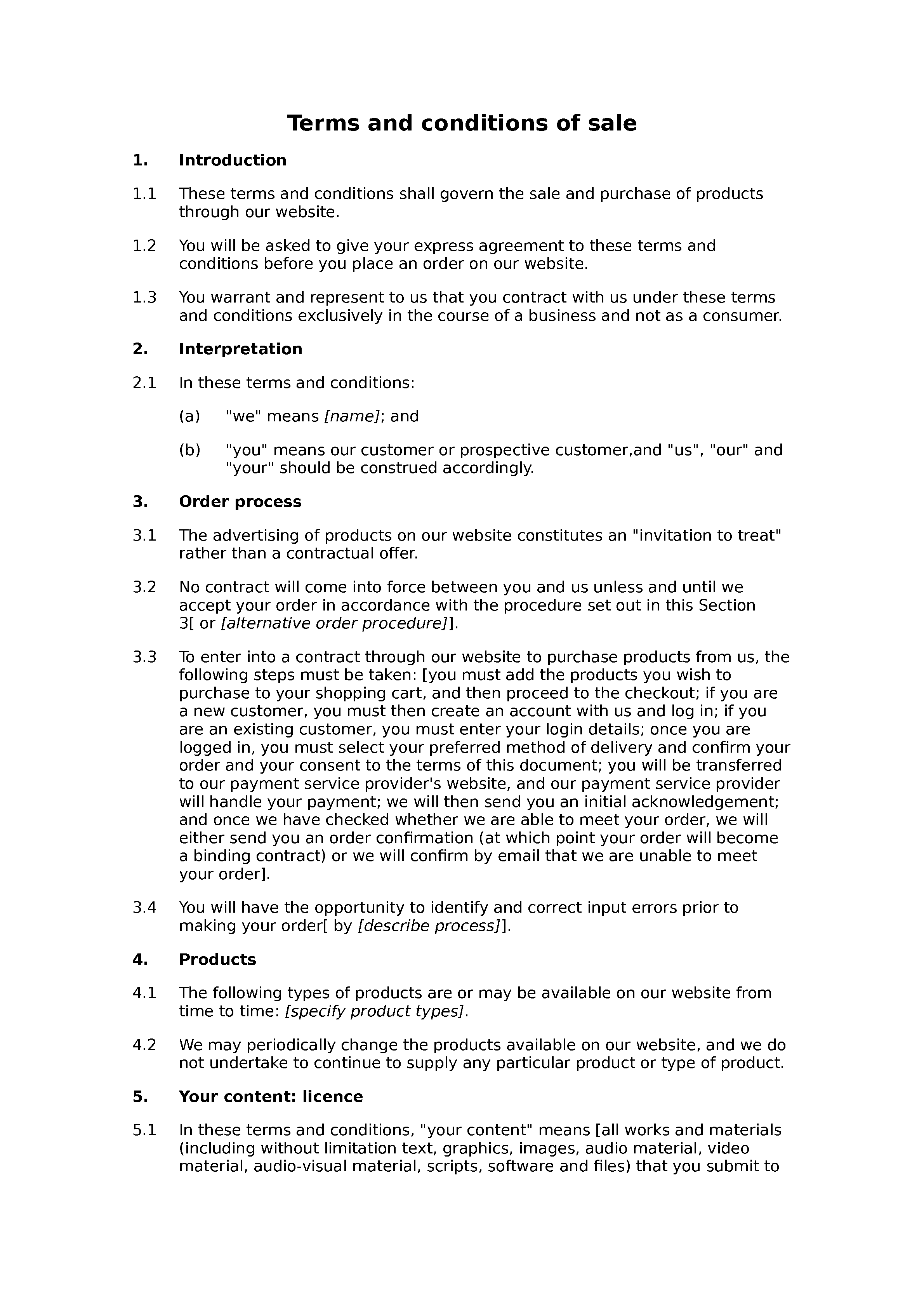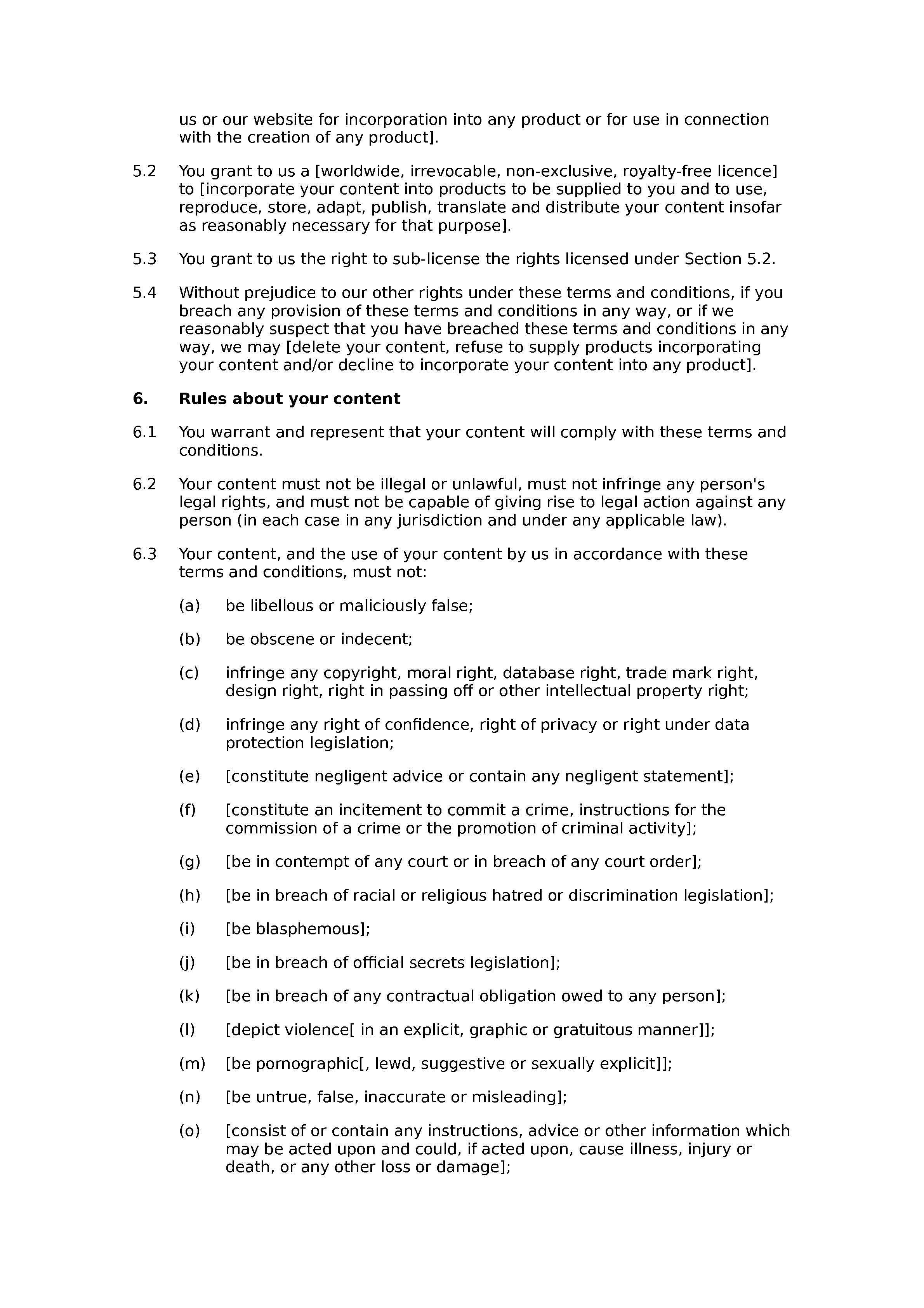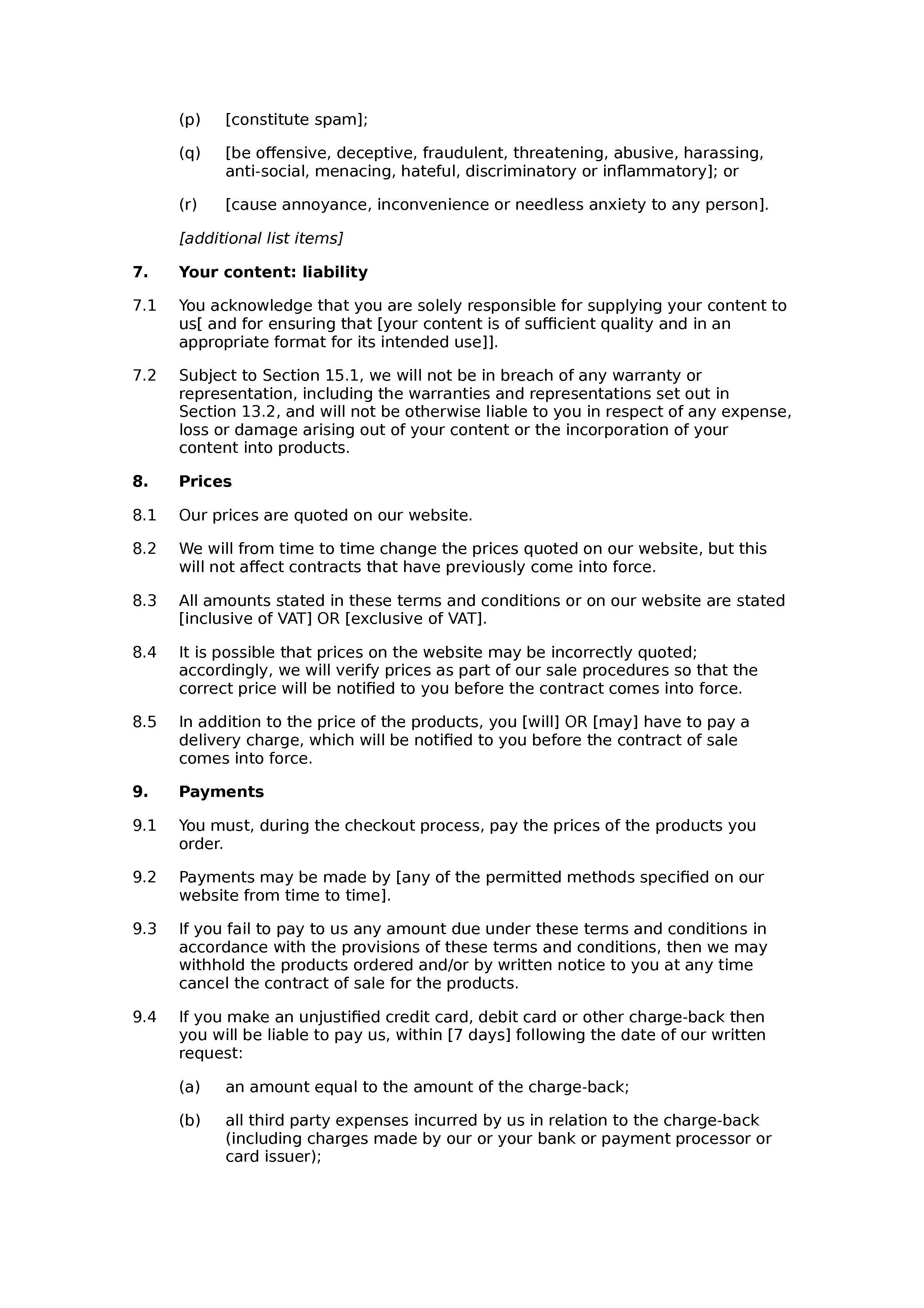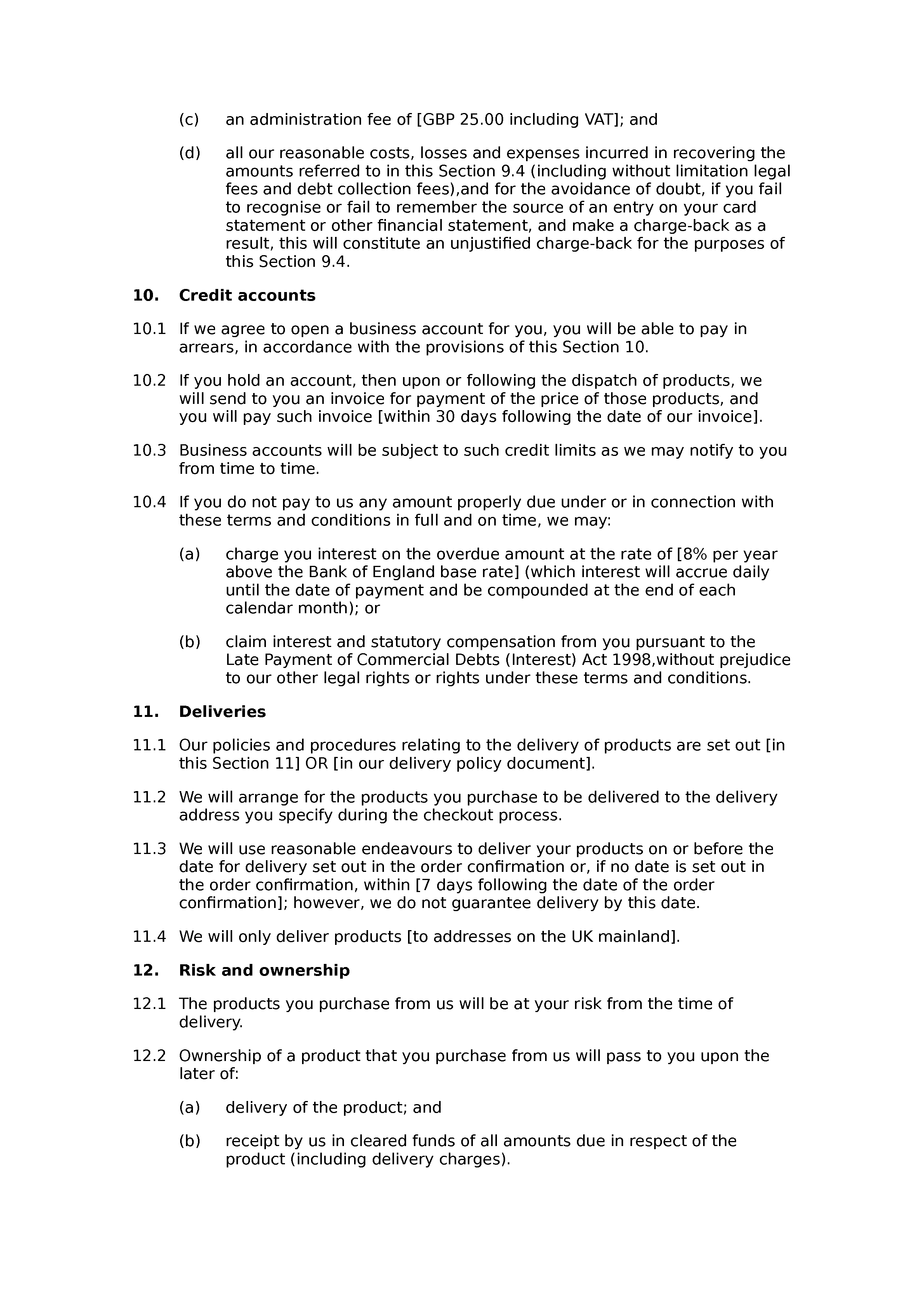 This is a shortened preview of the DOCX output; once you create your instance you'll be able to download the full document in PDF, HTML, RTF and/or DOCX (Microsoft Word) format.