Image download terms and conditions
This document has been created for websites offering images for sale via download. It sets out the legal relationship between the website owner and the individual consumer or business customer purchasing images. It also clarifies how the images may be used. Licensing rights are covered in detail.
The template sets out the website's ordering procedure and makes clear that the contract does not commence until the customer's order is accepted.
The terms and conditions should be displayed on the seller's website. They should also be sent to the customer via email, in such a way that the customer is able to store and reproduce them. Completion of purchase should be conditional on acceptance of the terms and conditions.
Rights granted upon the purchase of an image are explained in the document. Purchasers are permitted to download the image, but their rights may be otherwise restricted in specific ways. For example, use may be limited to a certain number of computers or mobile devices, or publication may be limited to a certain number of websites controlled and operated by the purchaser. The document includes a general prohibition on the sale, lease, broadcast and transfer of the images. Alteration of the images may also be prohibited. Any intellectual property rights not expressly licensed in the document are reserved.
The website owner may amend the contract to include provisions relating to whether licensed rights extend to any third party, whether the purchaser is permitted to use the images for commercial purposes, and how the licence may be terminated following a breach of the contract's terms and conditions.
Standard legal provisions are incorporated into the document in relation to safeguarding against use of the images in any manner prohibited by law. The website owner is protected against the images being used in order to compete in any way with the website. The terms and conditions also require that technological measures be put into place to prevent any use of the images, or any attempt to use the images, without the website owner's consent.
The purchaser of the images is responsible for ensuring that he or she has the software and hardware necessary to download and realise the benefits of those images, and this responsibility is acknowledged in the contract.
The agreement makes clear that it does not override any consumer rights, setting out, for example, consumers' cancellation rights with respect to distance contracts (under the Consumer Contracts (Information, Cancellation and Additional Charges) Regulations 2013). This section does not apply to business purchasers, only private individuals.
The purchaser affirms his or her legal capacity to enter into a binding contract, and authority to accept the agreement terms and conditions, and warrants that all information provided in making a purchase is accurate.
Standard terms apply with respect to liability.
The website owner reserves the right to amend the terms and conditions as required. However, any revision will only apply to new contracts. Waivers are prohibited. If any part of this agreement is determined to be unlawful and/or unenforceable, the other provisions of this agreement will continue in effect. No third party may enforce any rights under this contract.
This contract seeks to ensure the website owner complies with the Electronic Commerce (EC Directive) Regulations 2002 and provides the information legally required prior to placement of an electronic order.

Ask about this document
Image download terms and conditions contents
Introduction: purpose of document: governing downloads; express agreement to document upon order; no abridgment of consumer statutory rights.
Interpretation: informal definitions for download terms and conditions.
Order process: download advertisement as invitation to treat; no contracts except in accordance with order process; downloads order process; input error correction and identification.
Prices: prices quoted on website; prices changes on website; amounts inclusive or exclusive of VAT.
Payments: payment of download prices; methods of paying prices.
Licensing of images: format and supply of downloads; grant of licence to use downloads; permitted uses of images; prohibited uses of images; warranty of ability to use downloads; all rights in downloads reserved; retention of proprietory notices in downloads; rights granted are personal; licence to use downloads terminates upon breach; termination of download licence by deletion; consequence of termination of licence to use downloads.
Distance contracts: cancellation right: cancellation right for consumers; cancellation right for services and digital content; consumer agreement to provision of digital content; exercise of cancellation right; full refund upon distance contract cancellation; refund method; refund timing for services and digital content.
Warranties and representations: customer warranties and representations; warranty relating to digital content (B2B); warranties relating to digital content (B2C or mixed); no implied warranties or representations relating to supply of intangibles.
Limitations and exclusions of liability: caveats to limits of liability (with consumer protection); interpretation of limits of liability; no liability for force majeure; no liability for business losses; no liability for loss of data or software (with consumer protection); no liability for consequential loss (with consumer protection); no personal liability; liability cap upon services contract.
Variation: revision of document by publishing new version on website; variations govern future contracts.
Assignment: assignment by first party (with consumer rights); assignment by second party.
No waivers: no unwritten waivers of breach; no continuing waiver.
Severability: severability of whole; severability of parts.
Third party rights: third party rights: benefit; third party rights: exercise of rights.
Entire agreement: entire agreement - sale and licensing of downloads.
Law and jurisdiction: governing law; jurisdiction.
Statutory and regulatory disclosures: copy of document not filed; language of document; value added tax number; link to ODR website; name and URL of ADR provider.
Our details: website operator name; company registration details; place of business; contact information.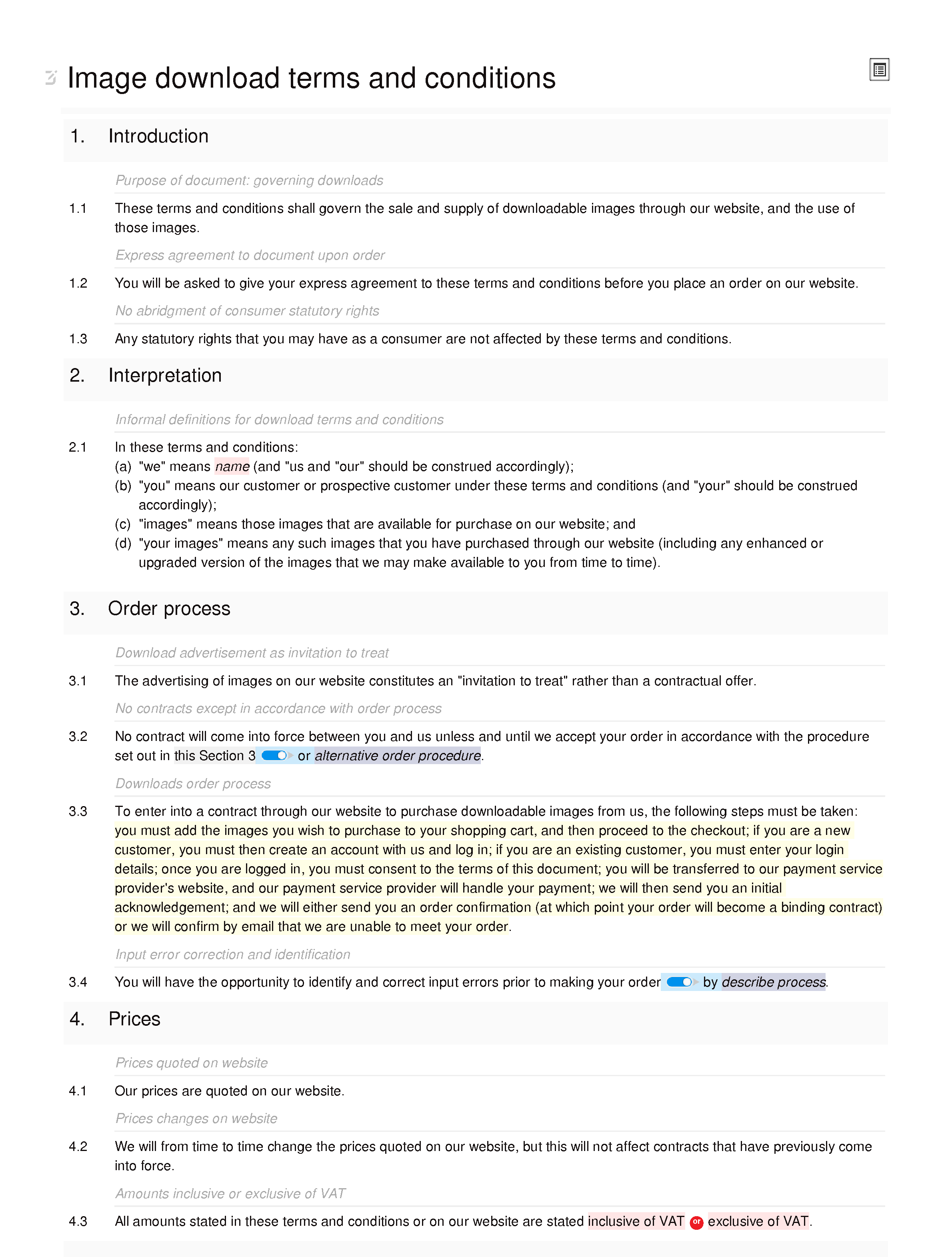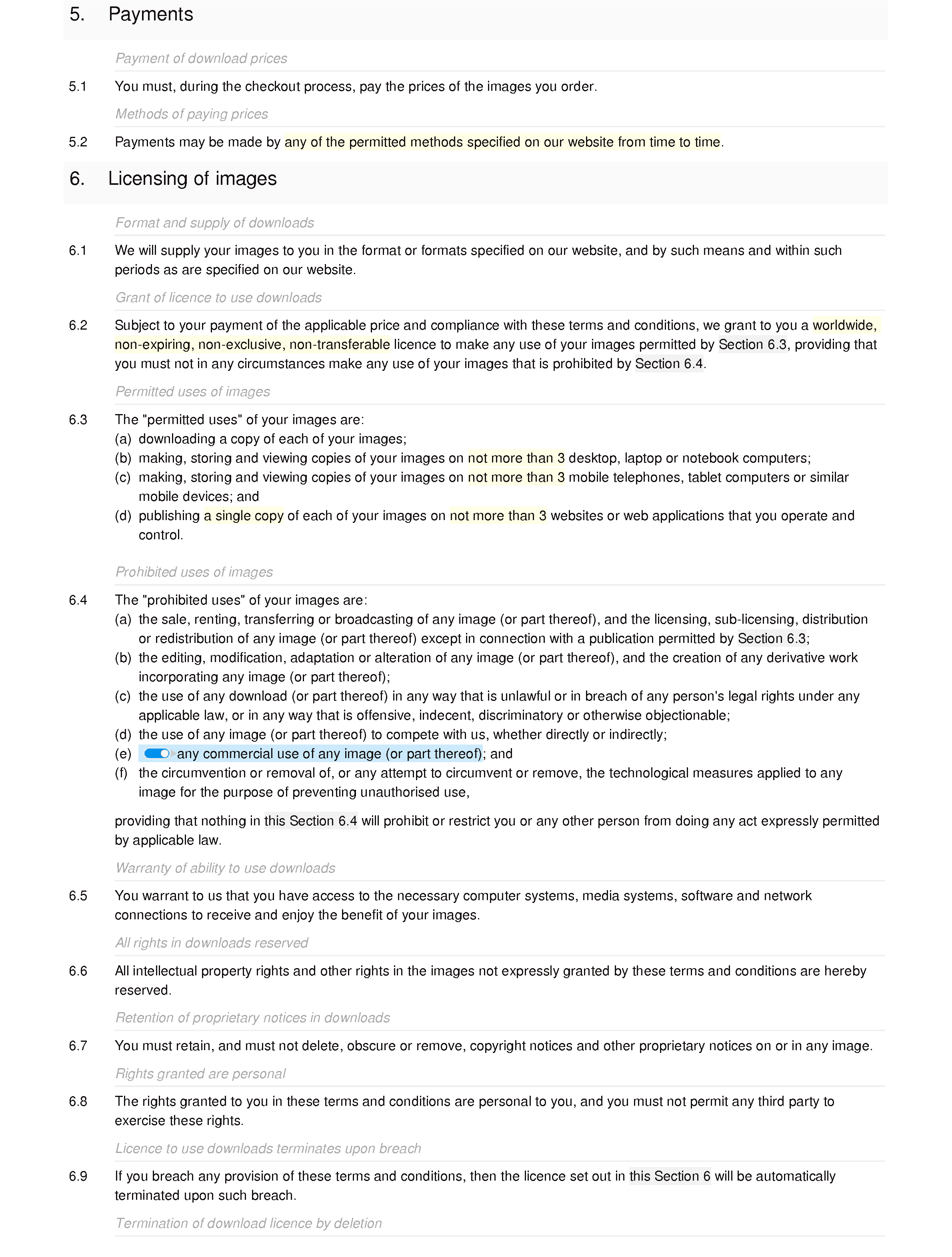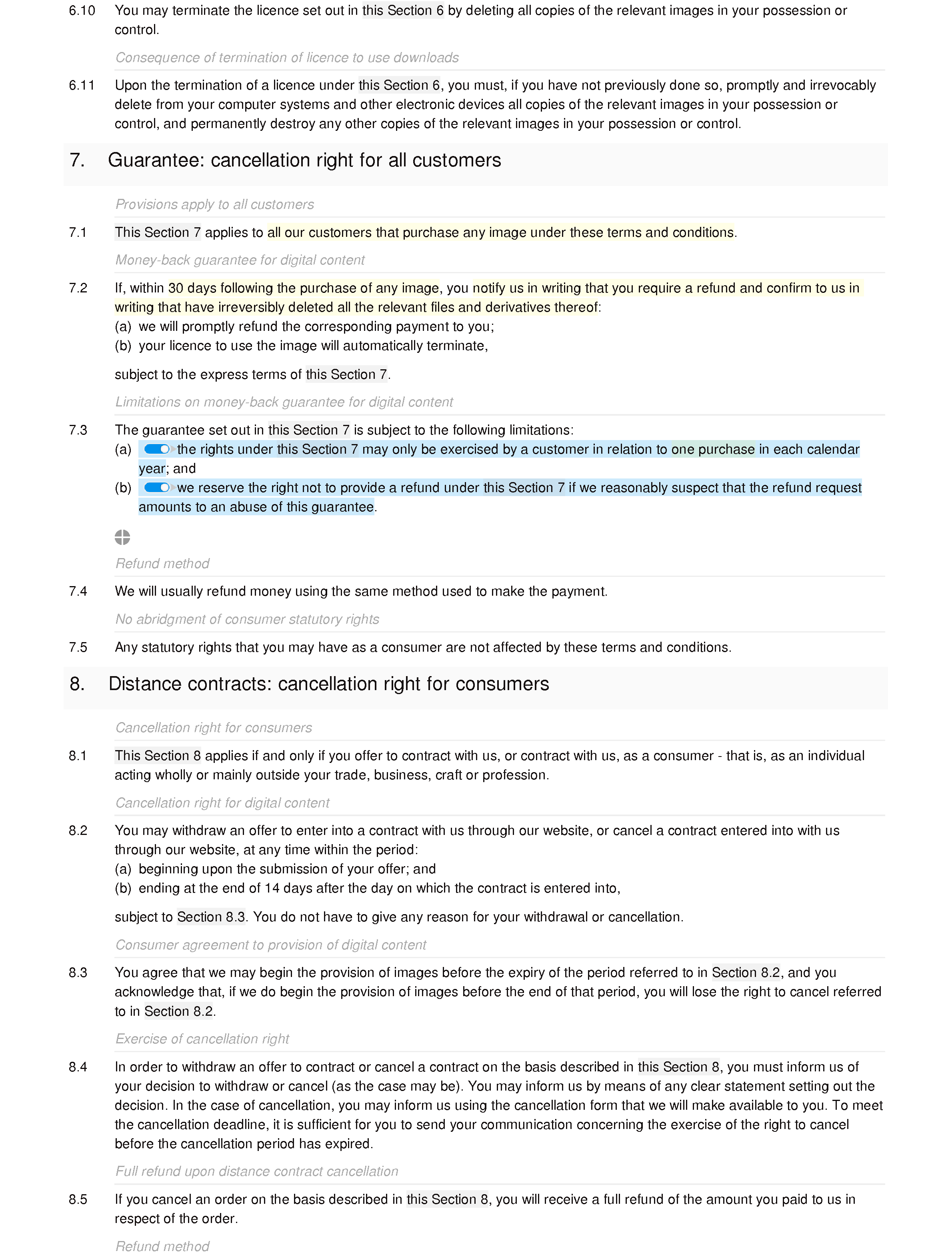 This is a shortened preview of the editor interface; once you create your instance you'll be able to edit the full document in our online editor.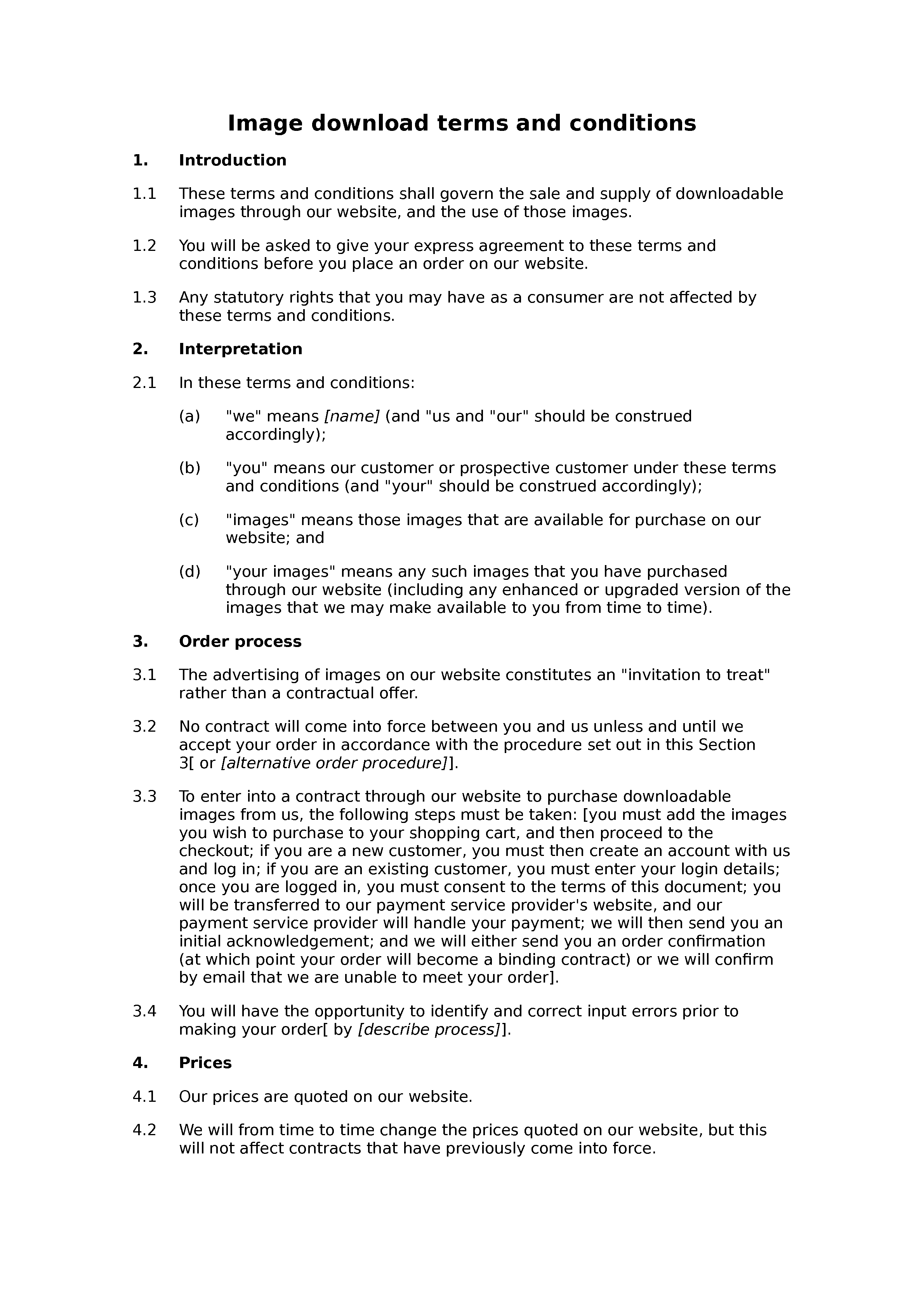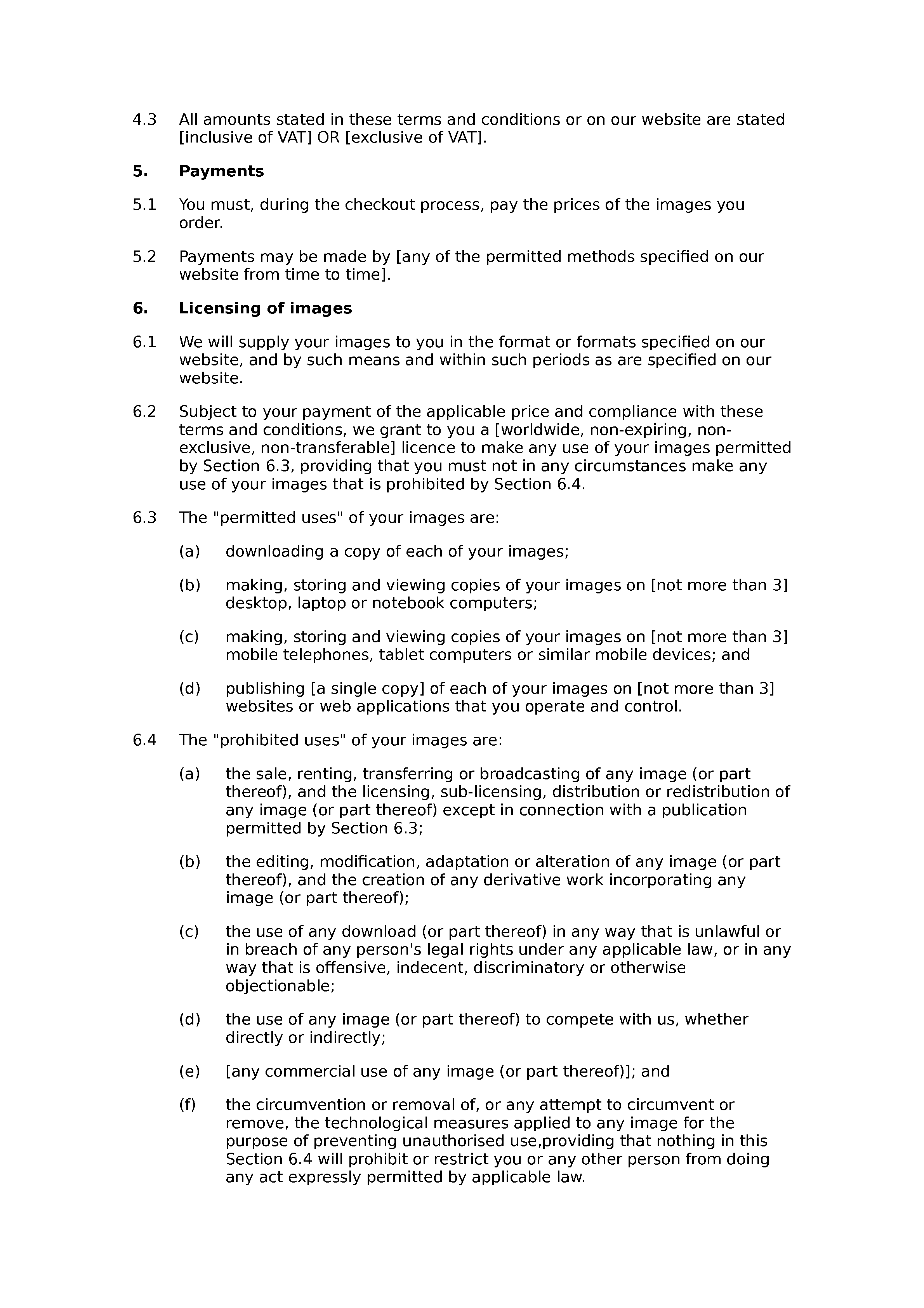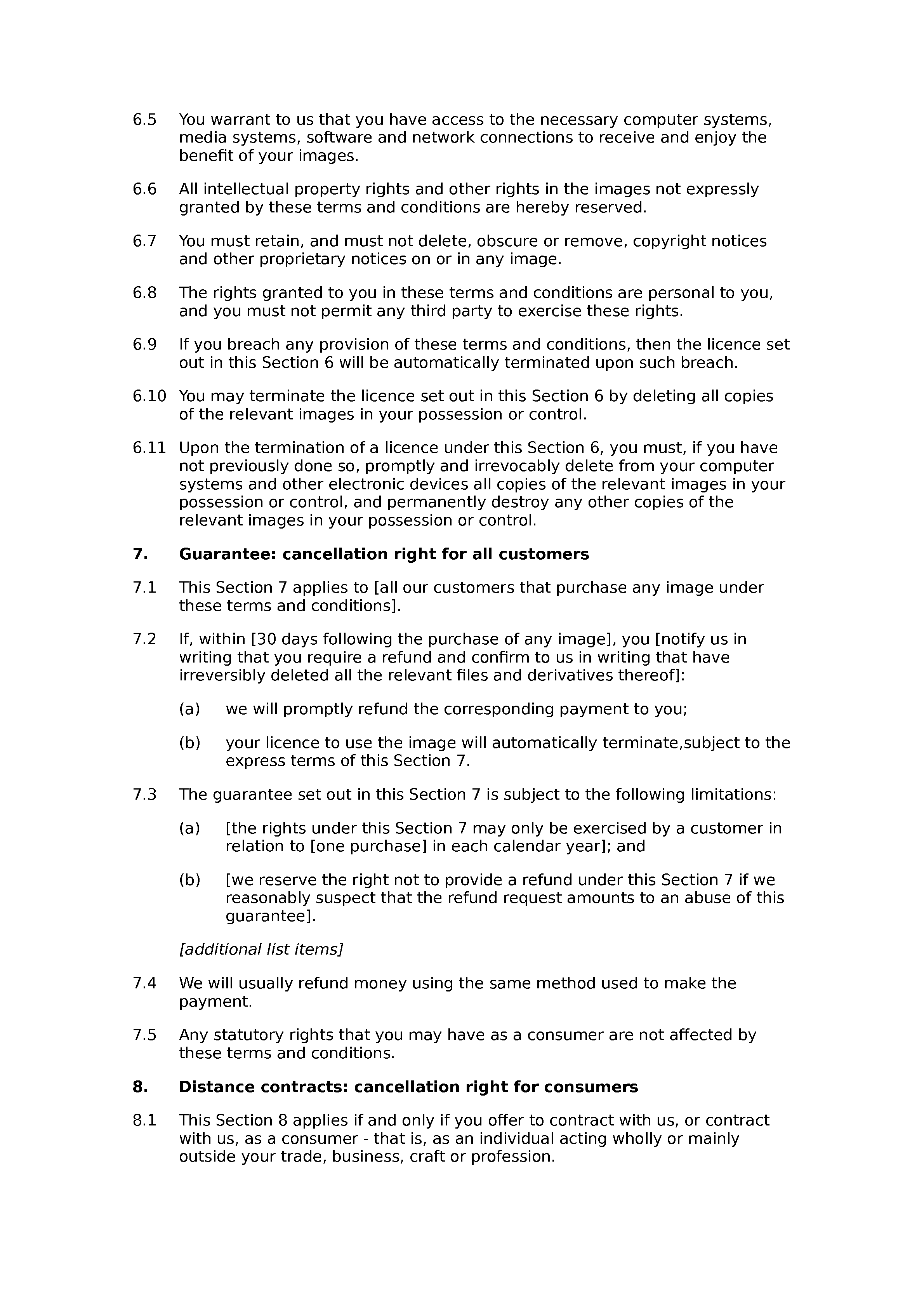 This is a shortened preview of the DOCX output; once you create your instance you'll be able to download the full document in PDF, HTML, RTF and/or DOCX (Microsoft Word) format.