Article download terms and conditions
The sale of knowledge - in the form of articles, guides, analyses, white papers and similar documents - represents a significant proportion of small-business electronic commerce. This terms and conditions template has been designed for just this sort of transaction.
There are two main reasons why the online sale of articles and similar electronic documents should be governed by properly drafted terms and conditions. First, such terms and conditions are required to comply with UK and EU laws on ecommerce and distance selling. Second, such terms and conditions set out the basis upon which electronic documents may be used (i.e. the customer licence), and without such an express basis it may be unclear what a customer is allowed to do with the document, and, just as important, what a customer is not allowed to do. By clarifying the basis of use, terms and conditions can protect the position of the publisher and reduce the chances of a dispute.
The T&Cs make no assumptions about the contents of the electronic documents sold. If the contents of a document present particular risks (e.g. financial information, or instructions to undertake dangerous activities), you should consider adding a specialist disclaimer of liability.
This particular template is comparatively easy to adapt, whilst maintaining some flexibility, for example in relation to the scope of the licence.

Ask about this document
Article download terms and conditions contents
Introduction: purpose of document: governing downloads; express agreement to document upon order; no abridgment of consumer statutory rights.
Interpretation: informal definitions for download terms and conditions.
Order process: download advertisement as invitation to treat; no contracts except in accordance with order process; downloads order process; input error correction and identification.
Prices: prices quoted on website; prices changes on website; amounts inclusive or exclusive of VAT.
Payments: payment of download prices; methods of paying prices.
Licensing of articles: format and supply of downloads; grant of licence to use downloads; permitted uses of articles; prohibited uses of articles; warranty of ability to use downloads; all rights in downloads reserved; retention of proprietory notices in downloads; rights granted are personal; licence to use downloads terminates upon breach; termination of download licence by deletion; consequence of termination of licence to use downloads.
Distance contracts: cancellation right: cancellation right for consumers; cancellation right for services and digital content; consumer agreement to provision of digital content; exercise of cancellation right; full refund upon distance contract cancellation; refund method; refund timing for services and digital content.
Warranties and representations: customer warranties and representations; warranty relating to digital content (B2B); warranties relating to digital content (B2C or mixed); no implied warranties or representations relating to supply of intangibles.
Limitations and exclusions of liability: caveats to limits of liability (with consumer protection); interpretation of limits of liability; no liability for force majeure; no liability for business losses; no liability for loss of data or software (with consumer protection); no liability for consequential loss (with consumer protection); no personal liability; liability cap upon services contract.
Variation: revision of document by publishing new version on website; variations govern future contracts.
Assignment: assignment by first party (with consumer rights); assignment by second party.
No waivers: no unwritten waivers of breach; no continuing waiver.
Severability: severability of whole; severability of parts.
Third party rights: third party rights: benefit; third party rights: exercise of rights.
Entire agreement: entire agreement - sale and licensing of downloads.
Law and jurisdiction: governing law; jurisdiction.
Statutory and regulatory disclosures: copy of document not filed; language of document; value added tax number; link to ODR website; name and URL of ADR provider.
Our details: website operator name; company registration details; place of business; contact information.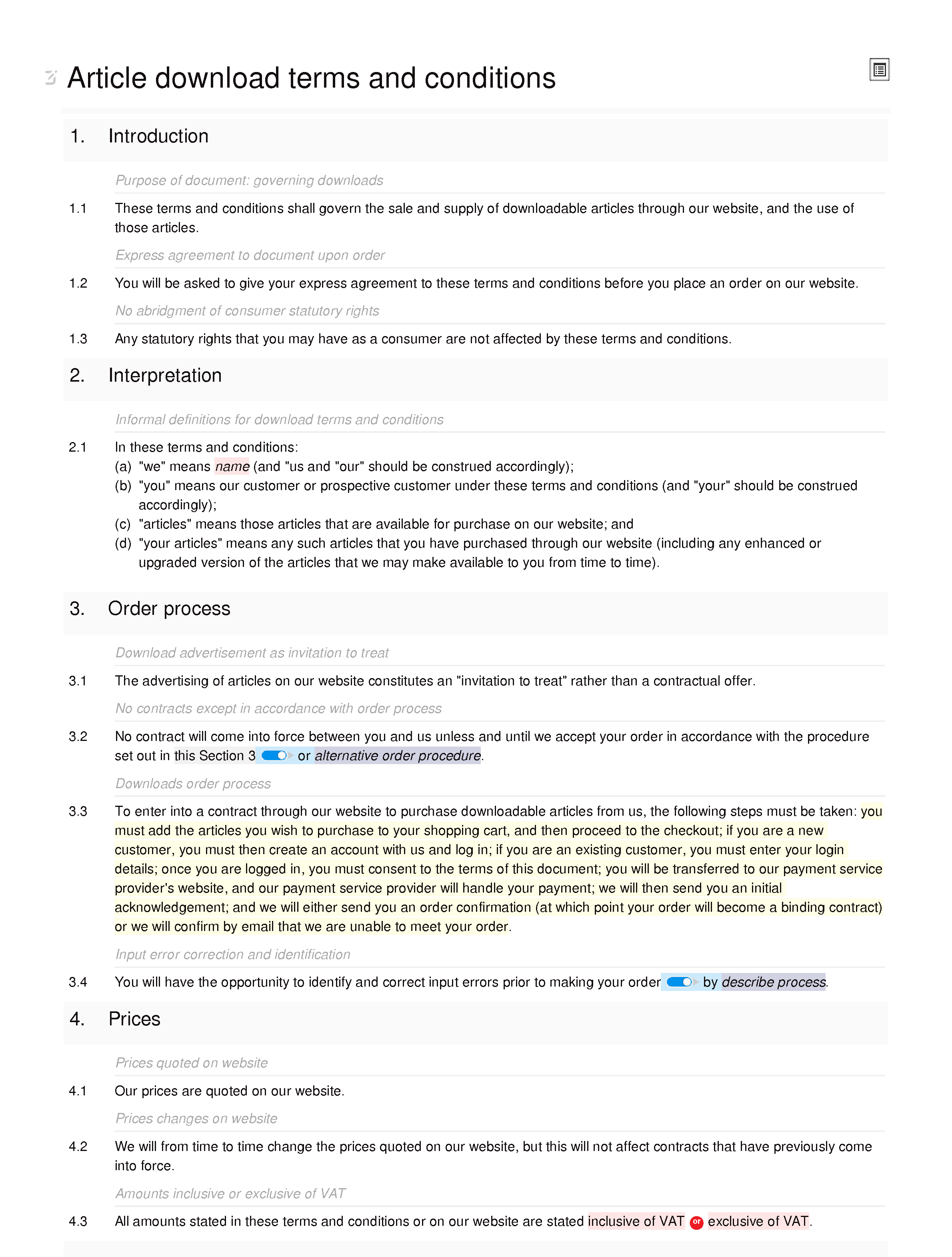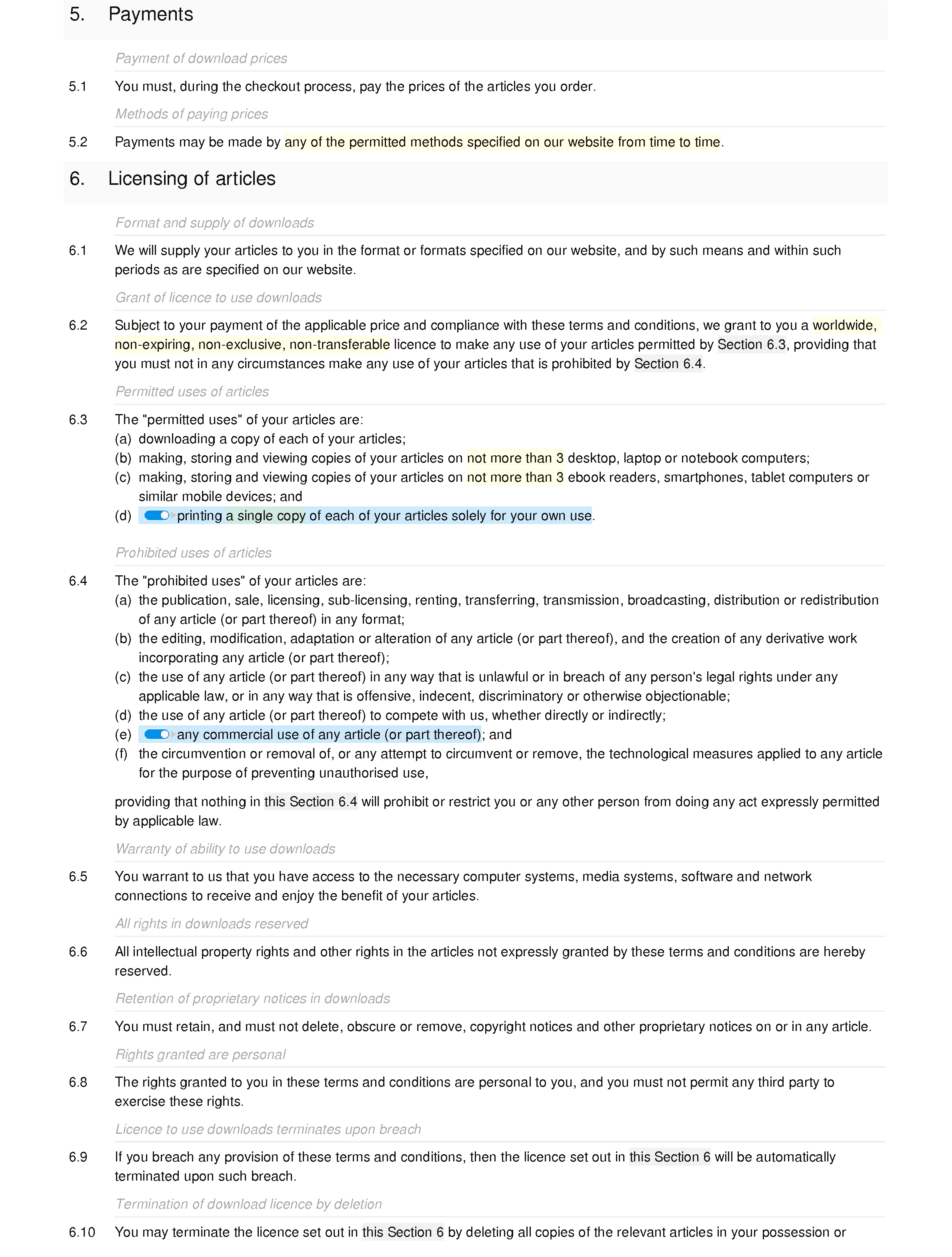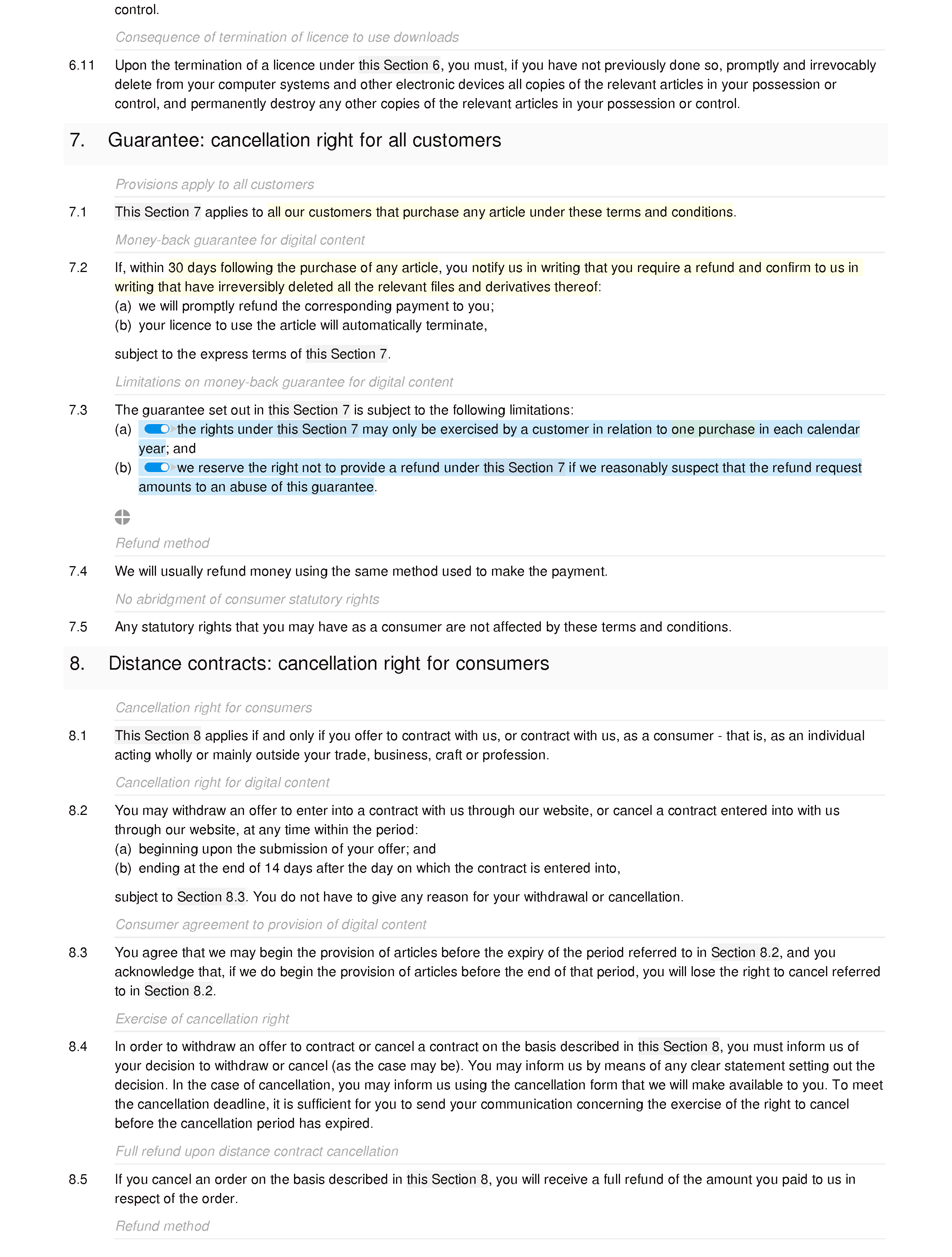 This is a shortened preview of the editor interface; once you create your instance you'll be able to edit the full document in our online editor.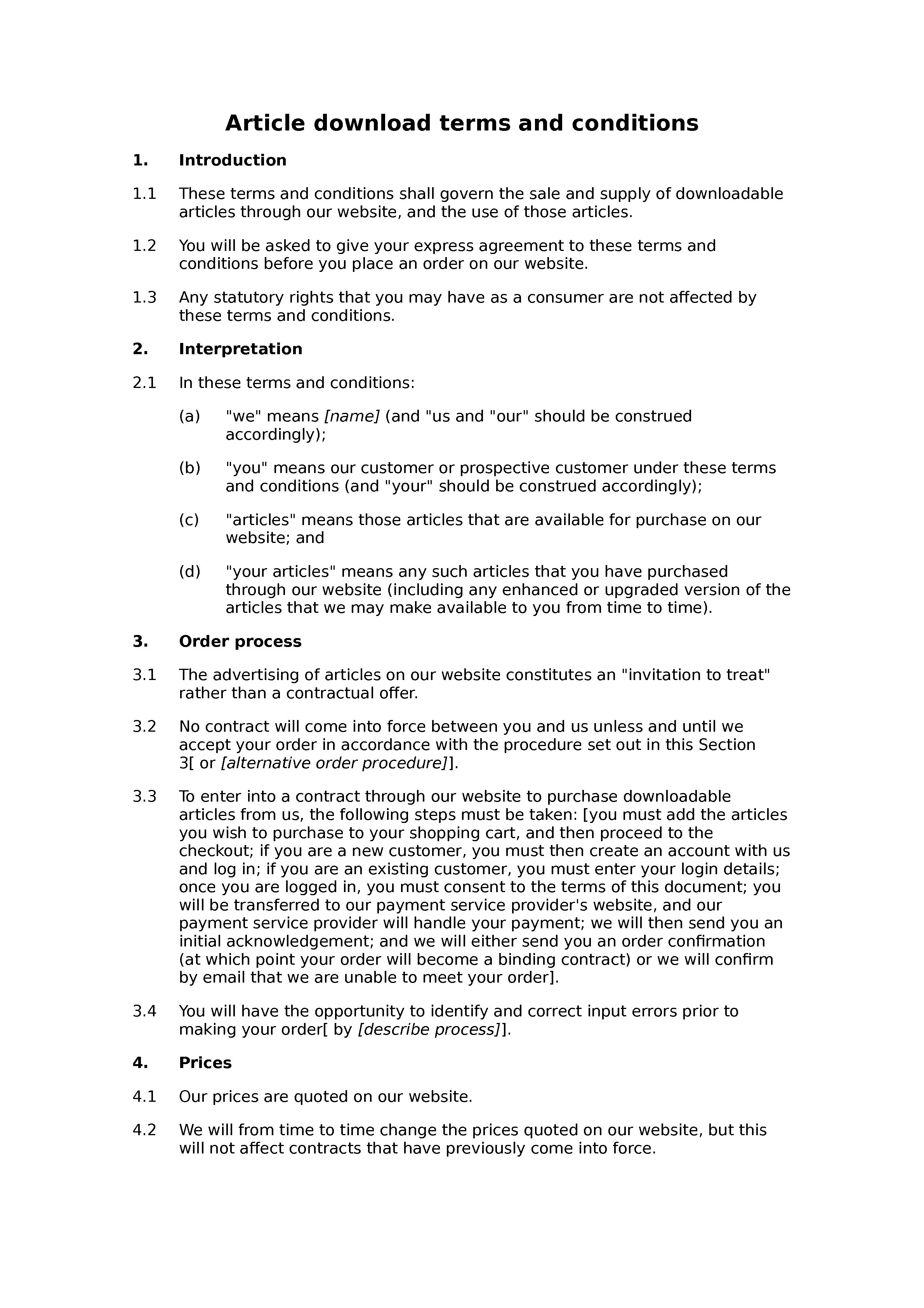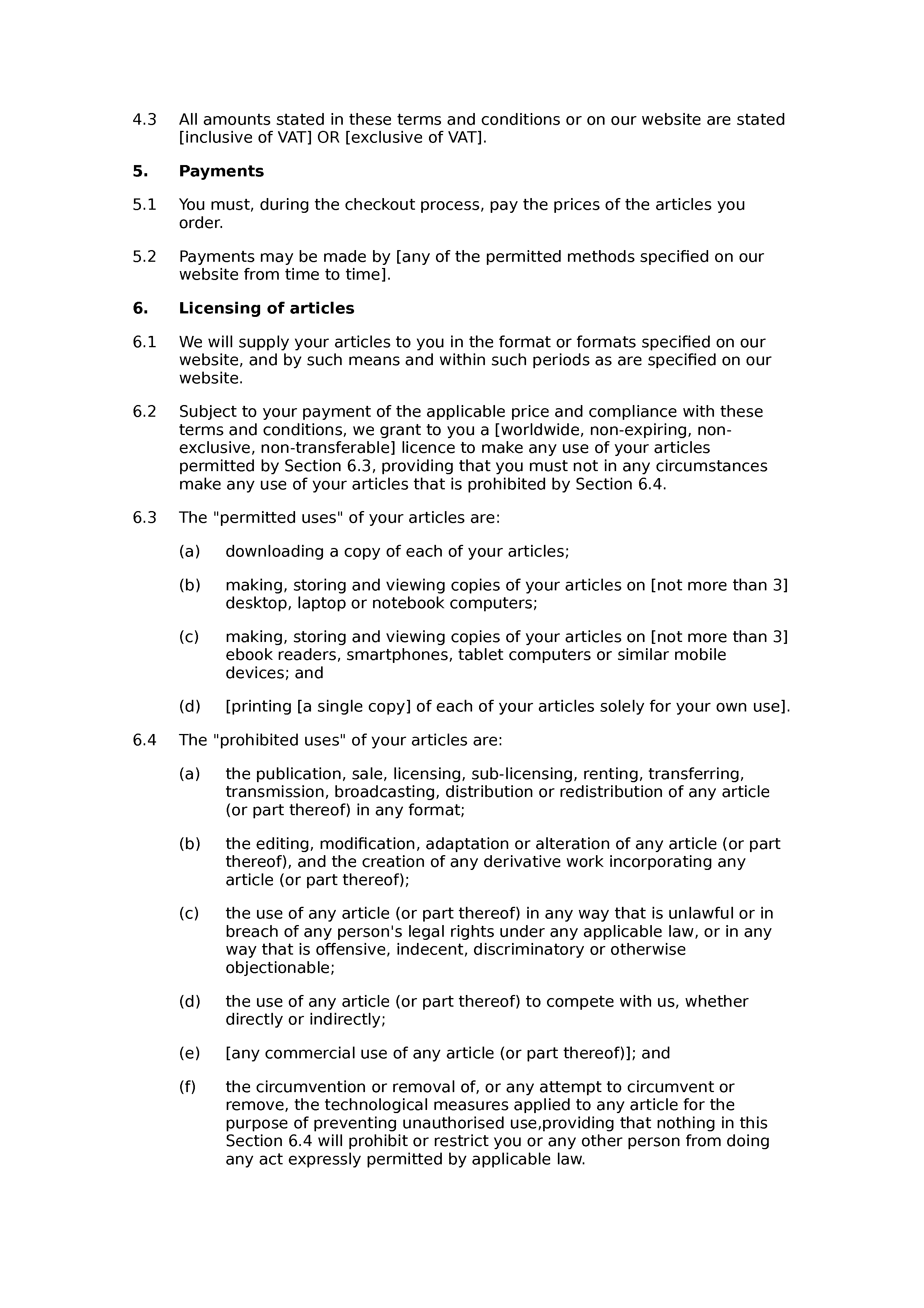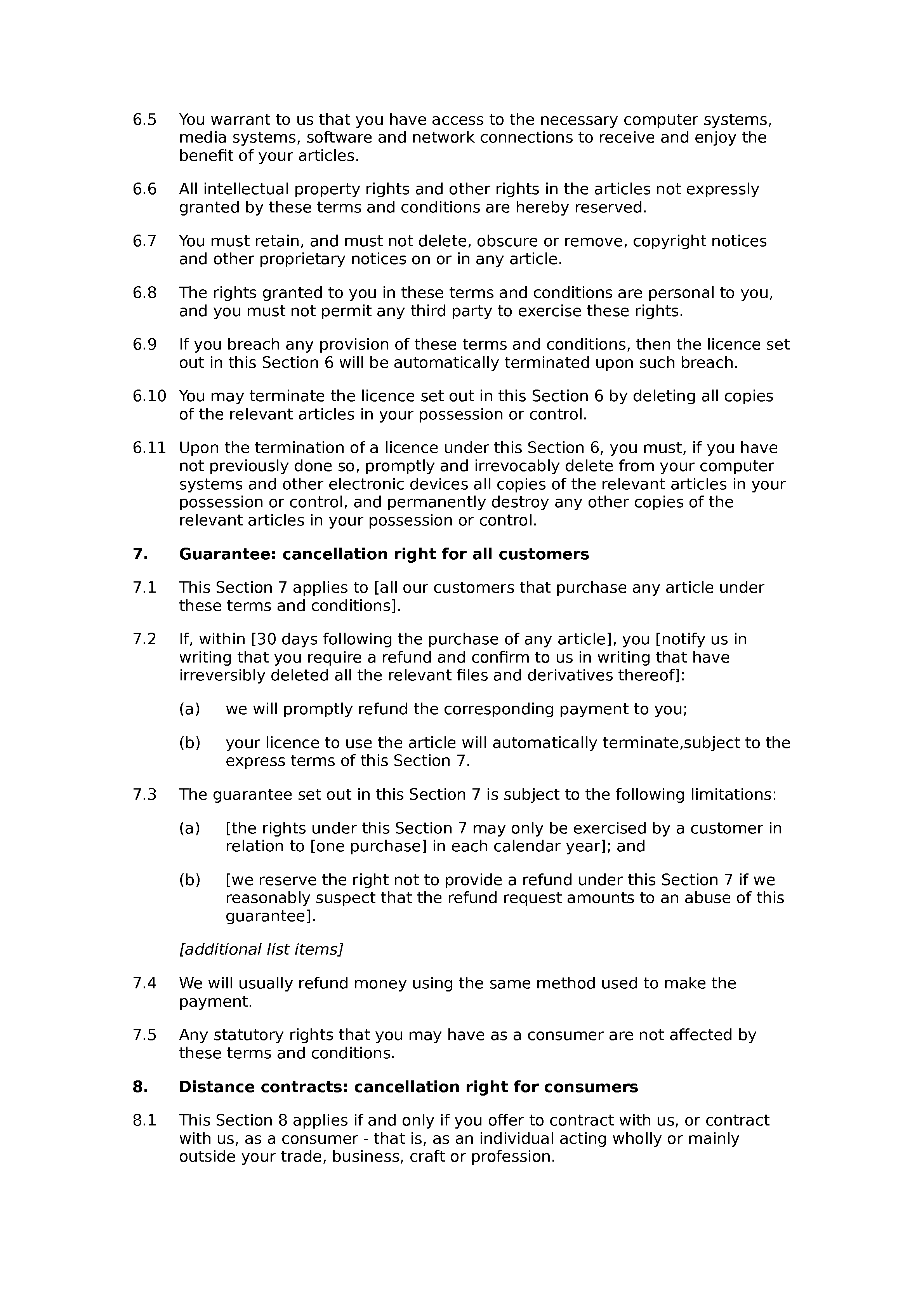 This is a shortened preview of the DOCX output; once you create your instance you'll be able to download the full document in PDF, HTML, RTF and/or DOCX (Microsoft Word) format.