Music download terms and conditions
Potential purchasers of online music can have trouble distinguishing between websites offering legal music sales and questionable or illegal websites offering more dubious downloads. A well-drafted set of legal documents can help customers make this distinction. Our music download terms and conditions provide a template for operators of legal sites to define buying procedures for customers and to reassure them about their rights to the digital music they purchase and download via the site.
The purchasing process suggested in our model terms and conditions is straightforward and allows the online music store operator to prevent any contractual relationship from being created until it has sent an email confirming the customer's order. This process allows the operator to distinguish between those users who simply browse the site and those who make purchases, thereby limiting the group of people who may lawfully assert contract claims against the site.
To reassure customers about their digital music purchases, the template contains a licence for buyers to use the music files in the ways expressly permitted in the T&Cs. These include typical personal uses, such as copying to devices, backing up or burning to a CD, and specifically exclude a number of other uses, such as further distribution, altering the files, violating the law or competing with the seller.
To reassure suppliers of digital music to the online store, the model terms and conditions contain requirements for the customer not to remove copyright notices in the downloaded files as well as an express statement that the customer obtains no intellectual property rights other than those explicitly granted in the T&Cs.
Customers are required to acknowledge that the music download website is providing the digital music in a specific format and to affirm that they have the equipment necessary to make use of the downloaded file. These provisions can serve to minimise disputes or claims about whether the music file is defective.
The template allows operators of digital music sites to comply with the dispositions of UK law governing distance contracts, in particular by providing consumers with a right to cancel and receive a refund within 14 days of making a purchase subject to the conditions and following the procedure set out in the T&Cs.
The music download terms and conditions also include boilerplate contract clauses addressing, among other matters, limitations on liability, the warranties of the parties, the amendment and assignment of the contract, as well as the information that is legally required on the websites of UK companies.

Ask about this document
Music download terms and conditions contents
Introduction: purpose of document: governing downloads; express agreement to document upon order; no abridgment of consumer statutory rights.
Interpretation: informal definitions for download terms and conditions.
Order process: download advertisement as invitation to treat; no contracts except in accordance with order process; downloads order process; input error correction and identification.
Prices: prices quoted on website; prices changes on website; amounts inclusive or exclusive of VAT.
Payments: payment of download prices; methods of paying prices.
Licensing of music files: format and supply of downloads; grant of licence to use downloads; permitted uses of music files; prohibited uses of music files; warranty of ability to use downloads; all rights in downloads reserved; retention of proprietory notices in downloads; rights granted are personal; licence to use downloads terminates upon breach; termination of download licence by deletion; consequence of termination of licence to use downloads.
Distance contracts: cancellation right: cancellation right for consumers; cancellation right for services and digital content; consumer agreement to provision of digital content; exercise of cancellation right; full refund upon distance contract cancellation; refund method; refund timing for services and digital content.
Warranties and representations: customer warranties and representations; warranty relating to digital content (B2B); warranties relating to digital content (B2C or mixed); no implied warranties or representations relating to supply of intangibles.
Limitations and exclusions of liability: caveats to limits of liability (with consumer protection); interpretation of limits of liability; no liability for force majeure; no liability for business losses; no liability for loss of data or software (with consumer protection); no liability for consequential loss (with consumer protection); no personal liability; liability cap upon services contract.
Variation: revision of document by publishing new version on website; variations govern future contracts.
Assignment: assignment by first party (with consumer rights); assignment by second party.
No waivers: no unwritten waivers of breach; no continuing waiver.
Severability: severability of whole; severability of parts.
Third party rights: third party rights: benefit; third party rights: exercise of rights.
Entire agreement: entire agreement - sale and licensing of downloads.
Law and jurisdiction: governing law; jurisdiction.
Statutory and regulatory disclosures: copy of document not filed; language of document; value added tax number; link to ODR website; name and URL of ADR provider.
Our details: website operator name; company registration details; place of business; contact information.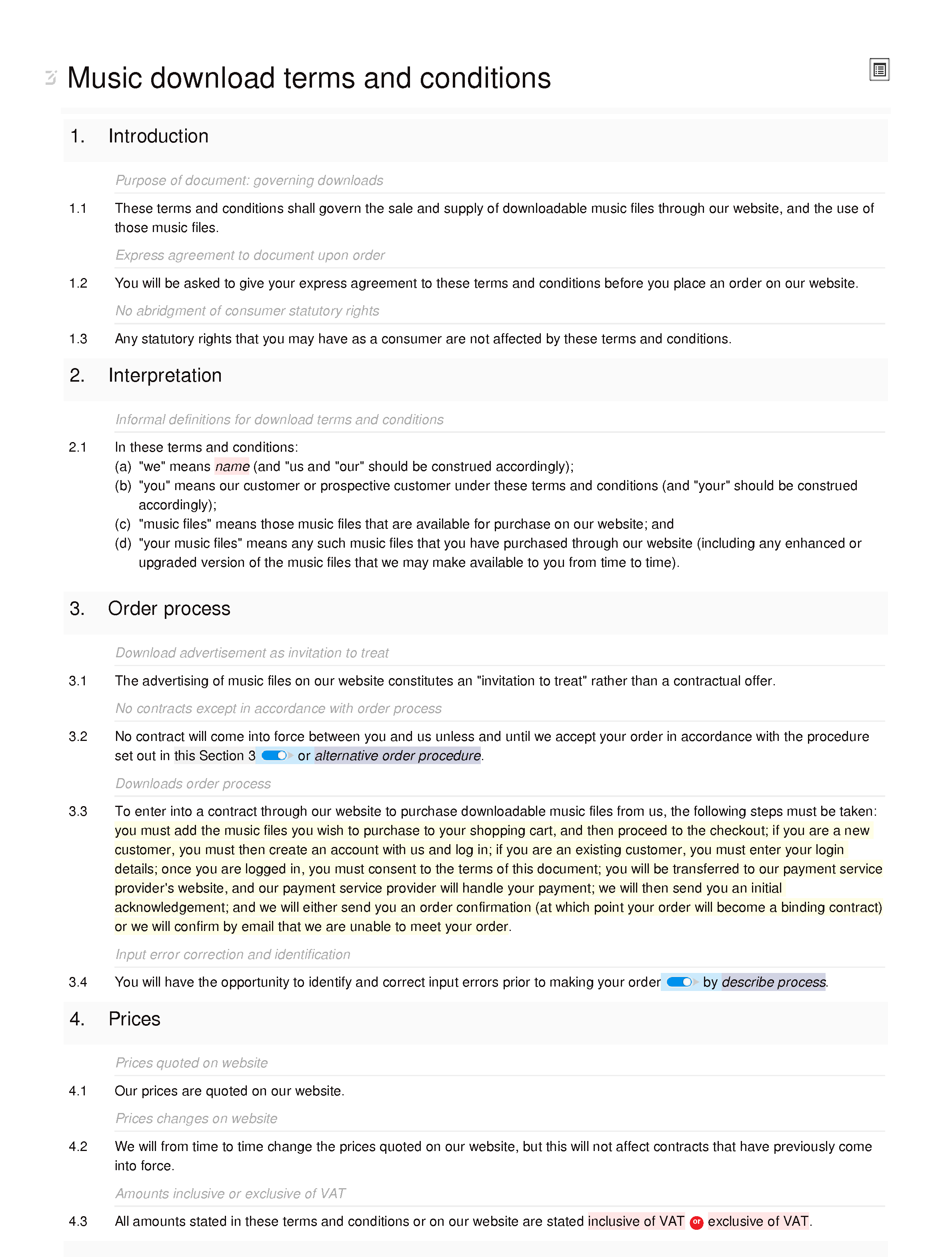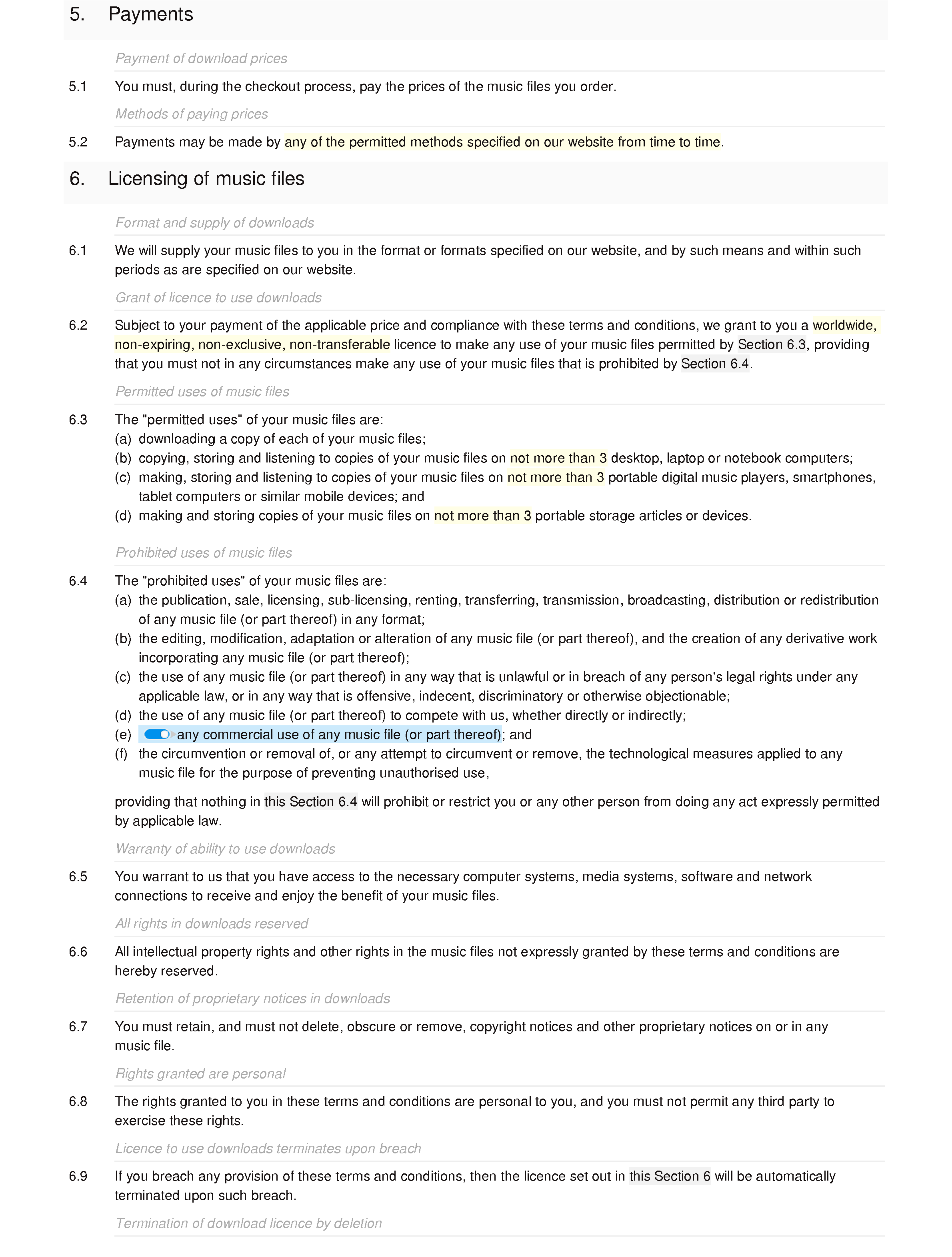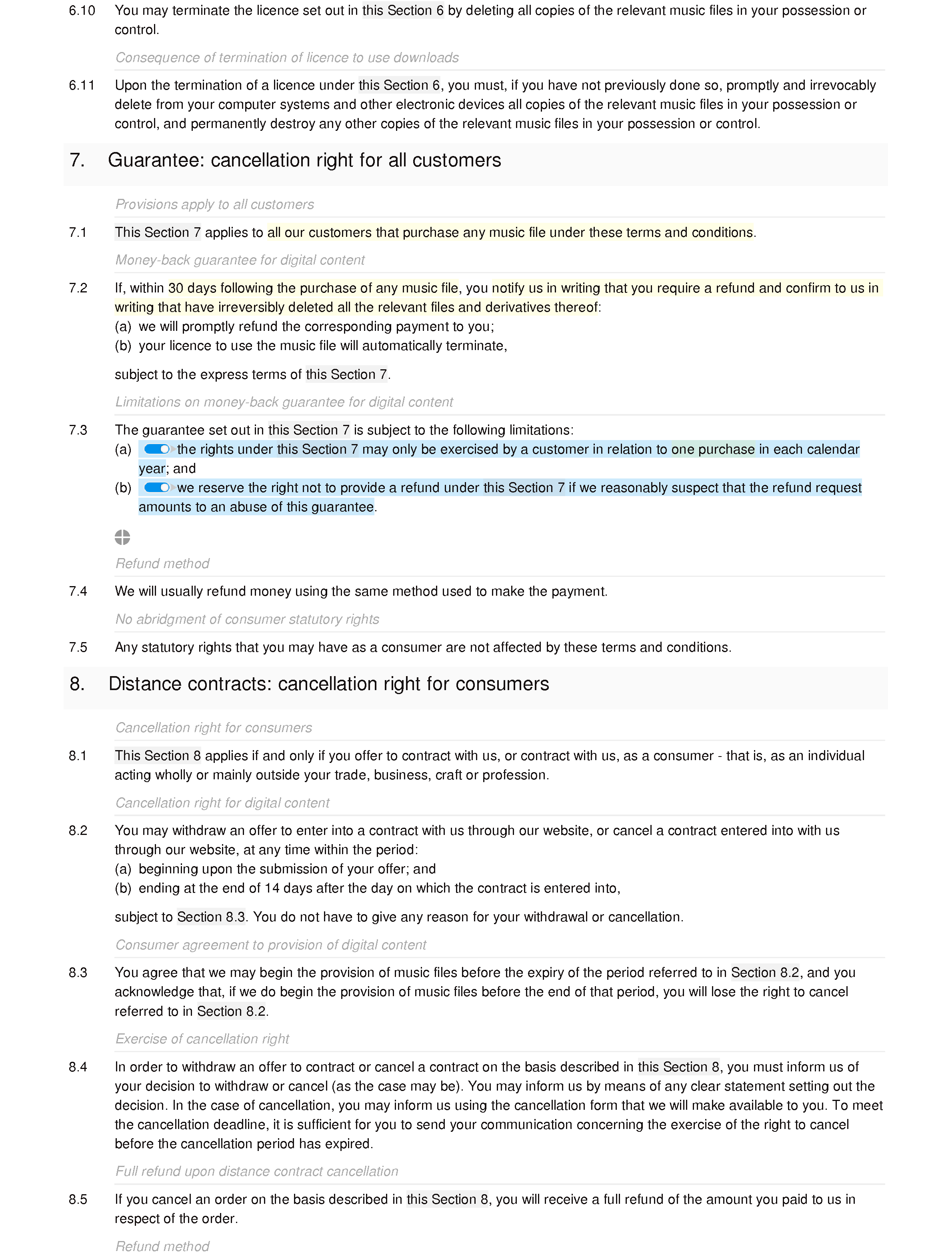 This is a shortened preview of the editor interface; once you create your instance you'll be able to edit the full document in our online editor.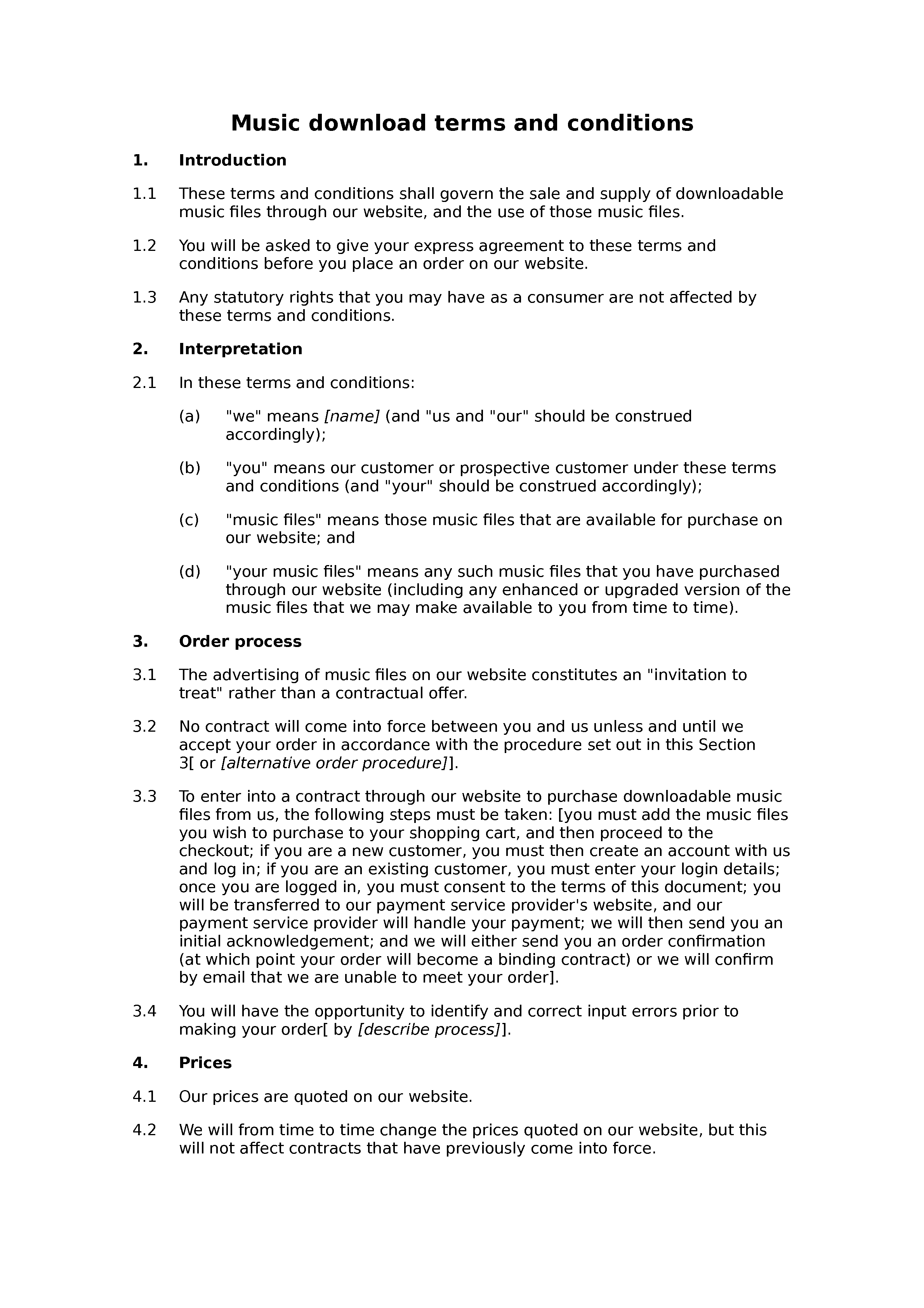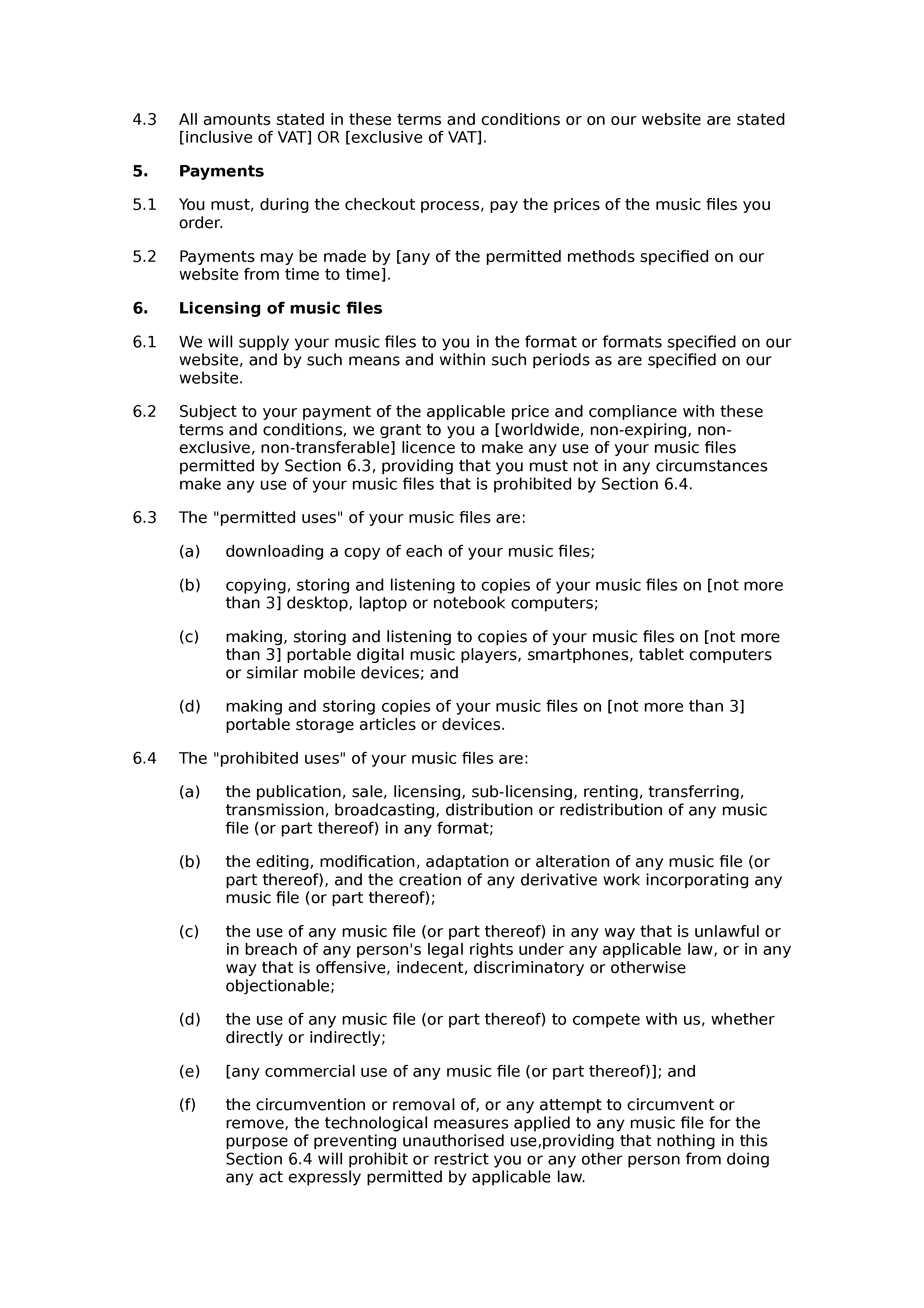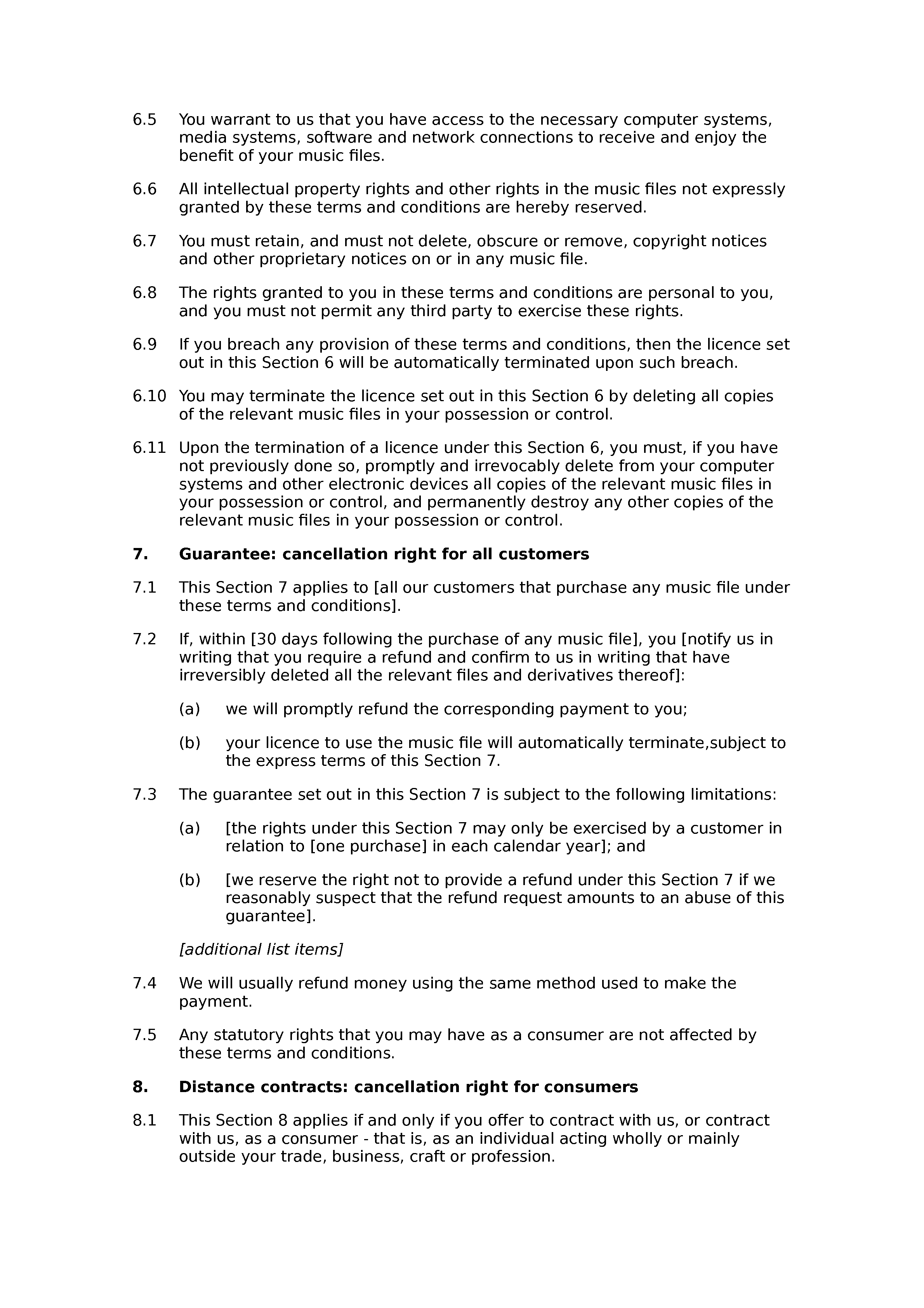 This is a shortened preview of the DOCX output; once you create your instance you'll be able to download the full document in PDF, HTML, RTF and/or DOCX (Microsoft Word) format.