Software download terms and conditions
Owners of websites that make software programs available for download for a fee need to establish terms and conditions for their sales. Sellers of downloadable software often need to clarify their relationships with visitors to the site and with actual purchasers of the software. Sellers also typically want to limit uses of the product once it is downloaded. Additionally, sales of such software need to be made in accordance with applicable law.
Our software download terms and conditions template responds to three key needs, as follows.
First, the template clarifies when a contractual relationship begins. The template specifies that, among the many visitors to your website, only those purchasers who receive an email confirming your agreement to fulfill their software download order enter into a contract with you.
Next, the template specifies the purchaser's rights to and permitted uses of the software. In particular, under this template, you license the software for download, installation, backup and standard use. You restrict, among other things, the resale, modification and, at your option, commercial use of the downloaded software. You also have the option to restrict downloads by people other than the original purchaser.
Finally, the template contains cancellation provisions that allow cancellations by purchasers who are "consumers" within the meaning of UK legislation on consumer contracts. If such a purchaser informs you of his desire to cancel before you have supplied the software and within 14 days of their order, you must refund their full purchase price.
In addition to addressing the three key needs of website owners who provide downloadable software, the template contains provisions limiting liability under the contract to the extent permitted under applicable law.
The template also contains provisions that allow you to update the terms and conditions applicable to future contracts and that allow you to sign contracts over to someone else, for example if you sell your business activity or hire an outside provider to manage software sales. Where the purchaser is a "consumer", your right under this assignment clause is subject to compliance with UK legislation on consumer contracts.
The template contains a place saver for you to indicate the owner of the website and other details that are required under English and European Union law.

Ask about this document
Software download terms and conditions contents
Introduction: purpose of document: governing downloads; express agreement to document upon order; no abridgment of consumer statutory rights.
Interpretation: informal definitions for download terms and conditions.
Order process: download advertisement as invitation to treat; no contracts except in accordance with order process; downloads order process; input error correction and identification.
Prices: prices quoted on website; prices changes on website; amounts inclusive or exclusive of VAT.
Payments: payment of download prices; methods of paying prices.
Licensing of software: format and supply of downloads; grant of licence to use downloads; permitted uses of software; prohibited uses of software; warranty of ability to use downloads; all rights in downloads reserved; retention of proprietory notices in downloads; rights granted are personal; licence to use downloads terminates upon breach; termination of download licence by deletion; consequence of termination of licence to use downloads.
Additional users: other permitted download software users.
Free trial: free trials; restricted features on free trials; restriction of right to use free trial; free trial termination.
Distance contracts: cancellation right: cancellation right for consumers; cancellation right for services and digital content; consumer agreement to provision of digital content; exercise of cancellation right; full refund upon distance contract cancellation; refund method; refund timing for services and digital content.
Warranties and representations: customer warranties and representations; warranty relating to digital content (B2B); warranties relating to digital content (B2C or mixed); no implied warranties or representations relating to supply of intangibles.
Limitations and exclusions of liability: caveats to limits of liability (with consumer protection); interpretation of limits of liability; no liability for force majeure; no liability for business losses; no liability for loss of data or software (with consumer protection); no liability for consequential loss (with consumer protection); no personal liability; liability cap upon services contract.
Variation: revision of document by publishing new version on website; variations govern future contracts.
Assignment: assignment by first party (with consumer rights); assignment by second party.
No waivers: no unwritten waivers of breach; no continuing waiver.
Severability: severability of whole; severability of parts.
Third party rights: third party rights: benefit; third party rights: exercise of rights.
Entire agreement: entire agreement - sale and licensing of downloads.
Law and jurisdiction: governing law; jurisdiction.
Statutory and regulatory disclosures: copy of document not filed; language of document; value added tax number; link to ODR website; name and URL of ADR provider.
Our details: website operator name; company registration details; place of business; contact information.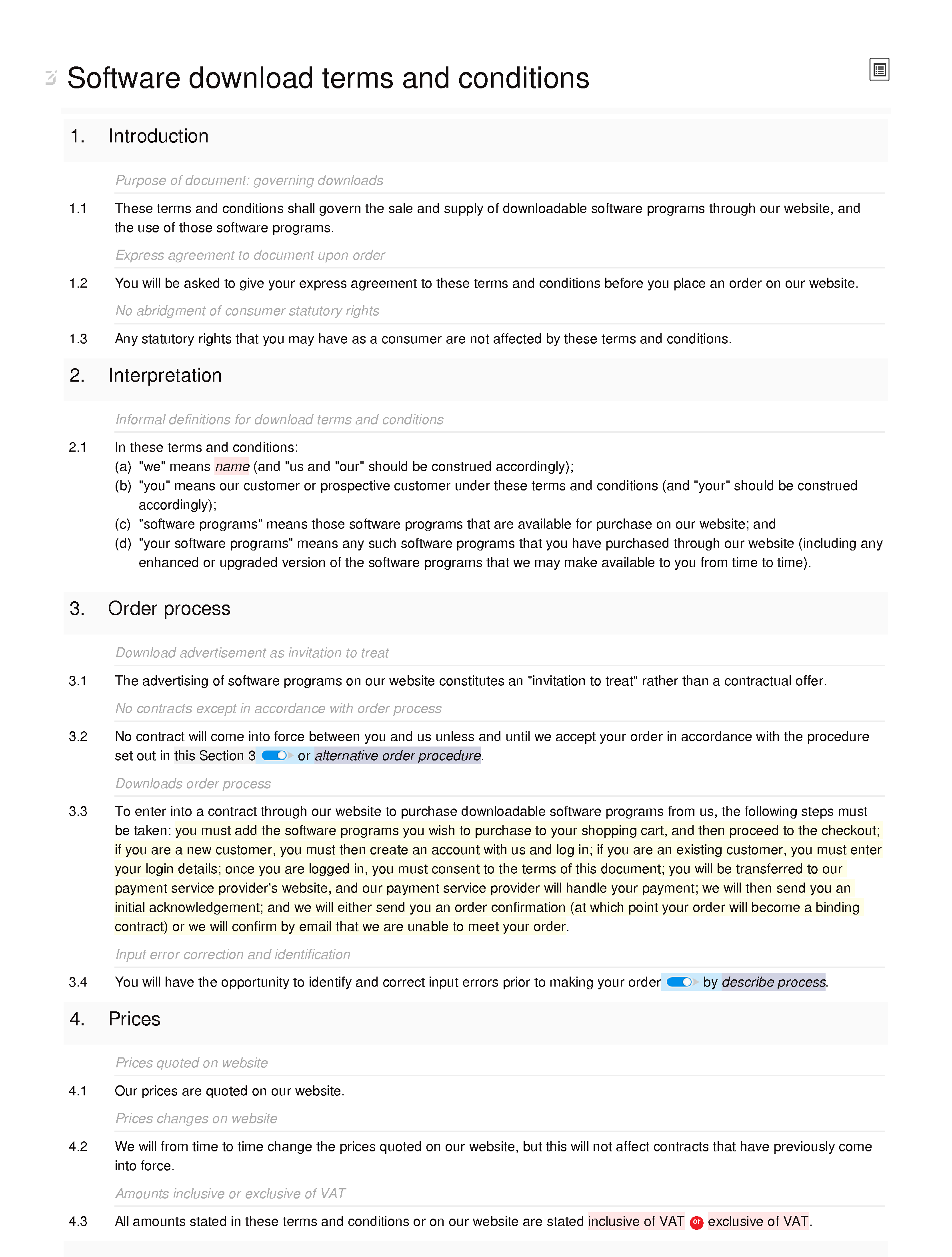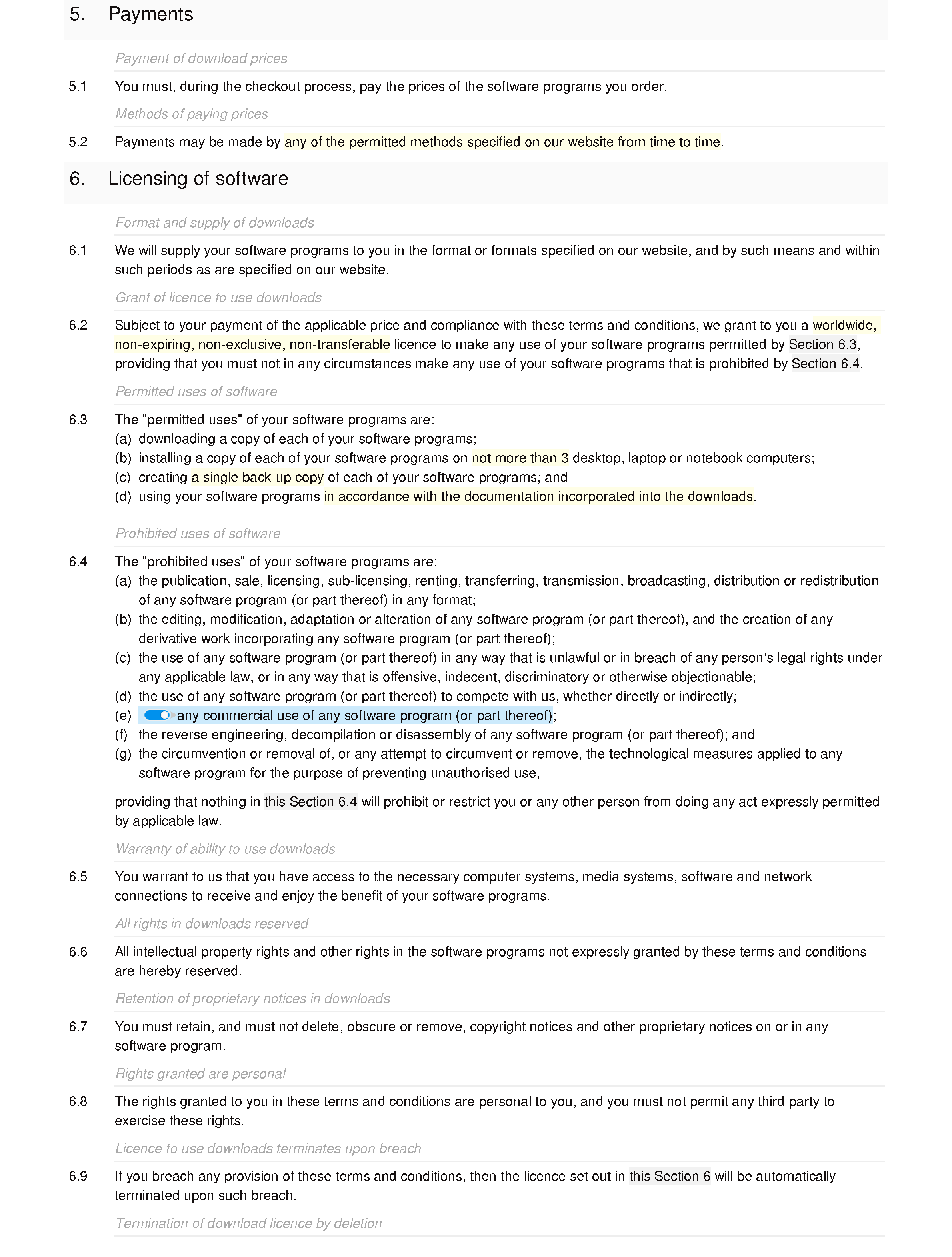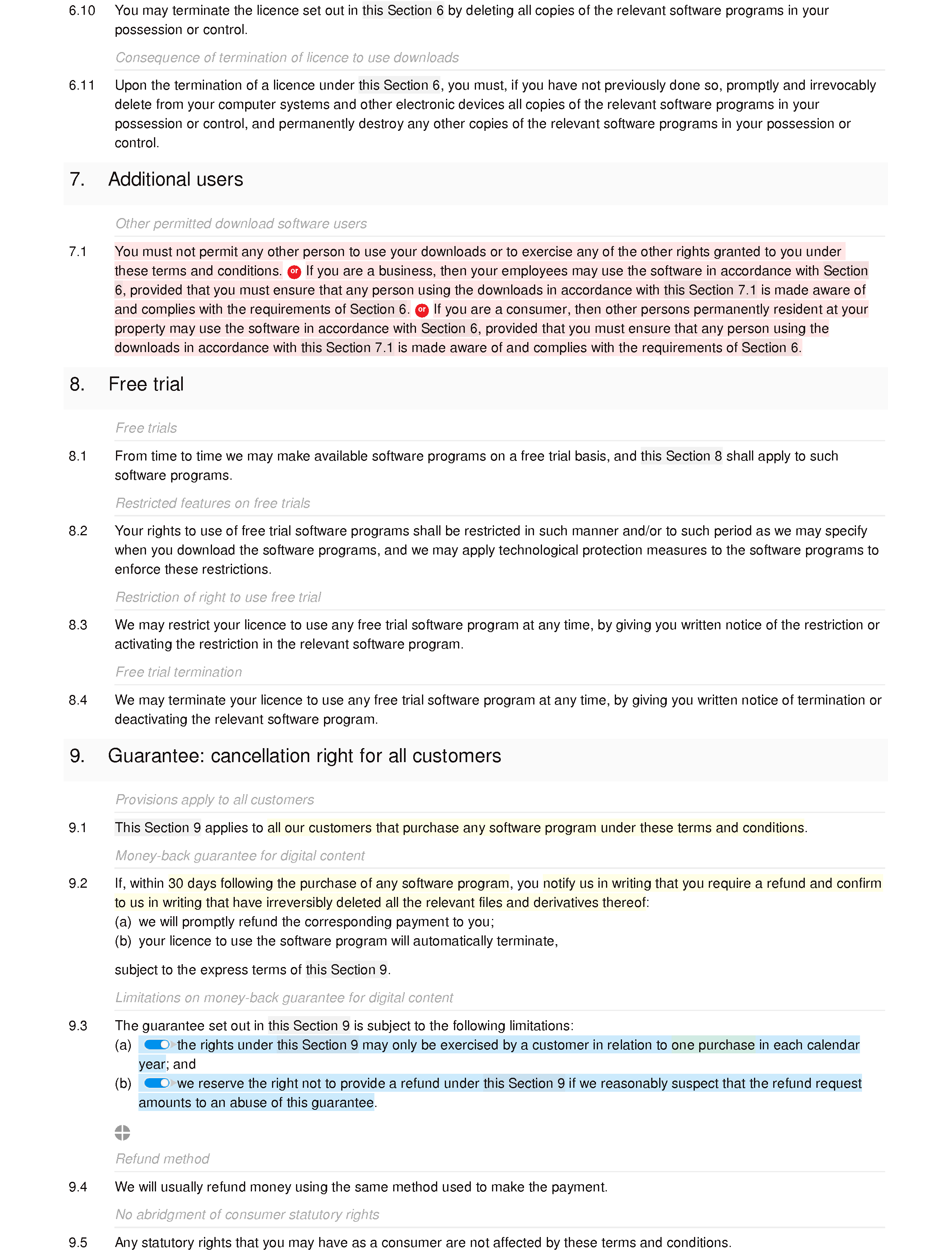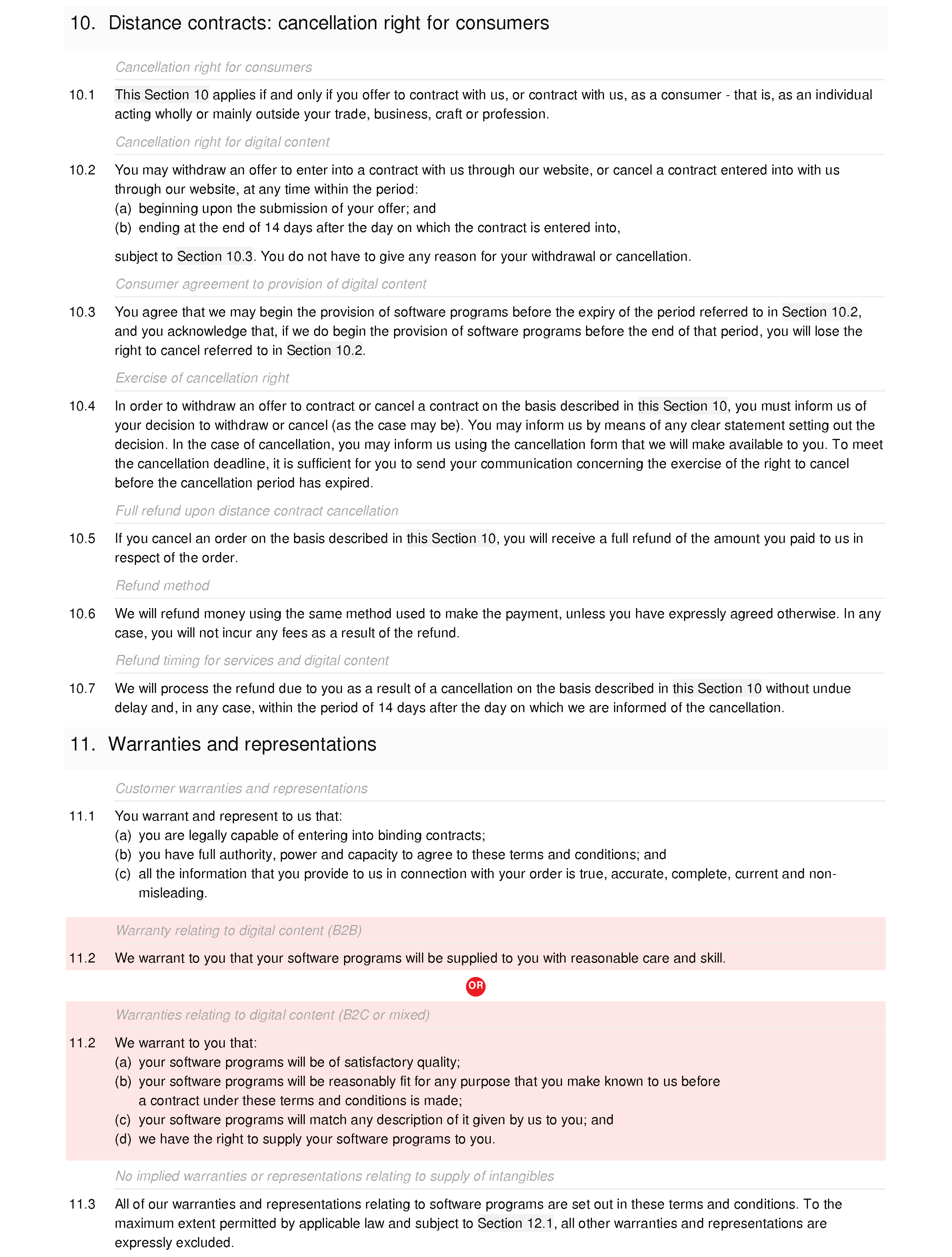 This is a shortened preview of the editor interface; once you create your instance you'll be able to edit the full document in our online editor.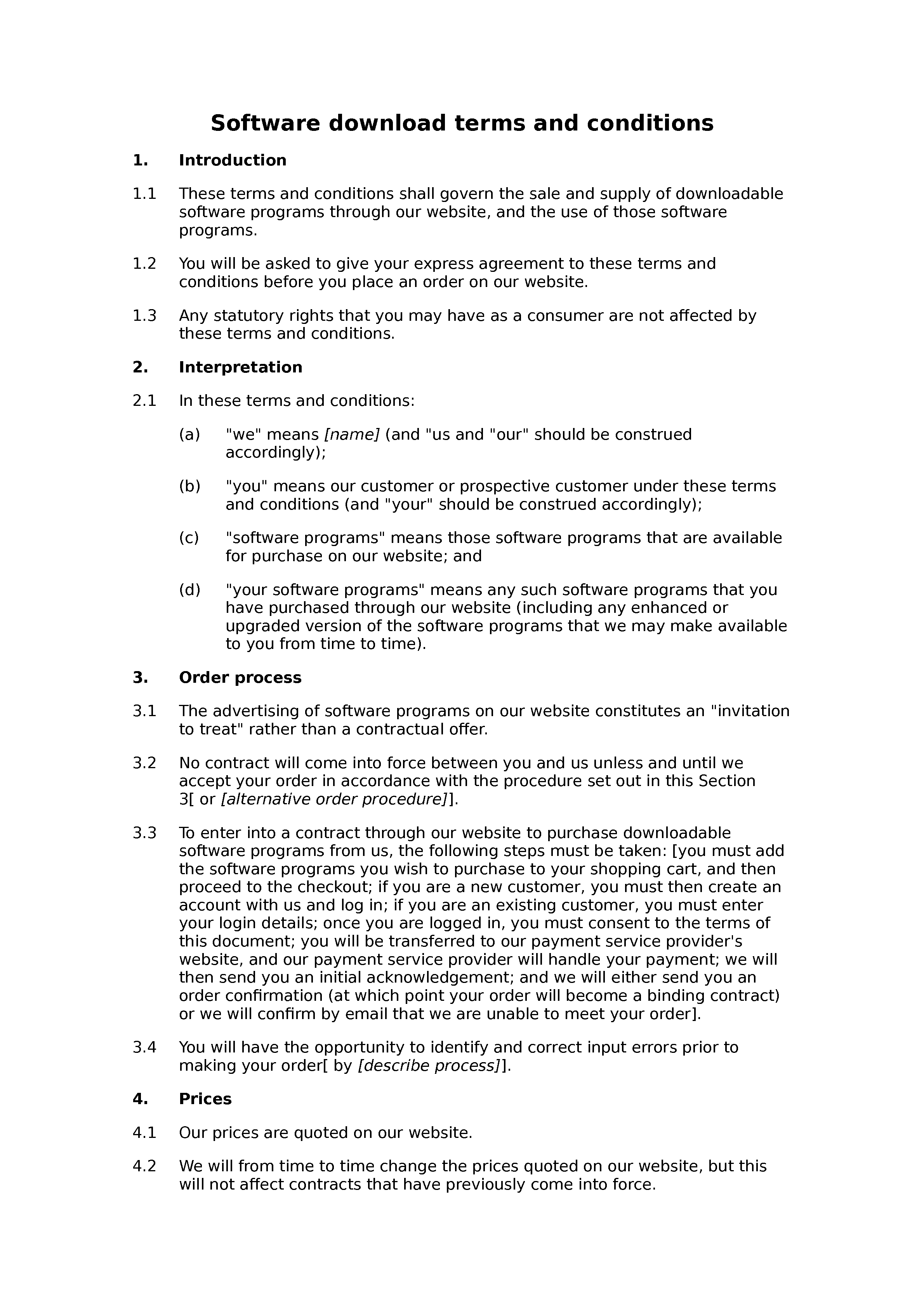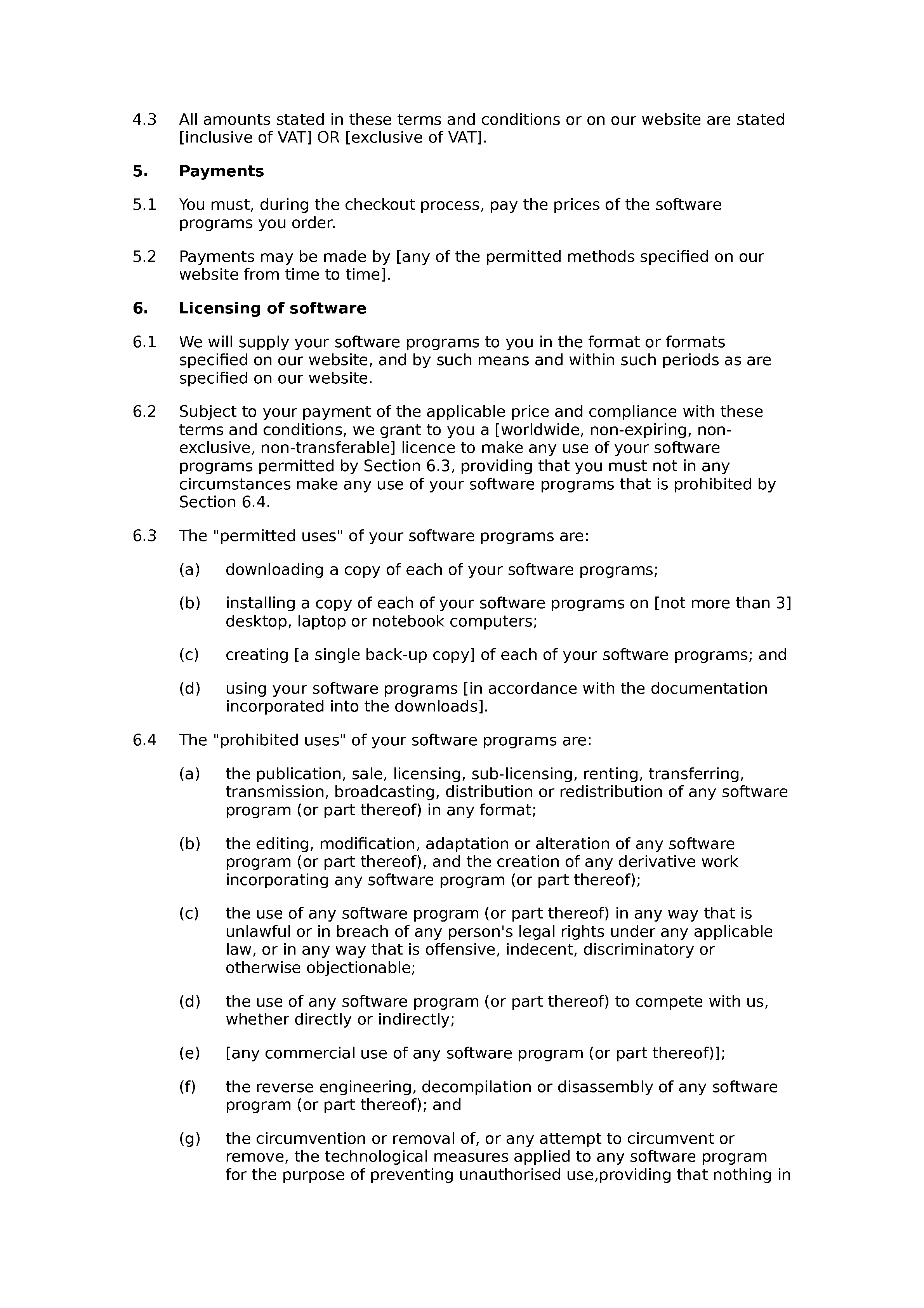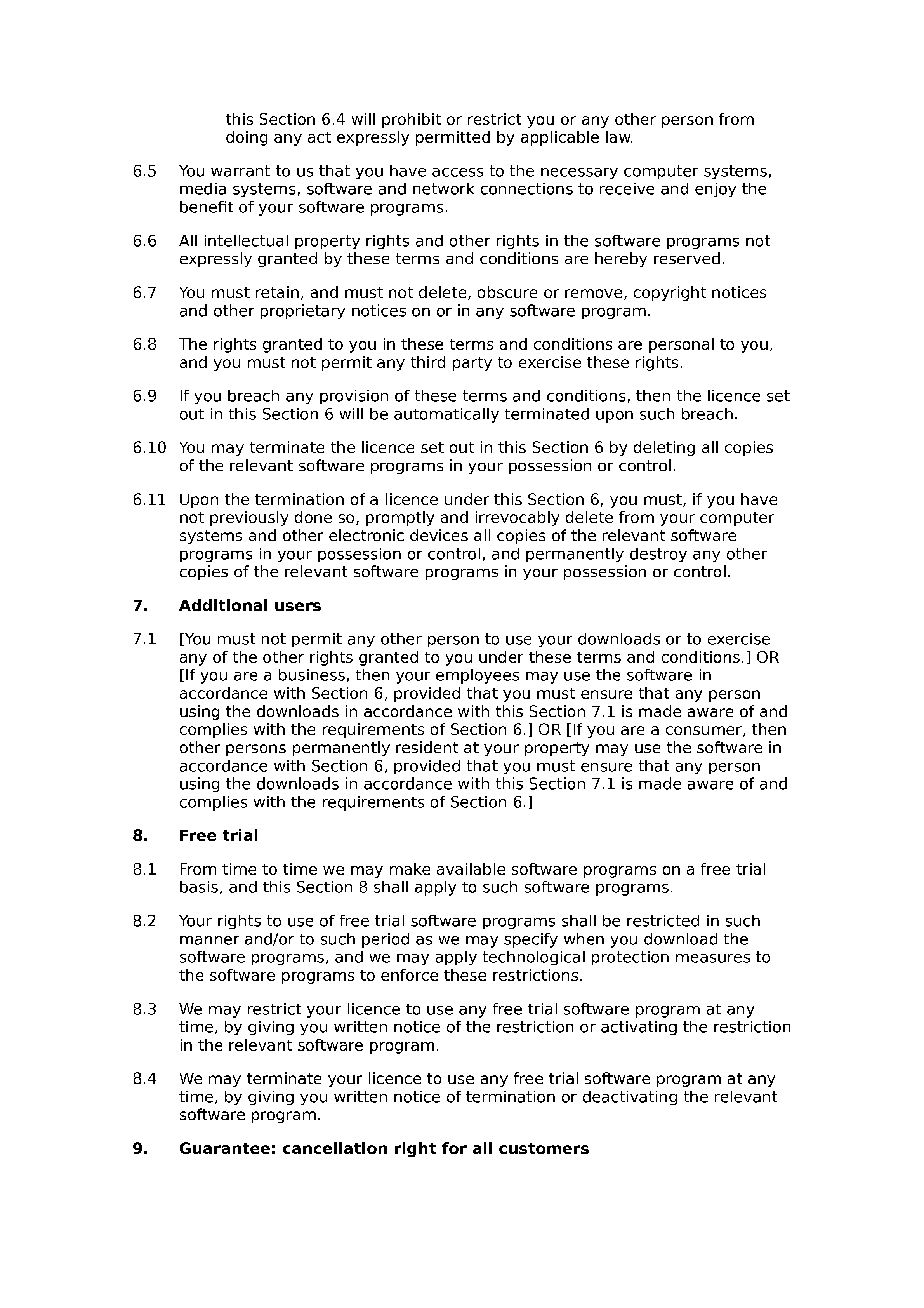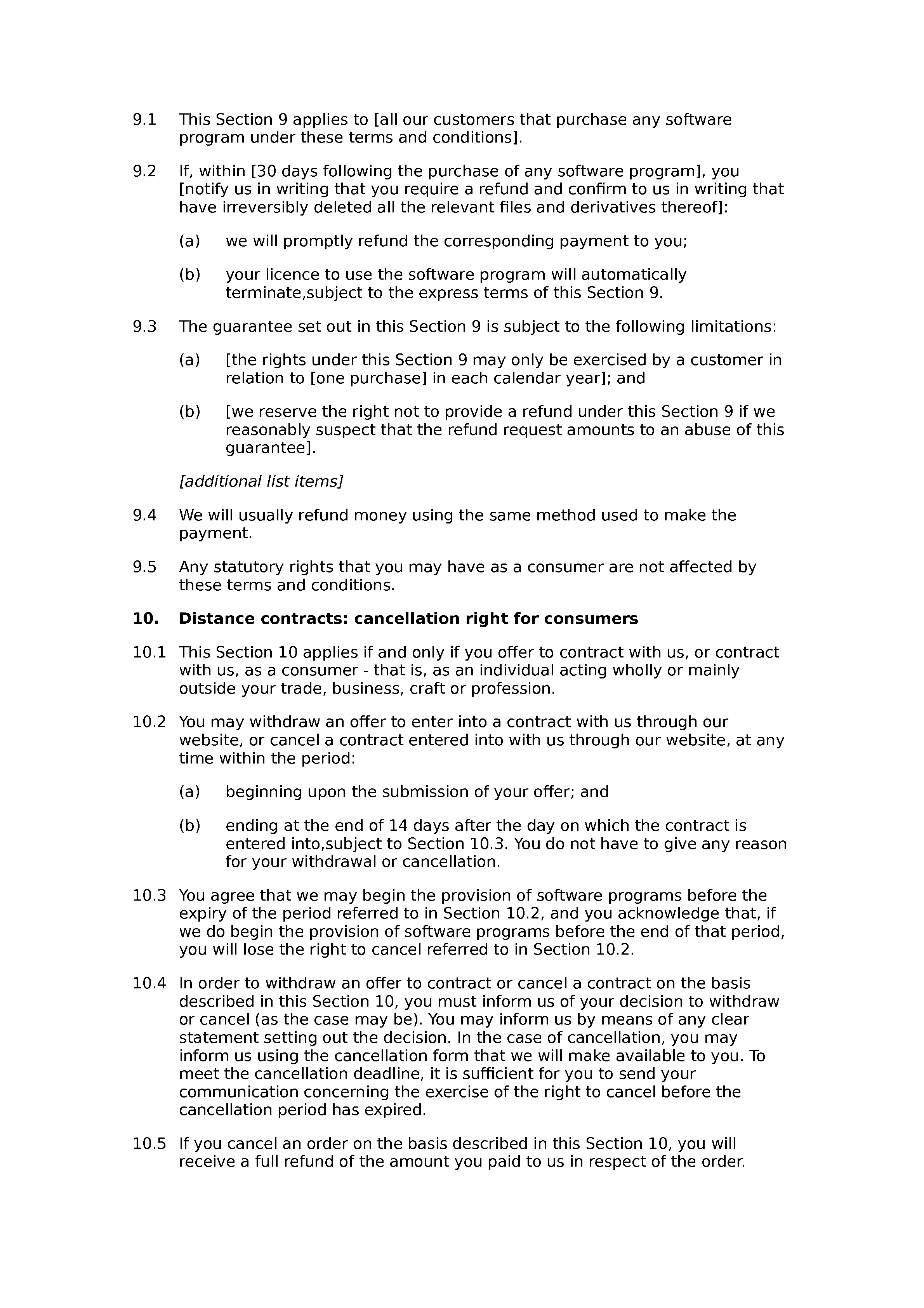 This is a shortened preview of the DOCX output; once you create your instance you'll be able to download the full document in PDF, HTML, RTF and/or DOCX (Microsoft Word) format.