Email marketing agreement
This email marketing agreement can be used in relation to three different kinds of email marketing service. First, where a service provider is actively managing a campaign for the customer. Second, where the service provider is making available a platform to allow the customer to conduct their own campaigns. Third, where both types of service are being provided.
Different legal issues affect the different types of service. For example, in relation to managed email services, the service provider will often require cooperation from the customer. In relation to platform services, the service provider will want to ensure that the customer does not misuse the platform. In relation to both types of service, the parties will want assurances that email marketing lists are being properly collected and that anti-spam laws are not being broken.
An optional acceptable use policy is attached as a schedule to this document. It may be used to regulate the use of an email marketing platform by the customer.
This document is very similar to our email marketing terms and conditions document, although in a slightly different form.
If you are looking for a document that covers other types of online marketing services, see our web marketing services agreement.

Ask about this document
Email marketing agreement contents
Definitions: definitions.
Term: commencement of term; end of term.
Email Marketing Services: obligation to provide email marketing services; email marketing lists provided by

Client

.
Email Marketing Platform: availability of email marketing platform ; functionality of email marketing platform; email marketing platform and acceptable use policy; informal definition of uptime (email marketing platform); uptime commitment (email marketing platform); measurement of uptime; reporting of uptime measurements; scheduled maintenance to email marketing platform; list of exceptions to availablity commitment.

Client

obligations: general second party obligations;

Client

web marketing obligations; web marketing resources consequences.

Client

Materials: supply of second party materials; licence of second party materials; warranties relating to second party materials.

Client

Websites: access to

Client

websites; restrictions on changes to

Client

websites;

Client

websites legality.
Online Accounts:

Provider

online accounts;

Client

online accounts; new online accounts; online accounts: parties may agree derogations from defaults.

Client

Trade Marks: provision of trade marks; licence to use customer trade marks; trade mark style guide; standard of use of trade marks; prohibition on actions liable to damage trade marks; goodwill in trade marks; specific request to cease use of trade marks; warranty of trade marks non-infringement; no implied rights to trade marks; trade marks upon termination.
Intellectual Property Rights: assignment of intellectual property rights in deliverables; licence to use deliverables; mixed assignment and licence of rights; licensing of third party materials; waiver of moral rights in deliverables; further assurance (intellectual property).
Reputation and goodwill: protection of second party reputation and goodwill; protection of first party reputation and goodwill.
Charges: obligation to pay charges; time-base charges limitations; amounts inclusive or exclusive of VAT; variation of charges.
Timesheets: obligation to keep timesheets; obligation to supply timesheets.
Payments: issue of invoices; time for payment of charges following invoice; payment methods; interest on late payments.
Confidentiality obligations: first party confidentiality undertaking; second party confidentiality undertaking; disclosure of confidential information to certain persons; exceptions to confidentiality obligations; disclosures of confidential information mandated by law etc; parties to stop using confidential information upon termination; parties to return or destroy confidential information following termination; confidentiality obligations after termination.
Data protection: warranty of second party's right to disclose personal data; personal data processing undertakings by first party.
Warranties: standard of services; first party general warranties; second party warranty of authority; exclusion of implied warranties and representations.
Indemnities: indemnity upon breach: any provision or specified provisions (with definition); conditions upon first party indemnity; indemnity upon breach: any provision or specified provisions (with definition); conditions upon second party indemnity; limitations of liability vs indemnities.
Limitations and exclusions of liability: caveats to limits of liability; interpretation of limits of liability; no liability for force majeure; no liability for loss of profits; no liability for loss of revenue; no liability for loss of use; no liability for loss of opportunities; no liability for loss of data or software; no liability for consequential loss; per event liability cap upon services contract; aggregate liability cap upon services contract.
Force Majeure Event: obligations suspended for force majeure; force majeure notification and information; mitigation of effects of force majeure.
Termination: termination without cause (optionally assymetric); termination by either party without cause; termination upon breach; termination upon insolvency; termination upon non-payment.
Effects of termination: surviving provisions upon termination; termination does not affect accrued rights;

Client

datasets upon termination.
Status of

Provider

: first party is independent contractor not employee; no redundancy or compensation.
Notices: methods and deemed receipt of contractual notices; contact details for contractual notices; substitute contact details for notices.
Subcontracting: no subcontracting without consent; subcontracting permitted; first party responsible for subcontracted obligations.
General: no waiver; severability; variation written and signed; no assignment without written consent; no third party rights; entire agreement; governing law; exclusive jurisdiction.
Interpretation: statutory references; section headings not affecting interpretation; calendar month meaning; no ejusdem generis.
SCHEDULE 1 (WEB MARKETING PARTICULARS)
Minimum Term: minimum term prompt.
Specification of Services: specification of services prompt.
Specification of Deliverables: specification of deliverables prompt.
Timetable: timetable prompt.

Client

Materials: second party materials prompt.
Financial provisions: financial provisions prompt.
SCHEDULE 2 (ACCEPTABLE USE POLICY)
Introduction: definitions for acceptable use policy; parties to acceptable use policy; agreement to policy by using services; express agreement to policy; services user minimum age under policy.
General usage rules: no damaging use of services; no unlawful use of services; content must comply with provisions of part.
Unlawful Content: no unlawful user content: general prohibition; no unlawful user content: specific prohibitions; previous complaints and user content.
Graphic material: age suitability of user content; no violence in user content; no pornographic user content.
Factual accuracy: content must be truthful; content must not risk defamation.
Negligent advice: no professional advice in user content; no negligent advice in user content.
Etiquette: content appropriate etc; no offensive content; no annoying content; no hostile communications; no deliberate offense; no content flooding; no duplicate content; categorisation of content; appropriate content titles; courtesy to service users.
Marketing and spam: prohibition on marketing activities; no spam in user content; sending spam using email addresses; no promotion of marketing schemes.
Gambling: no gambling-related activities.
Monitoring: acknowledgement relating to monitoring.
Data mining: no data mining.
Hyperlinks: no hyperlinks to prohibited content.
Harmful software: no harmful software; no risky software.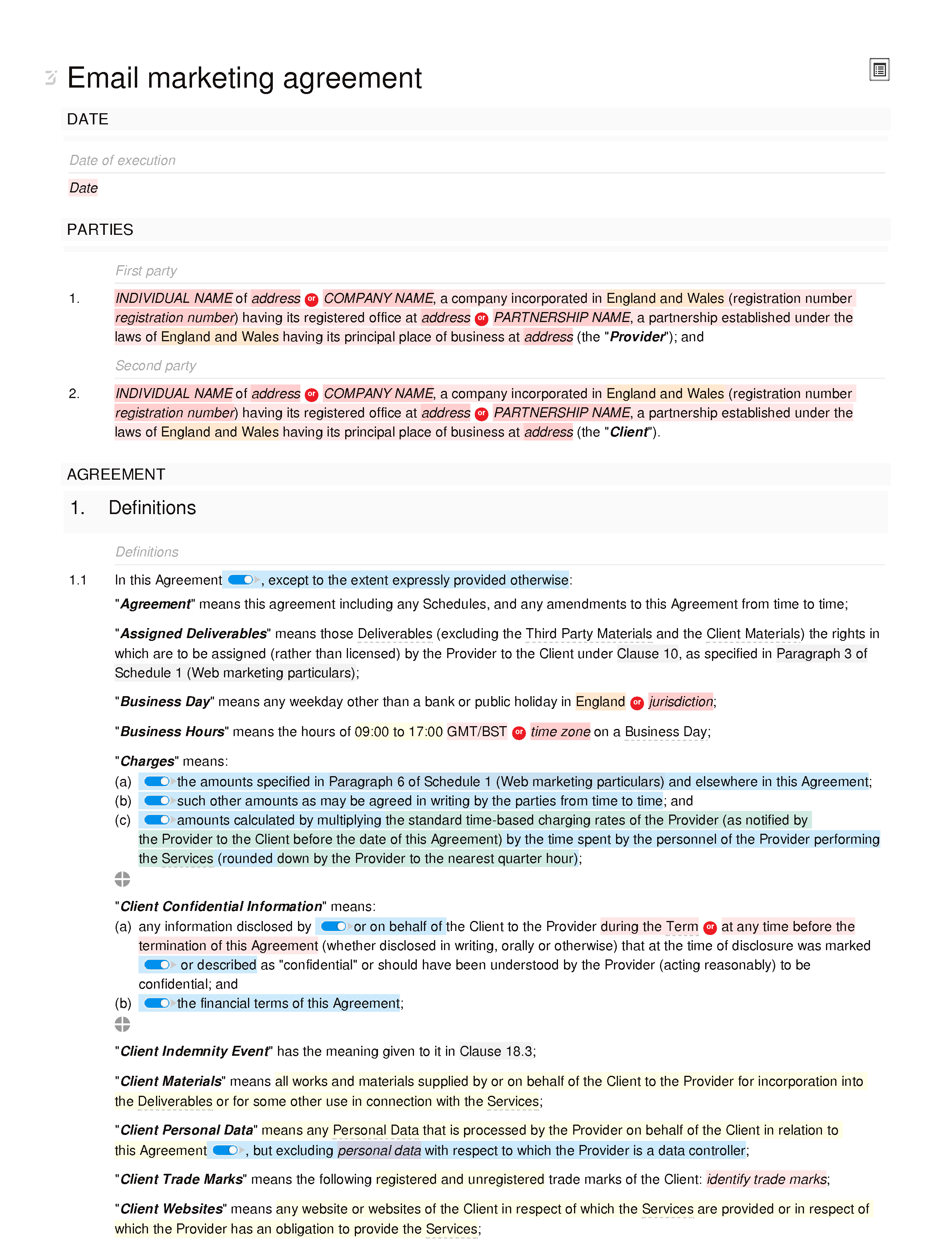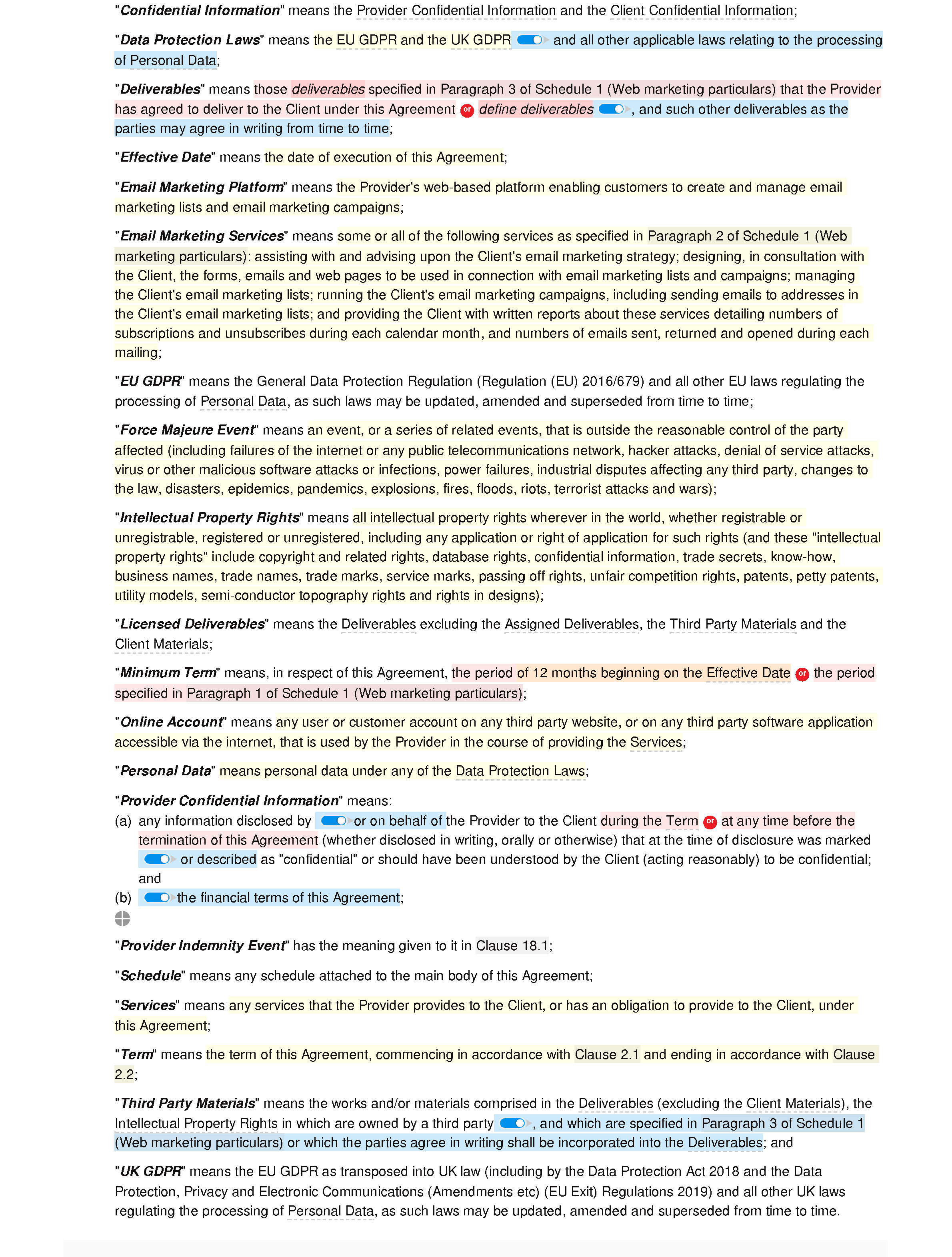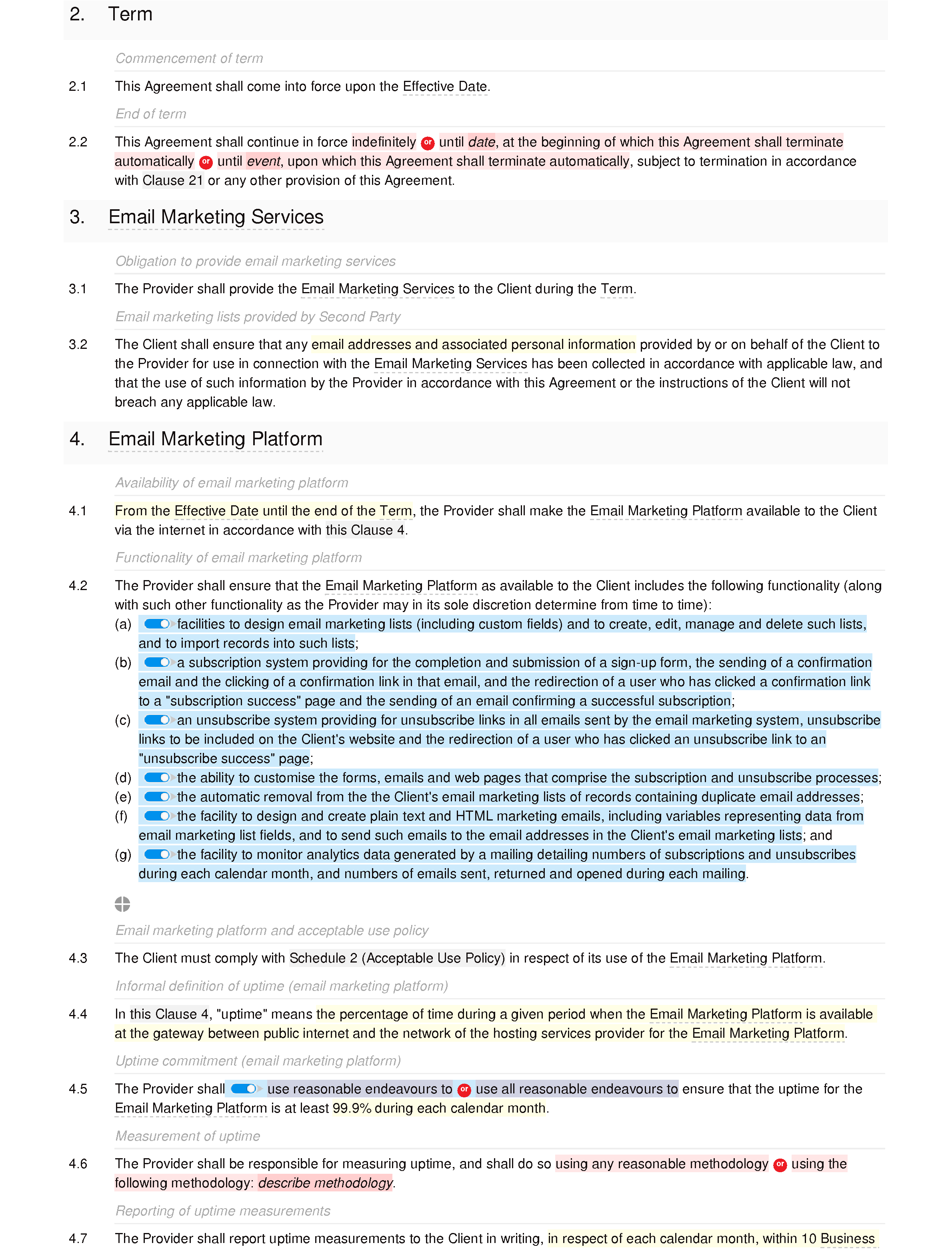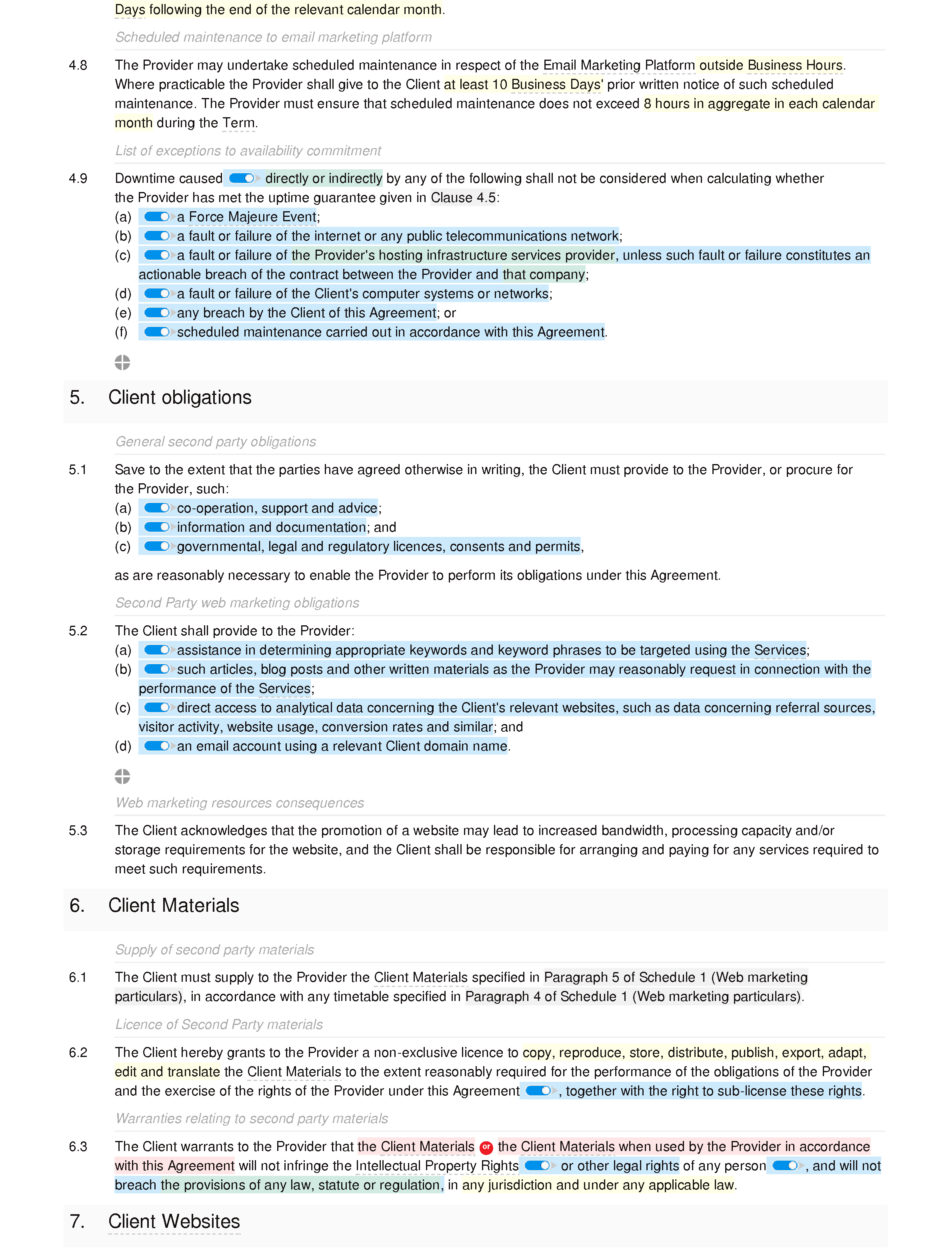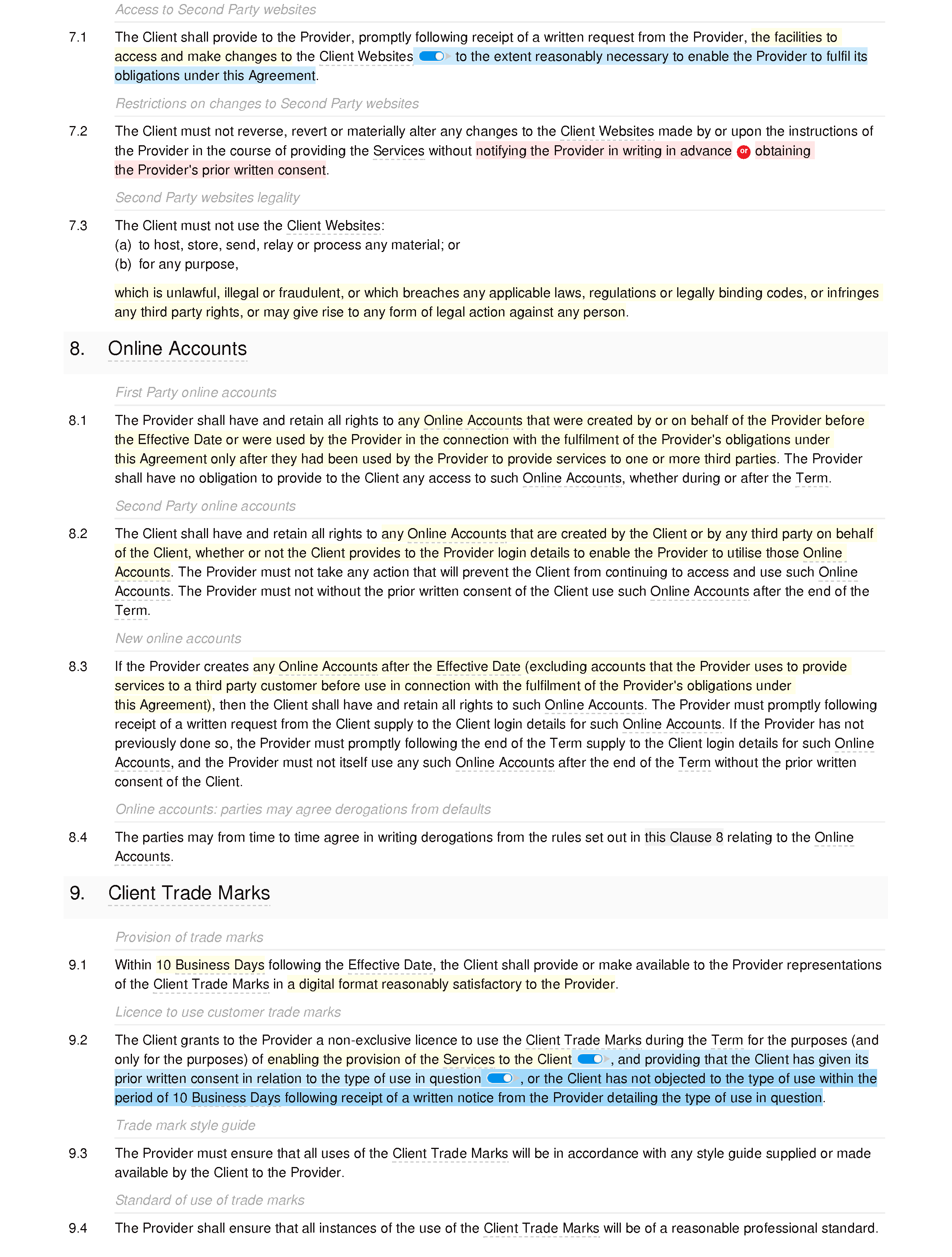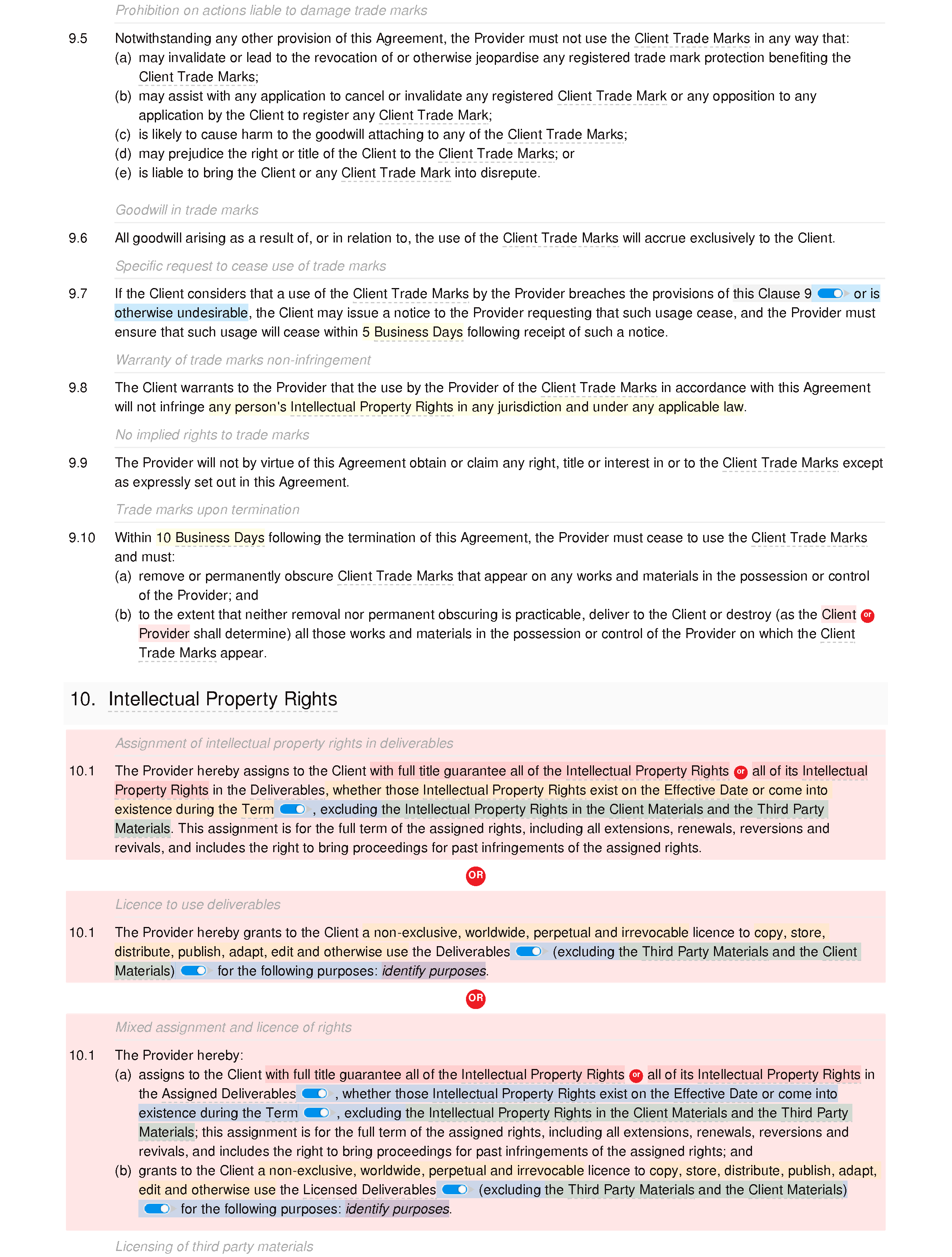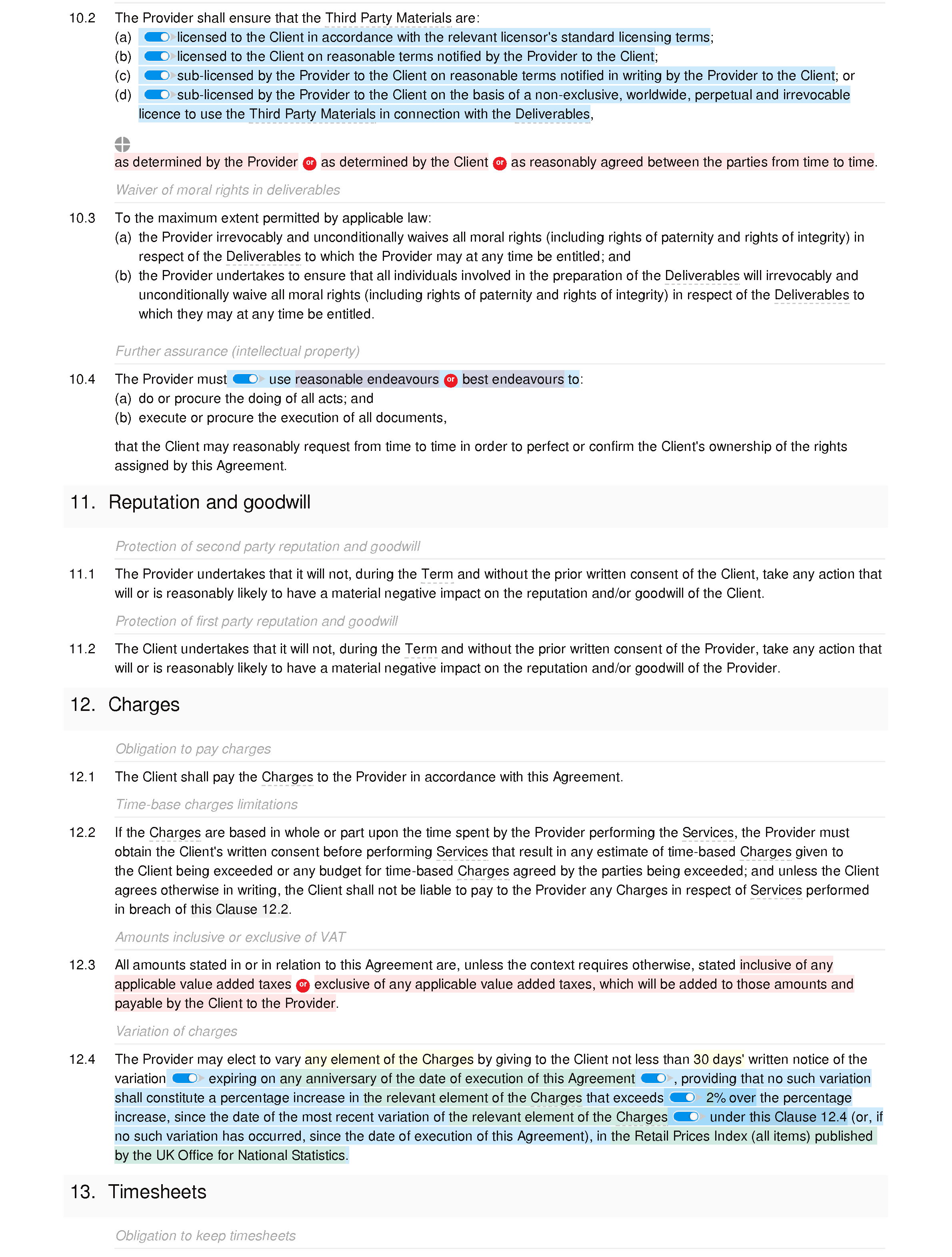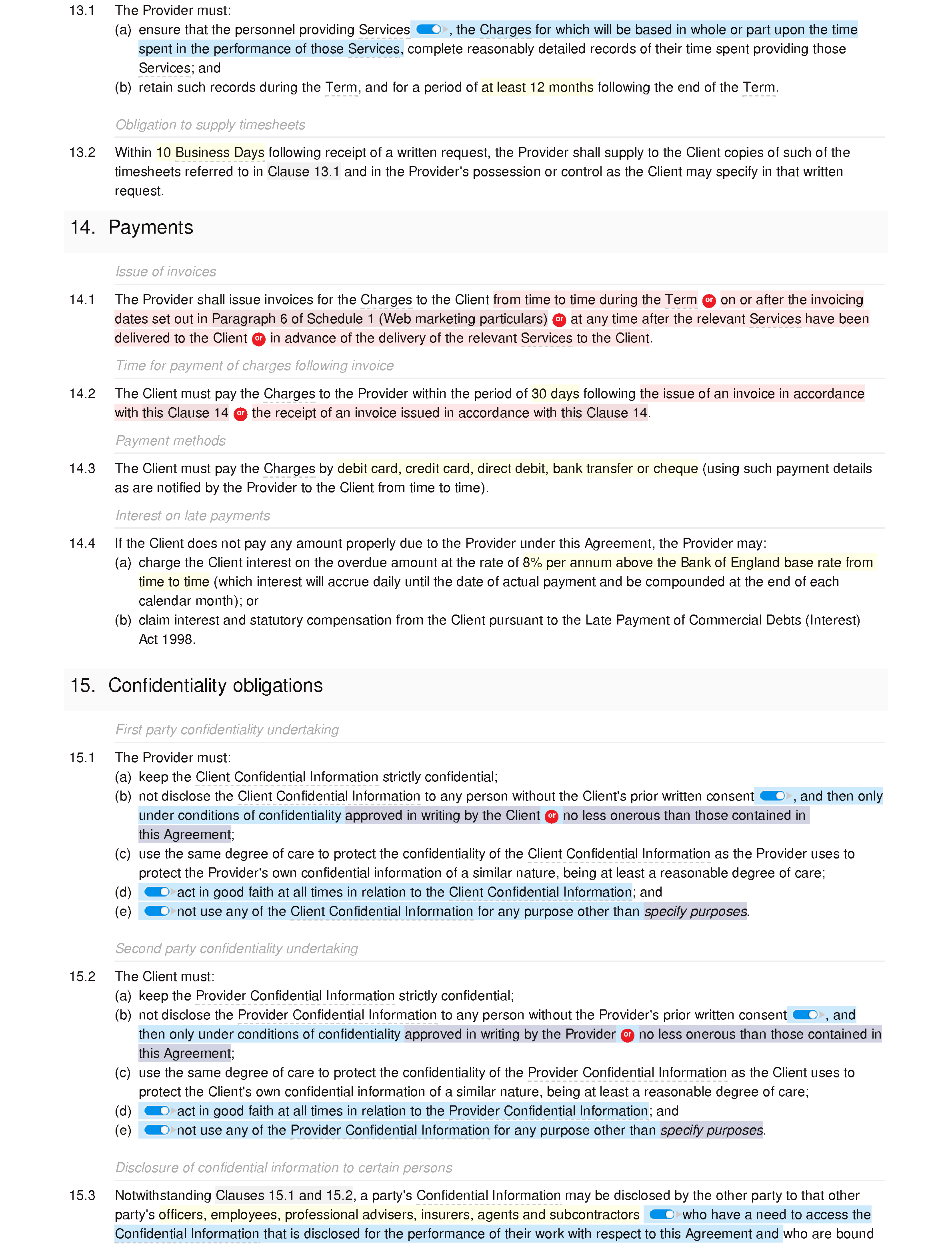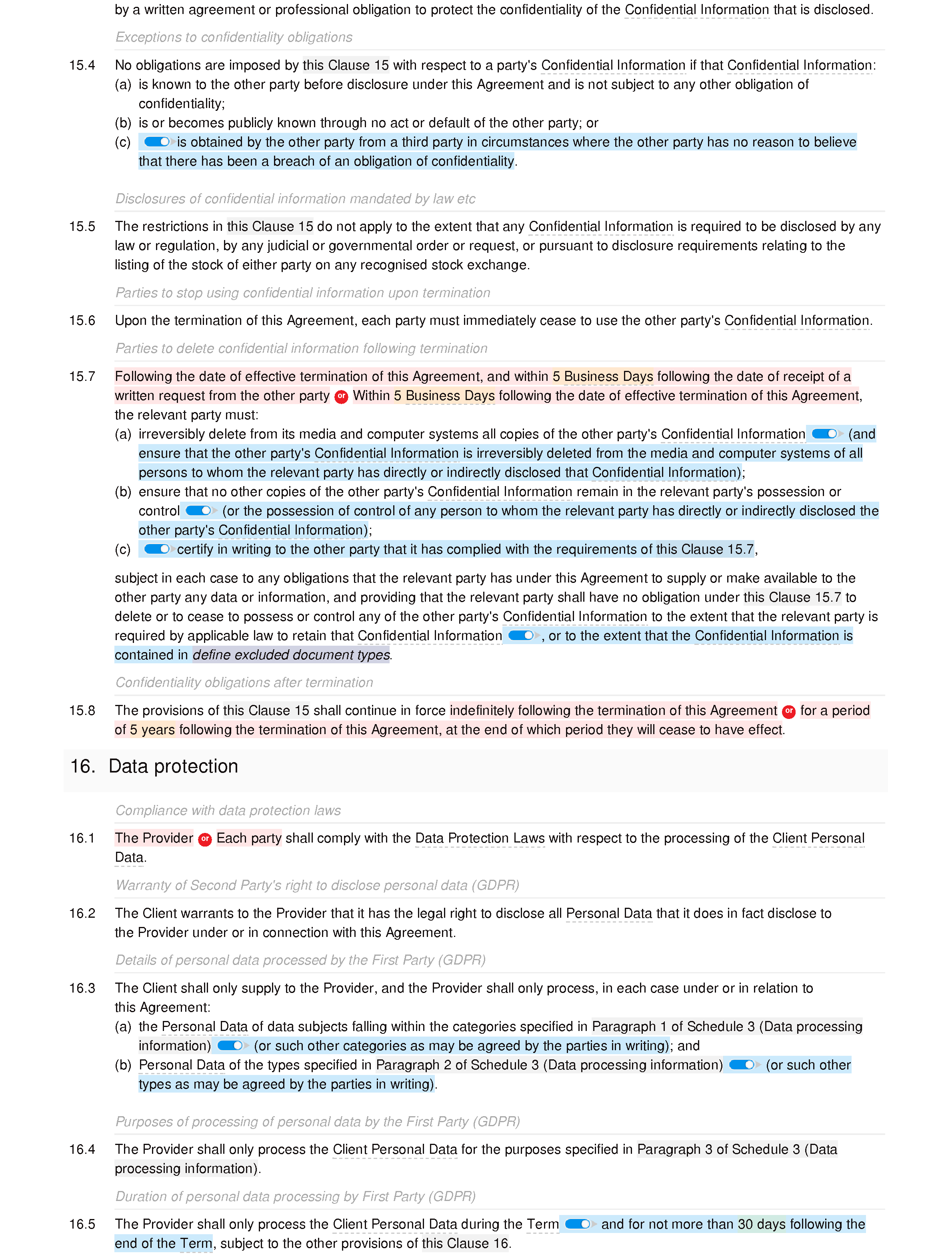 This is a shortened preview of the editor interface; once you create your instance you'll be able to edit the full document in our online editor.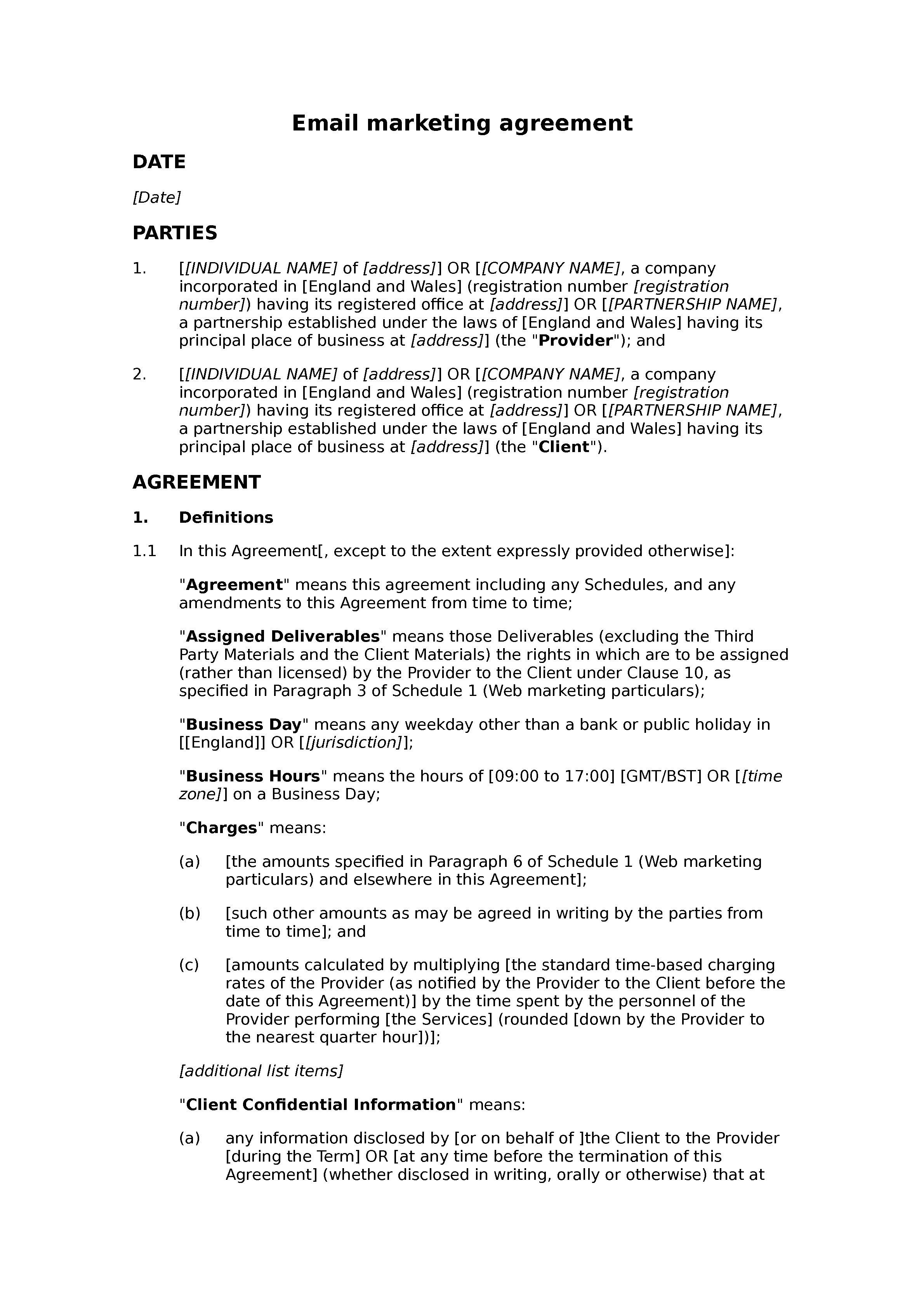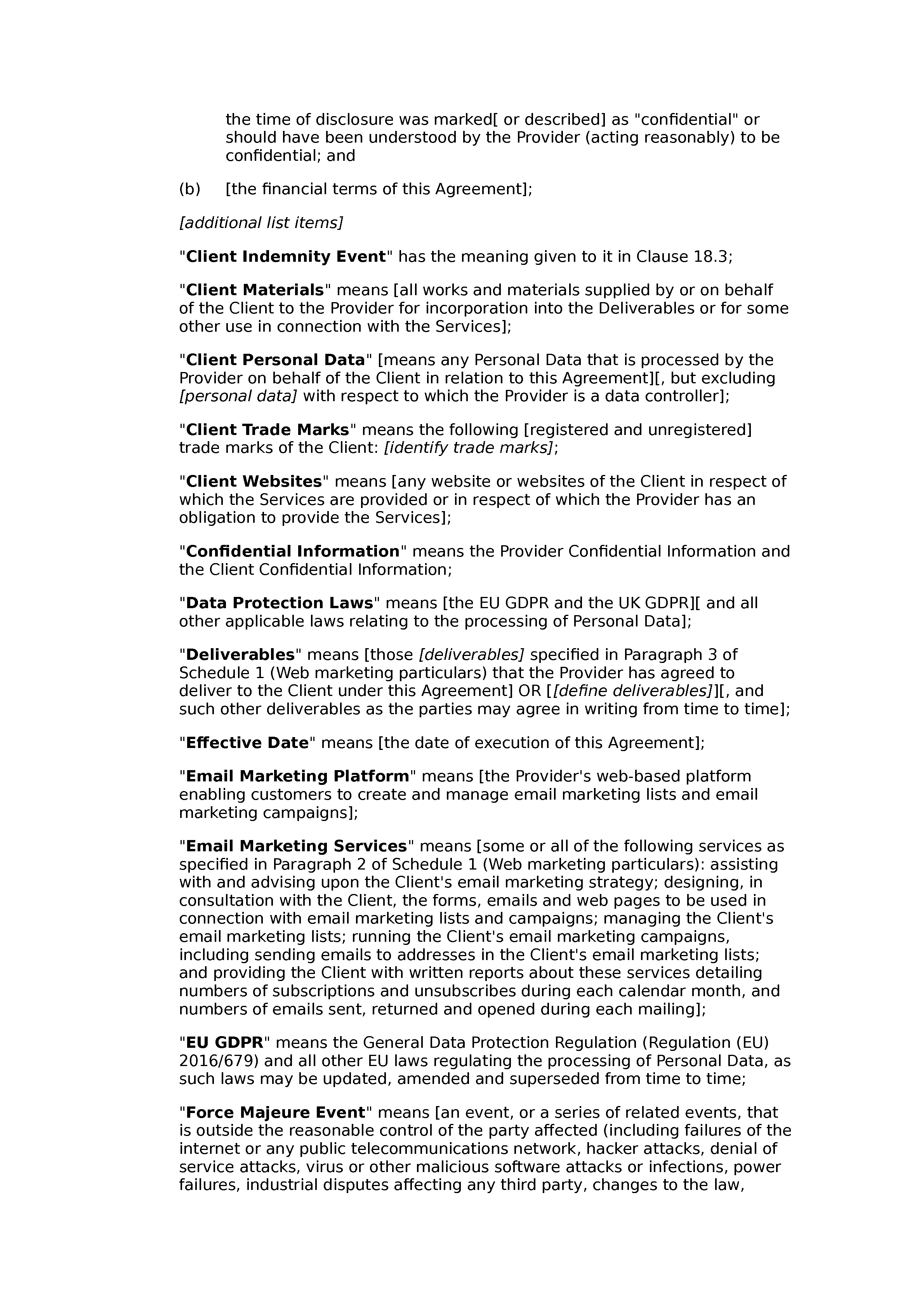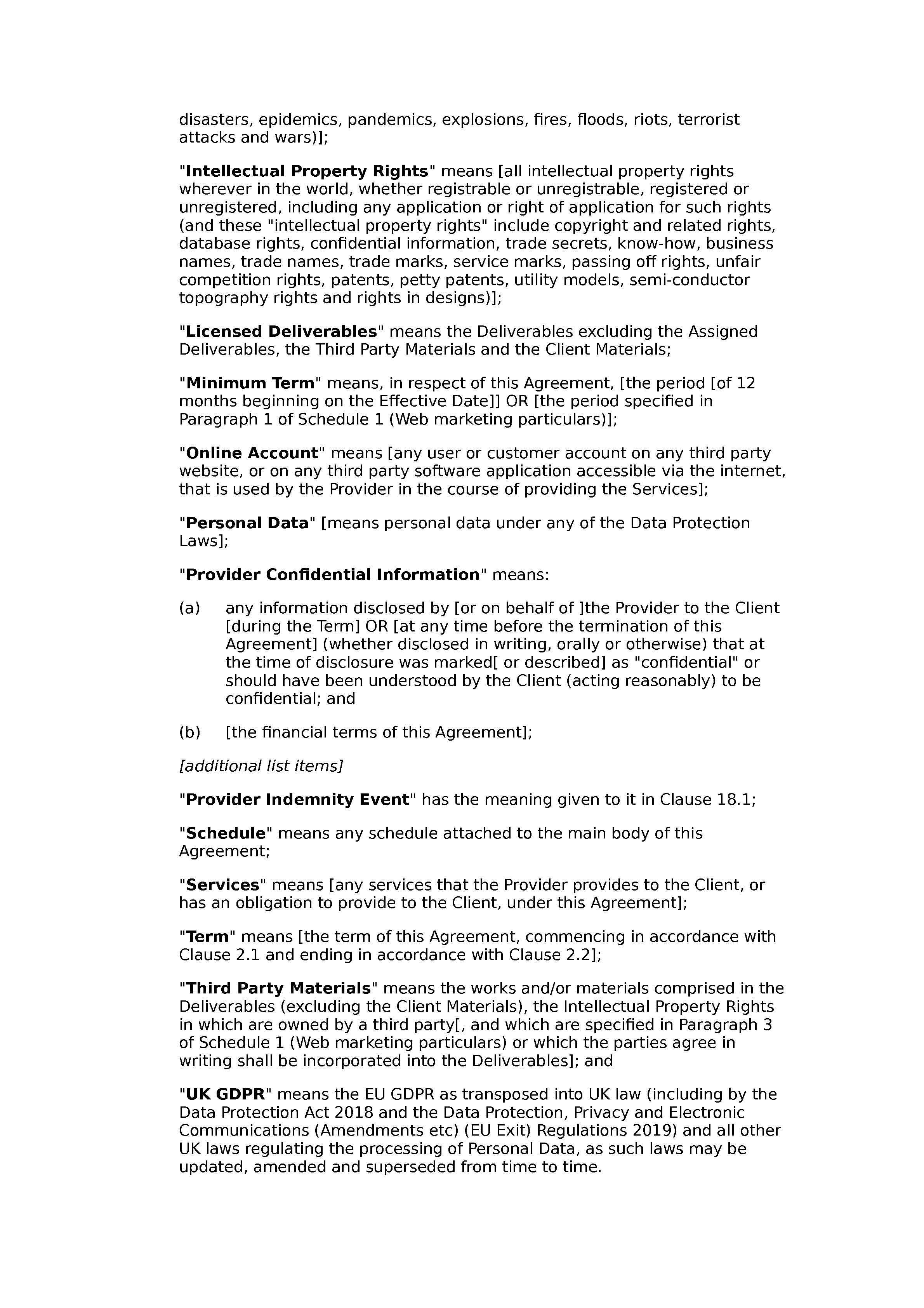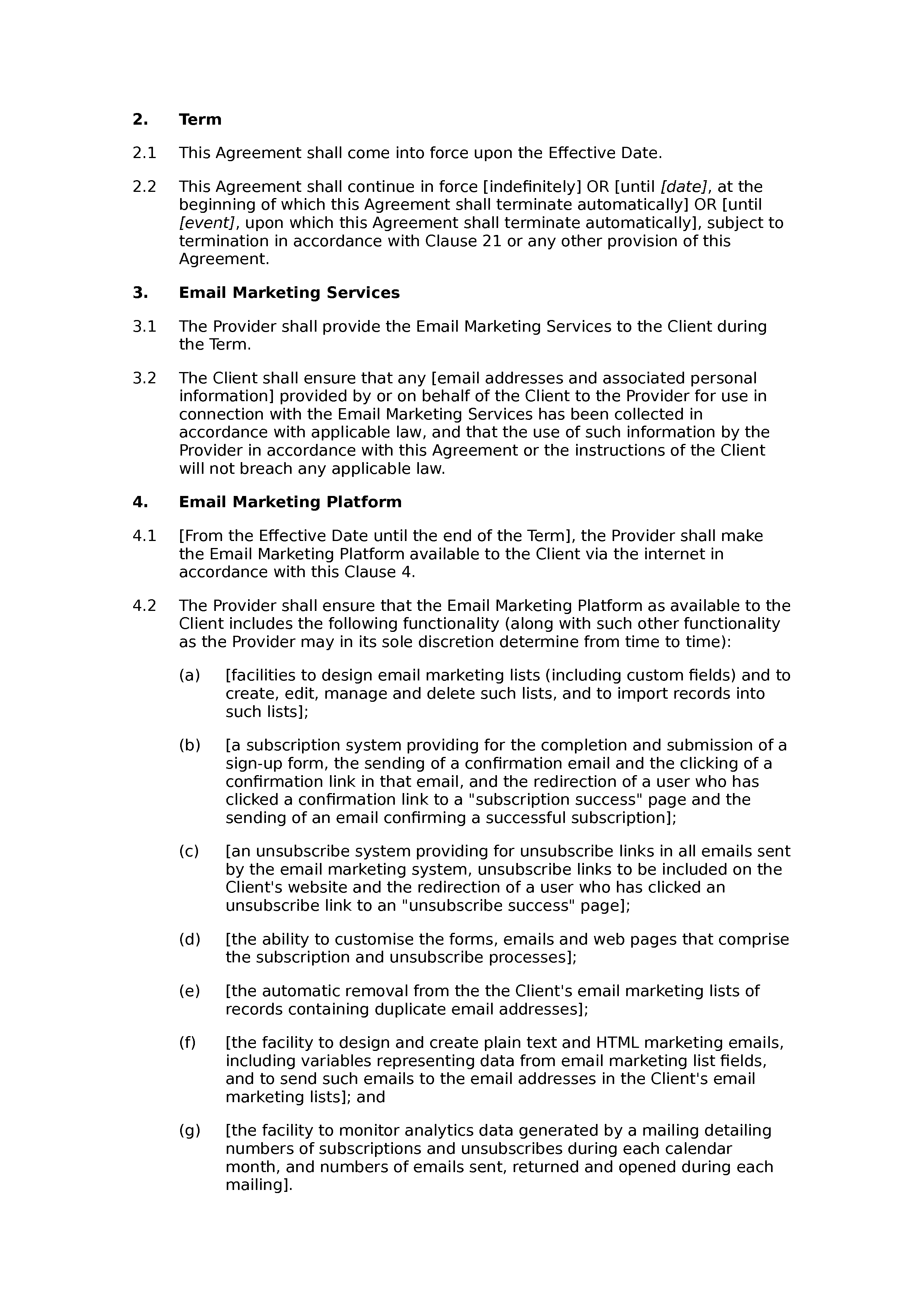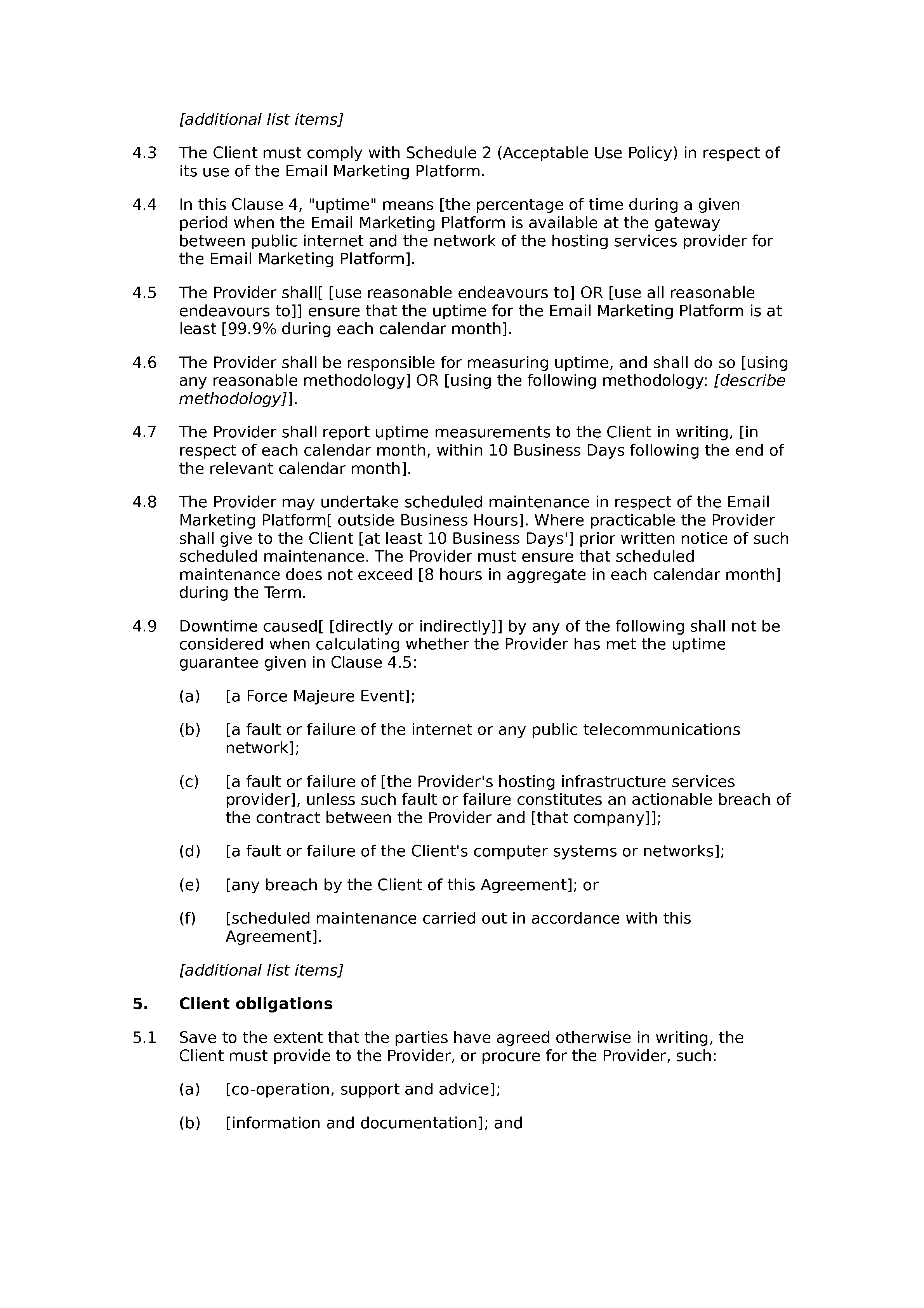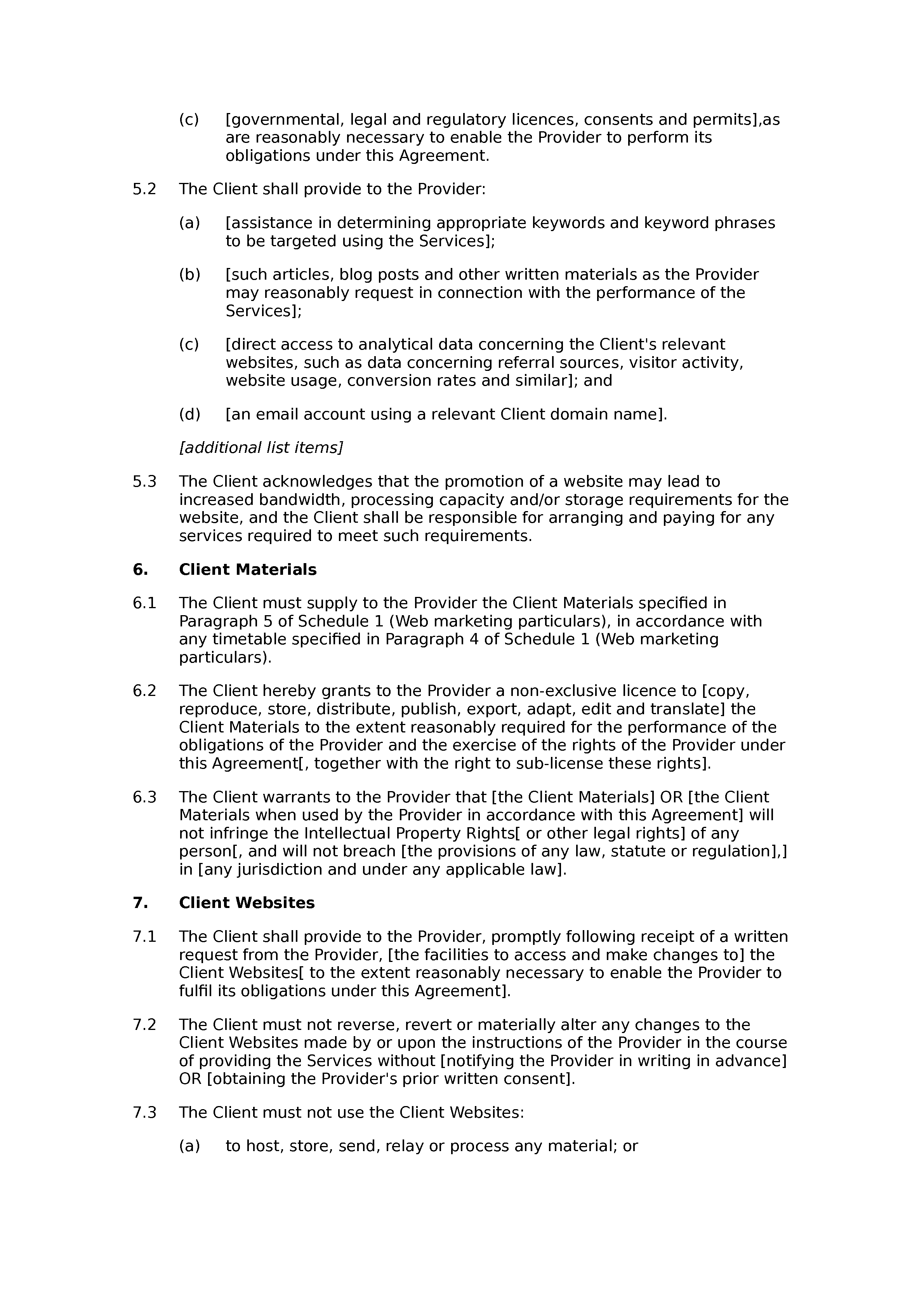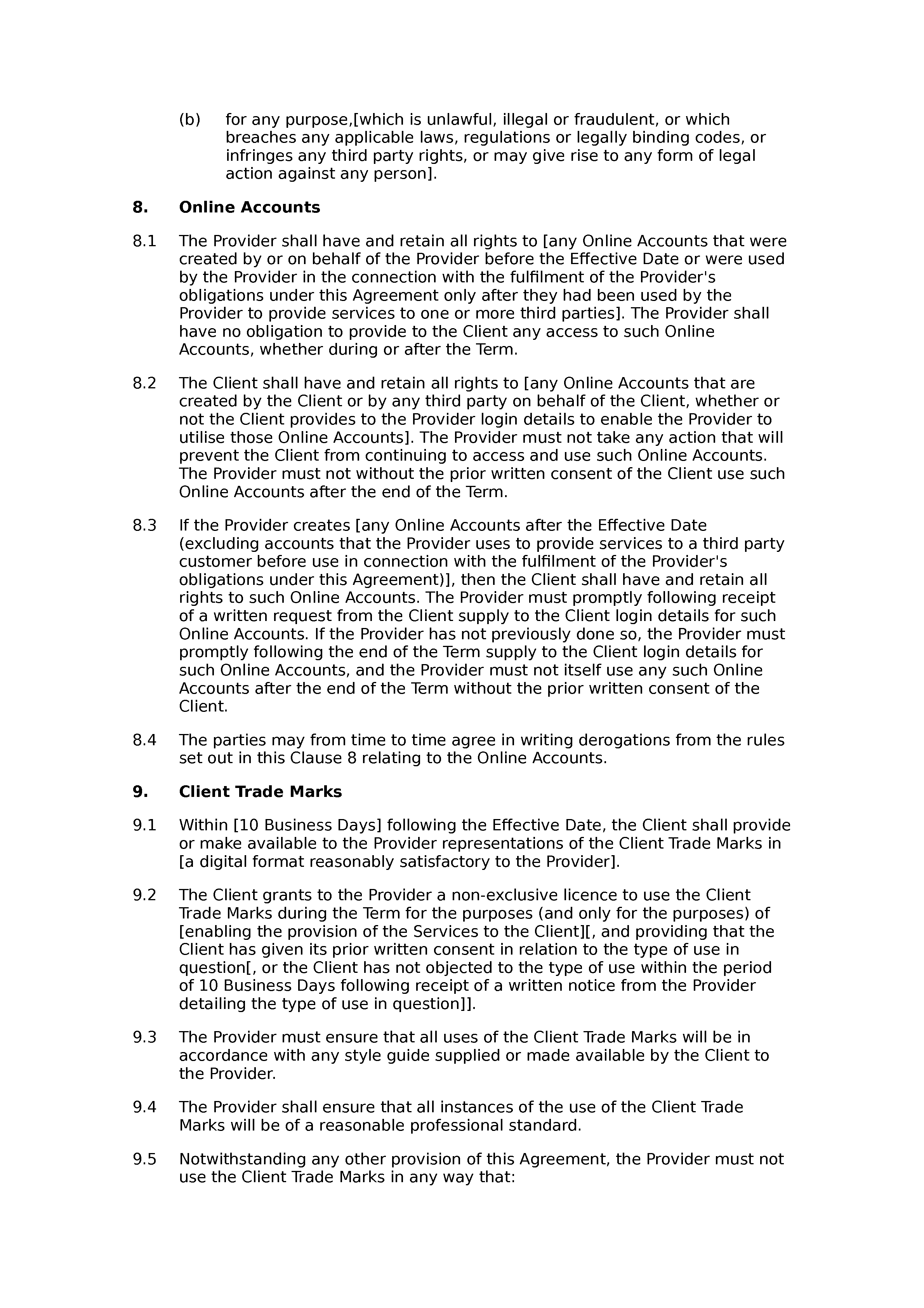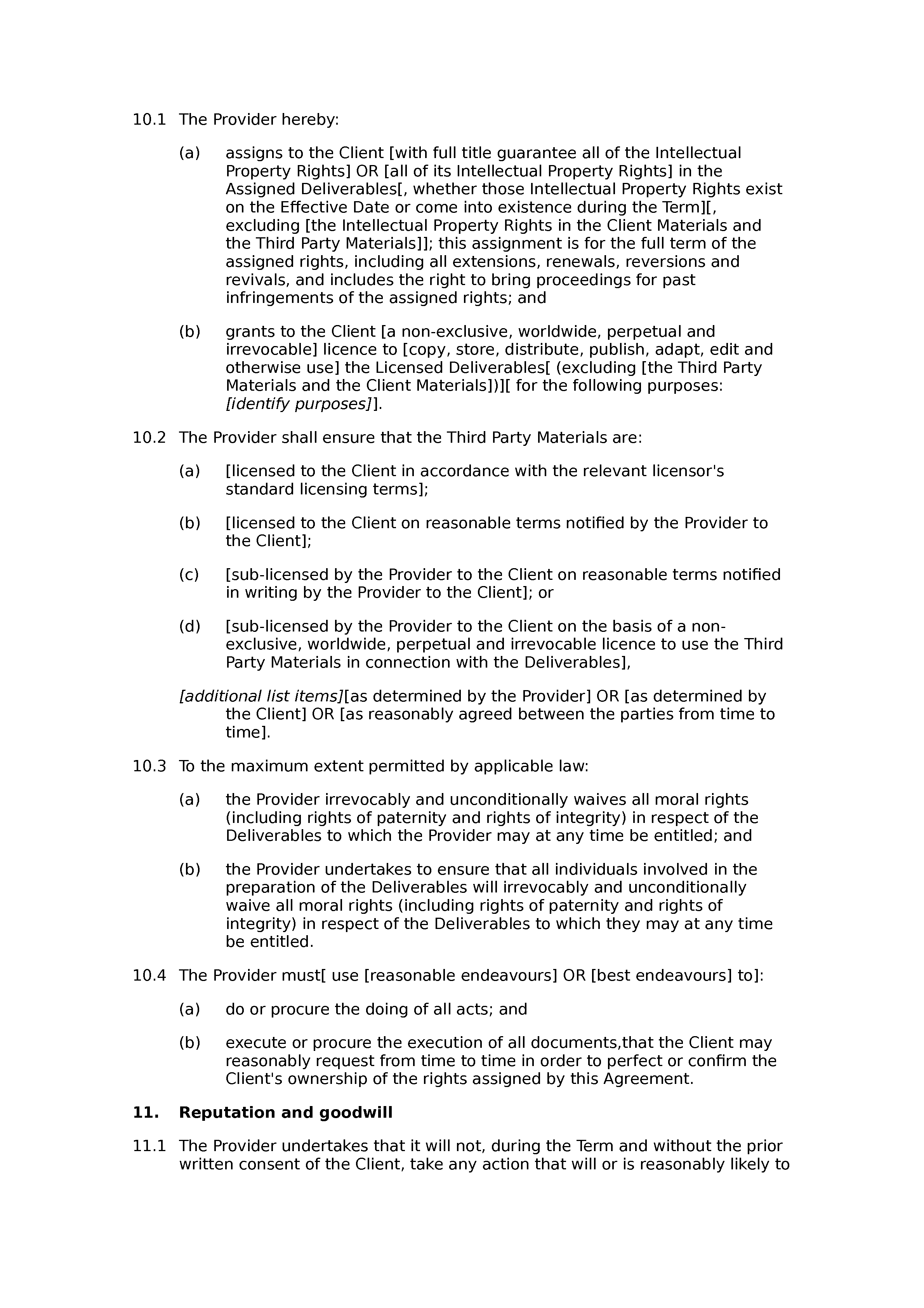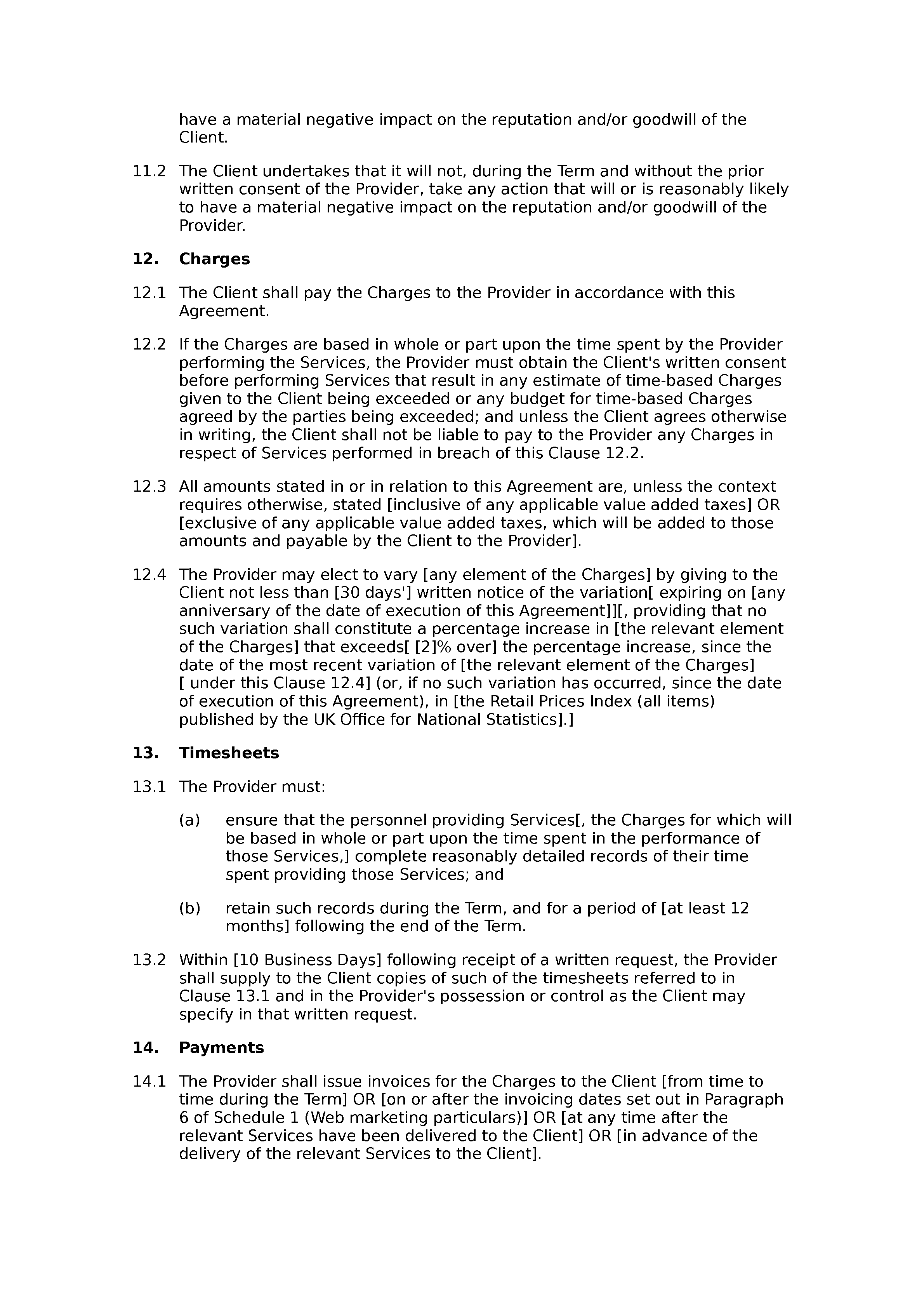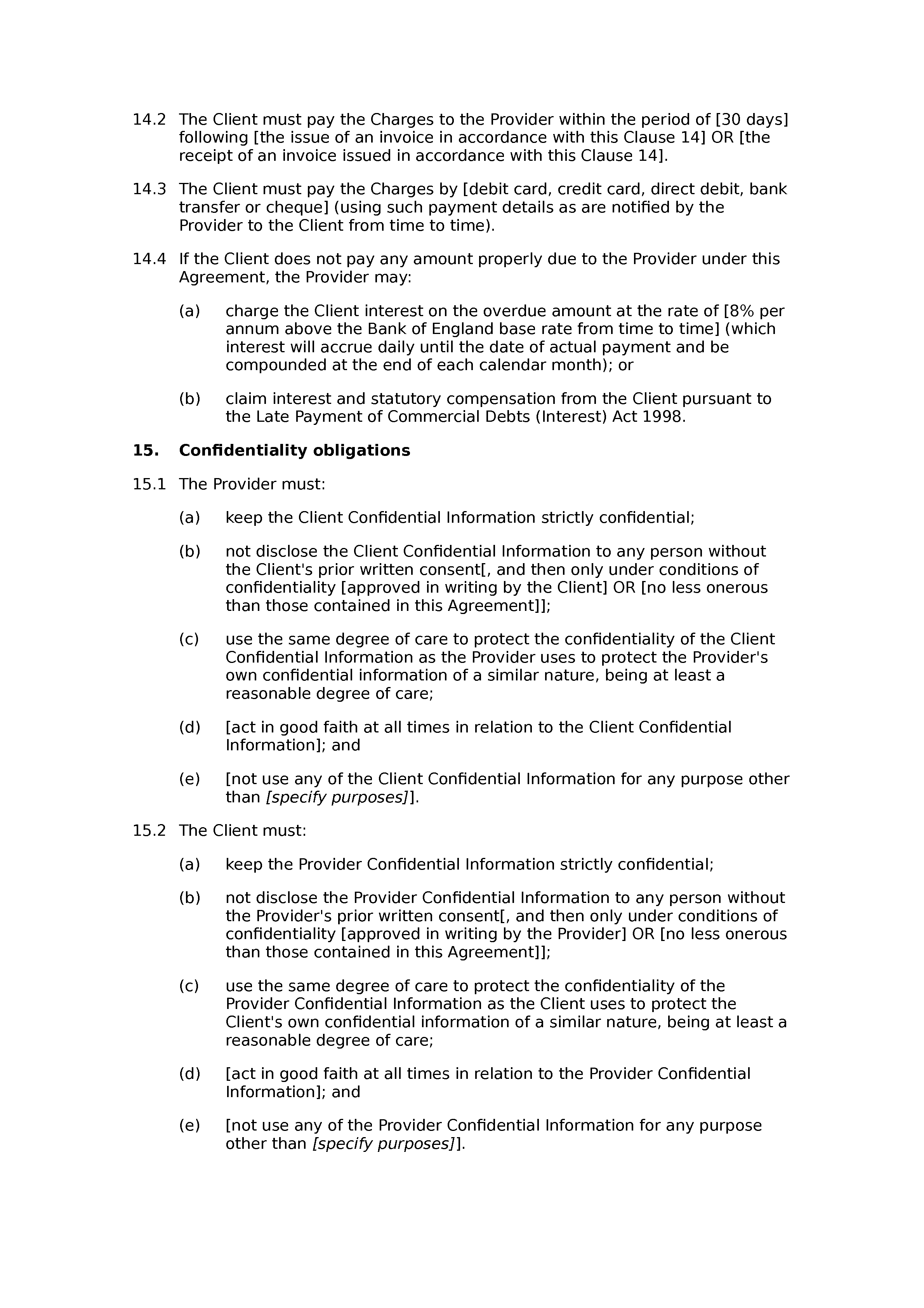 This is a shortened preview of the DOCX output; once you create your instance you'll be able to download the full document in PDF, HTML, RTF and/or DOCX (Microsoft Word) format.