Competition website terms and conditions
Competitions are a great promotional tool for some types of website. They increase user engagement, and, with modern web technologies, can be organised and managed with relative ease. However, publishers do need to consider the legal implications of running online competitions.
In many cases, the most critical legal issue is the avoidance of gambling legislation. If a competition is regulated under the Gambling Act 2005, for example as a lottery, then there will be a significant regulator burden. This template is not suitable for use in relation to competitions that are so regulated. If you are unsure whether a competition you are running or considering running is regulated, you should take expert legal advice.
Competitions open to the general public or a section of the general public should also comply with consumer protection legislation. Relevant legislation includes the Consumer Protection from Unfair Trading Regulations 2008 and the Consumer Rights Act 2015.
In English law, however, there are no detailed statutory rules that apply specifically to prize competitions. Instead, such competitions are covered by the Advertising Standards Authority's CAP Codes which are non-statutory but not entirely toothless.
This document incorporates a special section designed to aid compliance with the CAP Code. Compliance is in significant part a matter of disclosing certain information to competition entrants, as well as following proper procedures.
The basic information disclosure provisions in the competition-related terms and conditions in this document cover: (i) the eligibility of competition entrants, including age-based, geographical and other restrictions; (ii) the process of entering competitions, including free entry routes; (iii) limitations on entries, including per individual and aggregate limitations; (iv) the identity, independence and procedures of the judges; and (v) prizes, including timings for the notification of winners and award of prizes.
In addition, there are various optional provisions, which may or may not apply depending upon the type of competition being run. These include provisions relating to announcements, publicity, the licensing of rights in competition entries and promotional packs.
In many cases, information that should be disclosed to entrants and potential entrants will not apply to all competitions run through the website. In these cases, the information should be published upon the website, and references to where the information can be found should be included in these terms and conditions.
As well as the competition-related rules, this template includes a full set of provisions covering the use of a free-to-use website. For a full list, see below.

Ask about this document
Competition website terms and conditions contents
Introduction: document governs website use; consent to website document: implied; consent to website terms and conditions: express; website user minimum age.
Copyright notice: UCC copyright notice; ownership of rights in website.
Permission to use website: licence to use website; no downloading; website use: permitted purposes; no modification of website content; limitations on licence to use website; redistributable content; suspension or restriction of access to website.
Misuse of website: acceptable use: prohibitions; using contact details prohibited; veracity of information supplied.
Registration and accounts: account eligibility; account registration process; no other person permitted to use account; notify on misuse of account; use of another's account.
User login details: provision of login details; user ID rules and impersonation; password to be kept confidential; notify on disclosure of password; responsibility for password loss.
Cancellation and suspension of account: rights of operator over free website account; cancellation policy for unused accounts; cancellation of free website account by user.
Competitions: applicability to competitions; general eligibility criteria for competition; how to enter competition; competition entry cost; maximum entries per person; maximum total competition entries; competition opening and closing dates; identification of competition judges; competition judging criteria; independence of judges; competition prizes; no prizes for ineligible competition entrants; notification of prize winners; announcement of competition results; warranties relating to competition entries; licence to use competition entries; waiver of moral rights in competition entries; return of competition entries; publicity relating to competition; promotional packs for competitions.
Distance contracts: cancellation right: cancellation right for consumers; cancellation right for services and digital content; consumer agreement to provision of services; exercise of cancellation right; refund upon services distance contract cancellation; refund method; refund timing for services and digital content.
Our rights to use your content: definition of user content; licence of user content; sub-licensing of user content; right to bring proceedings in respect of user content; waiver of moral rights in user content; user may edit own content; delete etc user content on breach.
Rules about your content: user content warranty; no unlawful user content; user content rules; civility and user content; hyperlinking and user content; previous complaints and user content.
Report abuse: request to report abuse; how to report abuse.
Limited warranties: no warranties for information; right to discontinue website publication; no implied warranties or representations relating to website.
Limitations and exclusions of liability: caveats to limits of liability (with consumer protection); interpretation of limits of liability; no liability for free information or services; no liability for force majeure; no liability for business losses; no liability for loss of data or software (with consumer protection); no liability for consequential loss (with consumer protection); no personal liability; liability cap upon services contract.
Indemnity: indemnity from website users.
Breaches of these

terms and conditions

: consequences of breach; non circumvention of measures upon breach.
Third party websites: third party websites: hyperlinks not recommendations; third party websites: no control or liability.
Trade marks: trade mark ownership; third party trade marks on website.
Variation: document may be revised; variation of website document: unregistered users; variation of website document: registered users.
Assignment: assignment by first party; assignment by second party.
Severability: severability of whole; severability of parts.
Third party rights: third party rights: benefit; third party rights: exercise of rights.
Entire agreement: entire agreement - use of website.
Law and jurisdiction: governing law; jurisdiction.
Statutory and regulatory disclosures: ecommerce regulations order process information; copy of document not filed; language of document; ecommerce regulations: trade register; ecommerce regulations: authorisation scheme; ecommerce regulations: professionals; ecommerce regulations: code of conduct; value added tax number.
Our details: website operator name; company registration details; place of business; contact information.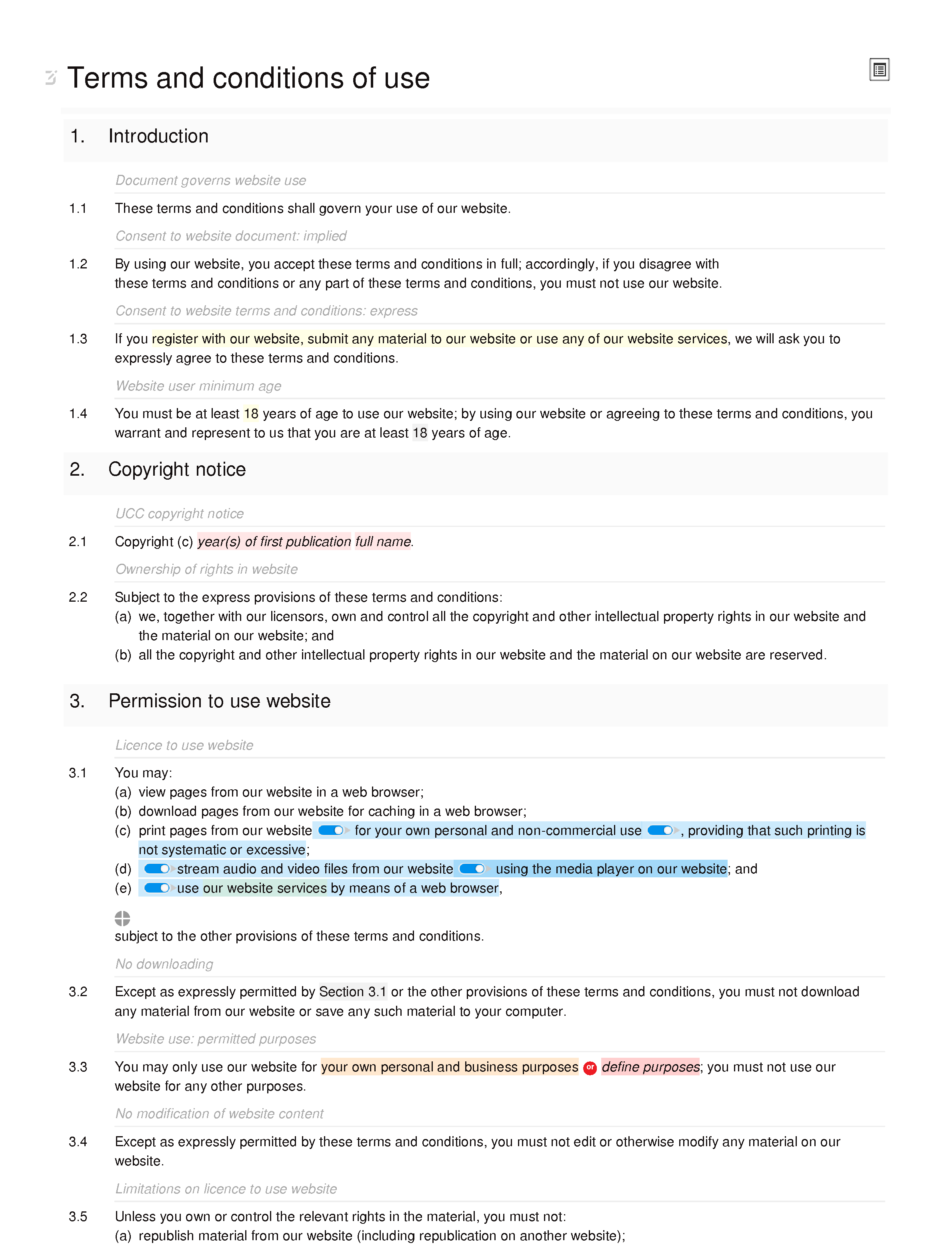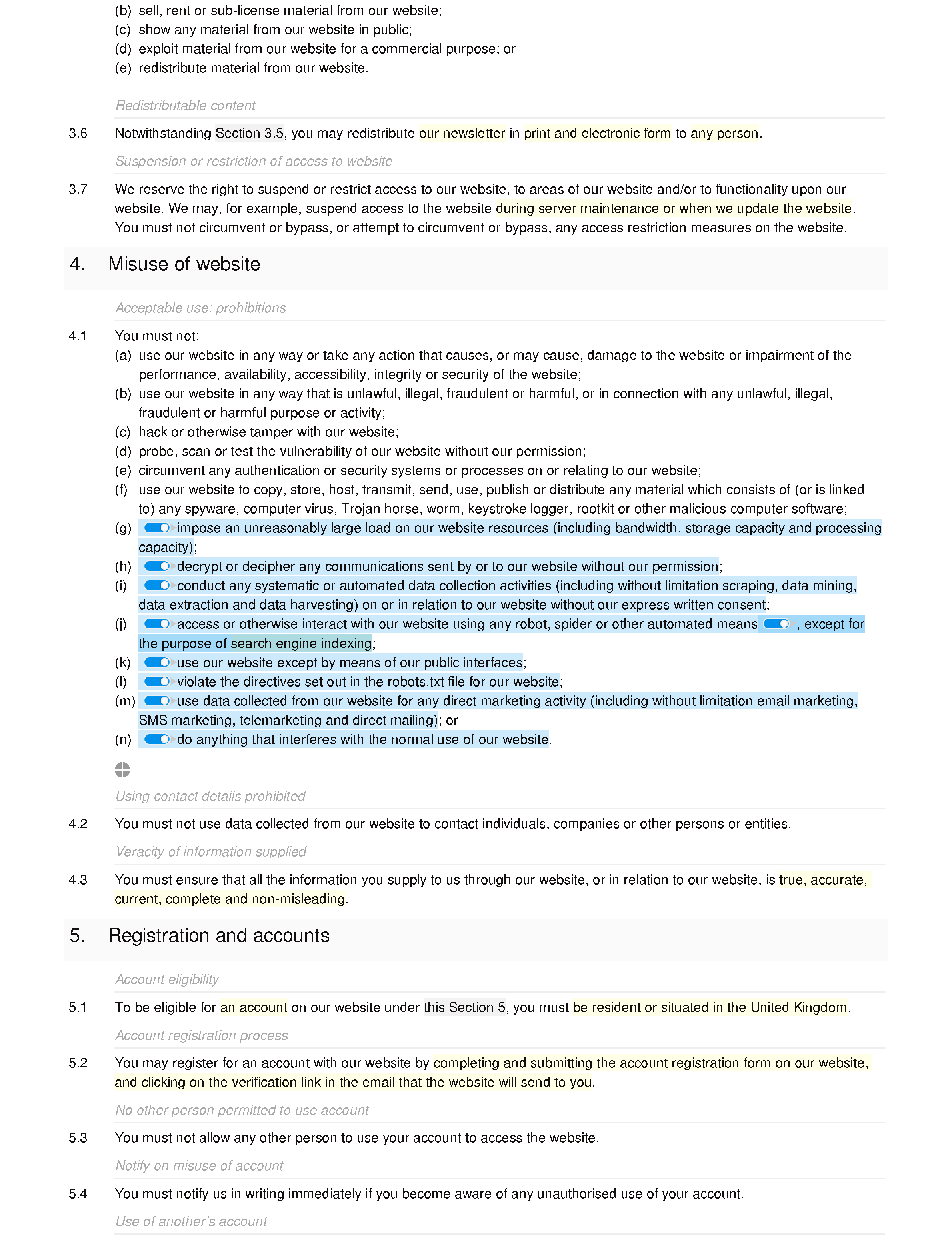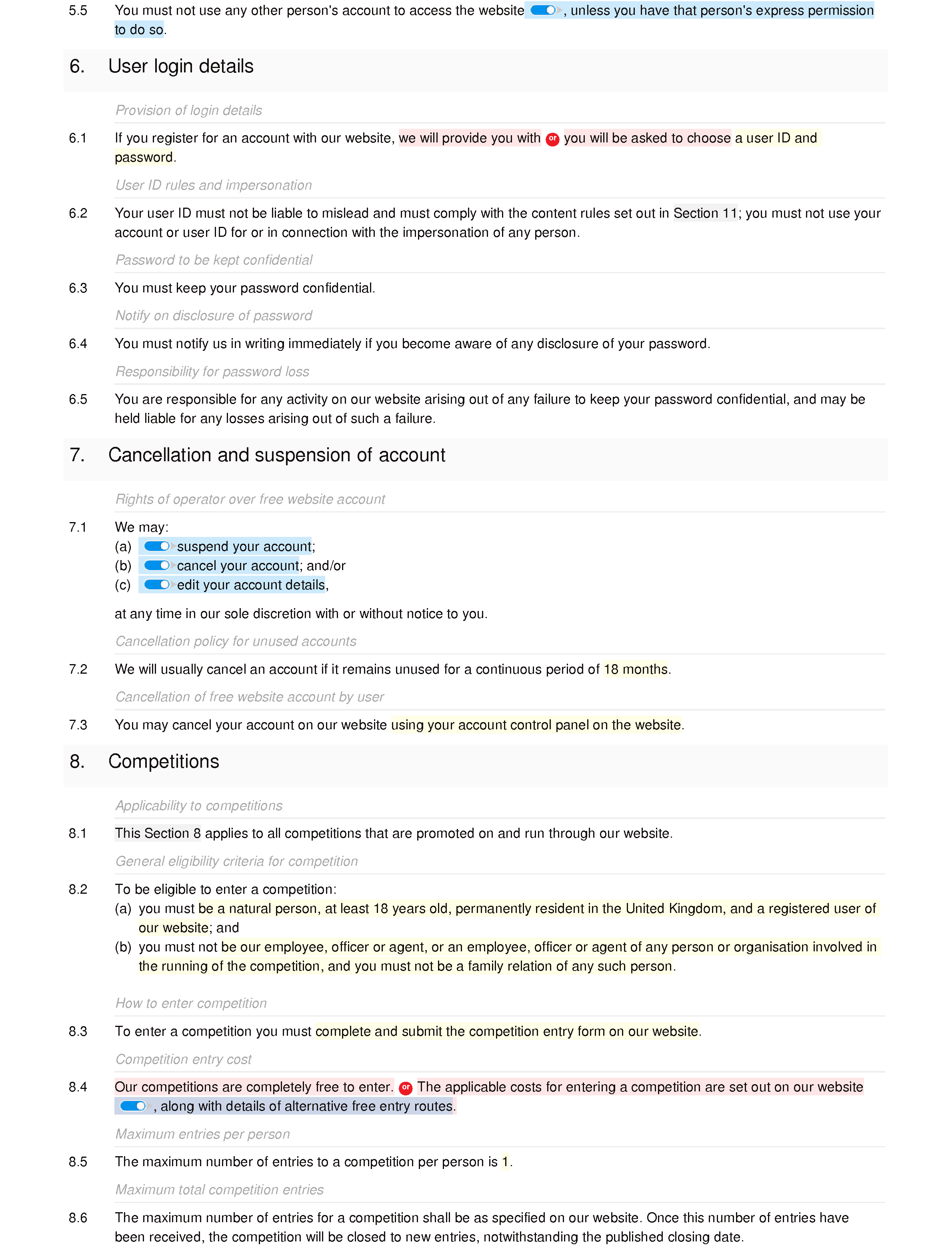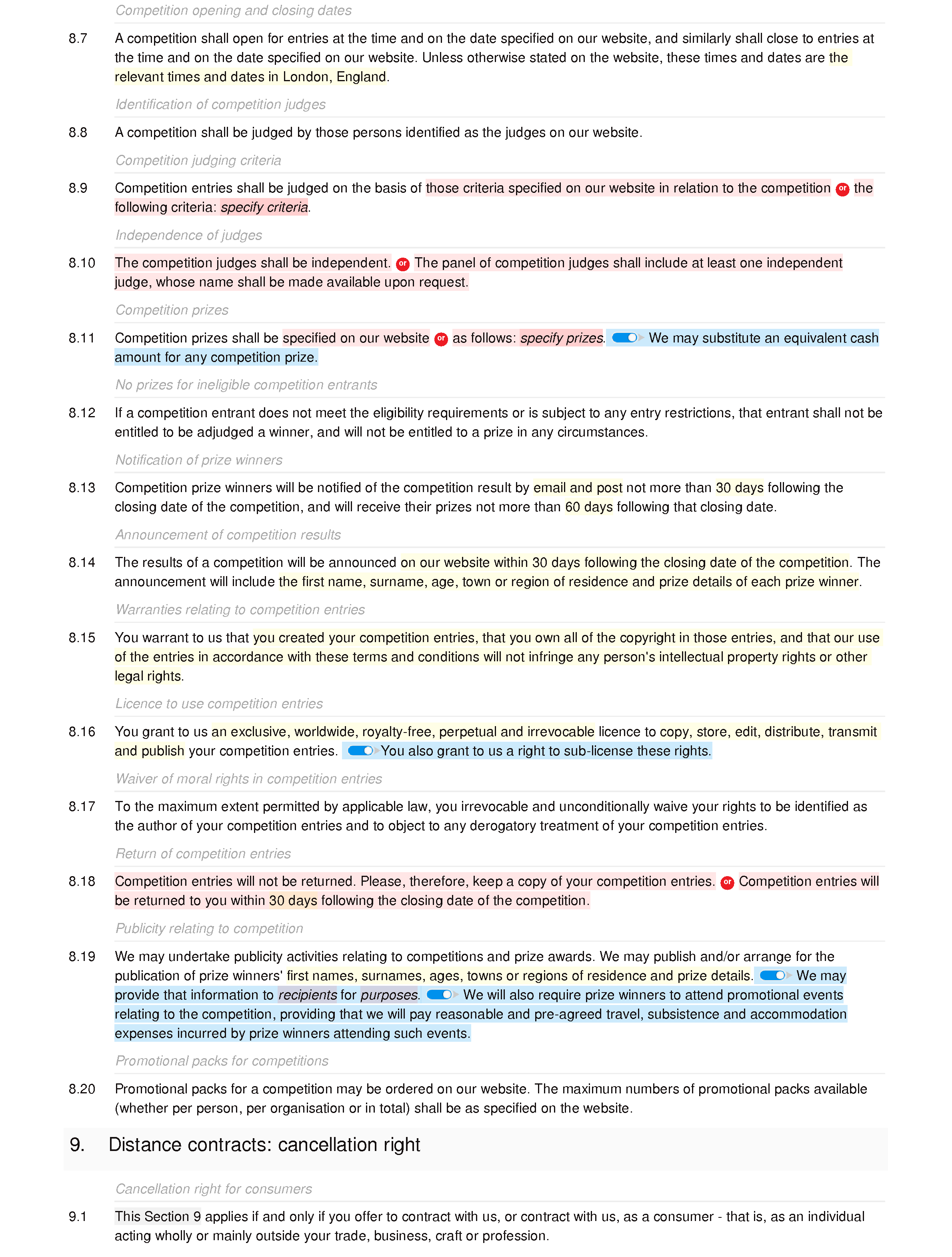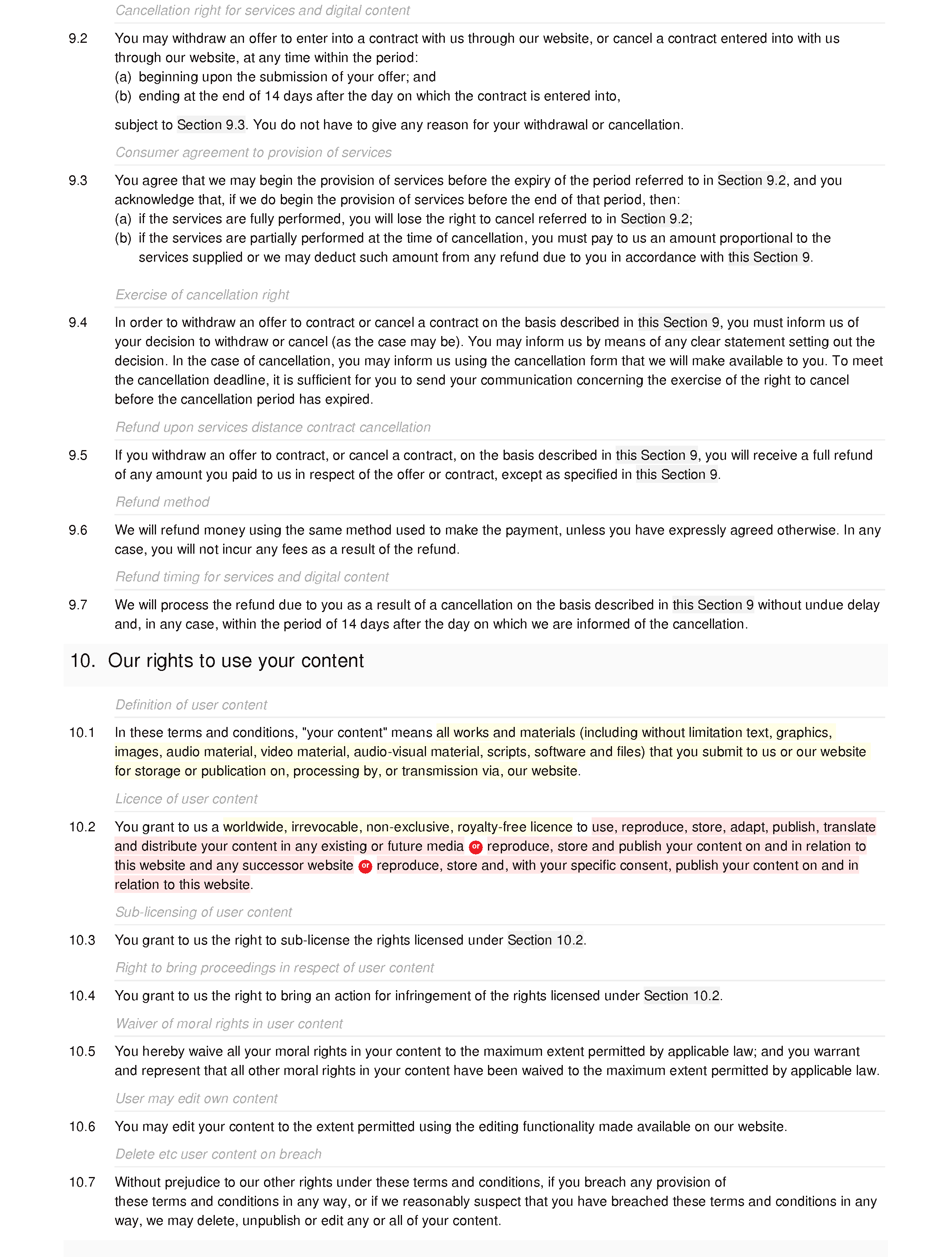 This is a shortened preview of the editor interface; once you create your instance you'll be able to edit the full document in our online editor.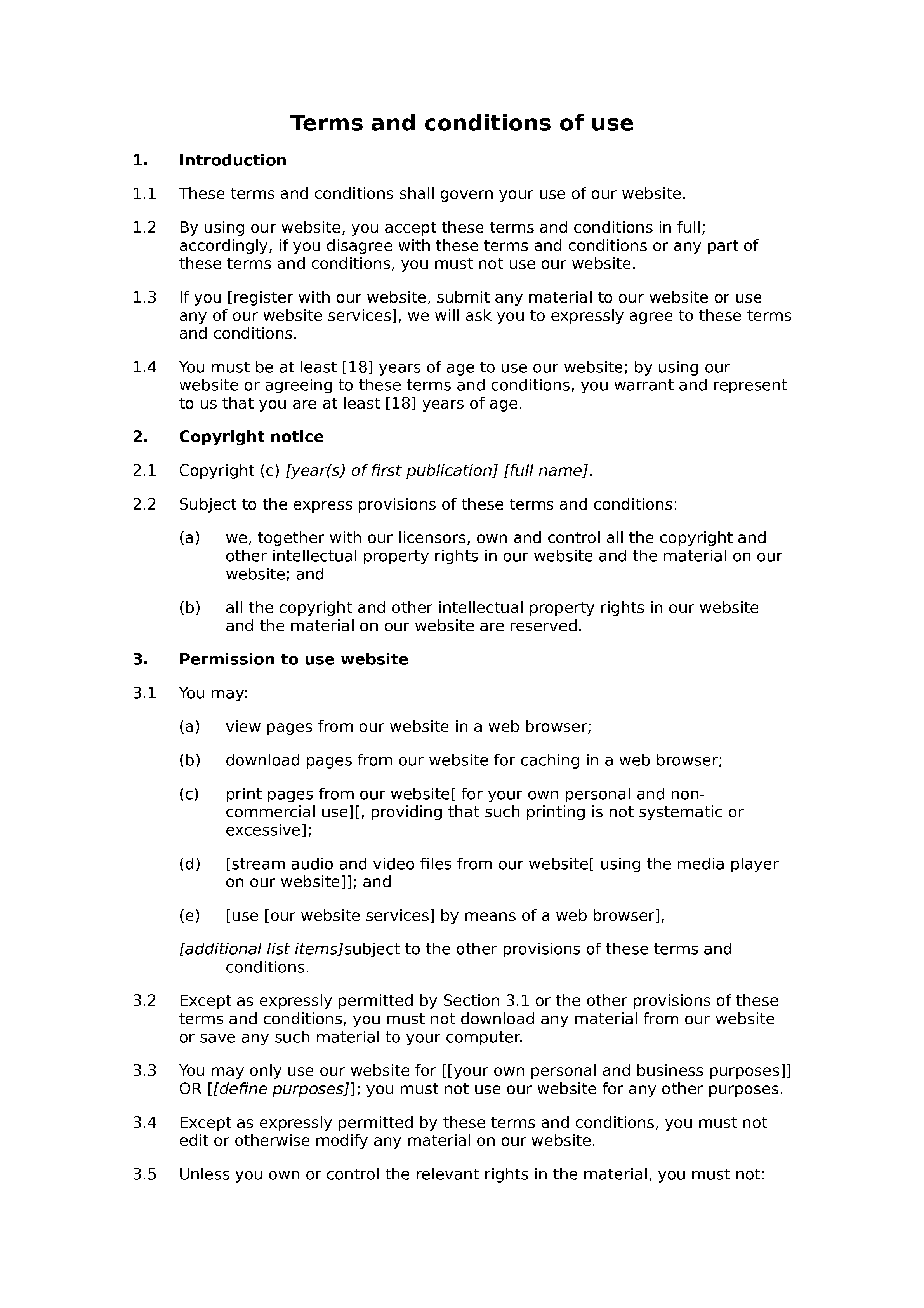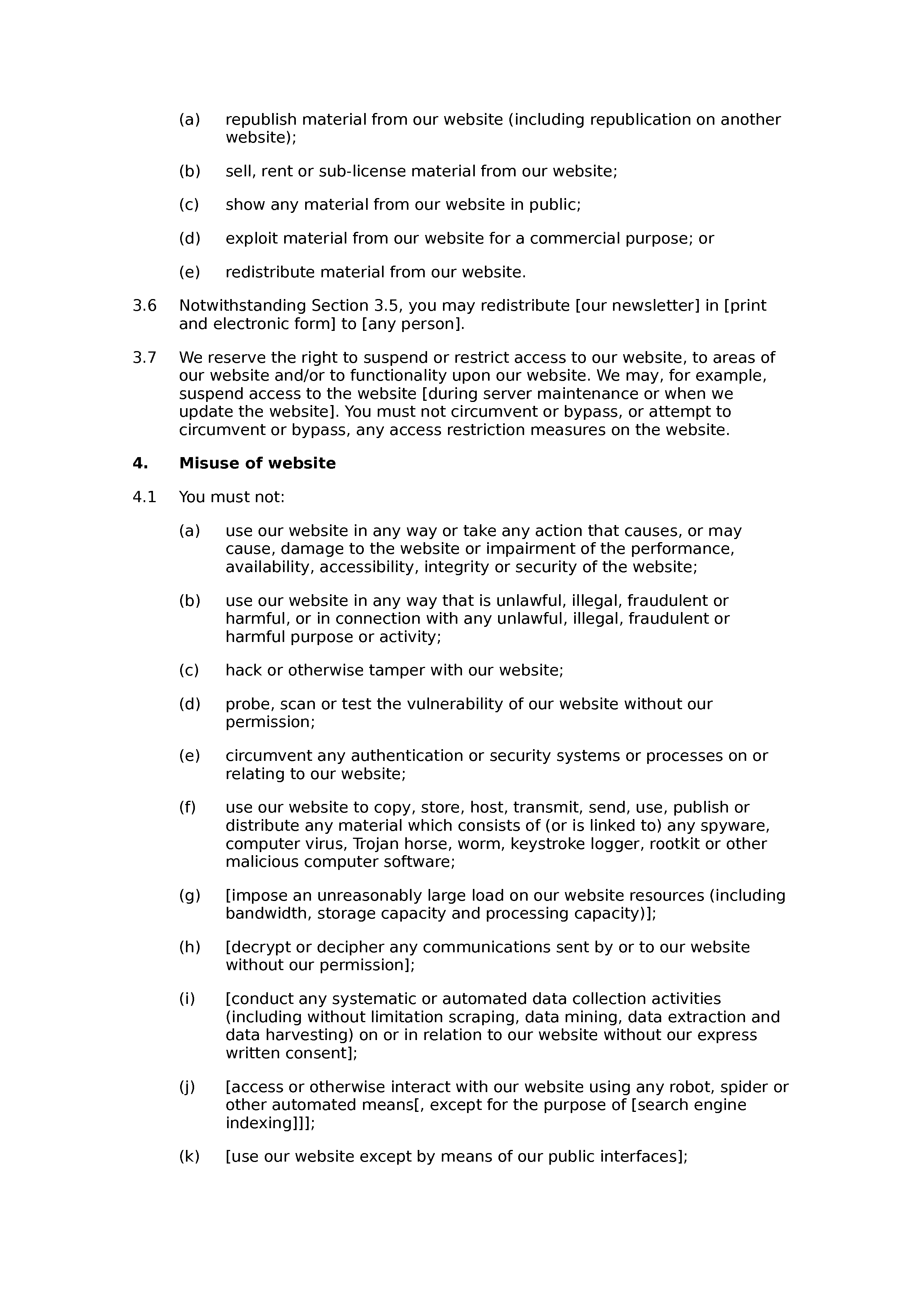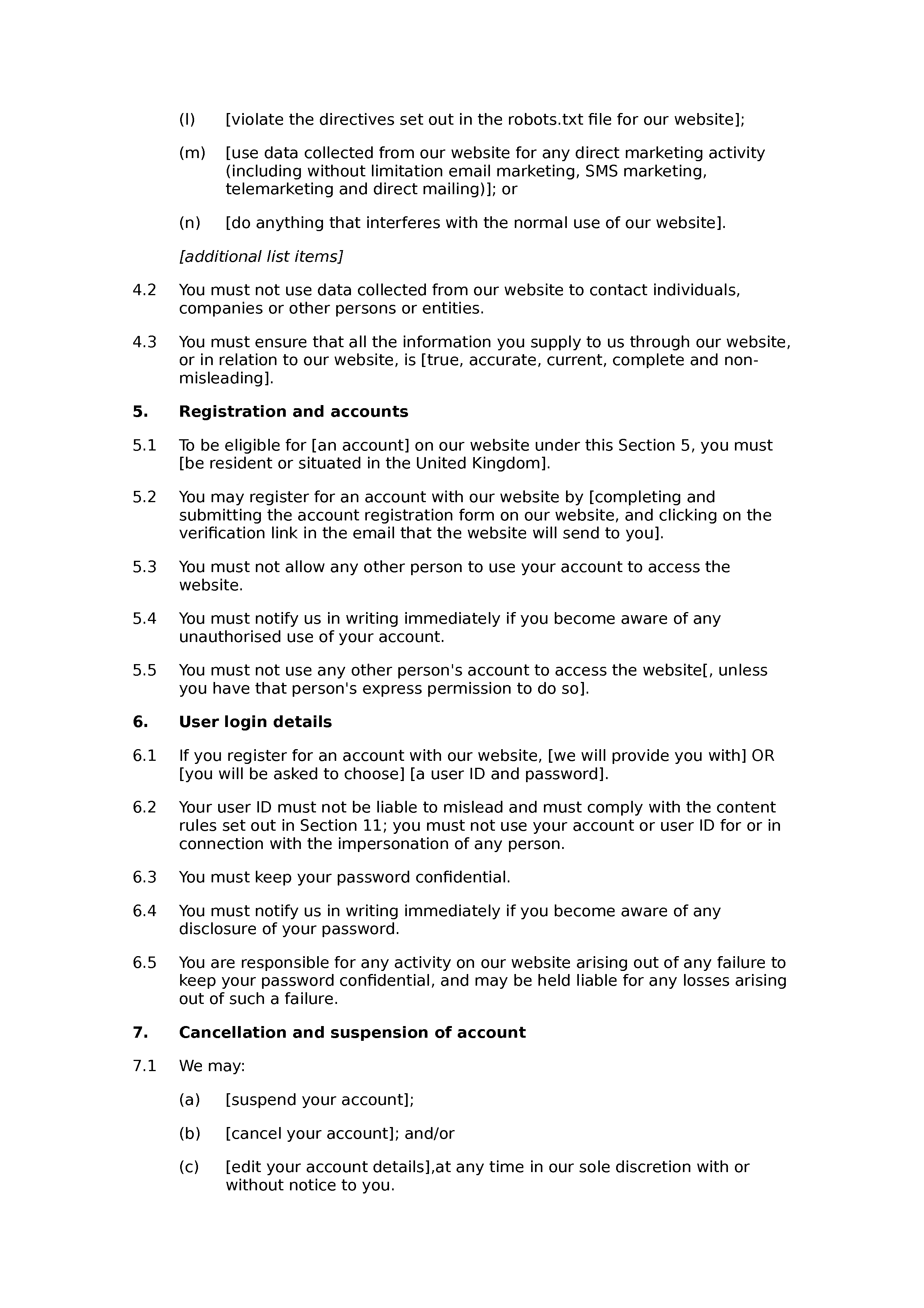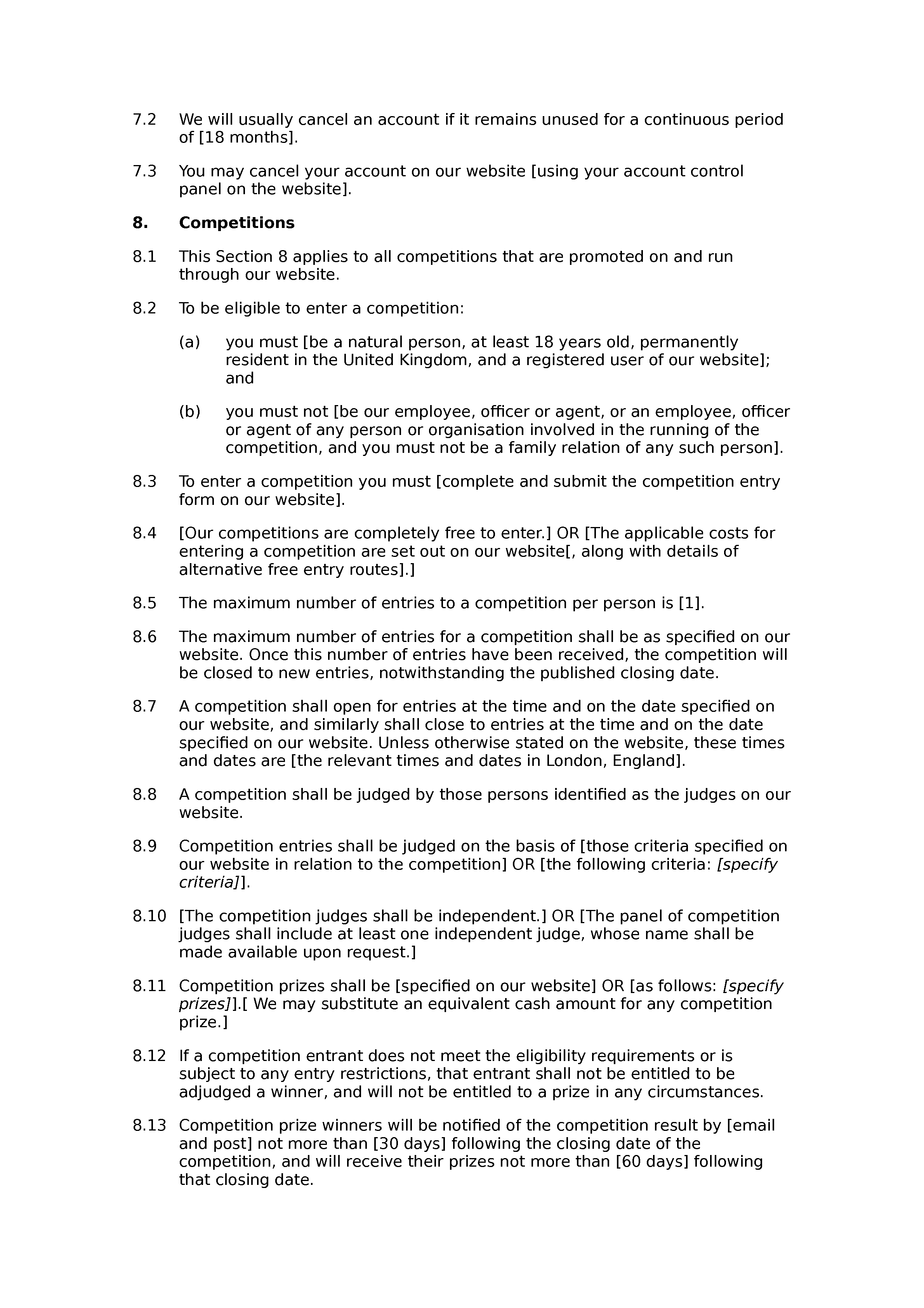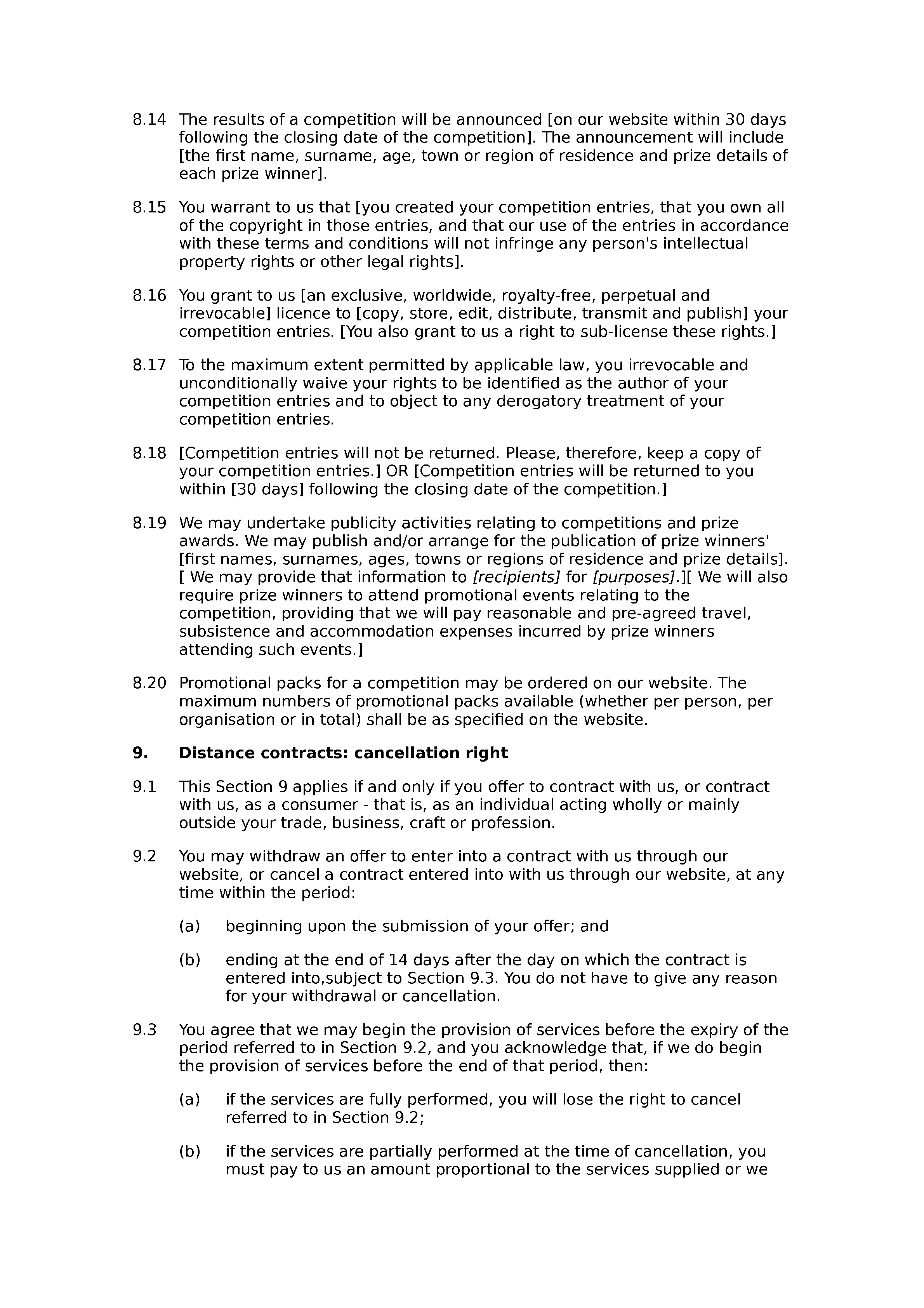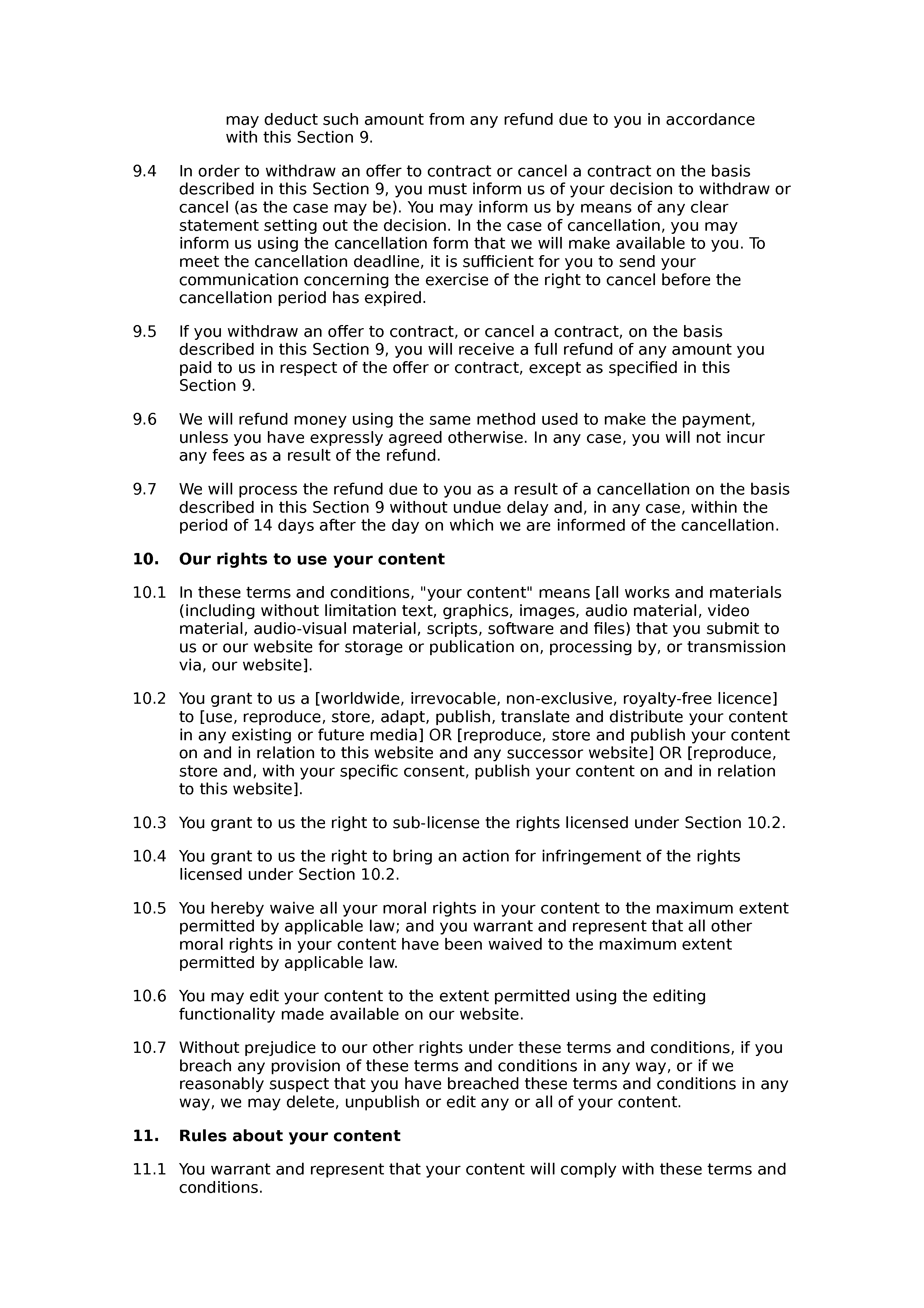 This is a shortened preview of the DOCX output; once you create your instance you'll be able to download the full document in PDF, HTML, RTF and/or DOCX (Microsoft Word) format.