Video game EULA (standard)
This EULA document sets out the basis upon which an individual player may use a computer or video game.
The EULA may be used with digital or physical copies of a game; it may sit alongside the terms and conditions of one or more game distribution platforms.
The heart of the EULA is the licensing clause, under which the licensor grants to the user rights to install and play the game, and to use any accompanying documentation. By default, the game may only be used for non-commercial purposes. In addition, the user must not (amongst other things) sell, loan, redistribute, modify or reverse engineer the game).
Unlike the basic version, this standard EULA takes account of the possibility that online services may be provided in conjunction with the game and may be required for the game (or some features of the game) to function. Th online services clauses can be used for both paid and unpaid services.
A wide range of acceptable use and anti-cheating provisions are also included in the EULA. The anti-cheating provisions will be particularly relevant in competitive online games.
Other clauses of the EULA cover game updates, user support, indemnities and limitations of liability. The charges and distance selling rights provisions included in the EULA may omitted if the licensor will not be taking payments directly from customers.

Ask about this document
Video game EULA (standard) contents
Definitions: definitions.
Term: commencement of term; end of term (indefinite).
Licence: grant of licence to use video game; video game licence limitations; video game licence prohibitions; activation code for video game; agreement to third party licences.
Online Services: video game to be used with online services;

User

responsible for internet connection; charges for online services; availability of online services; use of online services not excessive; online services subject to acceptable use provisions; non-renewal or termination of online services.
Acceptable use: acceptable use prohibitions (video game); behavioural rules for video game;

Licensor

must not cheat at video game; specific prohibitions on cheating at video game; video game cheat detection software; consequences of breach or video game cheating; no circumvention of video game bans.
User Content: no transfer of ownership rights in

User

content; licence of

User

content; sub-licensing of

User

content; right to bring proceedings in respect of

User

content; no unlawful

User

content;

User

content rules; age suitability of

User

content; civility and

User

content (video games); no spam in

User

content (video game).
Updates: no obligation to provide updates; obligation to apply updates to video game; consequences of failure to apply update to video game; automatic application of updates.
Support Services: discretion to provide support services; support services to be provided remotely; no guarantees in relation to support services.
Distribution Platforms: application of video game distribution platform terms and conditions; conflict with distribution platform terms and conditions;

Licensor

benefits from video game distribution platform terms and conditions; matters covered by the distribution platform terms and conditions; rights of distribution platform operator.
Intellectual Property Rights: no assignment of

Licensor

intellectual property rights; all rights in video game reserved.
Warranties: infringement of intellectual property rights by video game; second party warranty of authority; exclusion of implied warranties and representations.
Acknowledgements and warranty limitations: minimum requirements for video game; video game not error free; video game not entirely secure.

User

indemnity: second party indemnifies first party (video game).
Limitations and exclusions of liability: caveats to limits of liability (B2B or B2C); interpretation of limits of liability; no liability for force majeure; no liability for business losses; no liability for loss of data or software; no liability for consequential loss; per event liability cap.
Termination: automatic termination upon breach by second party; termination by first party upon breach; distance contract order cancellation results in

EULA

termination.
Effects of termination: surviving provisions upon termination; termination does not affect accrued rights; video game licence on contract termination; video game copies on contract termination.
Equitable relief: injunctive or other equitable relief.
General: no waiver; severability; asymmetric variation via notice or website (video game); asymmetric assignment of contractual rights (B2C); no third party rights; entire agreement; governing law; exclusive jurisdiction (B2C).
Interpretation: statutory references; section headings not affecting interpretation; no ejusdem generis.
SCHEDULE 1 (DIRECT PURCHASING)
Introduction: application to direct purchases.
Order process: video game advertisement as invitation to treat; no contract of sale except in accordance with order process; order process; input error correction and identification.
Charges: obligation to pay charges in advance; amounts inclusive of UK VAT.
Distance contracts: cancellation right: distance contracts: cancellation right for consumers for services or digital content; cancellation right for services and digital content; consumer agreement to provision of services; consumer agreement to provision of digital content; exercise of cancellation right; refund upon services distance contract cancellation; refund method; refund timing for services and digital content.
Statutory and regulatory disclosures: copy of document not filed; language of document; value added tax number.
SCHEDULE 2 (THIRD PARTY LICENCES)
Third party licences.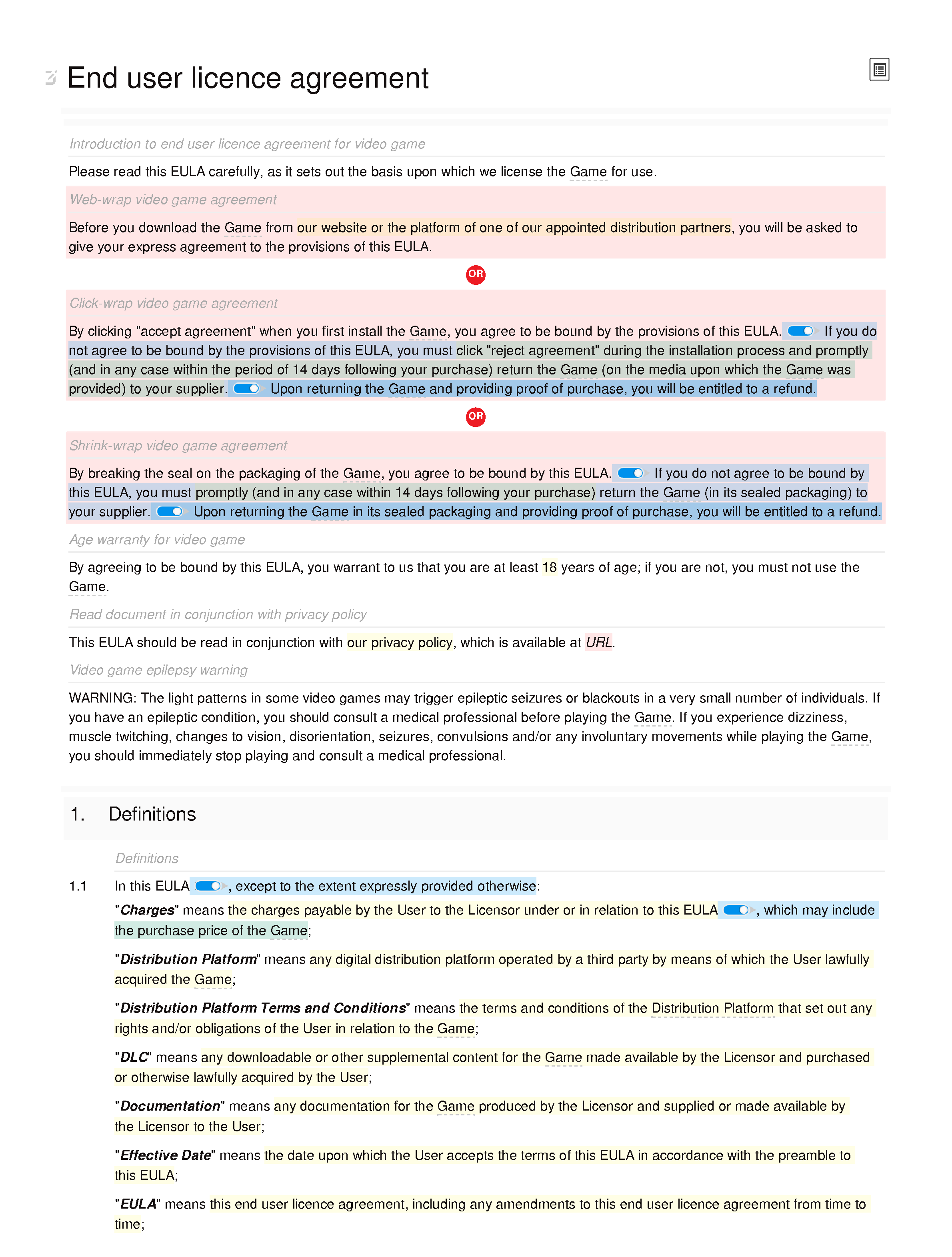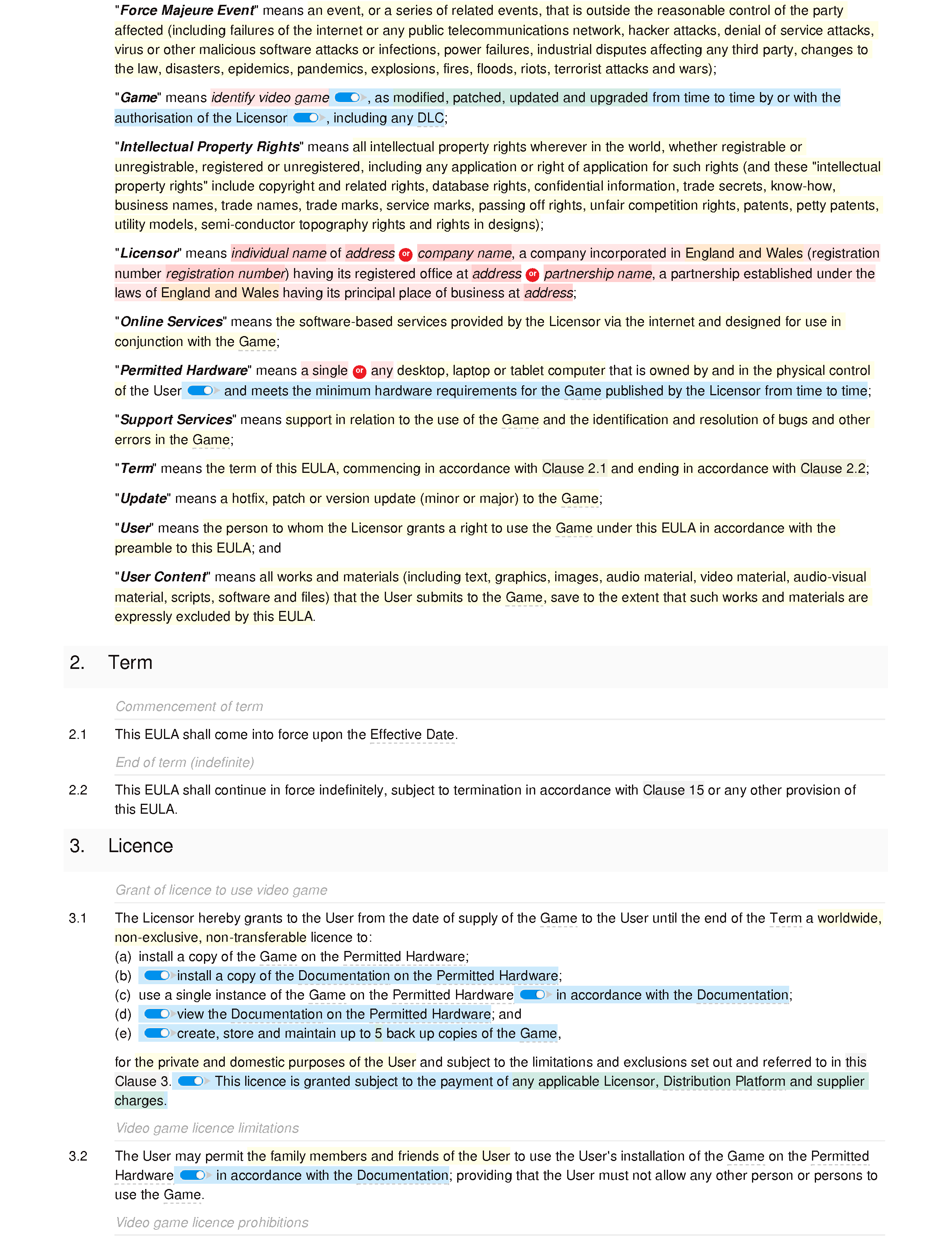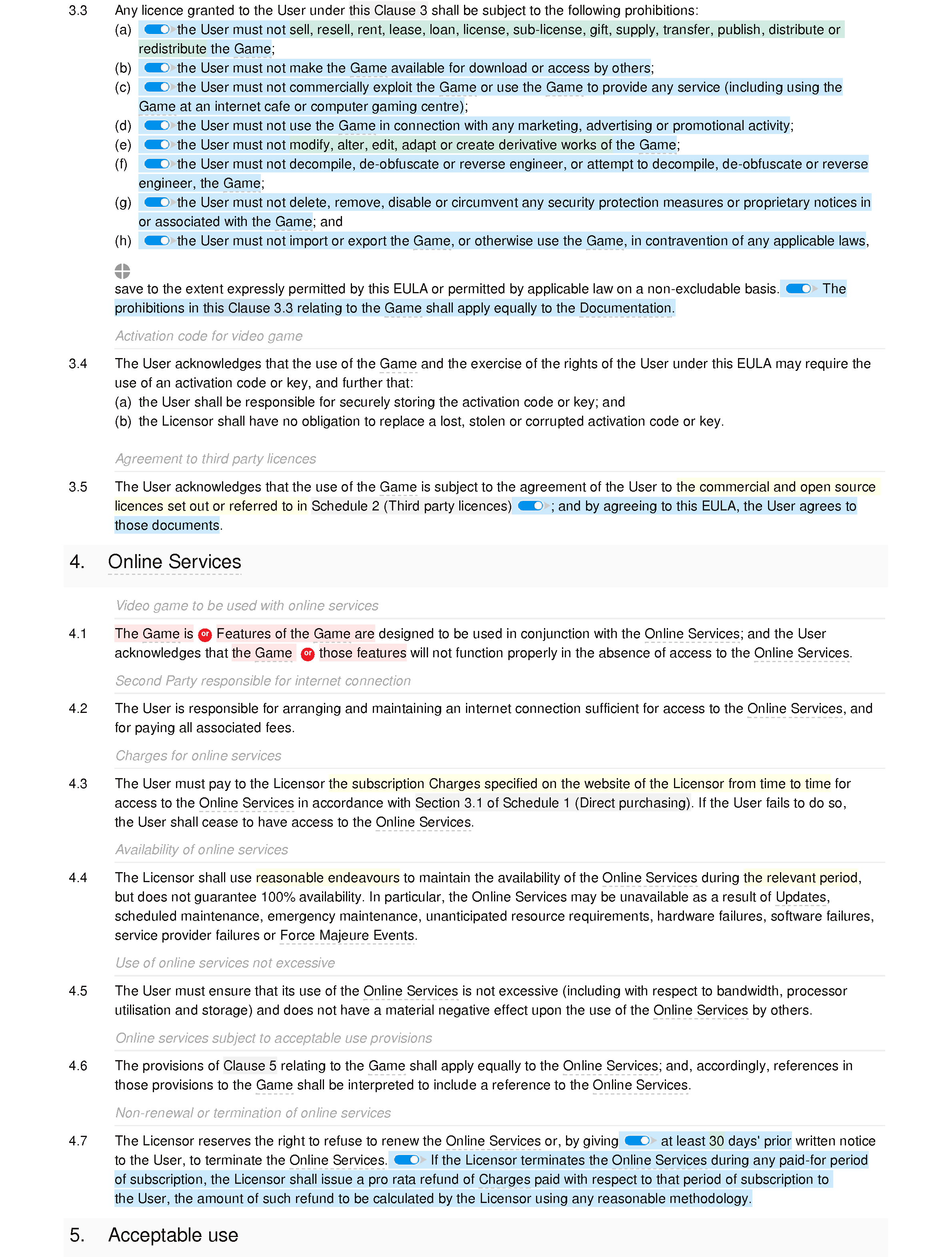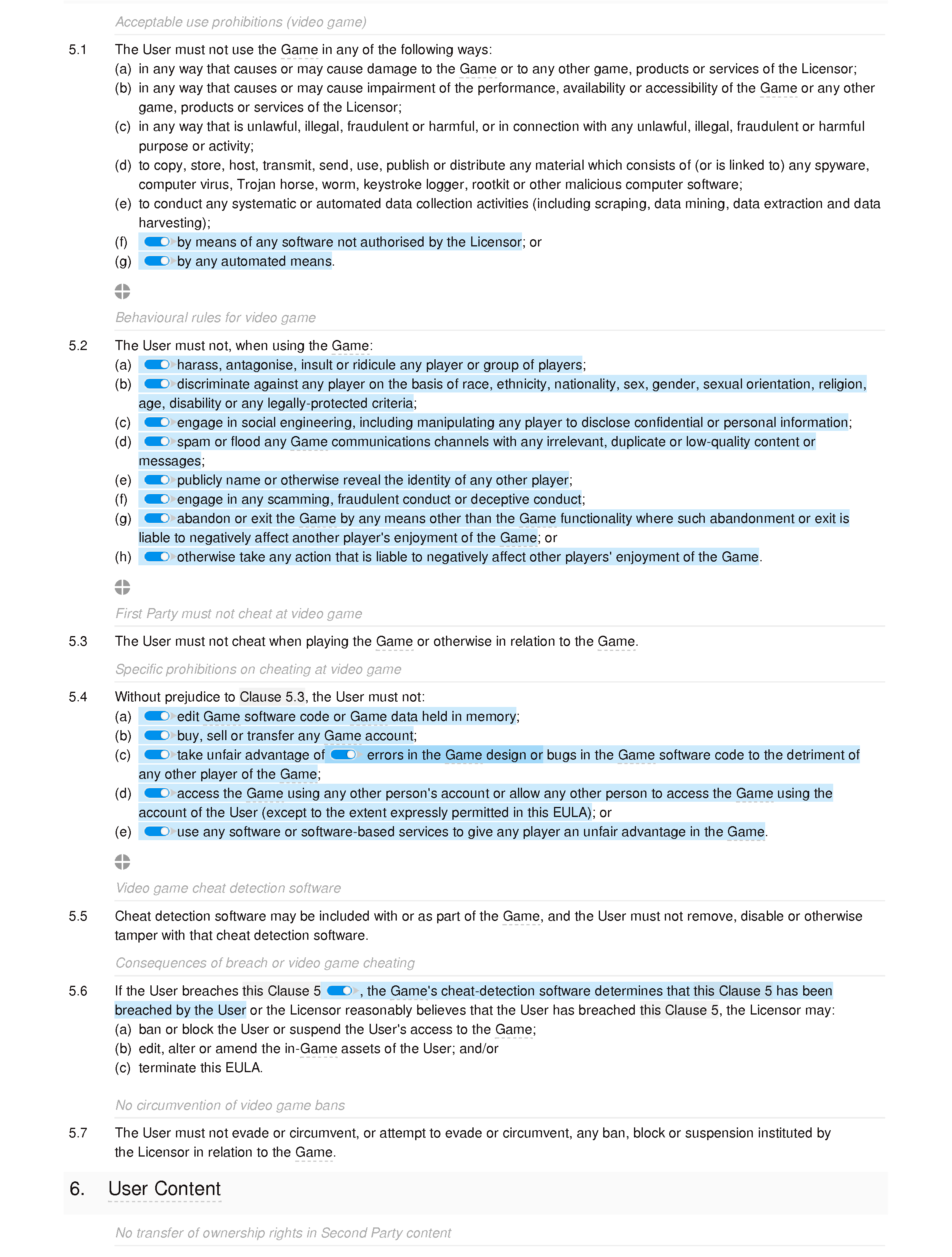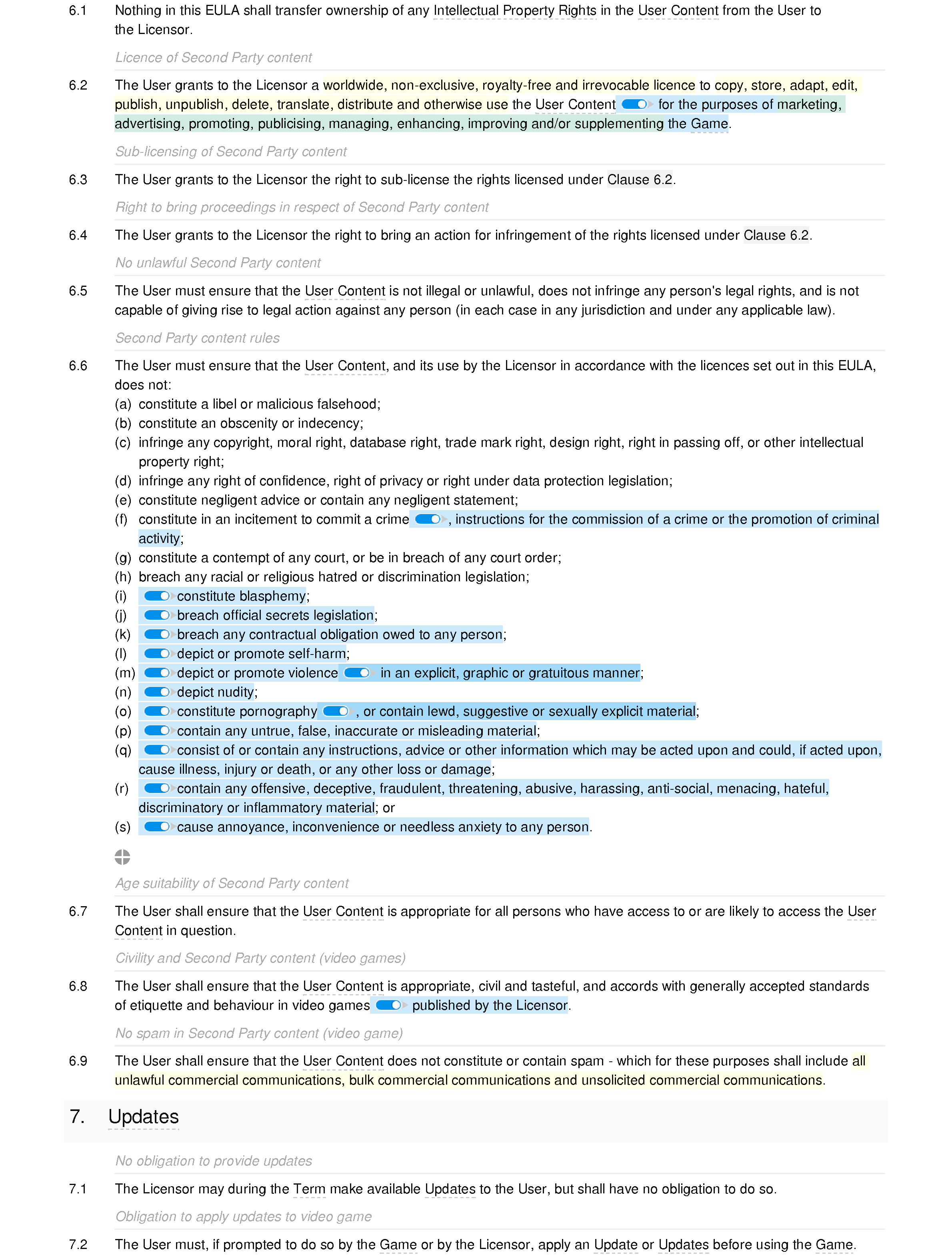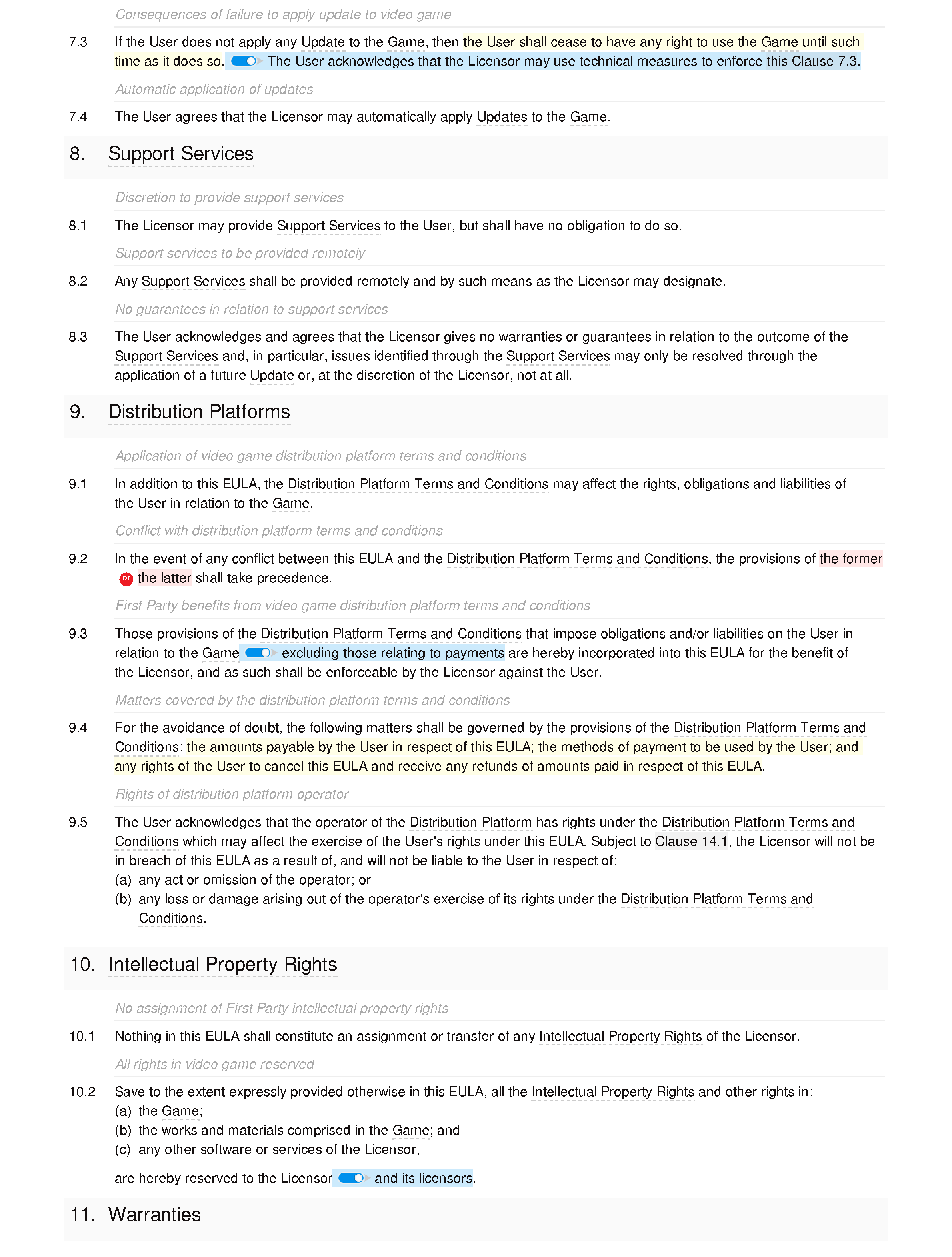 This is a shortened preview of the editor interface; once you create your instance you'll be able to edit the full document in our online editor.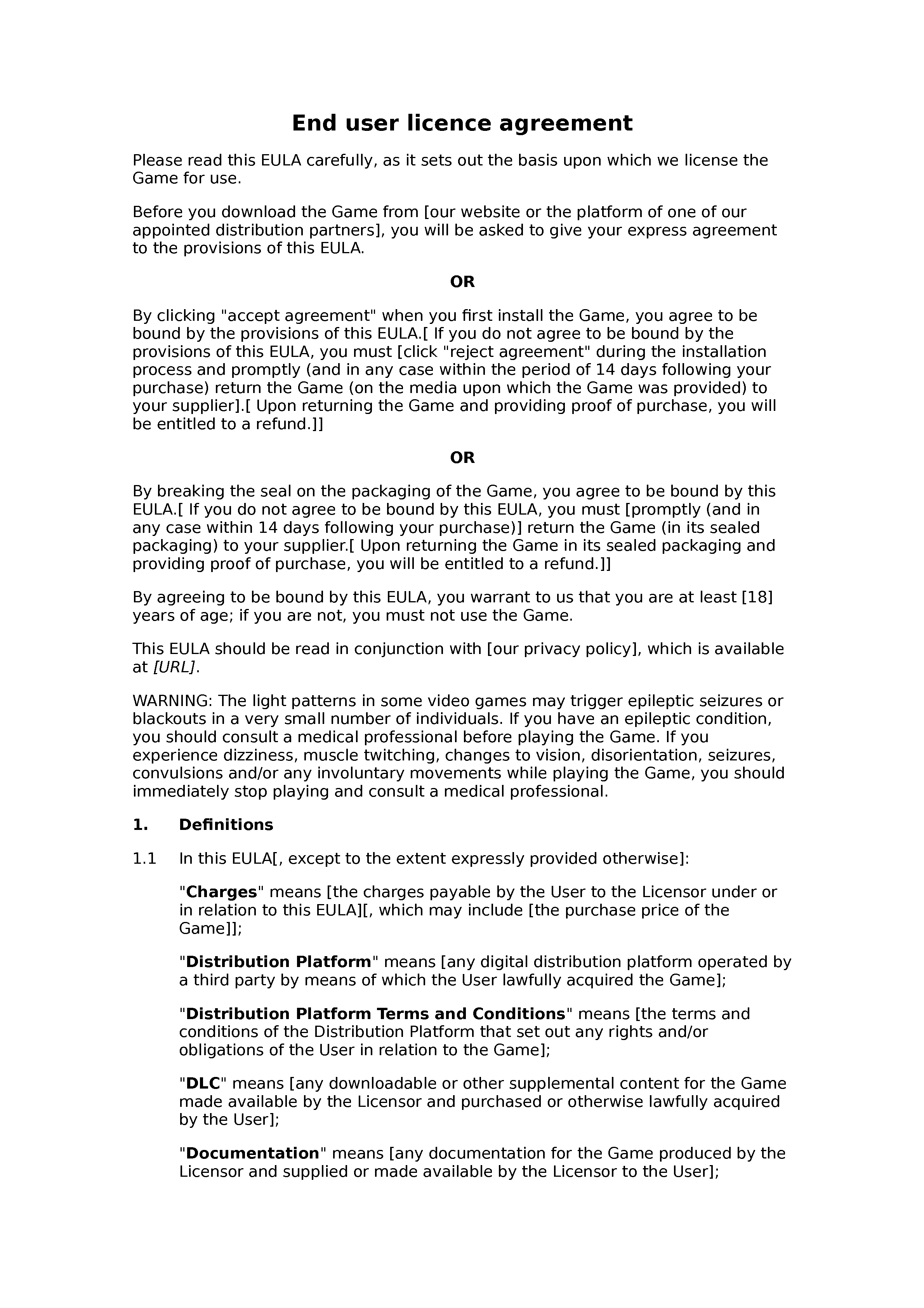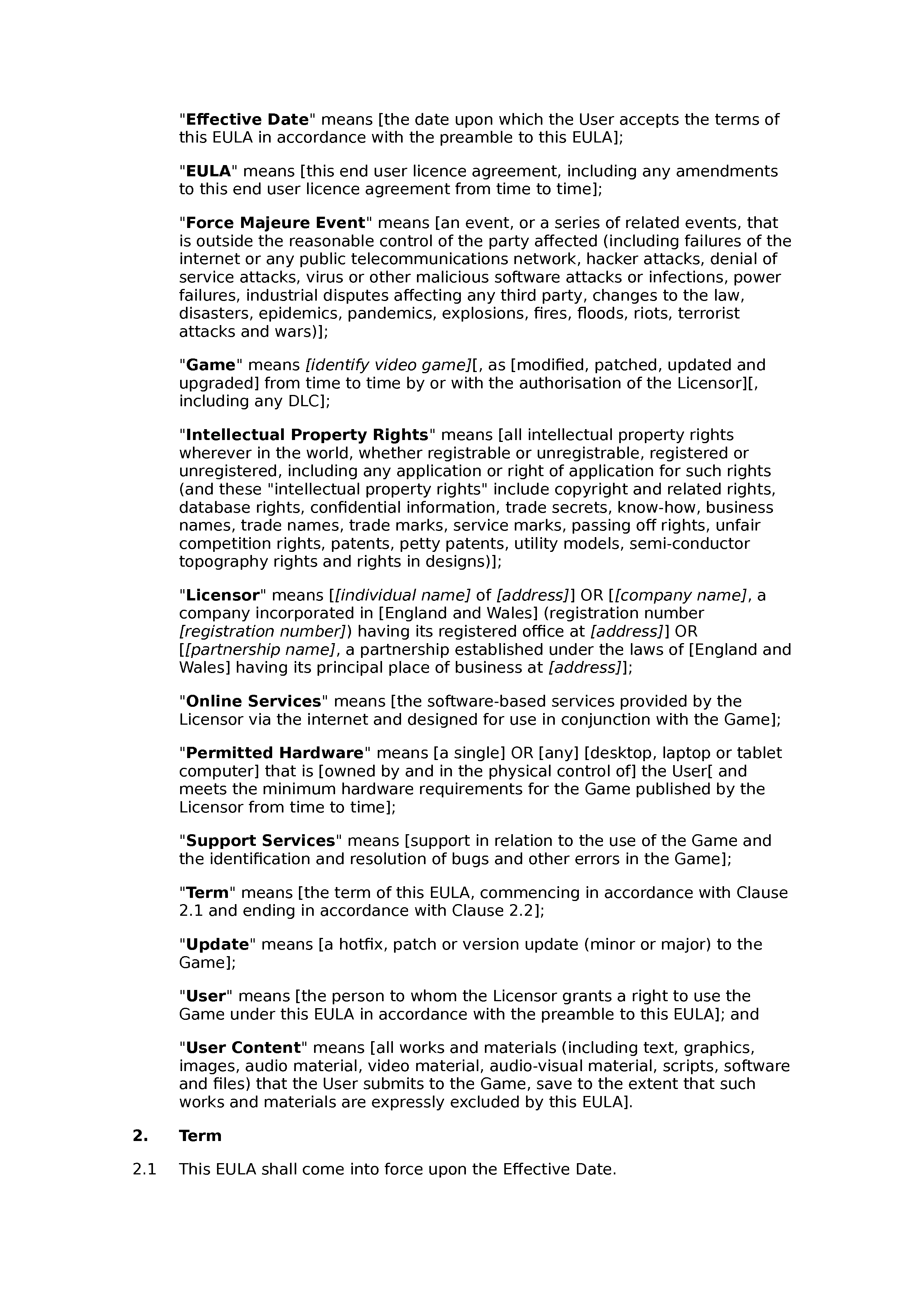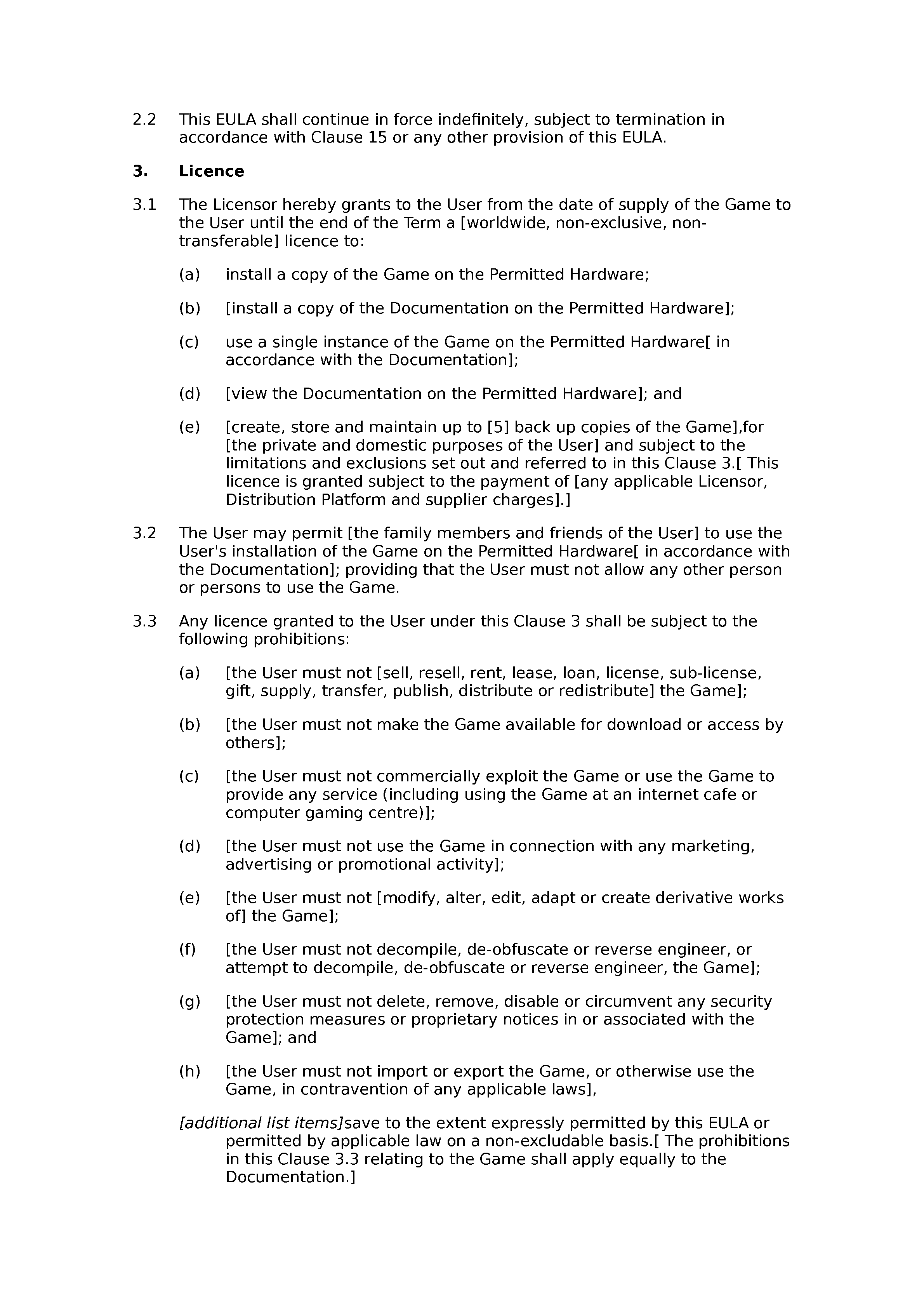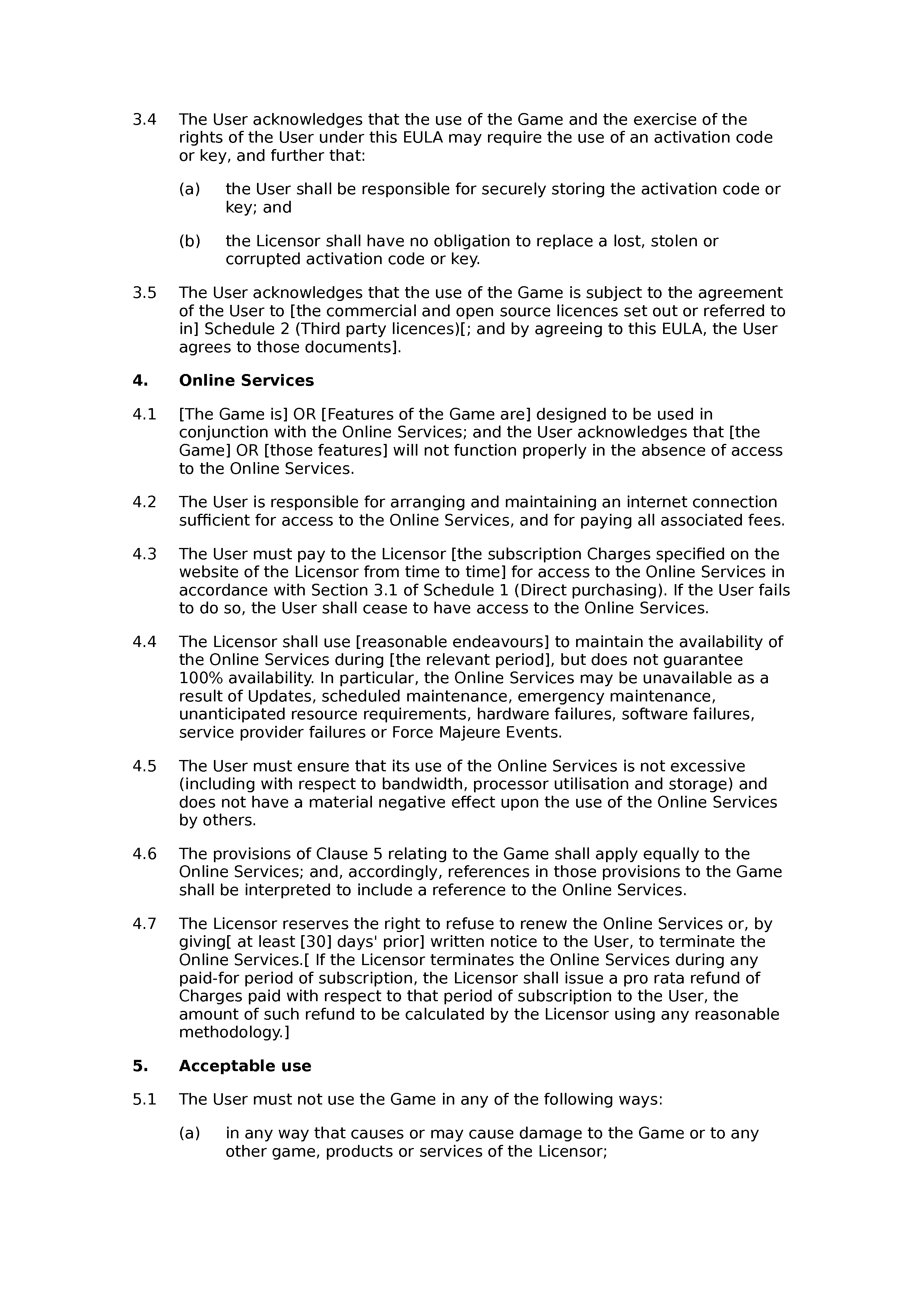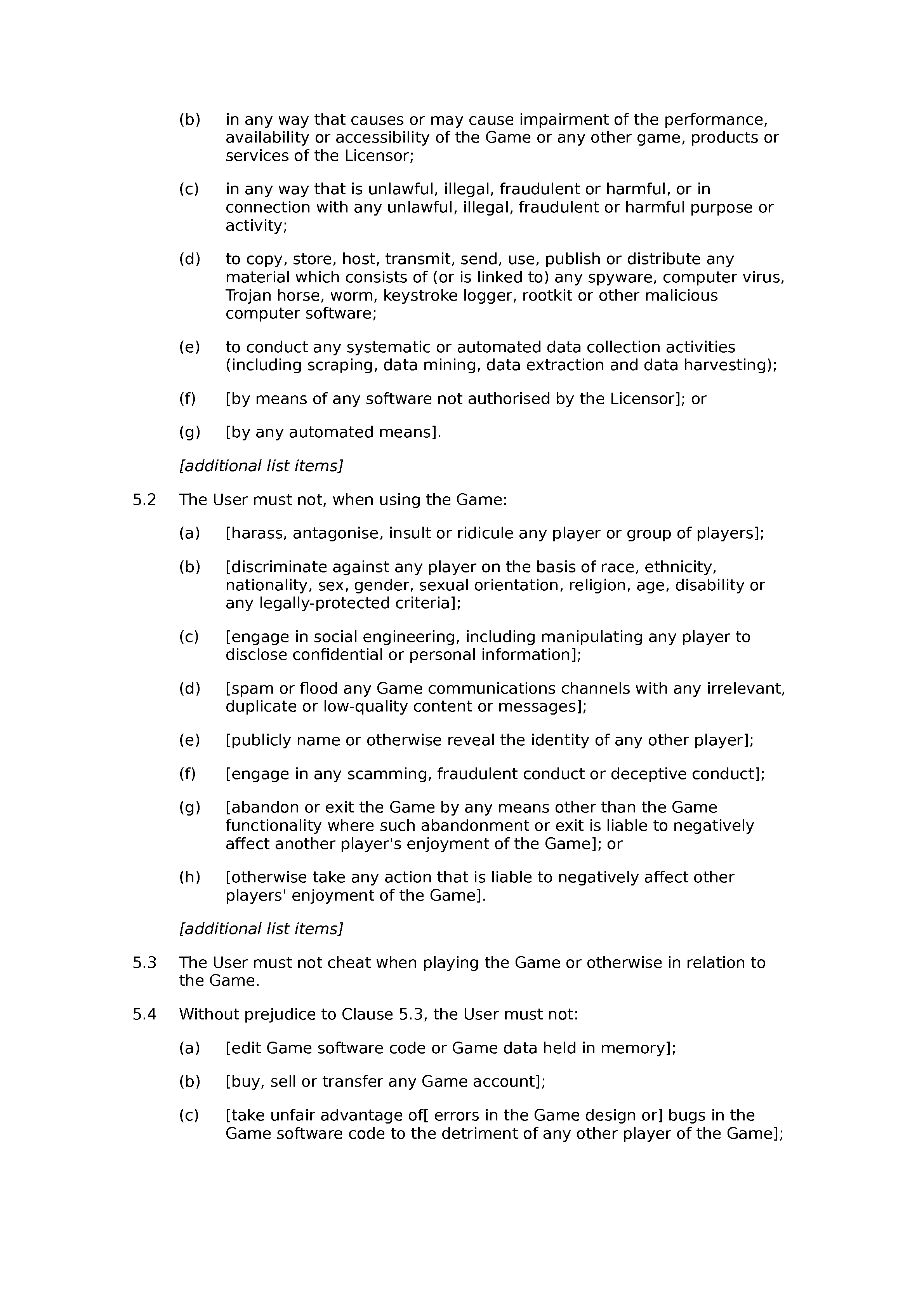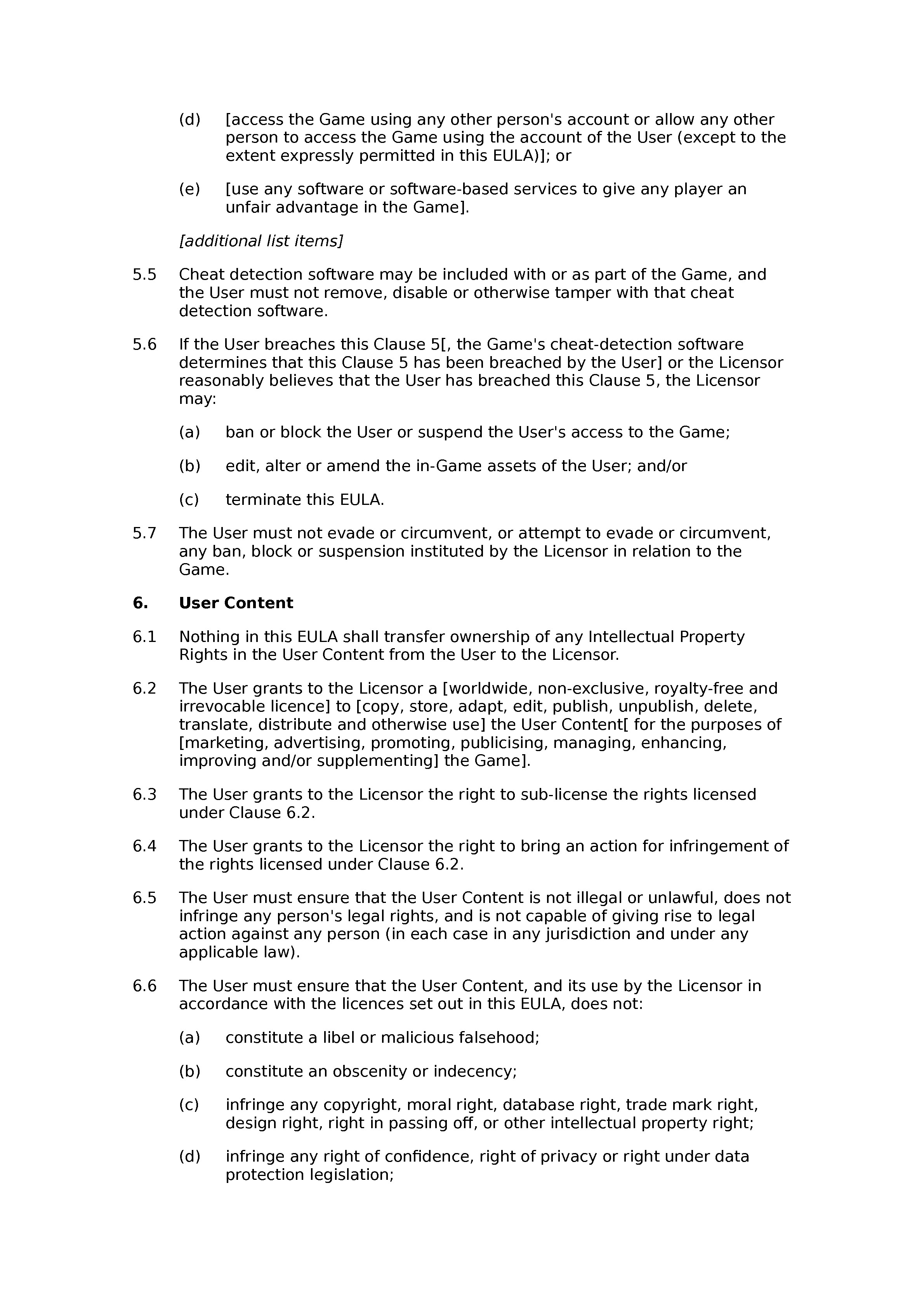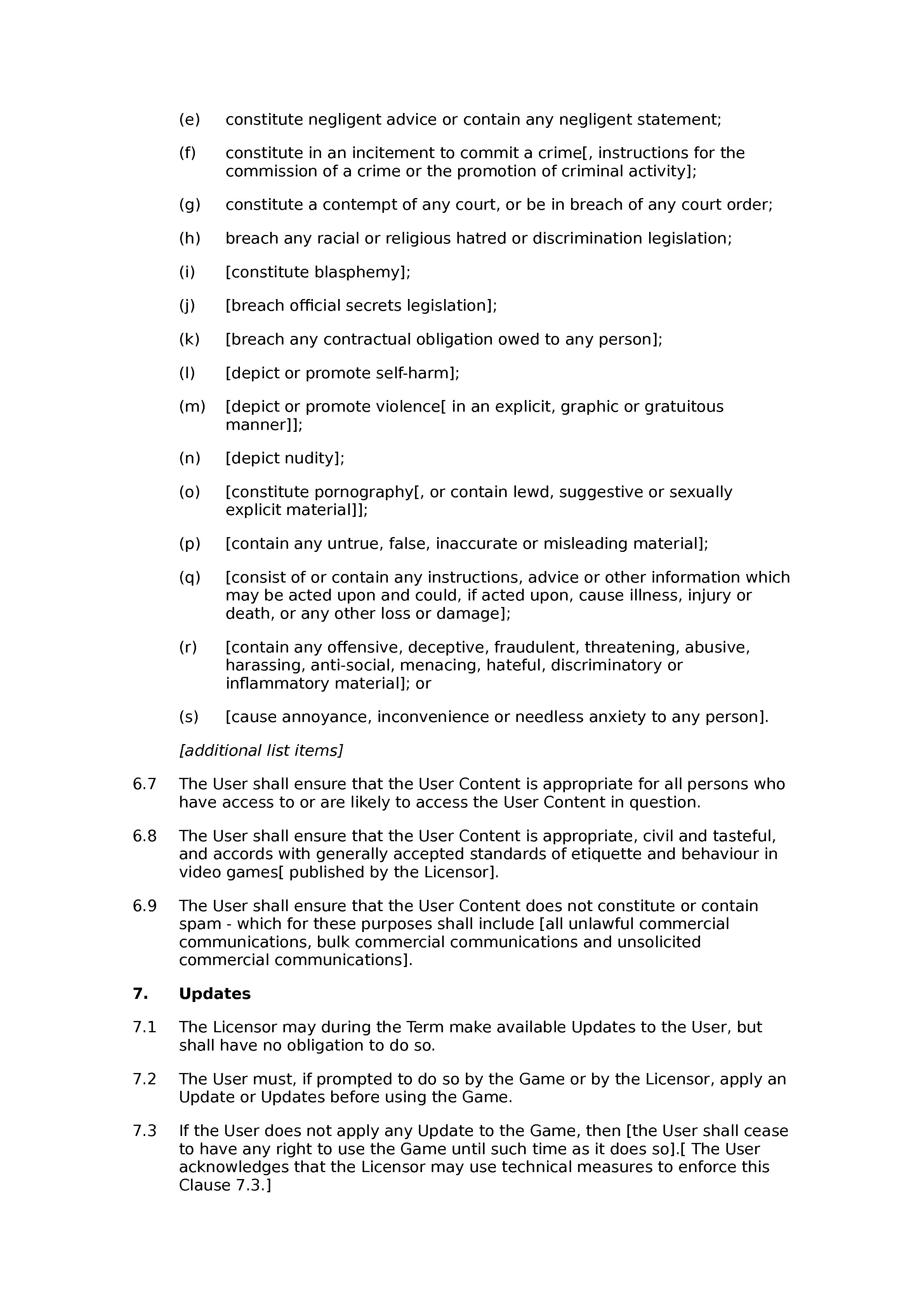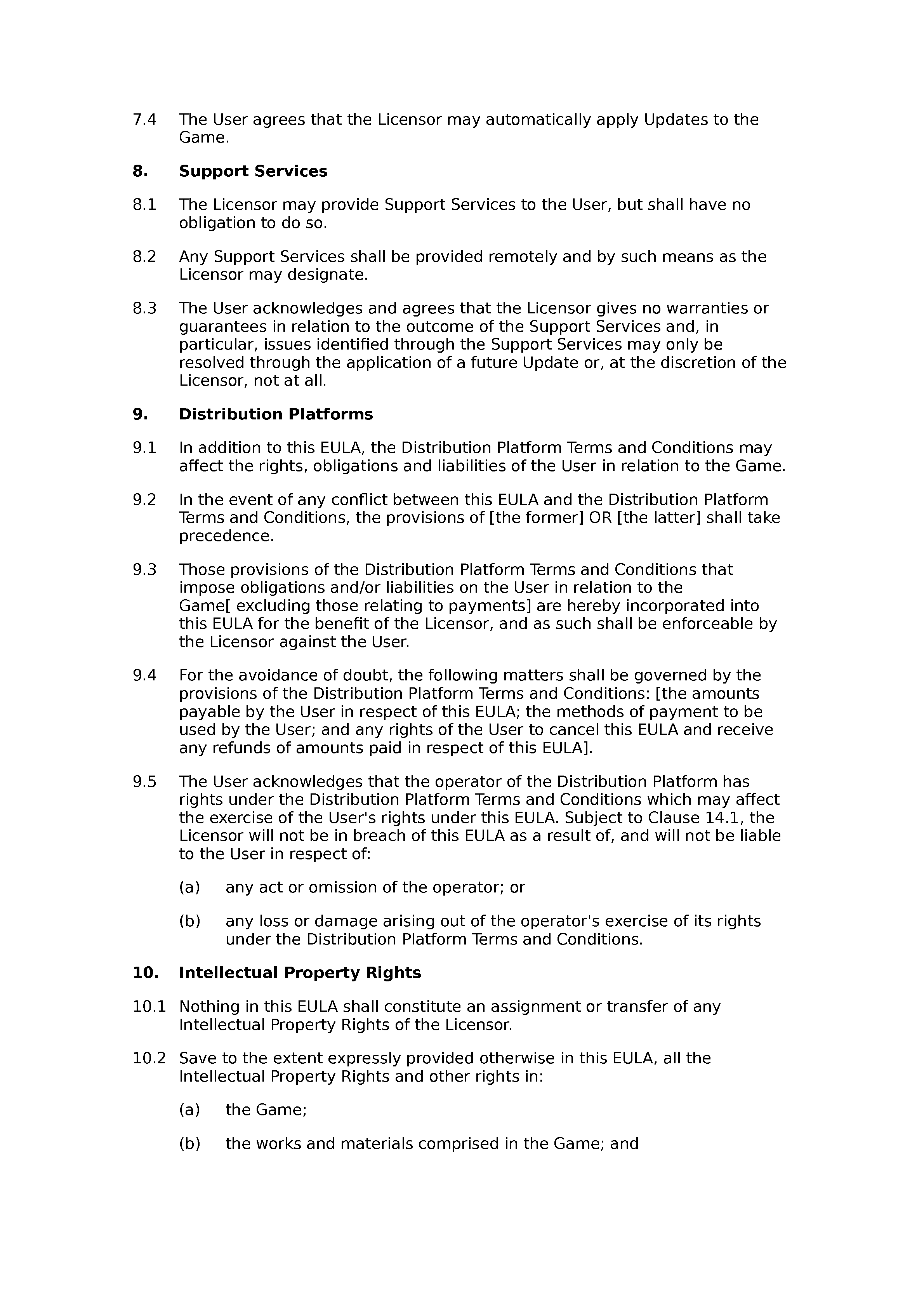 This is a shortened preview of the DOCX output; once you create your instance you'll be able to download the full document in PDF, HTML, RTF and/or DOCX (Microsoft Word) format.