Affiliate terms and conditions (premium)
This template is designed for use in connection with a website affiliate programme where: (i) affiliates apply to join the programme online and there is therefore no signed paper copy of the Agreement; and (ii) payments to affiliates are made in respect of purchases on the website, visits to the website and/or registrations on the website. The template may be adapted for use with other types of goal.
There are two alternative commission payment provisions. The first may be more suitable where most affiliates will not be registered for VAT. The second, which includes self-billing clauses, may be more suitable where most affiliates will be registered for VAT. Under the first option, payments are said to be stated VAT-inclusive, whereas under the second option payments are said to be stated VAT-exclusive. You should take advice from your accountant or tax adviser in relation to the taxation of payments made to affiliates.
Optional provisions covering multi-level schemes are included.
Generally, the template has been drafted to favour the interests of the merchant (ie person operating the affiliate programme) over the interests of the affiliate.

Ask about this document
Affiliate terms and conditions (premium) contents
Definitions: definitions.
Term: commencement of term; end of term (indefinite); each registration form creates distinct contract .
Affiliate Programme: affiliate control panel; grant of licence to use affiliate links; inclusion and maintenance of affiliate links; amendments to links; no warranties regarding affiliate links.

Affiliate

obligations:

Affiliate

cooperation and assistance for affiliate programme;

Affiliate

website obligations; prohibitions on affiliate; protection of

Merchant

and

Merchant

website reputation and goodwill.
Commission: obligation to pay commission upon trigger event; exclusions on commission payments; VAT in calculation of commission; variation of commission rates; commission after termination.
Accounting for Commission: notice of commission payable; obligation to issue of invoice for commission; time for payment of commission following invoice.
Accounting for Commission: self-billing: self-billing for commission.
Payment methods, interest and set off: payment methods for commission; withholding tax deduction; interest on late payments; repayment of overpayments; right of set off.
Sub-affiliates:

Affiliate

may refer sub-affiliates; supplementary sub-affiliate payments; sub-affiliate prohibitions and restrictions; variation of supplementary payment rates.

Affiliate

's confidentiality obligations: second party confidentiality undertaking; disclosure of confidential information by second party to certain persons; exceptions to second party's confidentiality obligations; disclosures of first party confidential information mandated by law etc; second party to stop using confidential information upon termination; second party to return or destroy confidential information following termination; second party confidentiality obligations after termination.
Warranties: first party warranty of authority; second party warranty of authority; exclusion of implied warranties and representations.

Affiliate

indemnity: second party indemnifies first party upon breach.
Limitations and exclusions of liability: caveats to limits of liability; interpretation of limits of liability; no liability for force majeure; no liability for loss of profits; no liability for loss of revenue; no liability for loss of use; no liability for loss of opportunities; no liability for loss of data or software; no liability for consequential loss; aggregate liability cap based on

Merchant

payments.
Termination: termination without cause (optionally assymetric); termination by either party without cause; termination upon breach; termination upon insolvency.
Effects of termination: surviving provisions upon termination; termination does not affect accrued rights.
Notices: contractual notices by email or through

Merchant

website.
General: no waiver; severability; asymmetric variation; asymmetric assignment of contractual rights; no third party rights; entire agreement; governing law; exclusive jurisdiction.
Interpretation: statutory references; section headings not affecting interpretation; calendar month meaning; no ejusdem generis.
Statutory and regulatory disclosures: copy of document not filed; language of document; value added tax number.
SCHEDULE 1 (COMMISSION)
Introduction to affiliate trigger events and commission details; acknowledgement.
Purchase: purchase trigger event specification; purchase commission specification.
Registration: registration trigger event specification; registration commission specification.
Visit: visit trigger event specification; visit commission specification.
Sub-affiliate supplementary payments: calculation of sub-affiliate supplementary payments.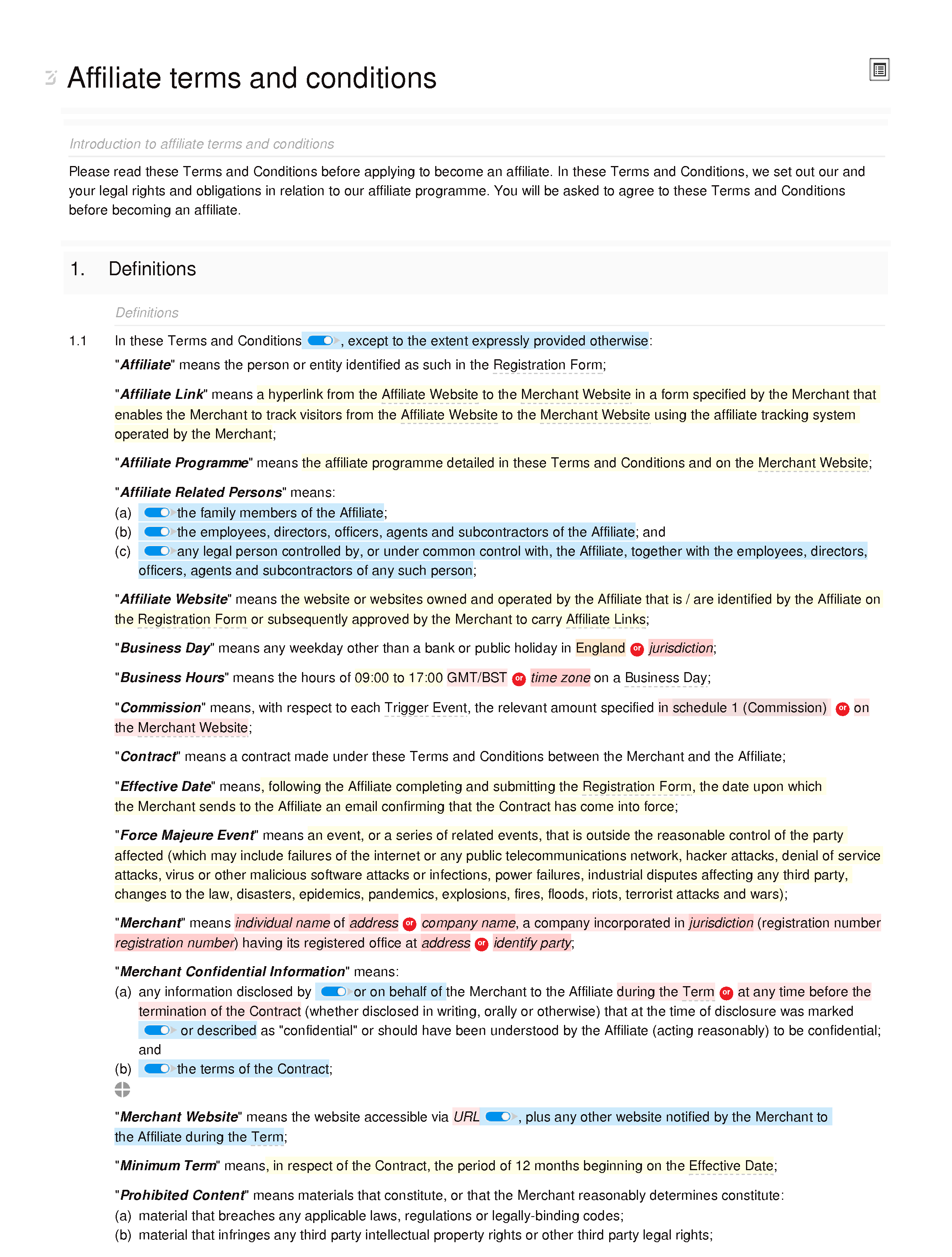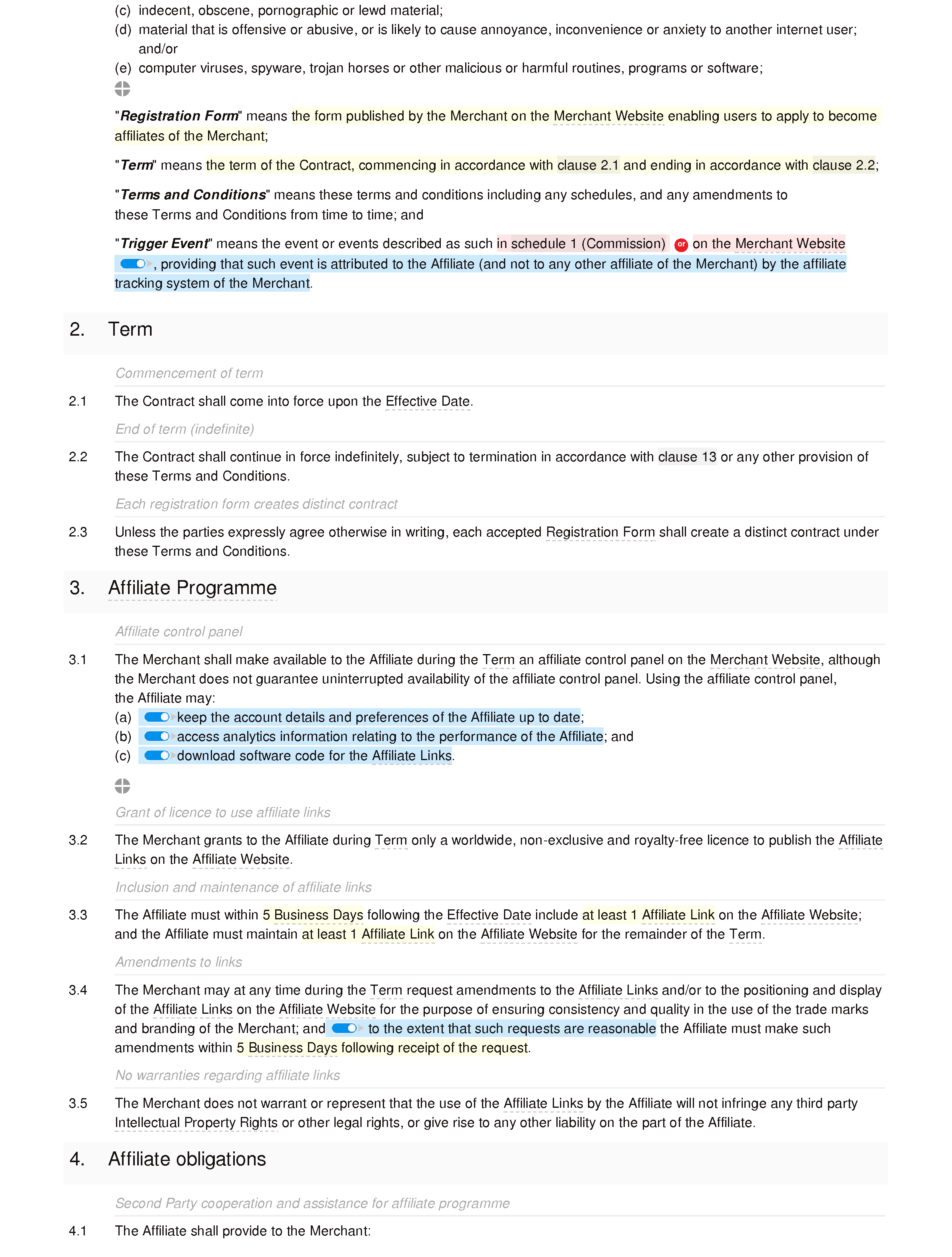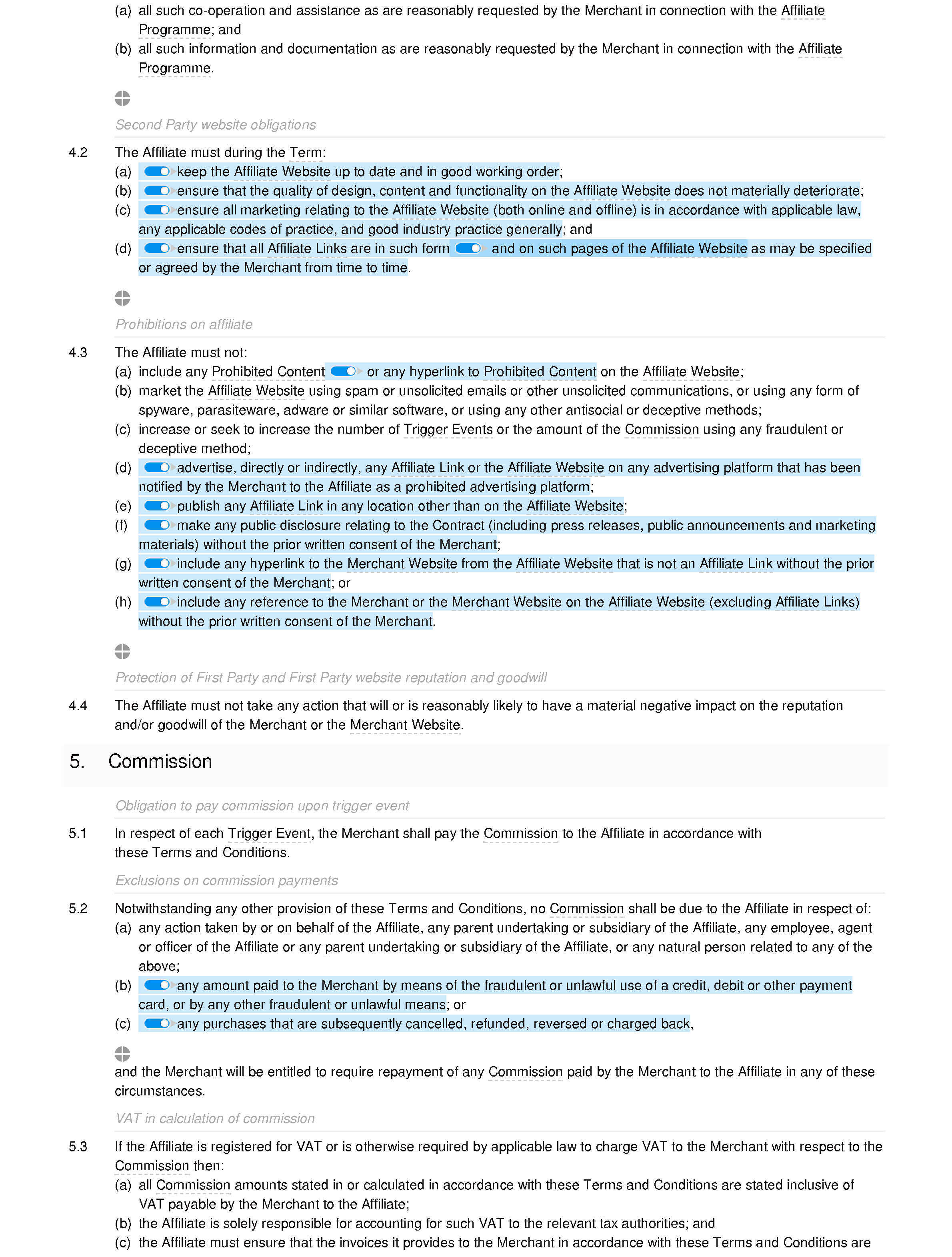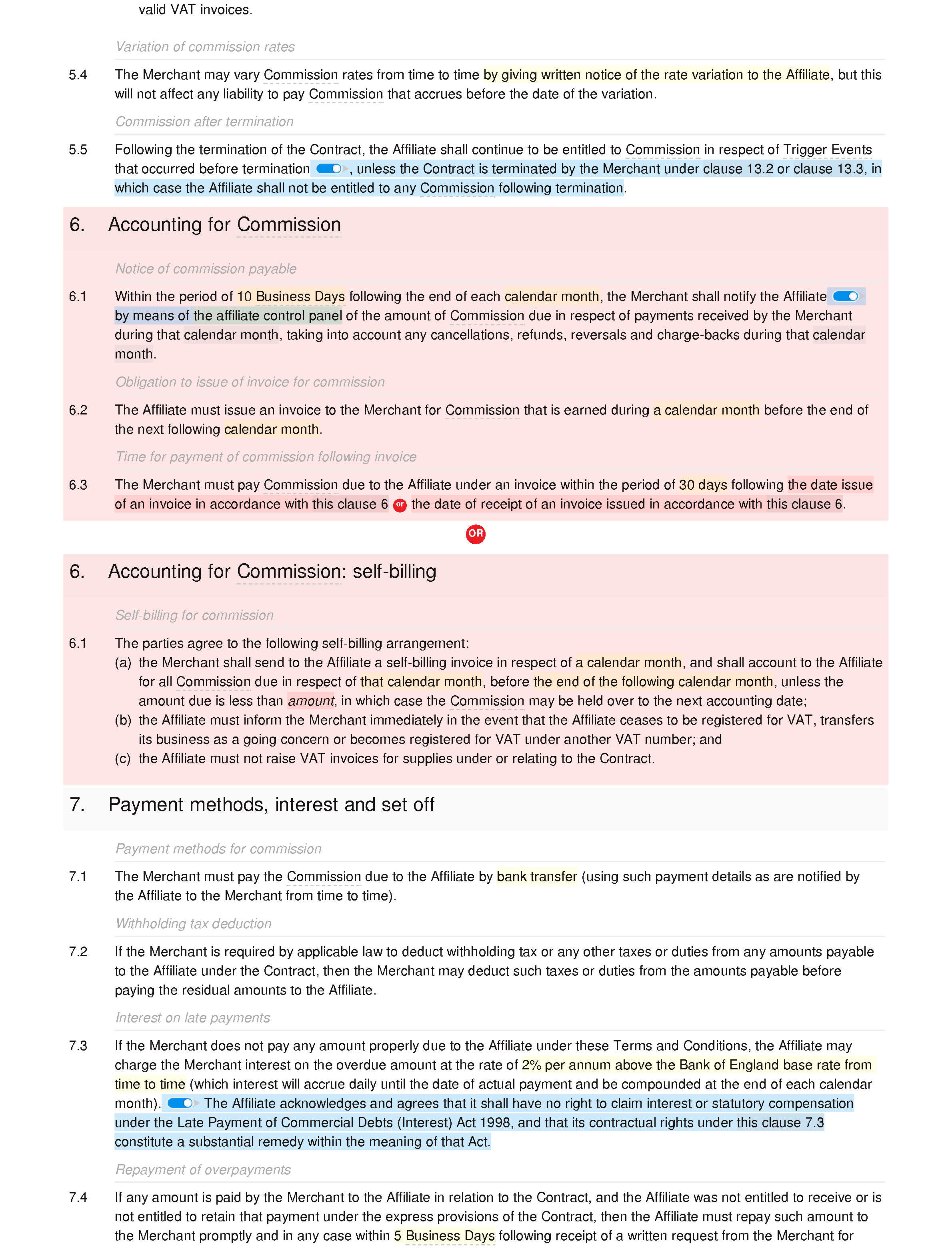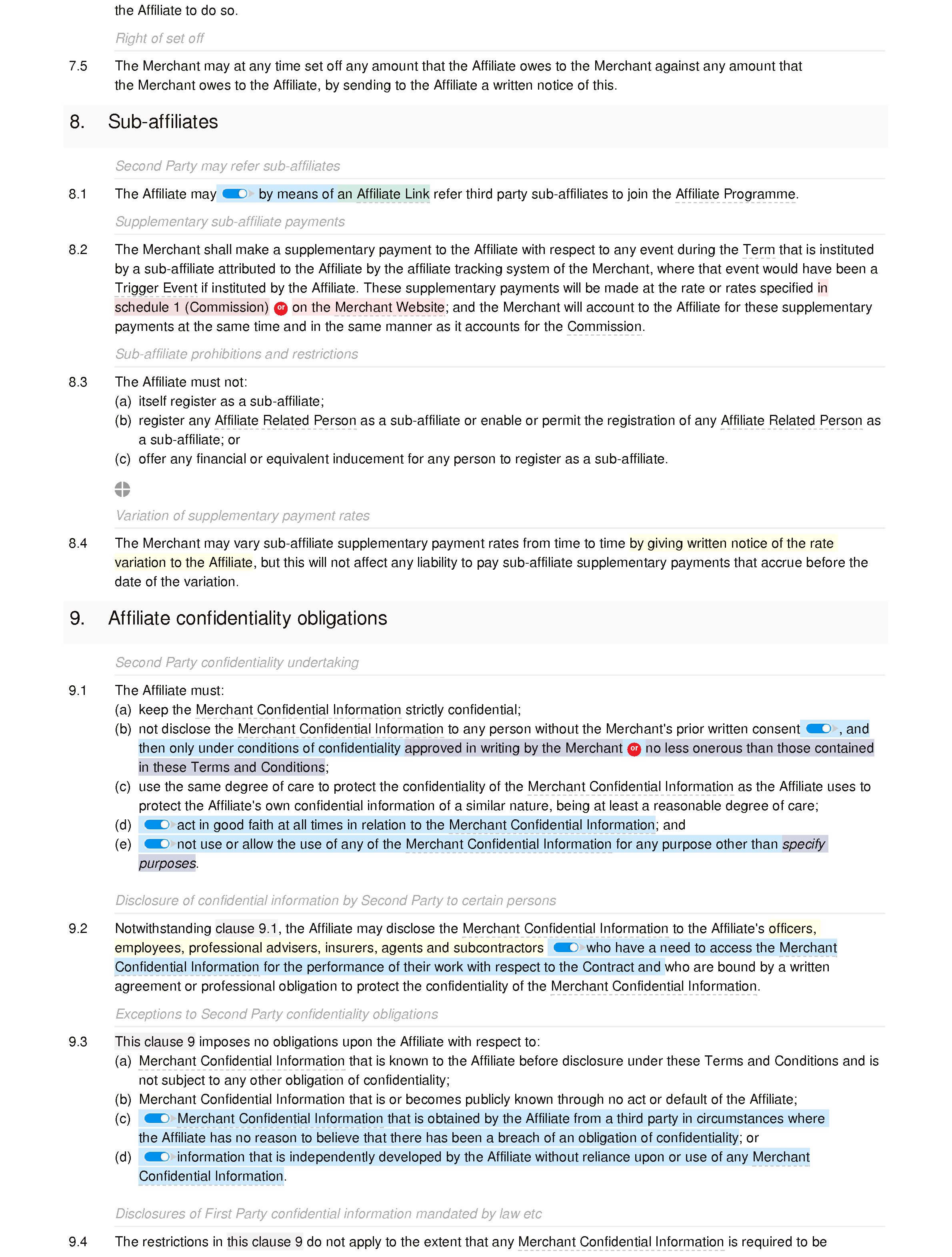 This is a shortened preview of the editor interface; once you create your instance you'll be able to edit the full document in our online editor.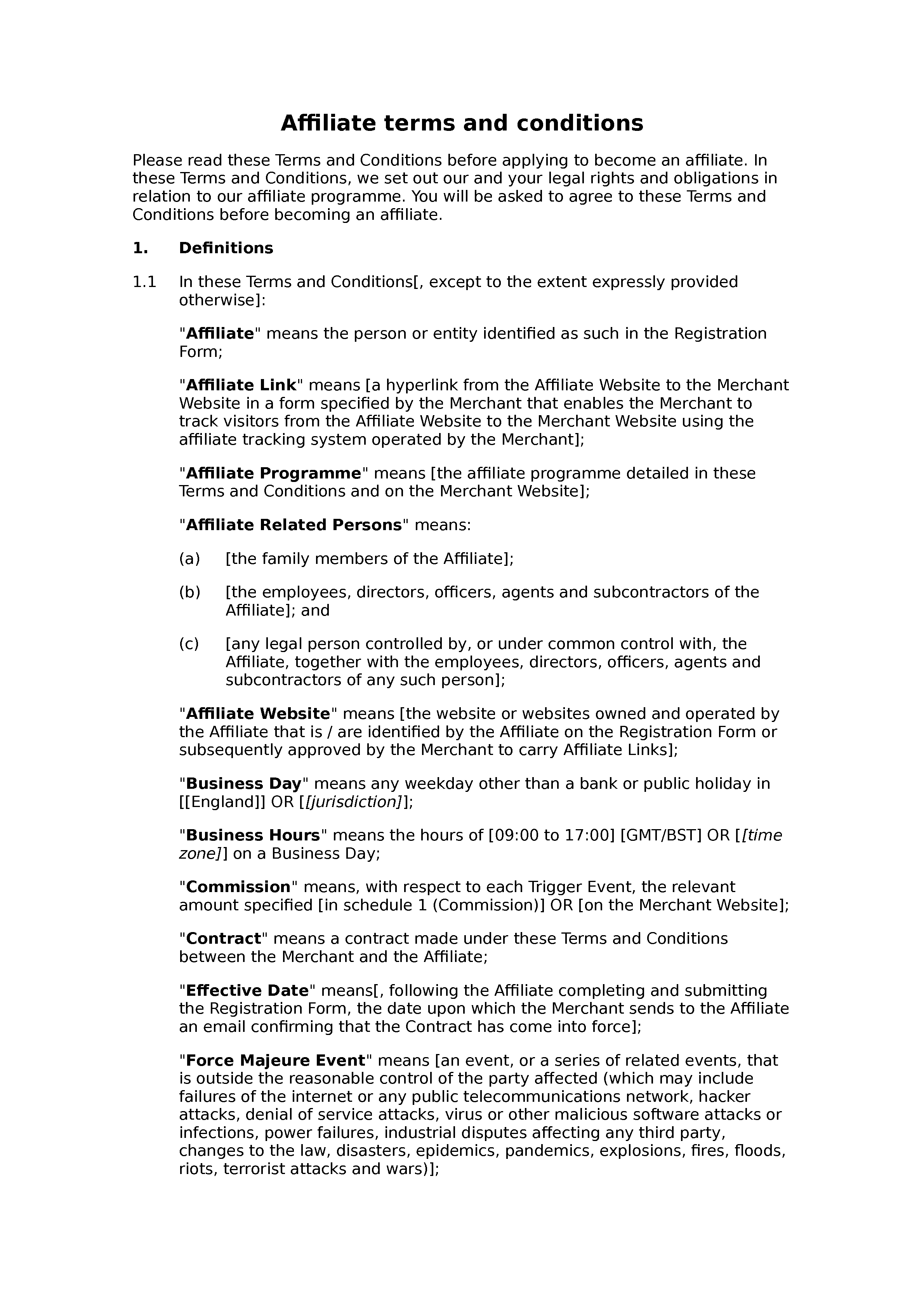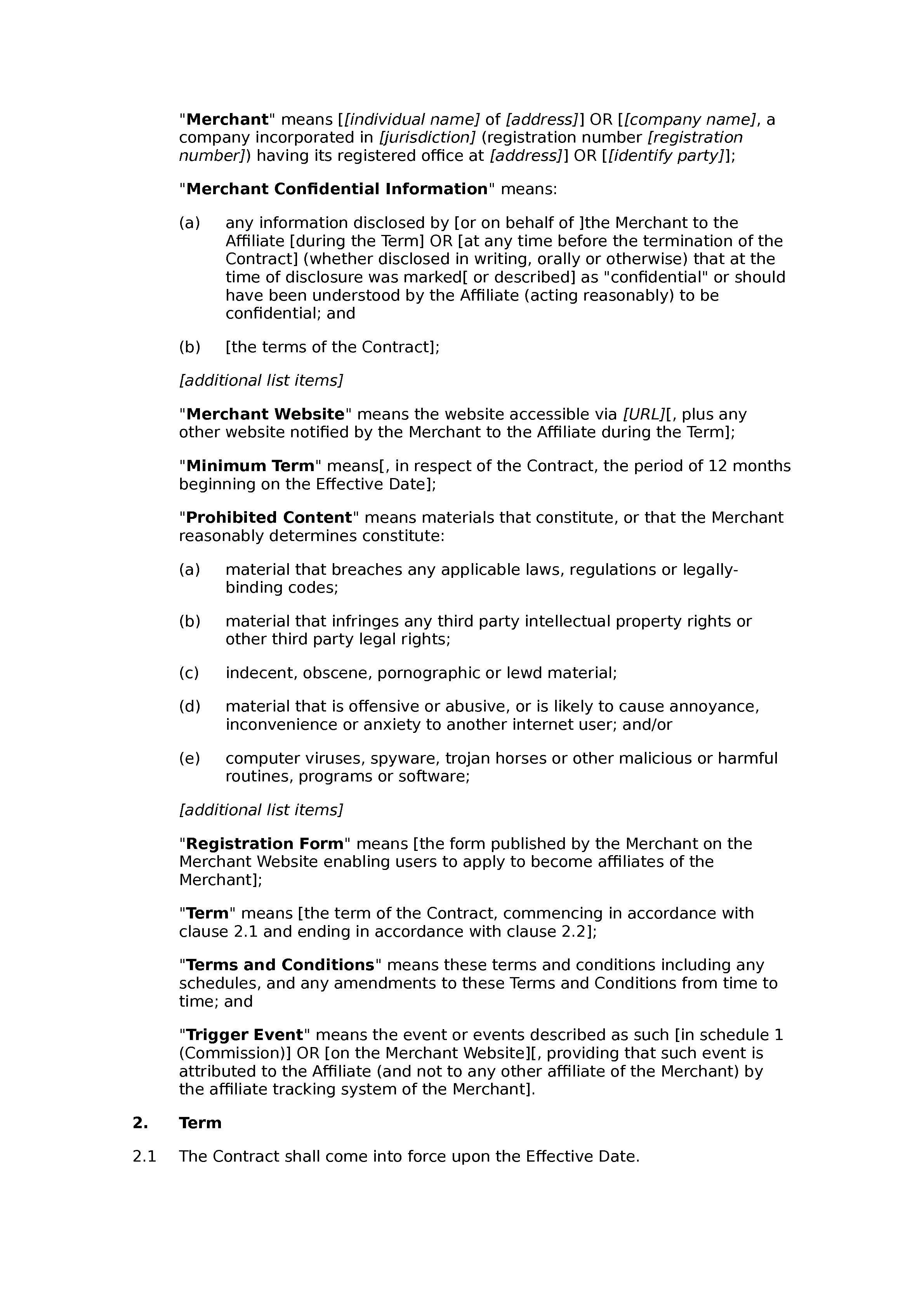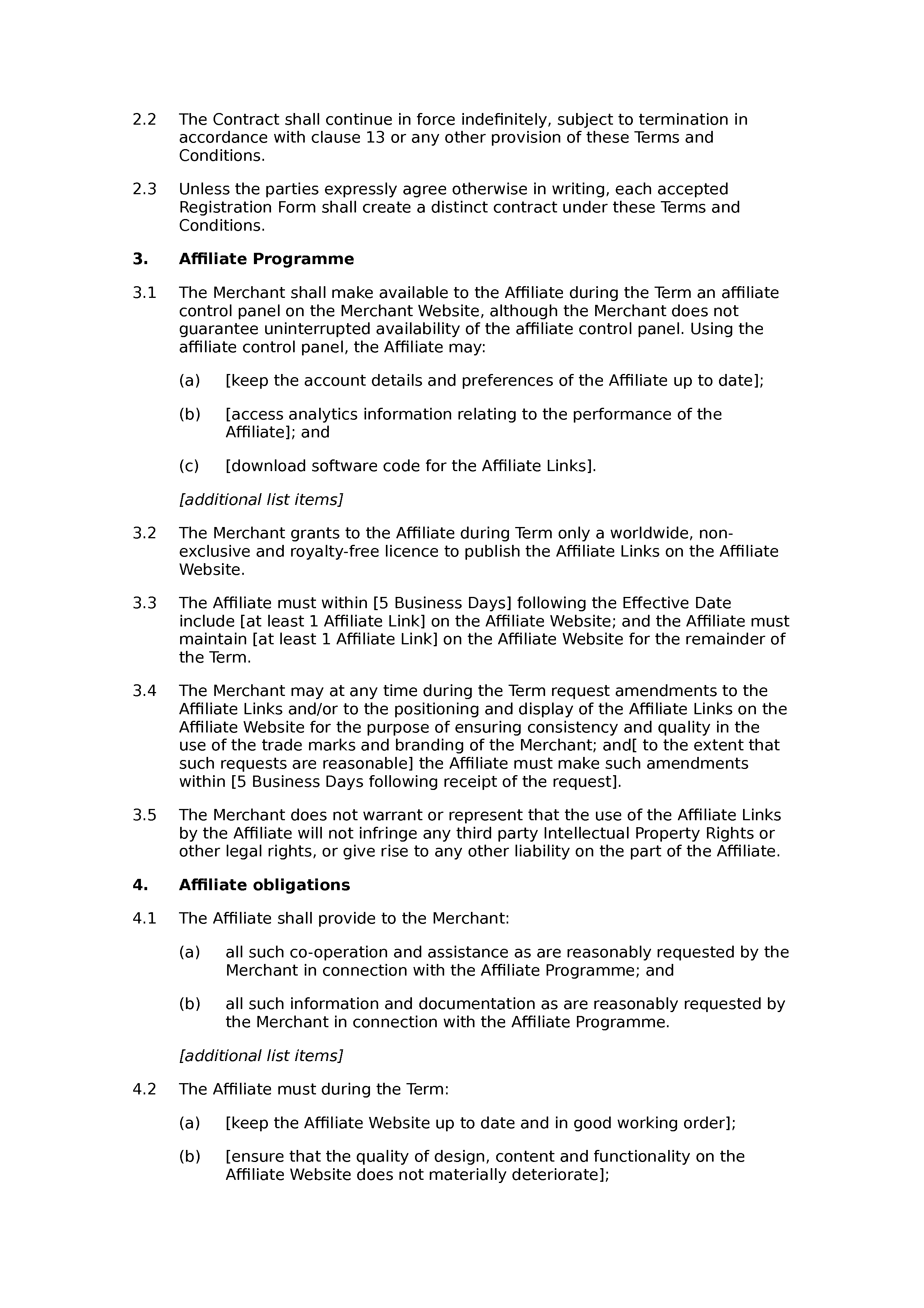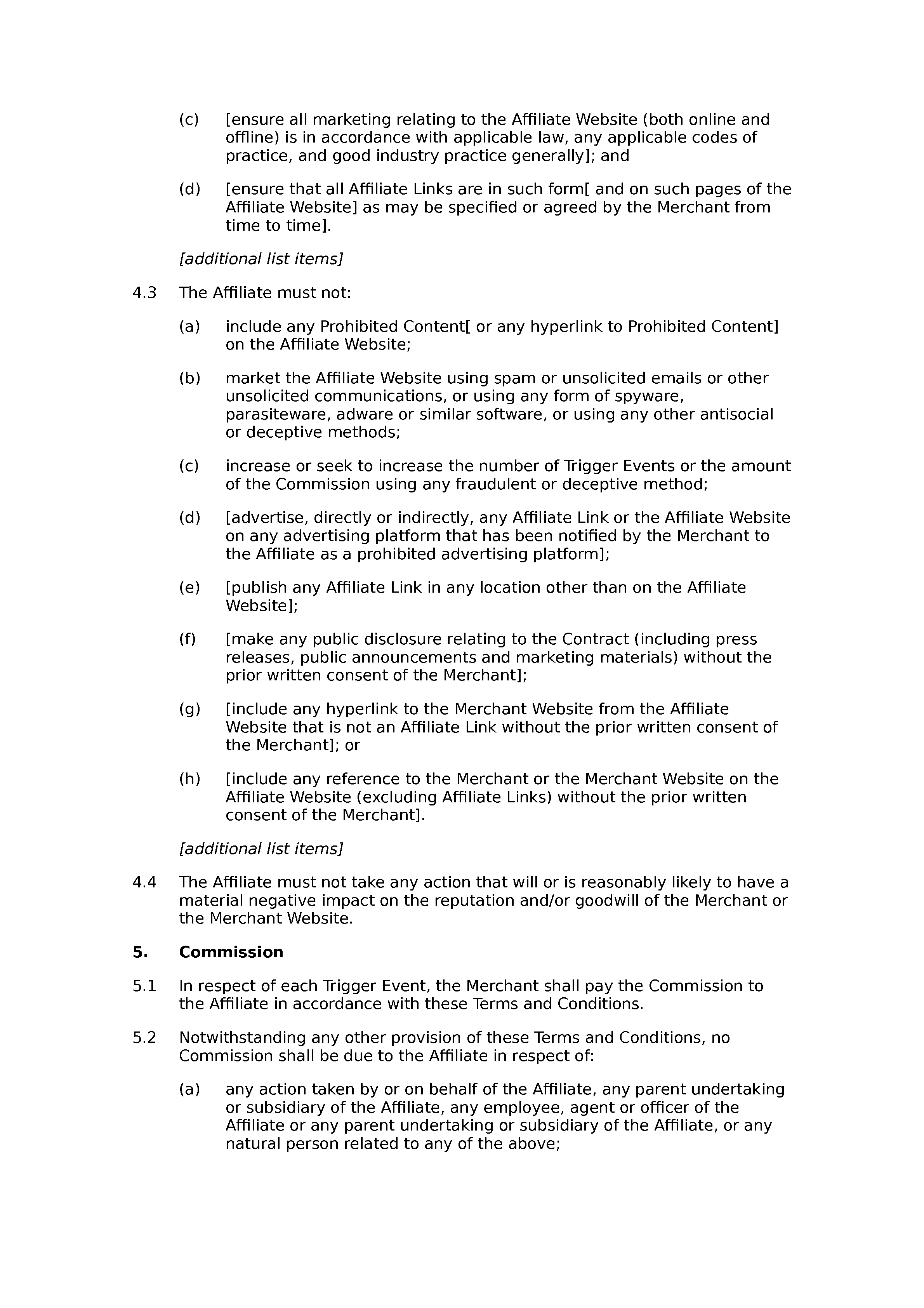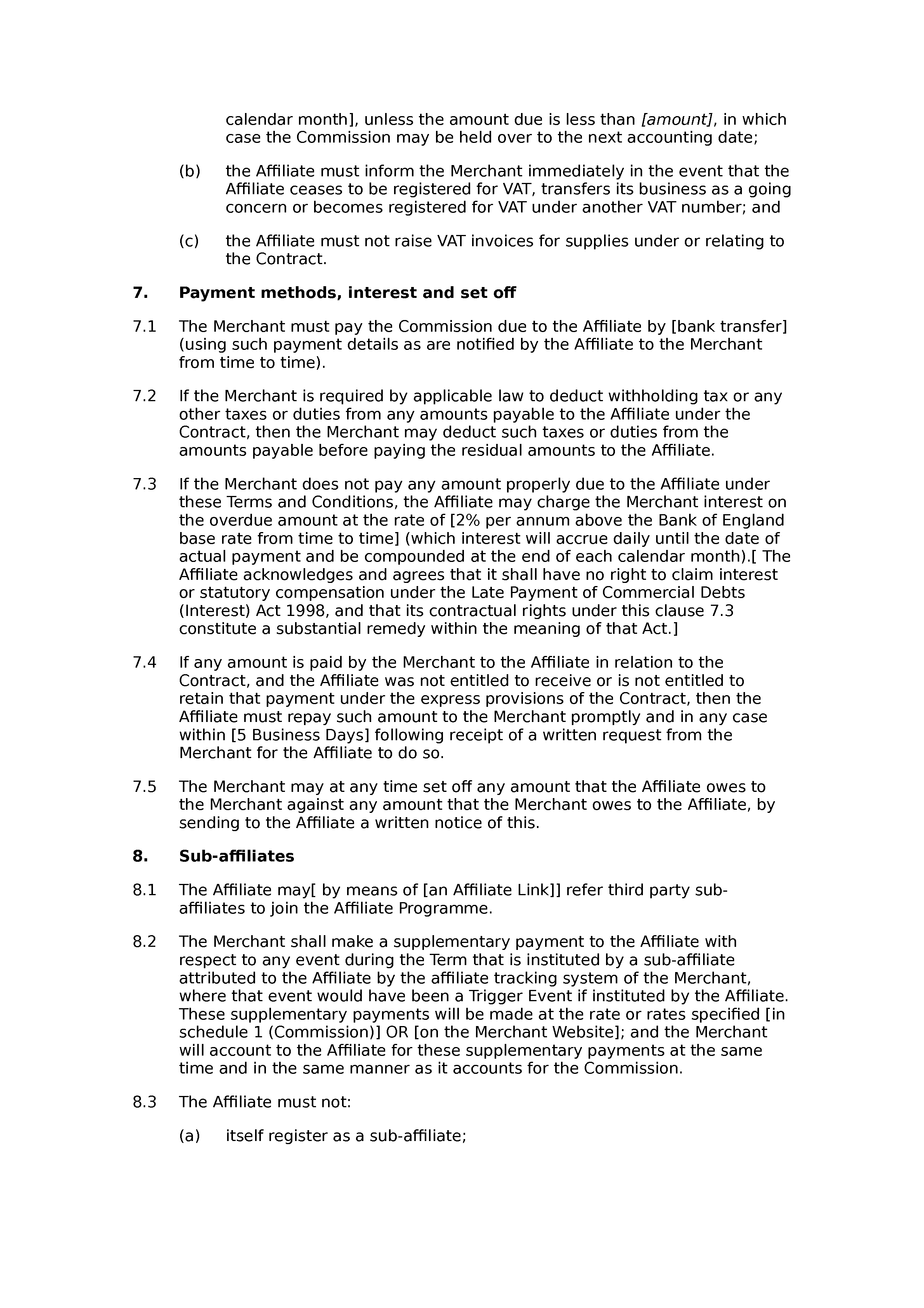 This is a shortened preview of the DOCX output; once you create your instance you'll be able to download the full document in PDF, HTML, RTF and/or DOCX (Microsoft Word) format.