WiFi terms and conditions
This WiFi terms and conditions document can be used to regulate the use of a public WiFi service, such as a service offered by a restaurant or cafe.
The terms and conditions assume that the service will be provided free-of-charge. If the service is chargeable, you may need additional clauses.
A brief "fair use" policy is included in the document. The fair use policy highlights that bandwidth may be limited and that some services (eg video streaming) may not be usable over the WiFi network.
The terms and conditions also include a short-form "acceptable use" policy, highlighting the things that user must not do when using the WiFi service. For example, the user should not download any illegal content.
The WiFi terms and conditions should be presented to the user when they first register to use the WiFi service. If the terms and conditions are amended, then the user should be asked to agree to the amendments or the amended version of the terms and conditions. Usually, this agreement will be sought and given when the user next logs into the service, following the date of the amendment.

Ask about this document
WiFi terms and conditions contents
Introduction: document governs service; consent to WiFi document: implied; consent to WiFi terms and conditions: express; service user minimum age.
Rights to use WiFi service: means of access to service; purpose of use of service; operating a "fair use" policy; restricting access to service.
Acceptable use: acceptable use of WiFi: prohibitions.
Signing up: registering for an account with service; information provided to be accurate; no other person permitted to use service; using other person's device to access service; acknowledgement of possible automatic connection to service.
Cancellation and suspension of access: suspension or cancellation of access to service.
Your content: licence: definition of user content (transmission); licence of user content for service; sub-licensing of user content.
Your content: rules: defining "your content"; user content warranty; no unlawful user content; user content rules; transmission of material which has been the subject of previous complaints.
Limited warranties: no warranties that service will be available; right to discontinue or alter service; no implied warranties or representations relating to service.
Limitations and exclusions of liability: caveats to limits of liability; interpretation of limits of liability; no liability for loss or damage; no liability for force majeure; no liability for business losses; no liability for loss of data or software; no liability for consequential loss.
Indemnity: indemnity from WiFi users.
Breaches of these

terms and conditions

: consequences of breach; non-circumvention of suspension or prohibition.
Third party services: using the service to access third party services; no control or liability for third party websites and services.
Variation: document may be revised; variation of WiFi document; variation of WiFi document: registered users.
Assignment: assignment by first party.
Severability: severability of whole; severability of parts.
Third party rights: third party rights: benefit; third party rights: exercise of rights.
Entire agreement: entire agreement for use of service.
Law and jurisdiction: governing law; jurisdiction.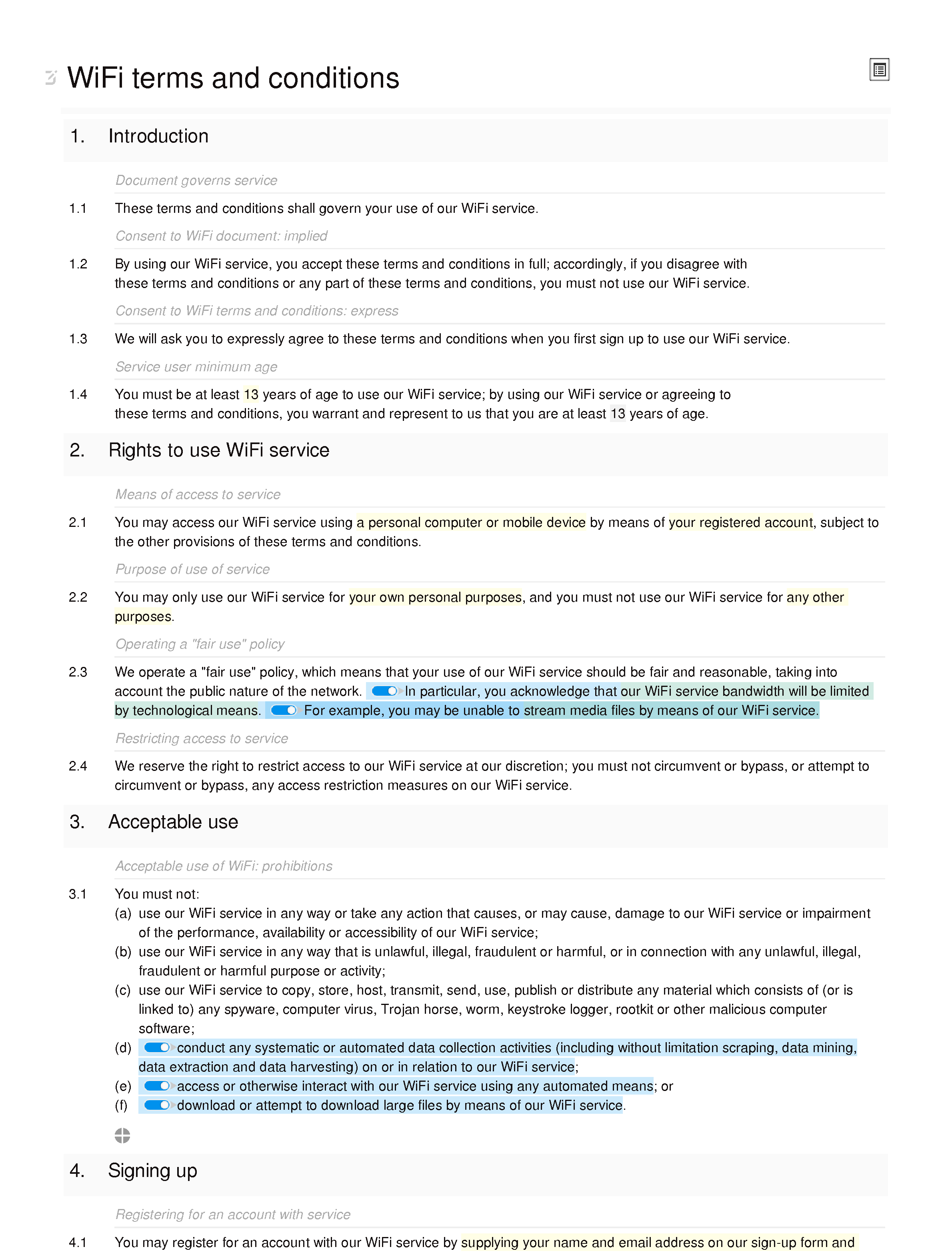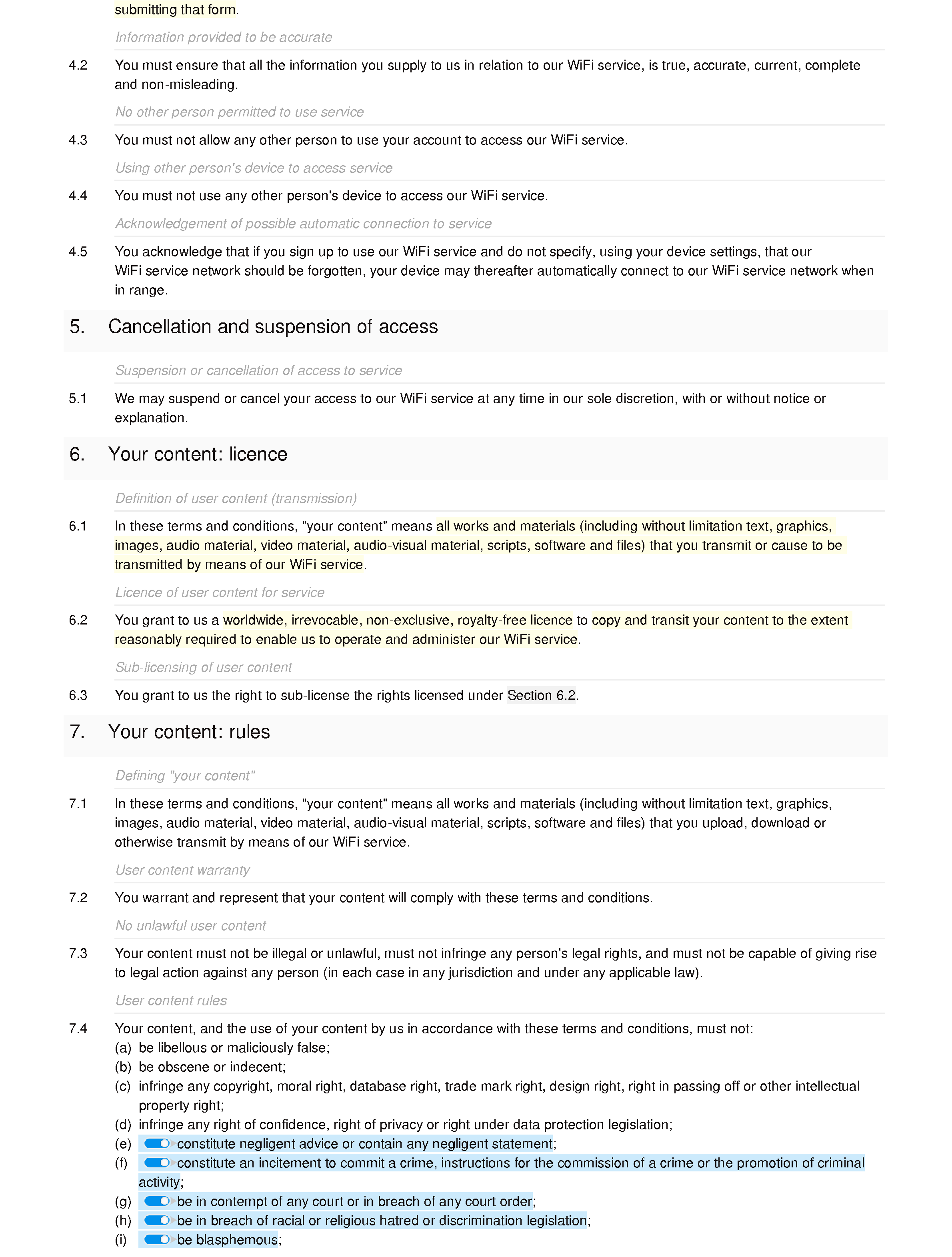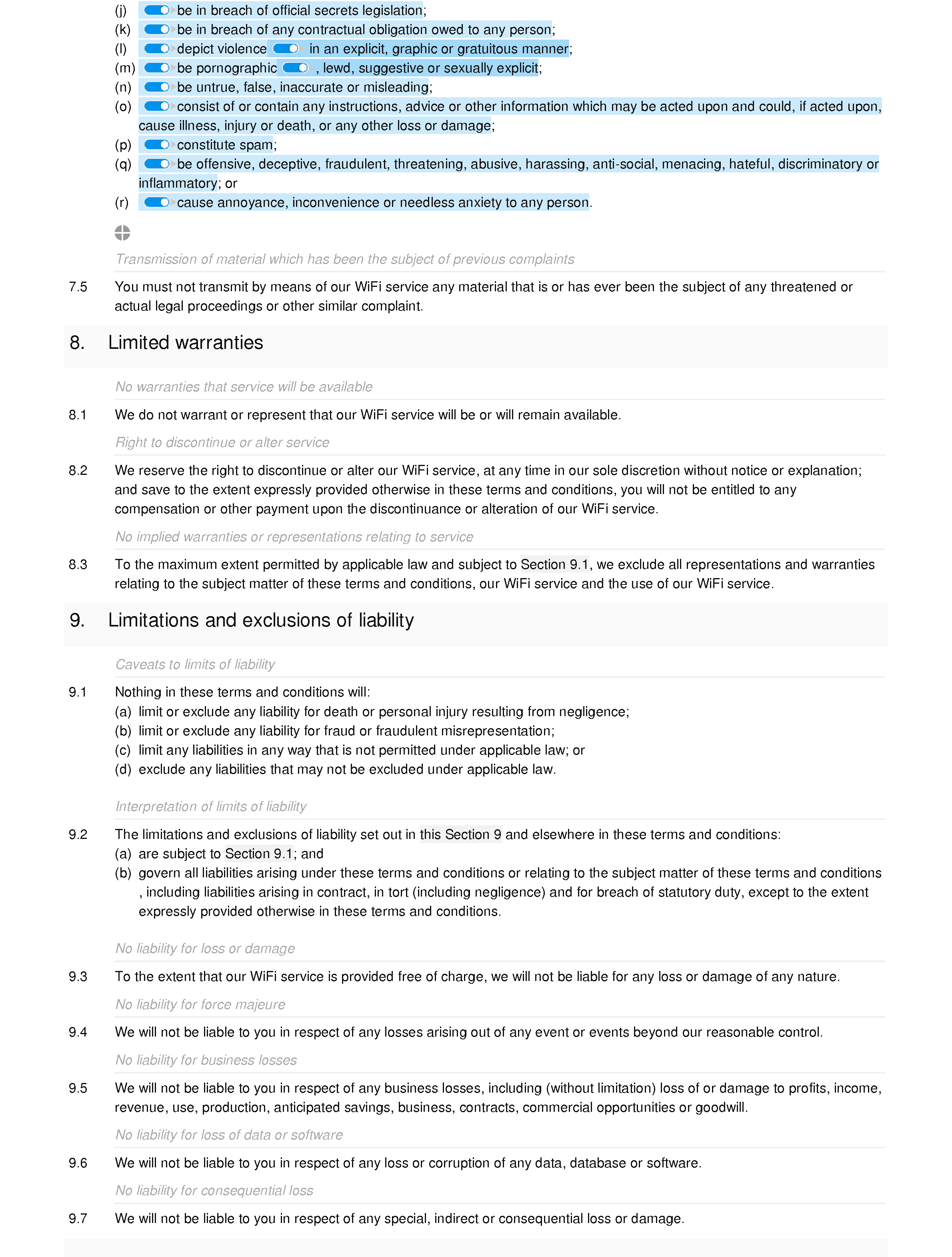 This is a shortened preview of the editor interface; once you create your instance you'll be able to edit the full document in our online editor.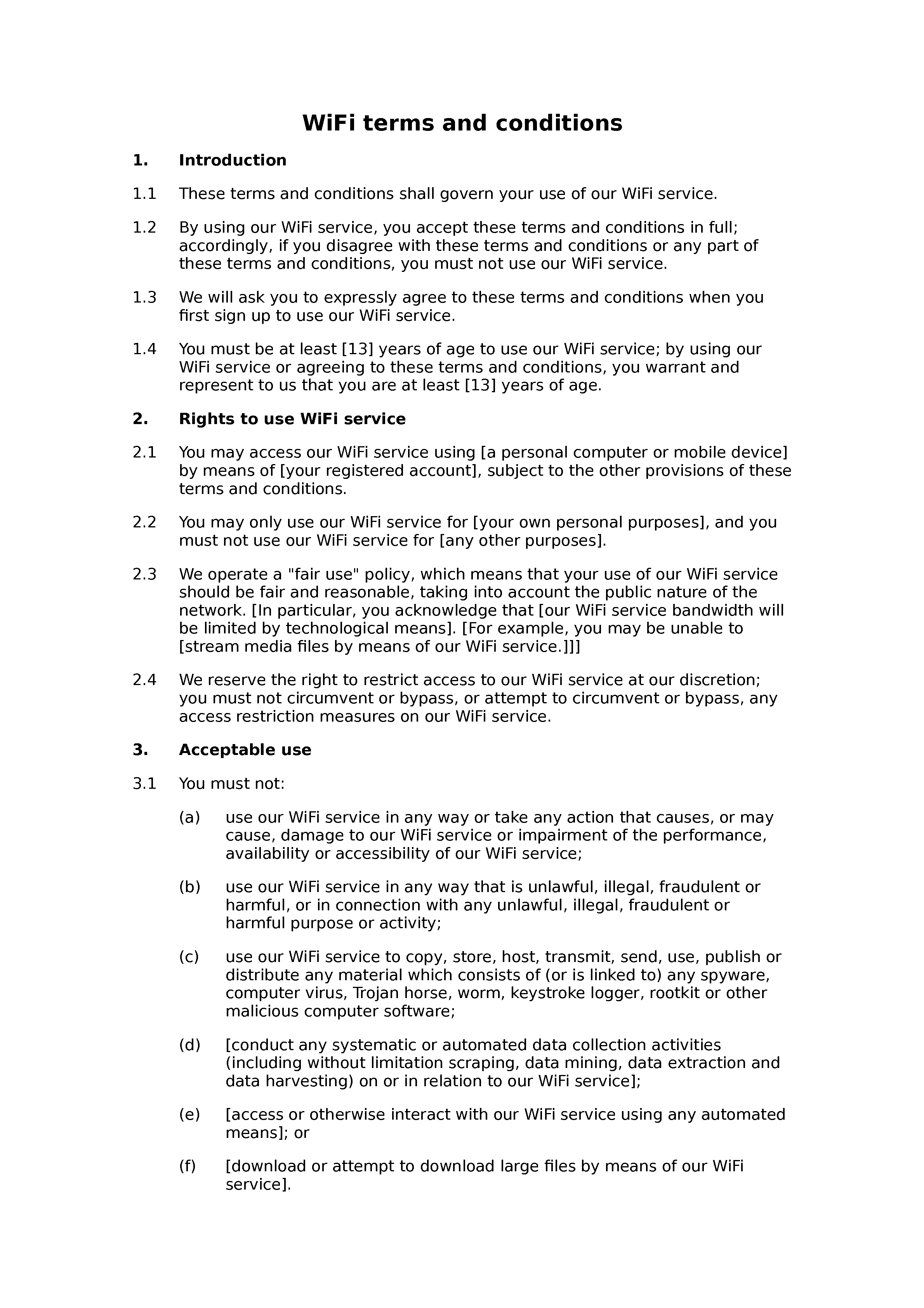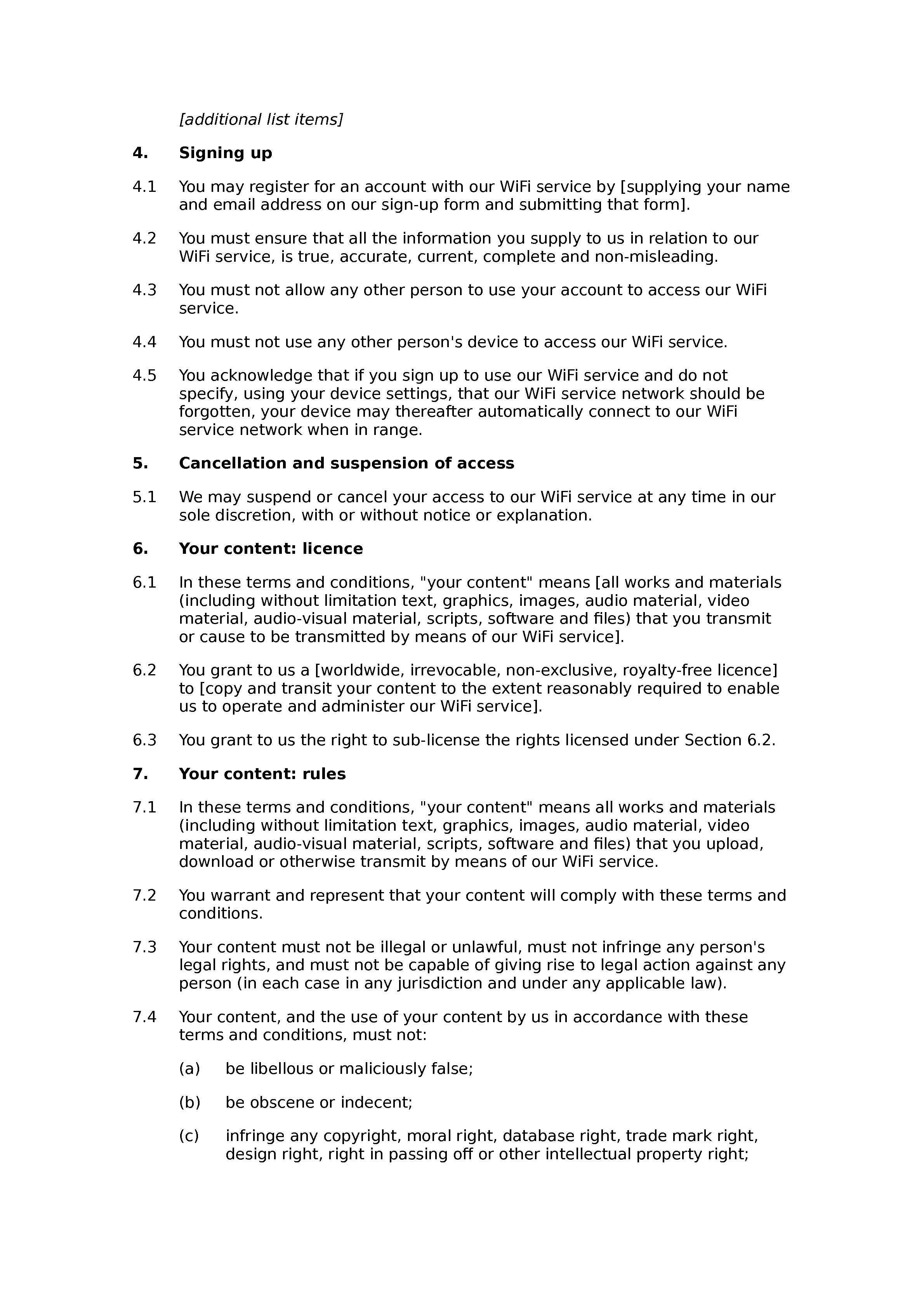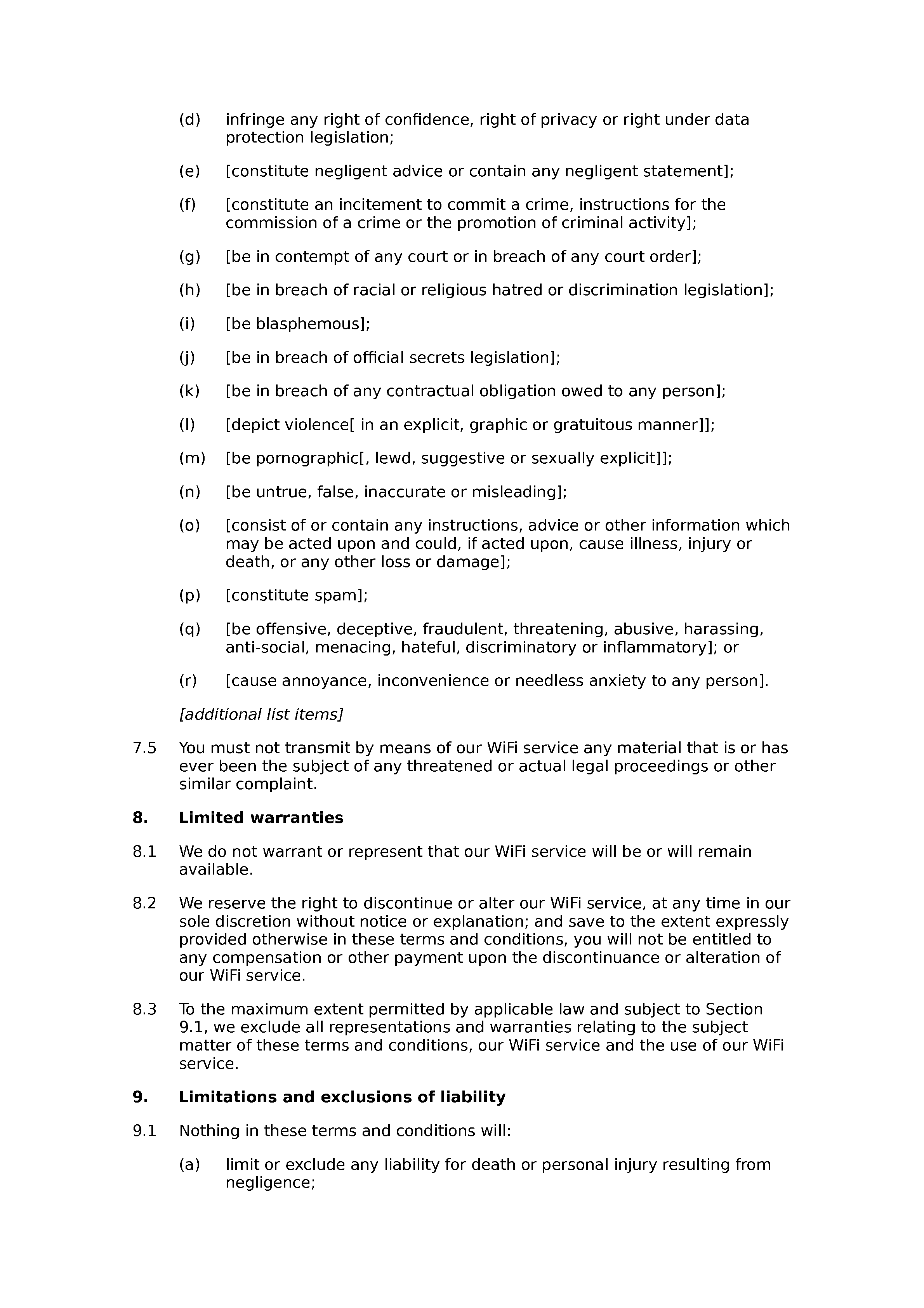 This is a shortened preview of the DOCX output; once you create your instance you'll be able to download the full document in PDF, HTML, RTF and/or DOCX (Microsoft Word) format.