Informational website terms and conditions
This document has been designed to govern and regulate the use of a website that publishes information for users. An optional provision relating to the publication of an RSS feed is included.
These T&Cs do not include provisions covering user accounts or user content. If your website will include either, you should consider our standard or premium website T&Cs documents. Moreover, these T&Cs do not include any provisions relating to payments or the supply of goods, digital products or services.
If you are processing any personal information of users (this may include email addresses) or using cookies on your website, you should supplement this document with a privacy/cookies policy.

Ask about this document
Informational website terms and conditions contents
Introduction: document governs website use; consent to website document: implied; cookie consent.
Copyright notice: UCC copyright notice; ownership of rights in website.
Permission to use website: licence to use website; no downloading; website use: permitted purposes; no modification of website content; limitations on licence to use website; redistributable content; suspension or restriction of access to website.
Feeds: access to feeds; accessing feeds and acceptance of document; feeds licence; feeds licence condition; revocation of feeds licence.
Misuse of website: acceptable use: prohibitions; using contact details prohibited; veracity of information supplied.
Limited warranties: no warranties for information; right to discontinue website publication; no implied warranties or representations relating to website.
Limitations and exclusions of liability: caveats to limits of liability; interpretation of limits of liability; no liability for free information or services; no liability for force majeure; no liability for business losses; no liability for loss of data or software; no liability for consequential loss; no personal liability.
Breaches of

these terms and conditions

: consequences of breach (no accounts); non circumvention of measures upon breach (no accounts).
Third party websites: third party websites: hyperlinks not recommendations; third party websites: no control or liability.
Trade marks: trade mark ownership; third party trade marks on website.
Variation: document may be revised; variation of website document (basic).
Assignment: assignment by first party; assignment by second party.
Severability: severability of whole; severability of parts.
Third party rights: third party rights: benefit; third party rights: exercise of rights.
Entire agreement: entire agreement - use of website.
Law and jurisdiction: governing law; jurisdiction.
Statutory and regulatory disclosures: ecommerce regulations: trade register; ecommerce regulations: authorisation scheme; ecommerce regulations: professionals; ecommerce regulations: code of conduct; value added tax number.
Our details: website operator name; company registration details; place of business; contact information.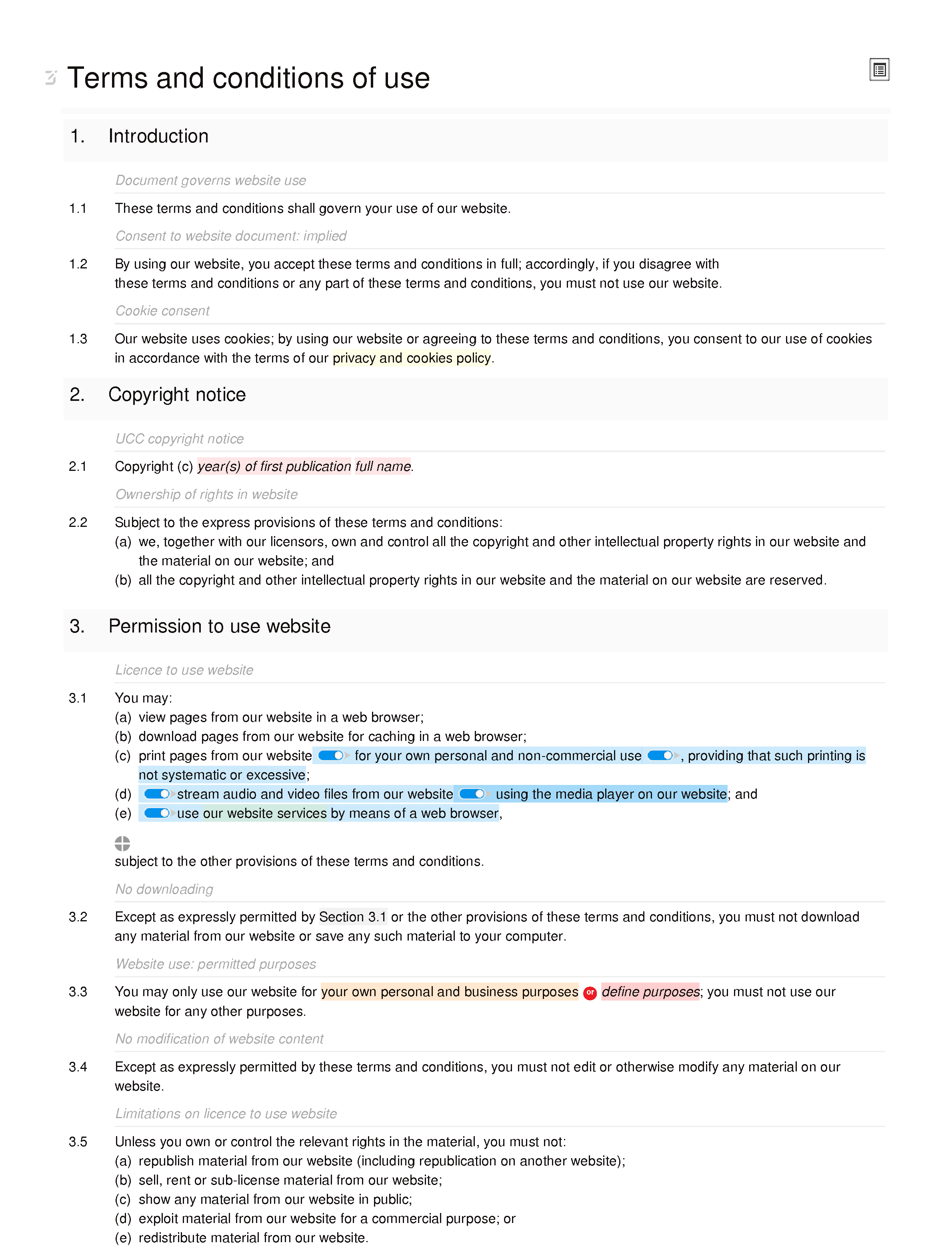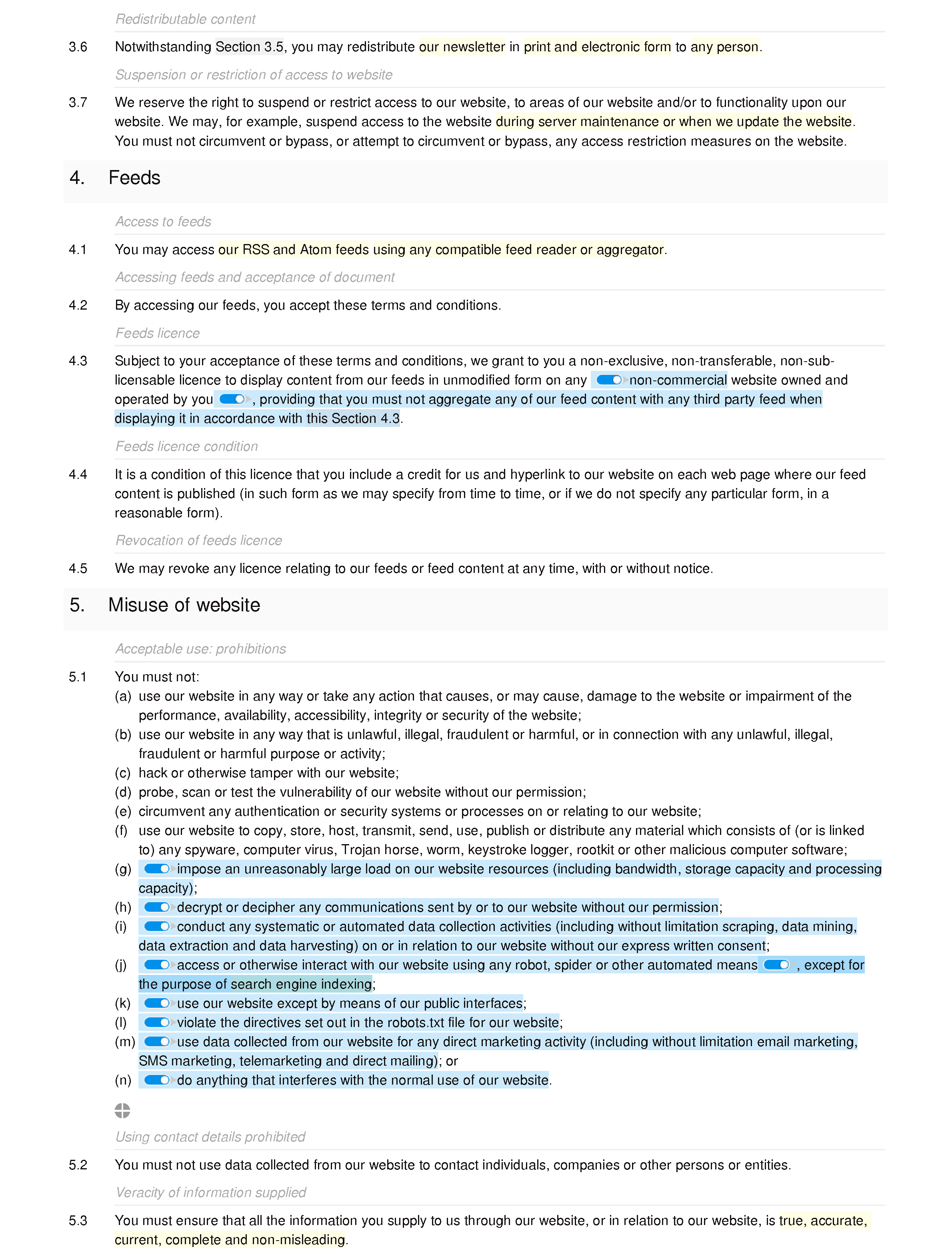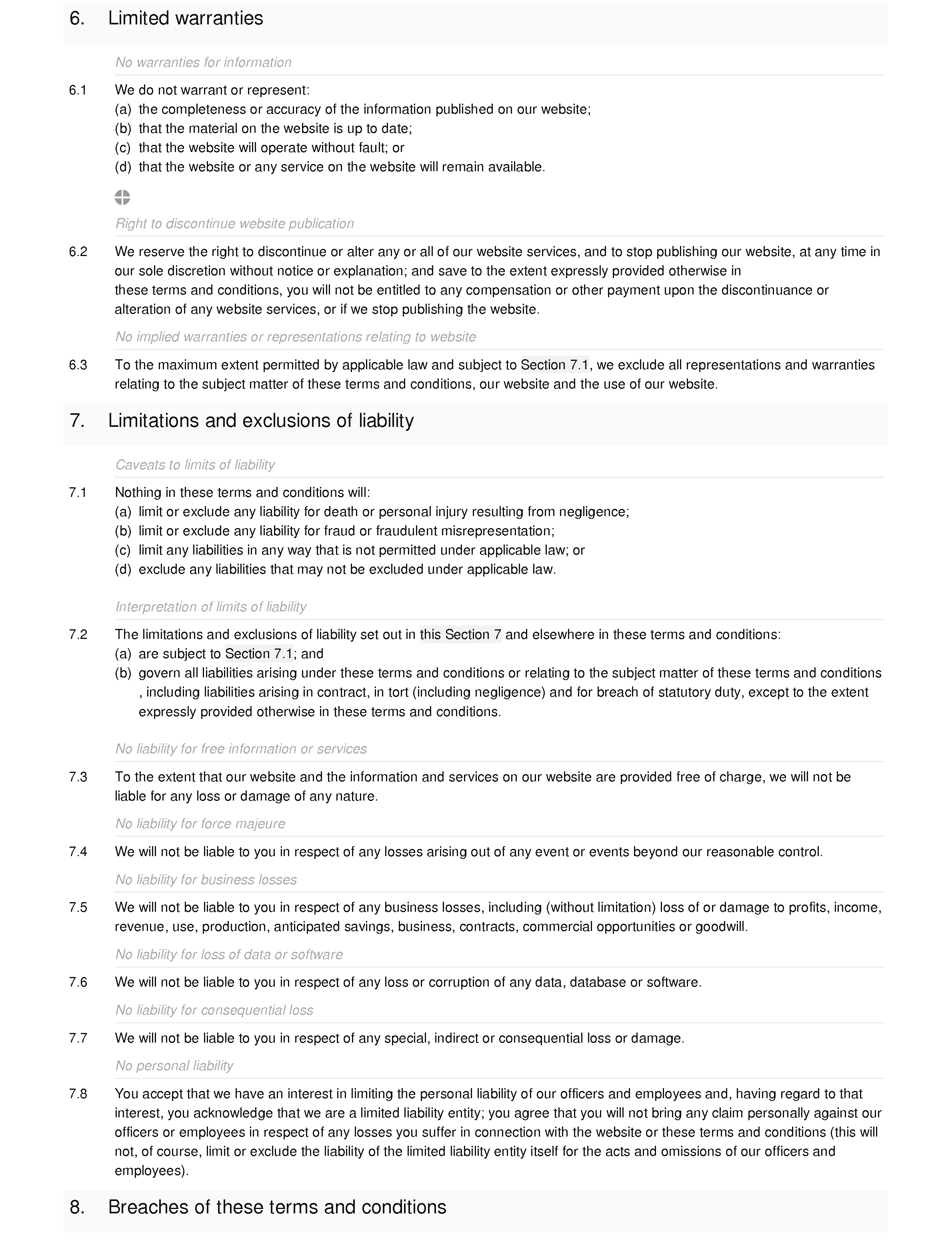 This is a shortened preview of the editor interface; once you create your instance you'll be able to edit the full document in our online editor.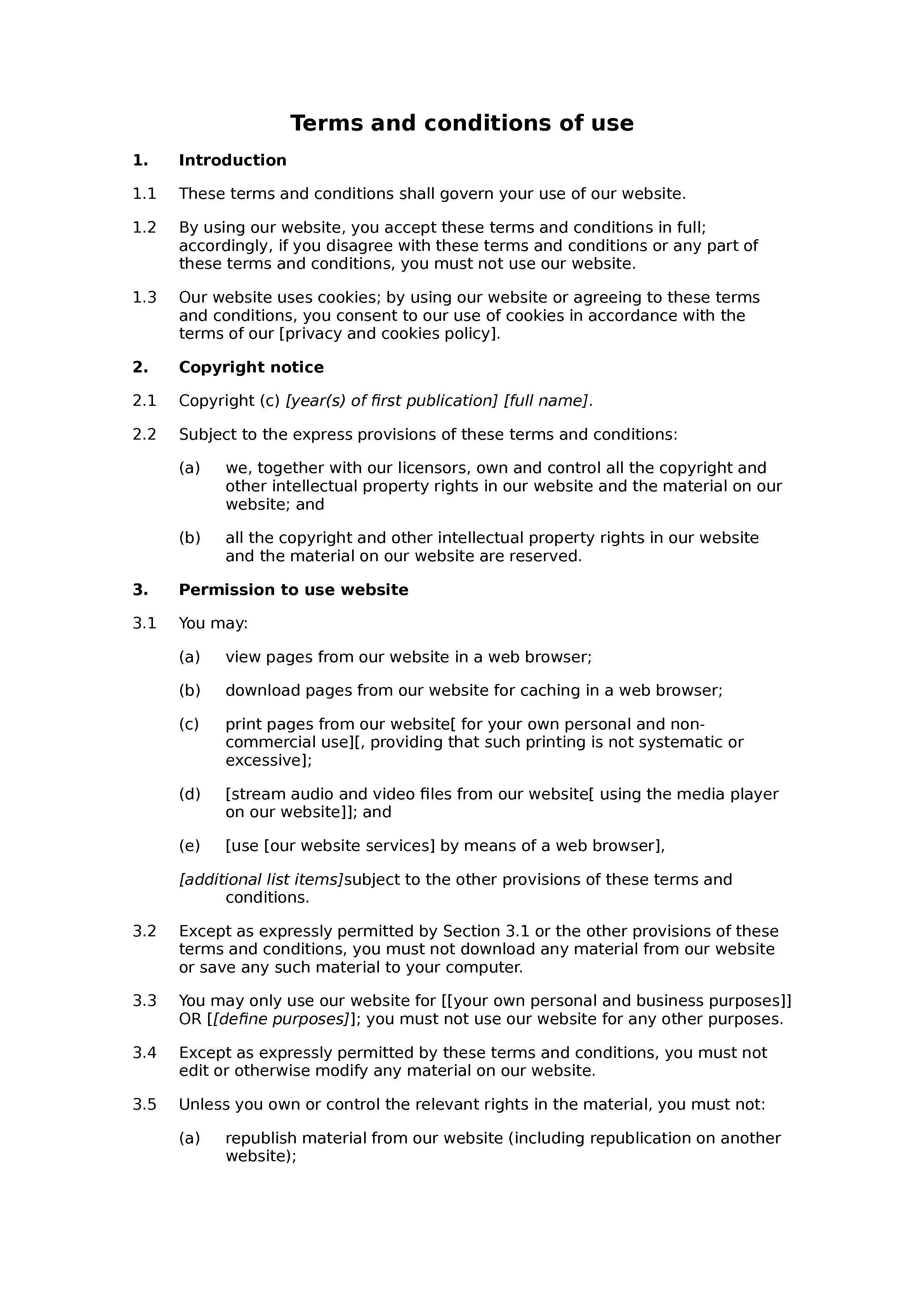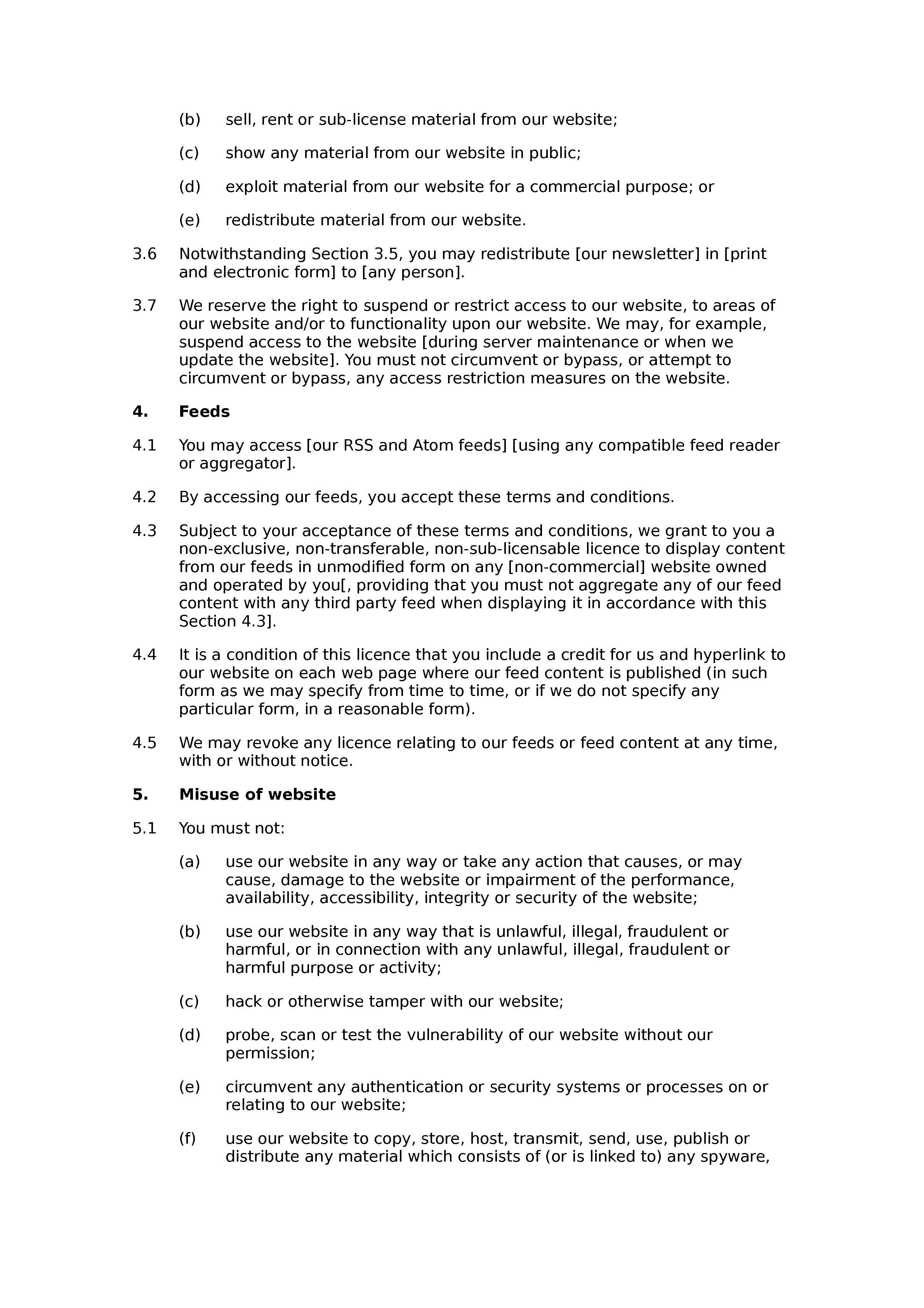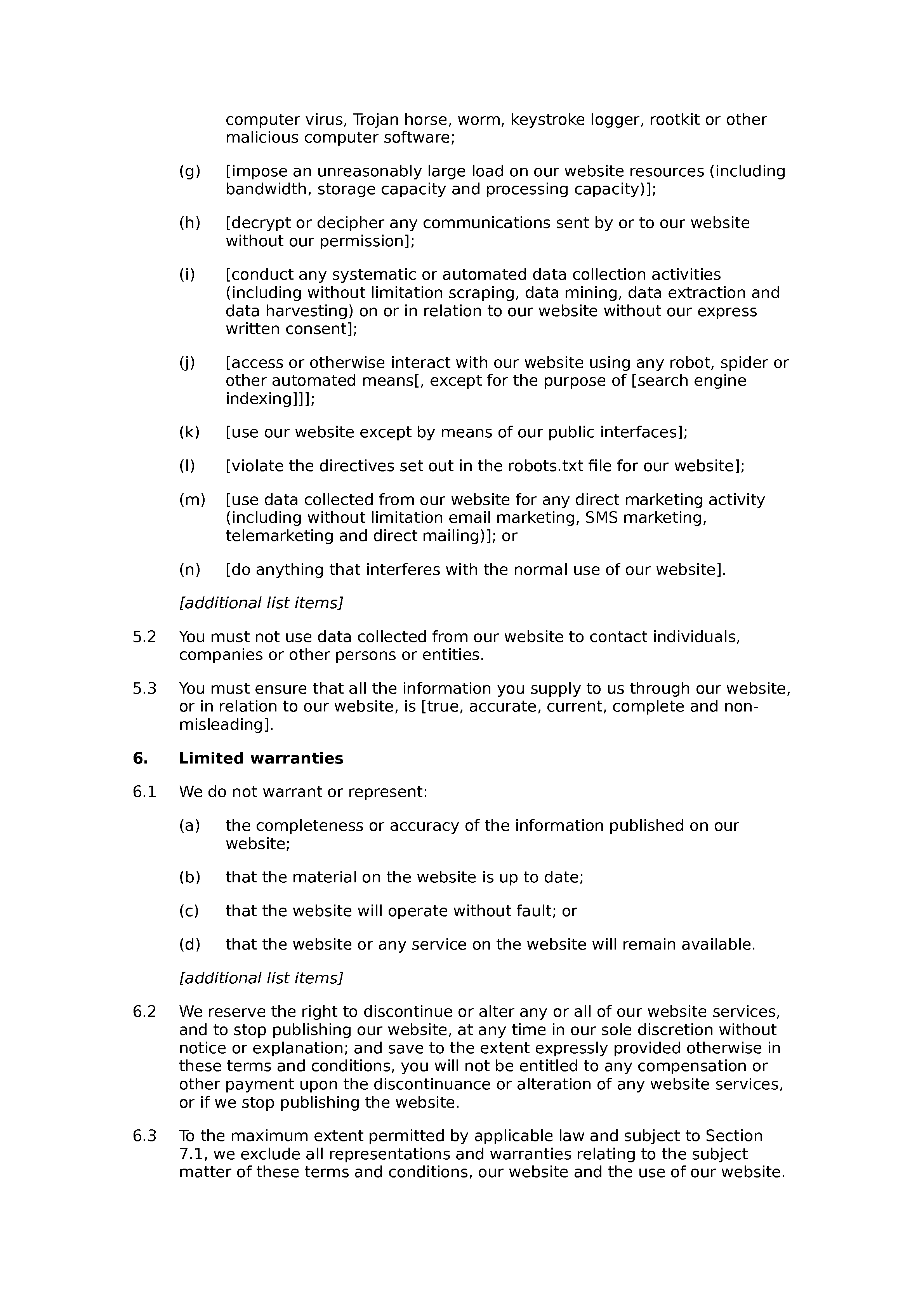 This is a shortened preview of the DOCX output; once you create your instance you'll be able to download the full document in PDF, HTML, RTF and/or DOCX (Microsoft Word) format.