Terms and conditions of supply (standard)
Business-to-business supplies of physical goods are not so heavily regulated as supplies to consumers, but there still is a certain amount of legal interference in this sort of contract, for example in the Sale of Goods Acts.
If you supply goods to a business without any written legal documentation some of the terms of the contract of supply may be uncertain while others may be unwelcome. For these reasons, you should always consider using written terms and conditions of supply. Where the contract involves high value goods, or there are any notable risks, you should always use written contractual terms.
These terms and conditions cover the basic matters relevant to a typical business supply contract, including charges and payment methods, the supply obligation, passage of risk in and title to the goods and product warranties They also include a skeleton order form.

Ask about this document
Terms and conditions of supply (standard) contents
Definitions: definitions.

These Terms and Conditions

: document exclusivity for products;

Customer

's documentation excluded from product contract;

The Customer

waives right to rely on own T&Cs.
Term: commencement of term; end of term: after product delivery and payment; each contract distinct (order form).
Supply: products to be delivered; products to be collected; product supply by instalments; are product supply dates of the essence?; postponement of product supply.
Title: passage of title to products; products held by bailee; obligations during title retention; recovery of products where title retained; action for charges notwithstanding title retention.

Customer

obligations:

Customer

not agent etc;

Customer

must not give product warranties etc;

Customer

must comply with laws etc; no reverse engineering of products; protection of first party reputation and goodwill.
Charges: obligation to pay charges; amounts inclusive or exclusive of VAT; increases in charges for products.
Payments: issue of invoices for products; time for payment of charges following invoice; payment methods; interest on late payments.
Complaints:

Supplier

complaint handling.
Warranties: first party product warranties; exclusion of implied warranties and representations.
Breach of warranty: customer rights on breach of product warranty; procedure for returning products on breach of warranty.
Limitations and exclusions of liability: caveats to limits of liability; interpretation of limits of liability; no liability for force majeure; no liability for loss of profits; no liability for loss of revenue; no liability for loss of use; no liability for loss of opportunities; no liability for loss of data or software; no liability for consequential loss; aggregate liability cap upon services contract.
Force Majeure Event: obligations suspended for force majeure; force majeure notification and information; mitigation of effects of force majeure.
Termination: termination if force majeure prevents product supply; termination by first party upon breach; termination by second party upon breach; termination upon insolvency; termination upon non-payment.
Effects of termination: surviving provisions upon termination; termination does not affect accrued rights.
Notices: methods and deemed receipt of contractual notices; first party contact details for contractual notices; substitute contact details for notices.
General: no waiver; severability; variation written and signed; no assignment without written consent; no third party rights; entire agreement; governing law; exclusive jurisdiction.
Interpretation: statutory references; section headings not affecting interpretation; calendar month meaning; no ejusdem generis.
ORDER FORM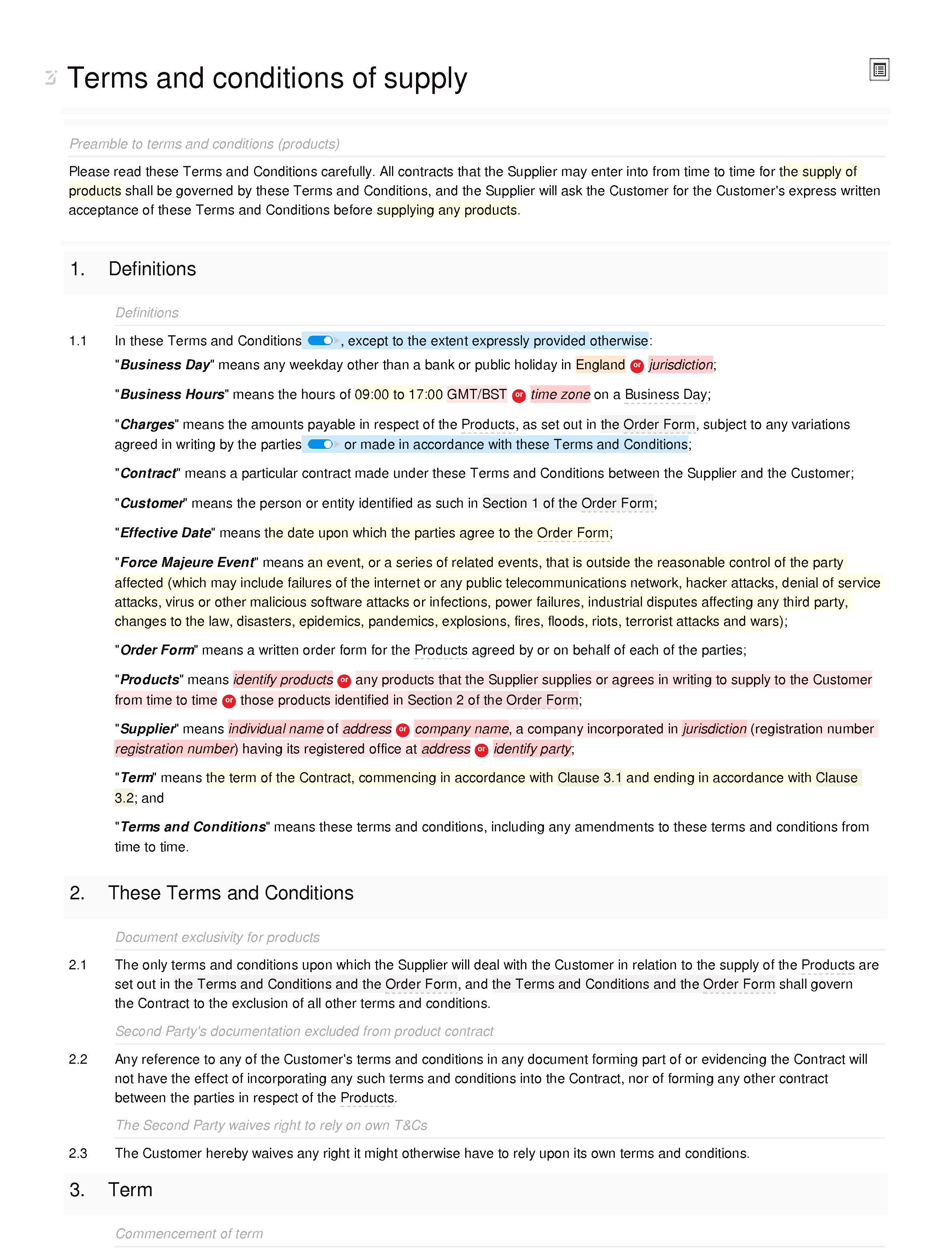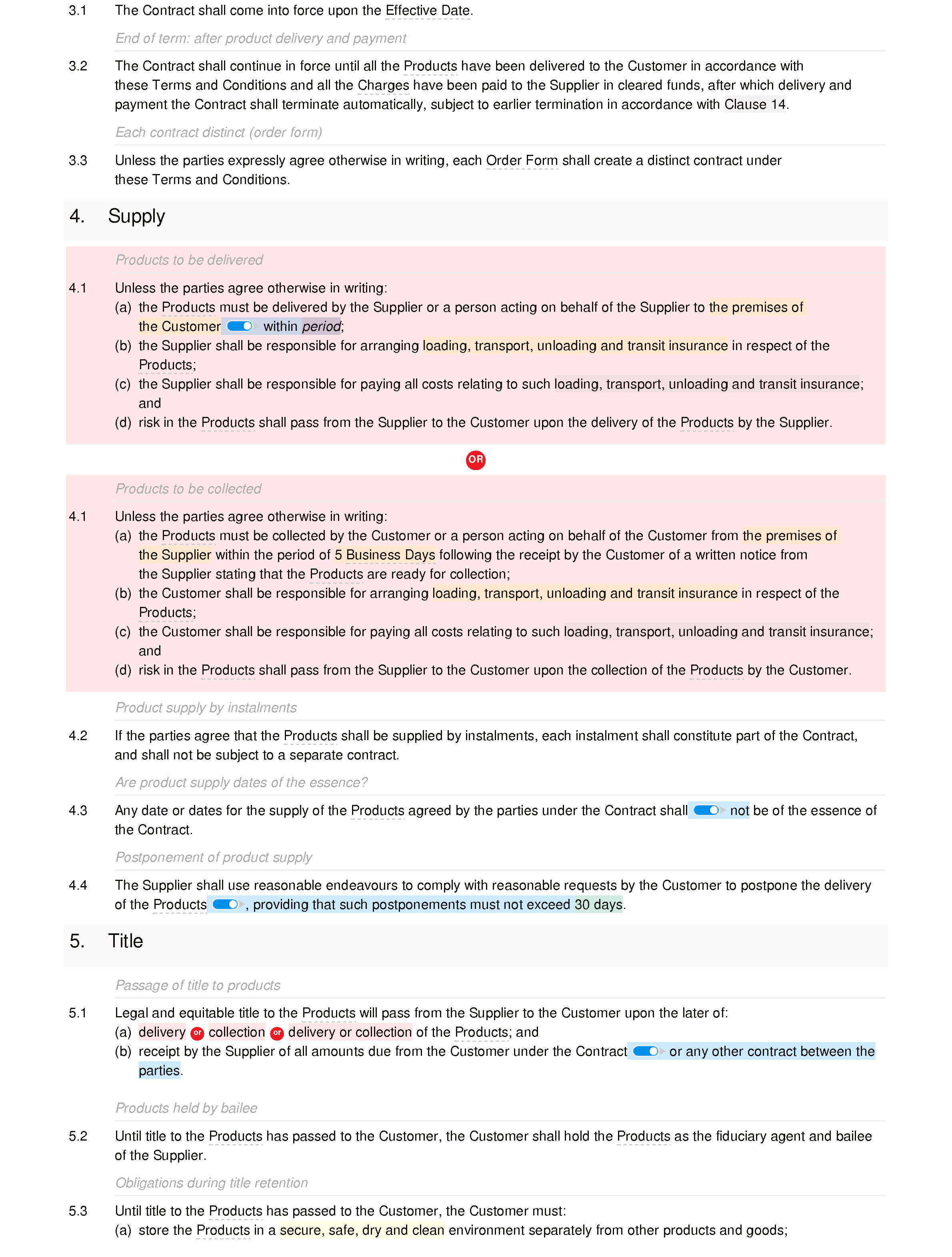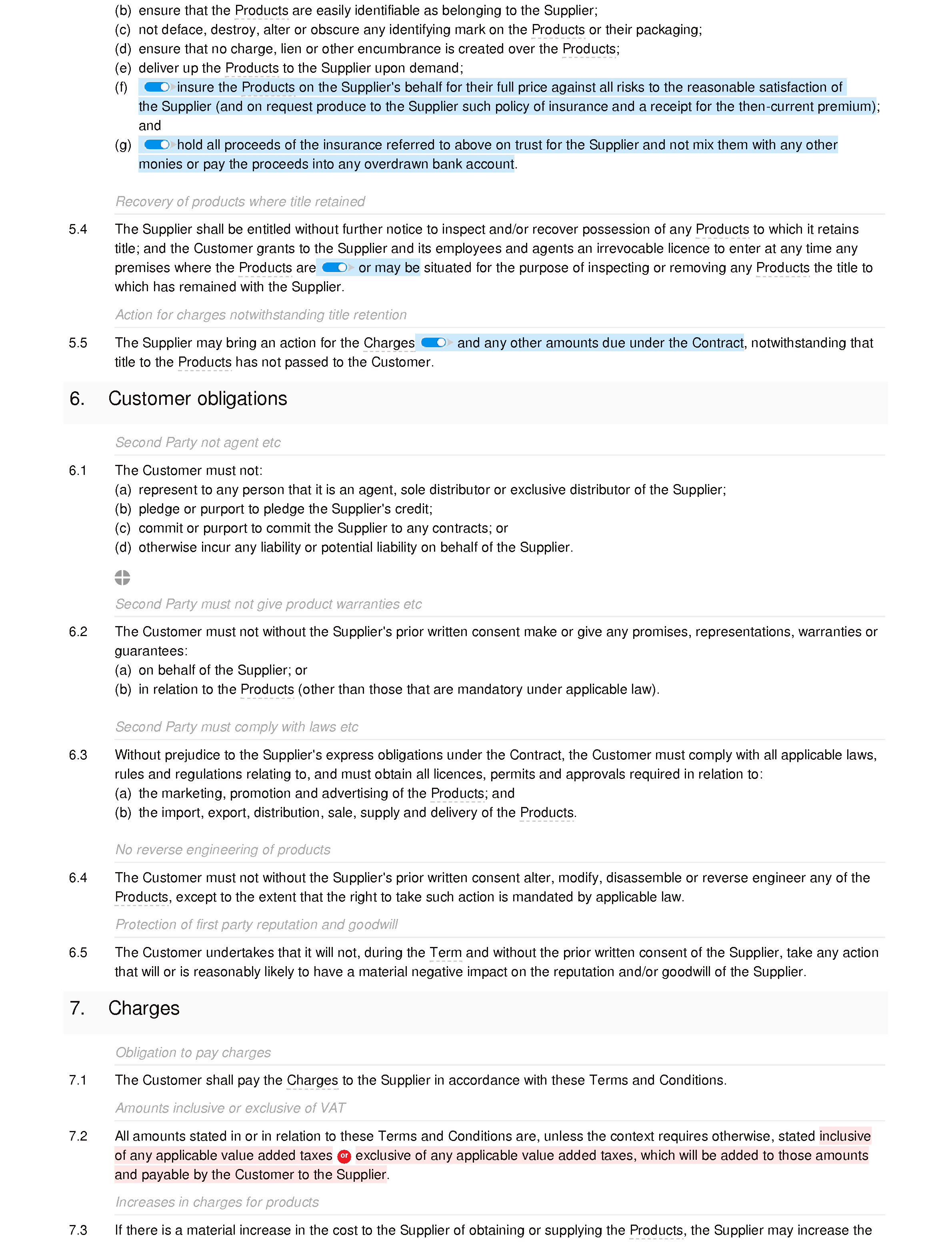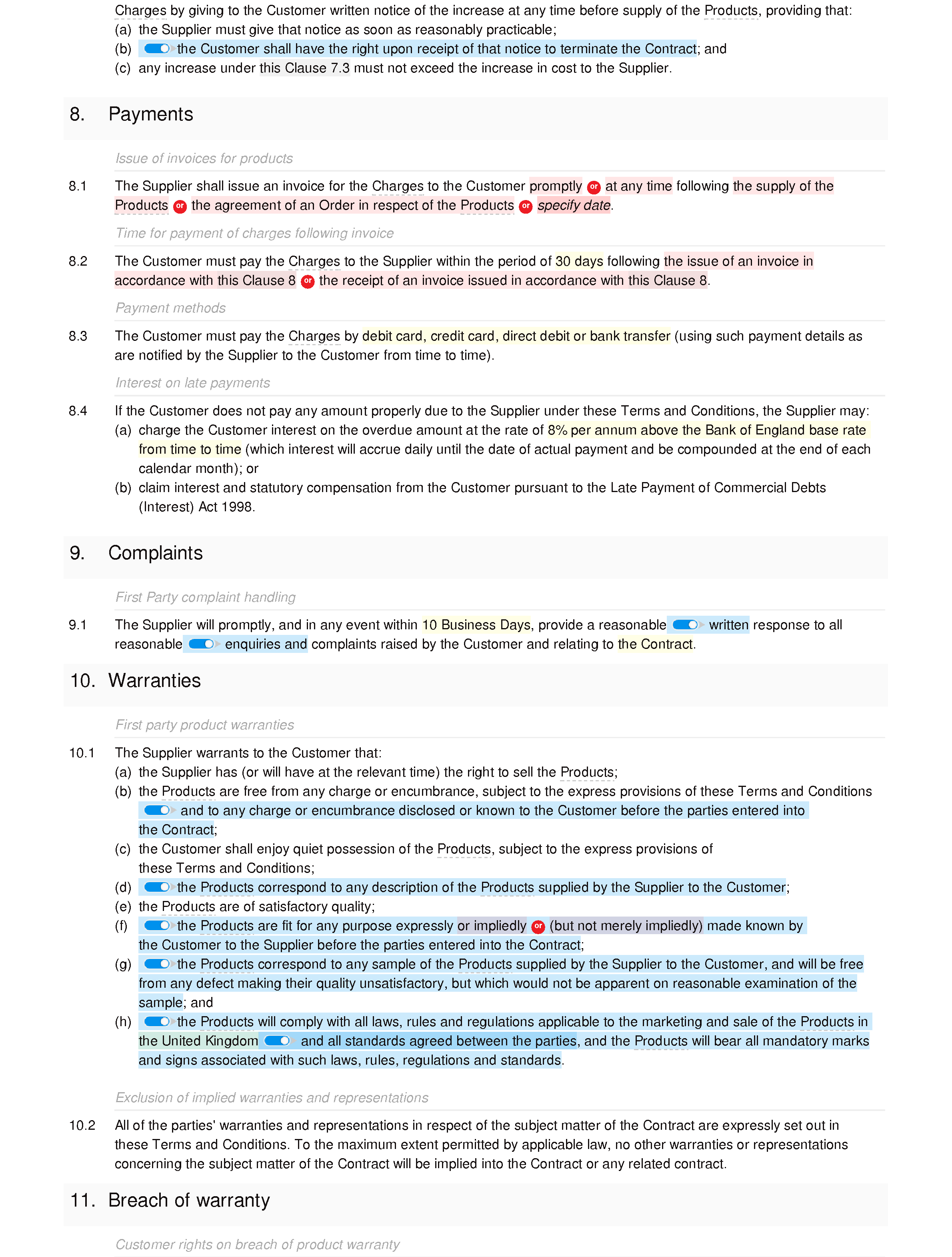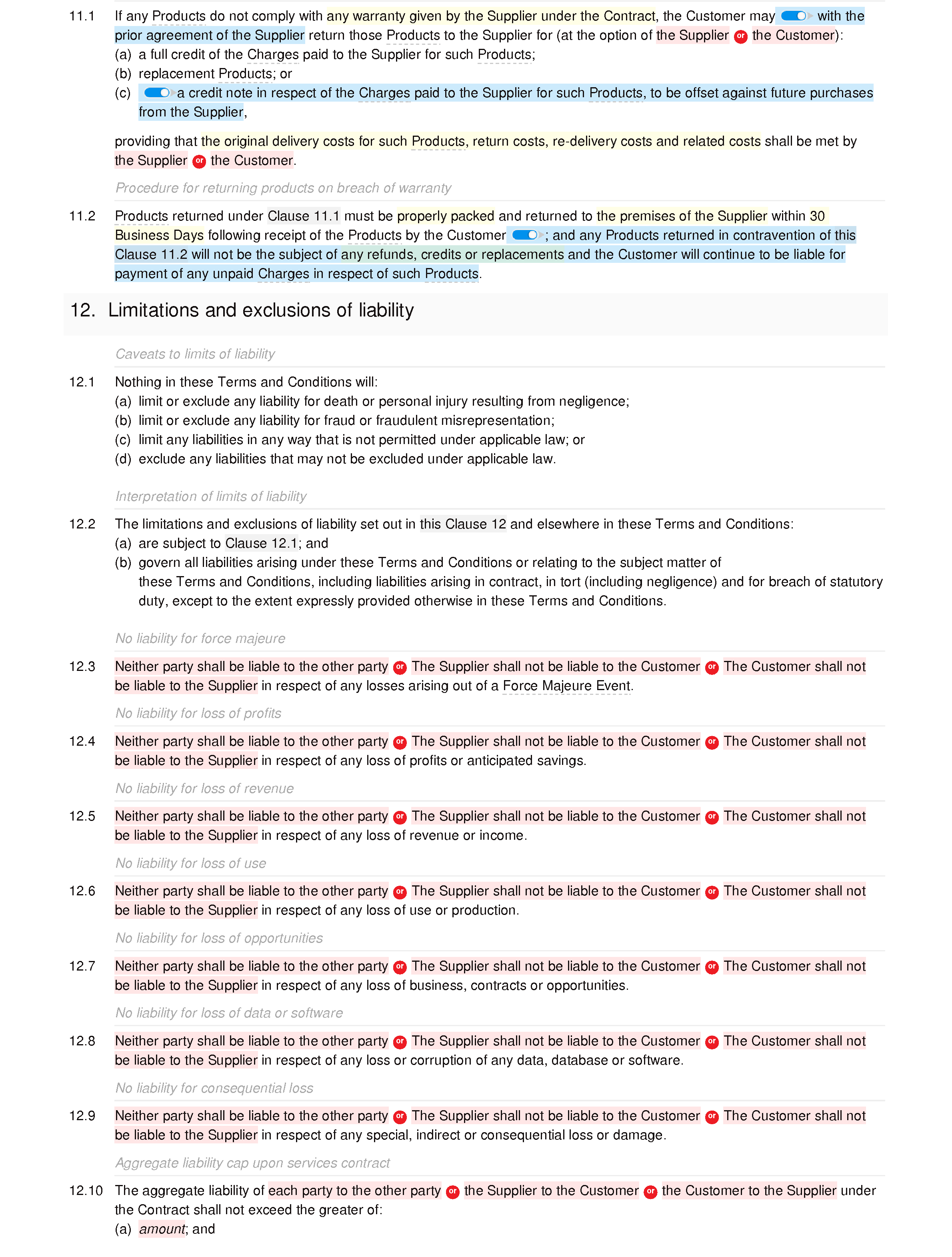 This is a shortened preview of the editor interface; once you create your instance you'll be able to edit the full document in our online editor.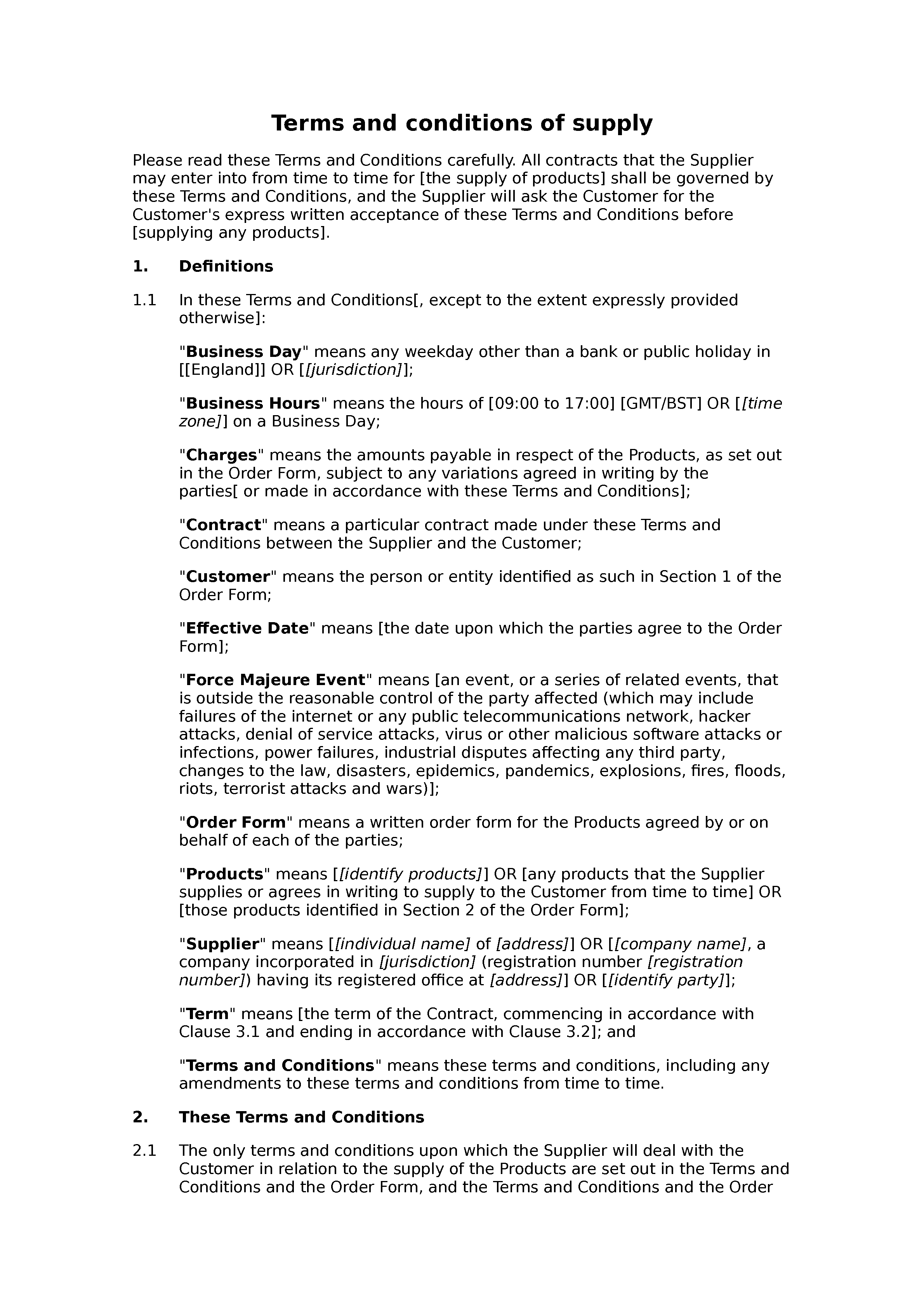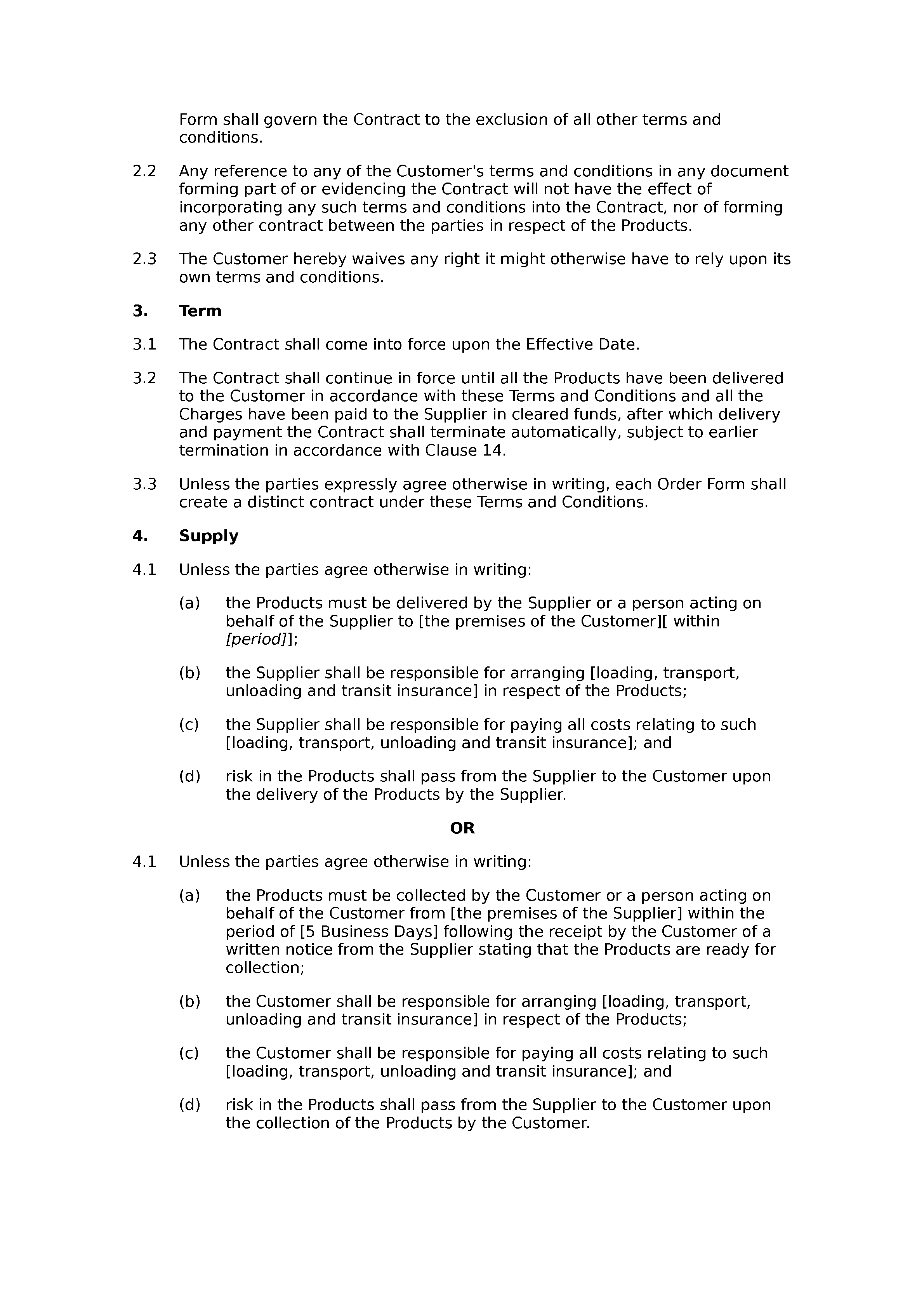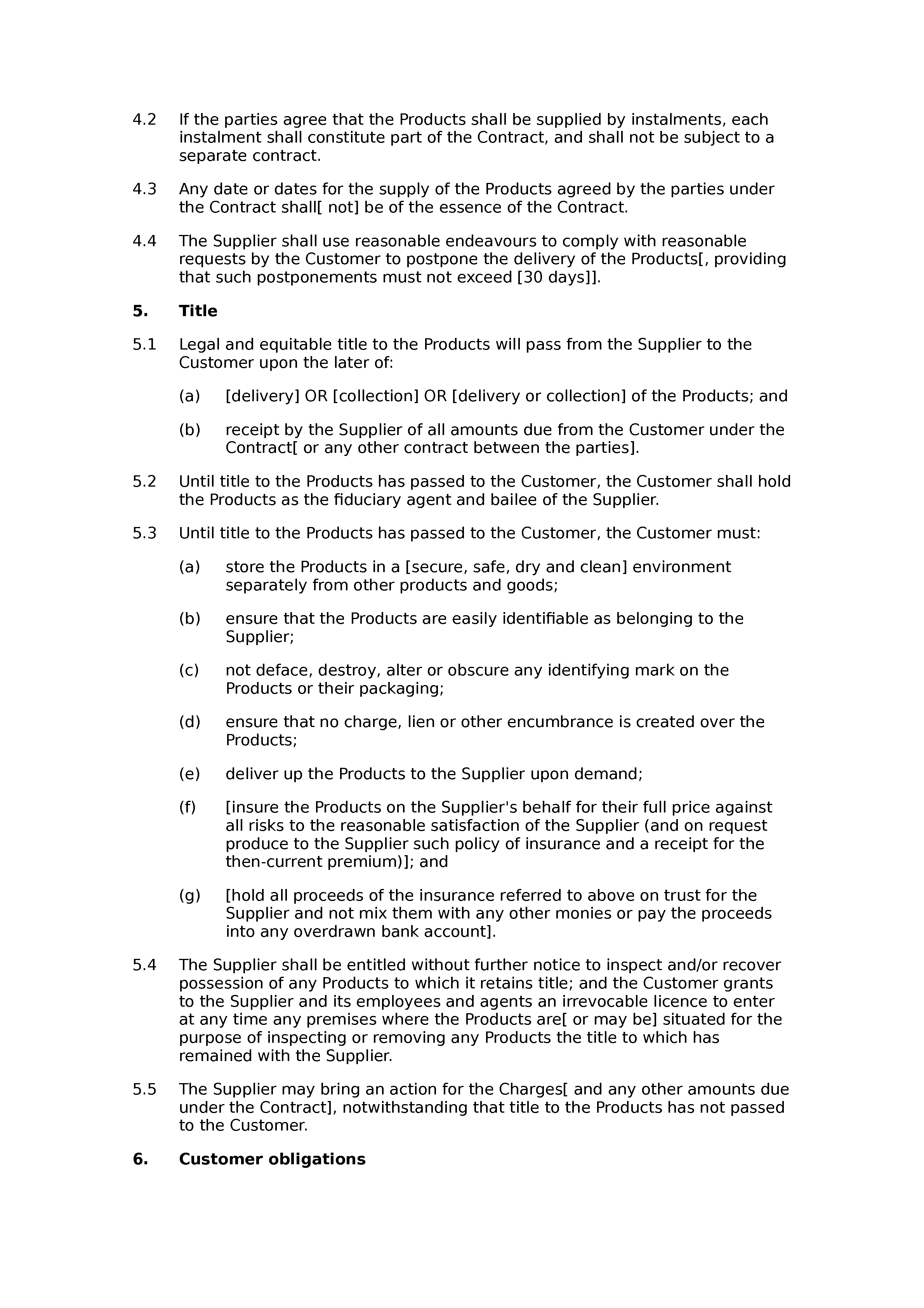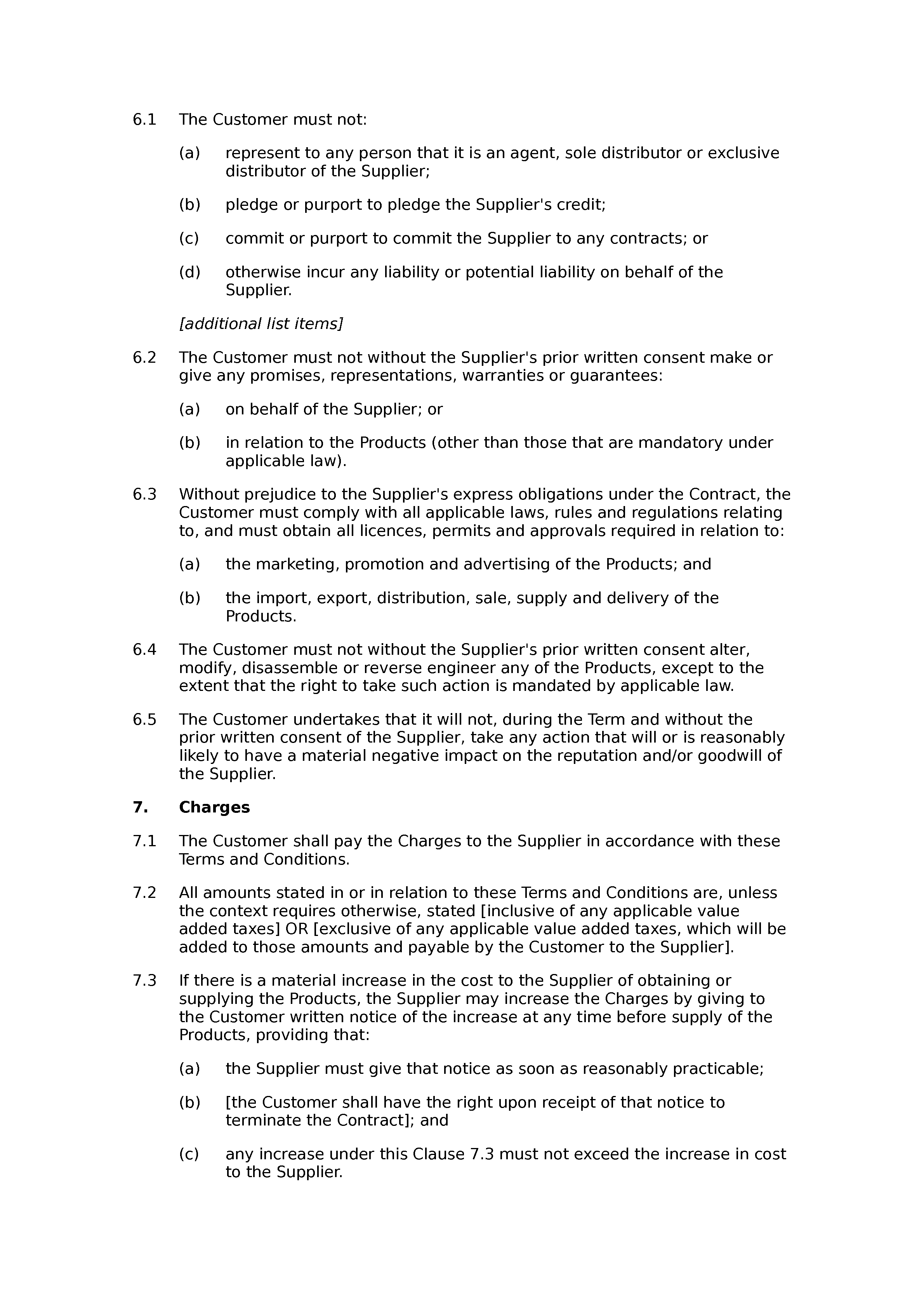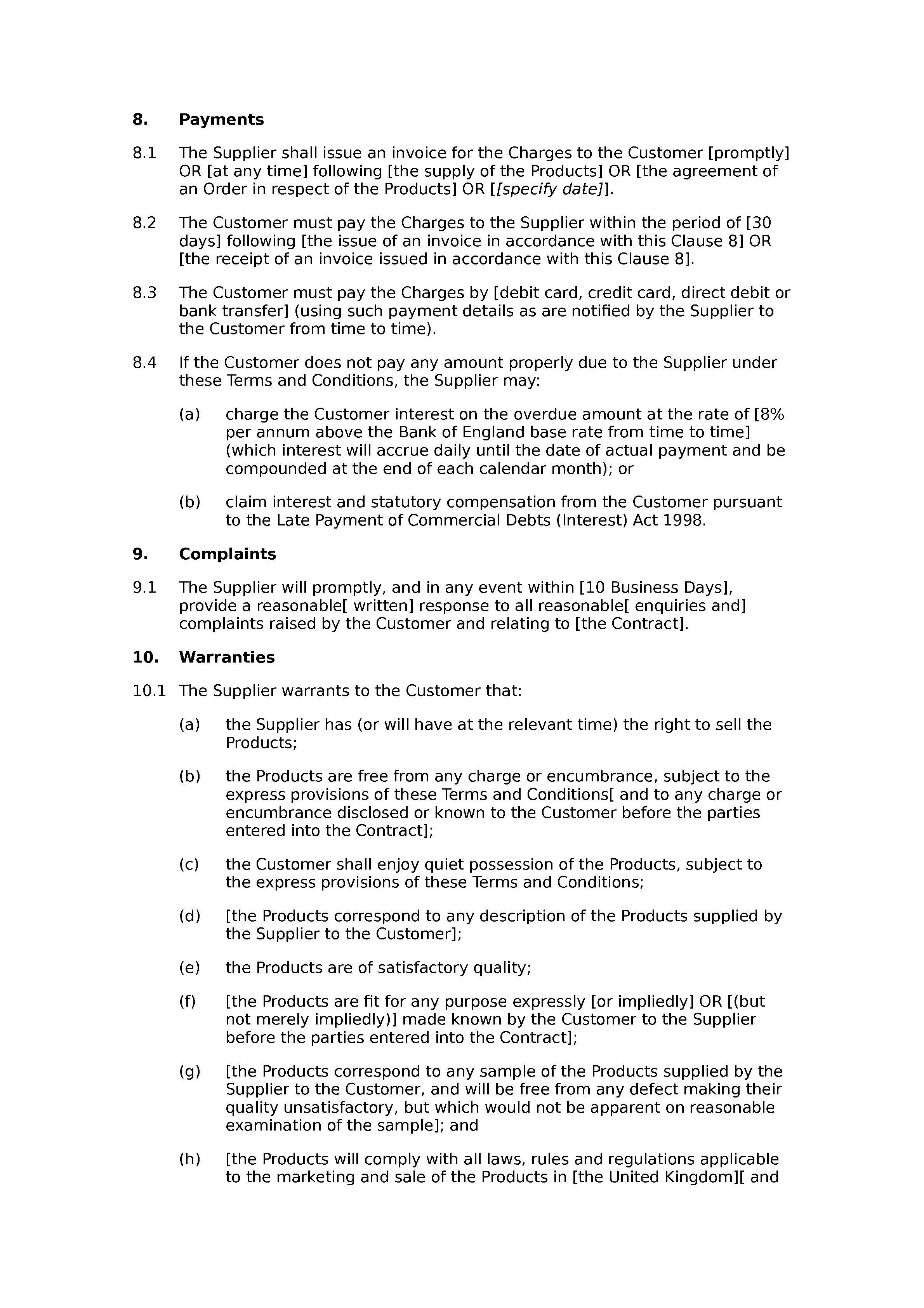 This is a shortened preview of the DOCX output; once you create your instance you'll be able to download the full document in PDF, HTML, RTF and/or DOCX (Microsoft Word) format.