Acceptable use policy
This acceptable use policy document is designed to regulate the use of a website or other online service.
The bulk of the policy is concerned with prohibiting certain actions and certain types of content. The policy naturally covers unlawful actions and content, but may also cover actions and content that are undesirable but not unlawful.

Ask about this document
Acceptable use policy contents
Introduction: definitions for acceptable use policy; parties to acceptable use policy; agreement to policy by using services; express agreement to policy; services user minimum age under policy.
General usage rules: no damaging use of services; no unlawful use of services; content must comply with provisions of part.
Unlawful Content: no unlawful user content: general prohibition; no unlawful user content: specific prohibitions; previous complaints and user content.
Graphic material: age suitability of user content; no violence in user content; no pornographic user content.
Factual accuracy: content must be truthful; content must not risk defamation.
Negligent advice: no professional advice in user content; no negligent advice in user content.
Etiquette: content appropriate etc; no offensive content; no annoying content; no hostile communications; no deliberate offense; no content flooding; no duplicate content; categorisation of content; appropriate content titles; courtesy to service users.
Marketing and spam: prohibition on marketing activities; no spam in user content; sending spam using email addresses; no promotion of marketing schemes.
Gambling: no gambling-related activities.
Monitoring: acknowledgement relating to monitoring.
Data mining: no data mining.
Hyperlinks: no hyperlinks to prohibited content.
Harmful software: no harmful software; no risky software.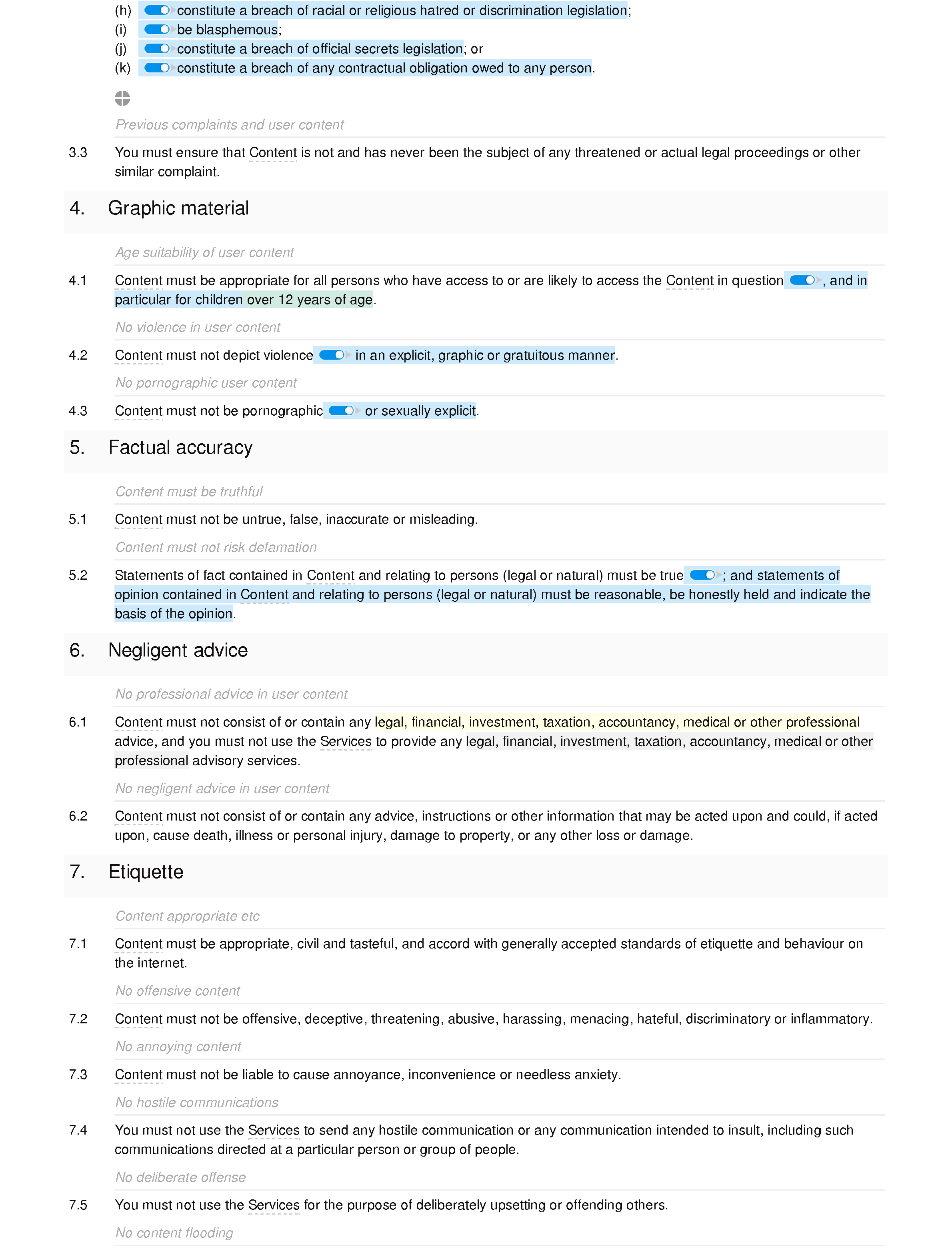 This is a shortened preview of the editor interface; once you create your instance you'll be able to edit the full document in our online editor.
This is a shortened preview of the DOCX output; once you create your instance you'll be able to download the full document in PDF, HTML, RTF and/or DOCX (Microsoft Word) format.