PAYG services website terms and conditions
This website terms and conditions template is designed for use in relation to websites that supply services on a pay-as-you-go (PAYG) basis to businesses and/or consumers.
The terms and conditions document says nothing about the specific nature of the services being provided. Some services will be subject to special regulation, while other services will give rise to special legal risks: in each case, you will need to adapt the document accordingly.
A distance selling clause is included in the document. Required by legislation, this clause allows consumers to cancel contracts for services within a 14 day cooling-off period, although there is no right to cancel if the services are completed, and if the services are partially completed only partial refunds need be given.
The document covers all the usual subject matter of website T&Cs: copyright, rights to use the website, acceptable use restrictions, rules regarding website accounts, user-generated content licensing and prohibitions, limitations of liability, and so on.
This document should not be used where services are supplied on a subscription basis: we have a dedicated subscription website T&Cs document for that situation.

Ask about this document
PAYG services website terms and conditions contents
Introduction: document governs website use; consent to website document: implied; consent to website terms and conditions: express; website user minimum age; cookie consent.
Copyright notice: UCC copyright notice; ownership of rights in website.
Licence to use website: licence to use website; no downloading; website use: permitted purposes; no modification of website content; limitations on licence to use website; redistributable content; restriction of access to website.
Acceptable use: acceptable use: prohibitions; using contact details prohibited; veracity of information supplied.
Use on behalf of organisation: use on behalf of another.
Registration and accounts: account eligibility; account registration process; no other person permitted to use account; notify on misuse of account; use of another's account.
User login details: provision of login details; user ID rules and impersonation; password to be kept confidential; notify on disclosure of password; responsibility for password loss.
Cancellation and suspension of account: rights of operator over account with paid services; cancellation of website account with paid services by user.
Services: purchasing website services; input error correction and identification; services specification.
Fees: fees specified on website; amounts inclusive or exclusive of VAT; payment of fees; variation of fees; disputed payments; unjustified charge-backs; unpaid fees: withdrawal of services; right of set off.
Distance contracts: cancellation right: cancellation right for consumers; cancellation right for services and digital content; consumer agreement to provision of services; exercise of cancellation right; refund upon services distance contract cancellation; refund method; refund timing for services and digital content.
Your content: licence: definition of user content; licence of user content; sub-licensing of user content; right to bring proceedings in respect of user content; waiver of moral rights in user content; user may edit own content; delete etc user content on breach.
Your content: rules: user content warranty; no unlawful user content; user content rules.
Report abuse: request to report abuse; how to report abuse.
Limited warranties: no warranties for information; right to discontinue website publication; no implied warranties or representations relating to website.
Limitations and exclusions of liability: caveats to limits of liability (with consumer protection); interpretation of limits of liability; no liablity for free information or services; no liability for force majeure; no liability for business losses; no liability for loss of data or software (with consumer protection); no liability for consequential loss (with consumer protection); no personal liability; liability cap upon services contract.
Indemnity: indemnity from website users.
Breaches of these

terms and conditions

: consequences of breach; non circumvention of measures upon breach.
Third party websites: third party websites: hyperlinks not recommendations; third party websites: no control or liability.
Trade marks: website operator's trade marks; third party trade marks on website.
Variation: document may be revised; variation of website document: unregistered users; variation of website document: registered users.
Assignment: assignment by first party (with consumer rights); assignment by second party.
Severability: severability of whole; severability of parts.
Third party rights: third party rights: benefit; third party rights: exercise of rights.
Entire agreement: entire agreement - use of website.
Law and jurisdiction: governing law; jurisdiction.
Statutory and regulatory disclosures: copy of document not filed; language of document; ecommerce regulations: trade register; ecommerce regulations: authorisation scheme; ecommerce regulations: professionals; ecommerce regulations: code of conduct; value added tax number; link to ODR website; name and URL of ADR provider.
Our details: website operator name; company registration details; place of business; contact information.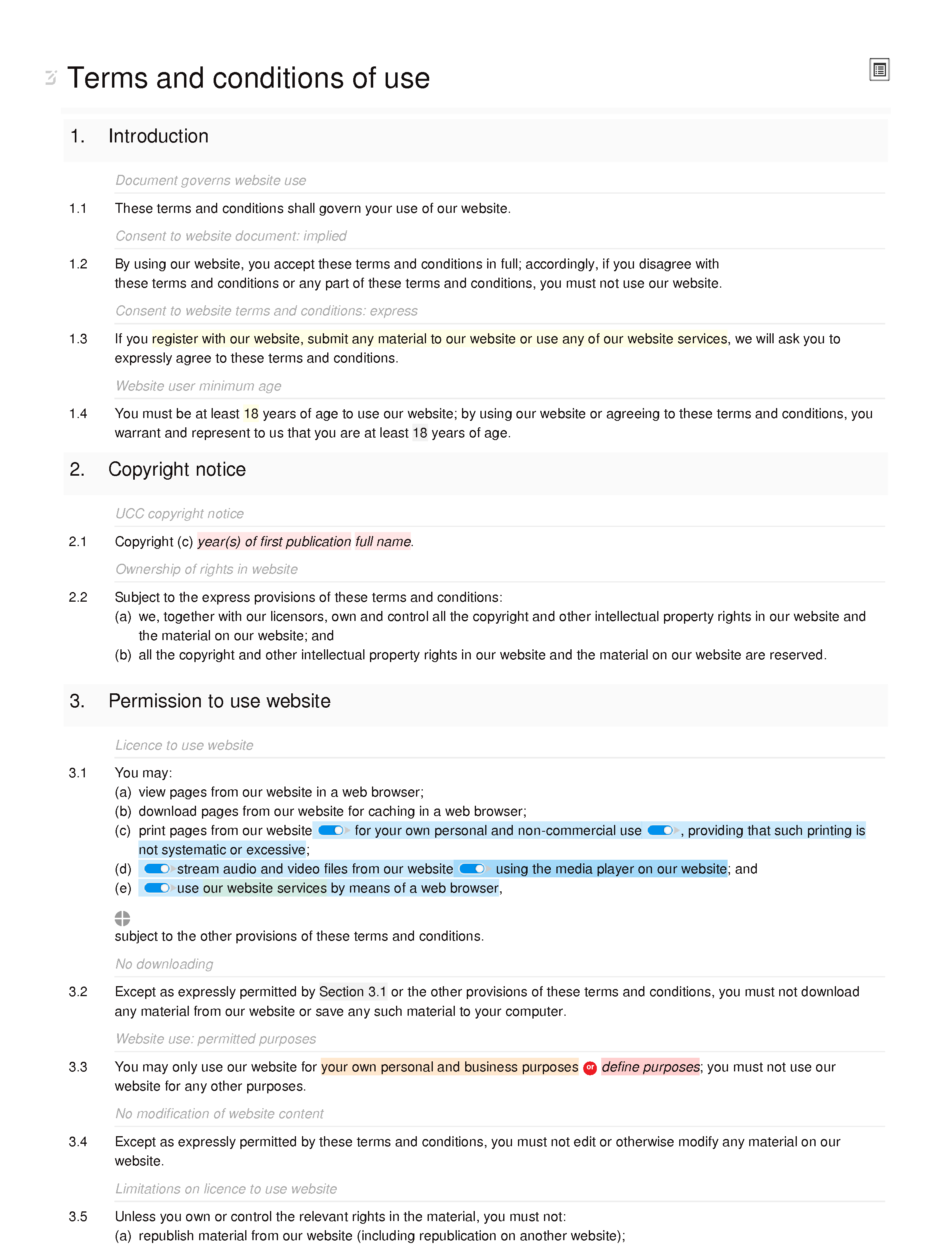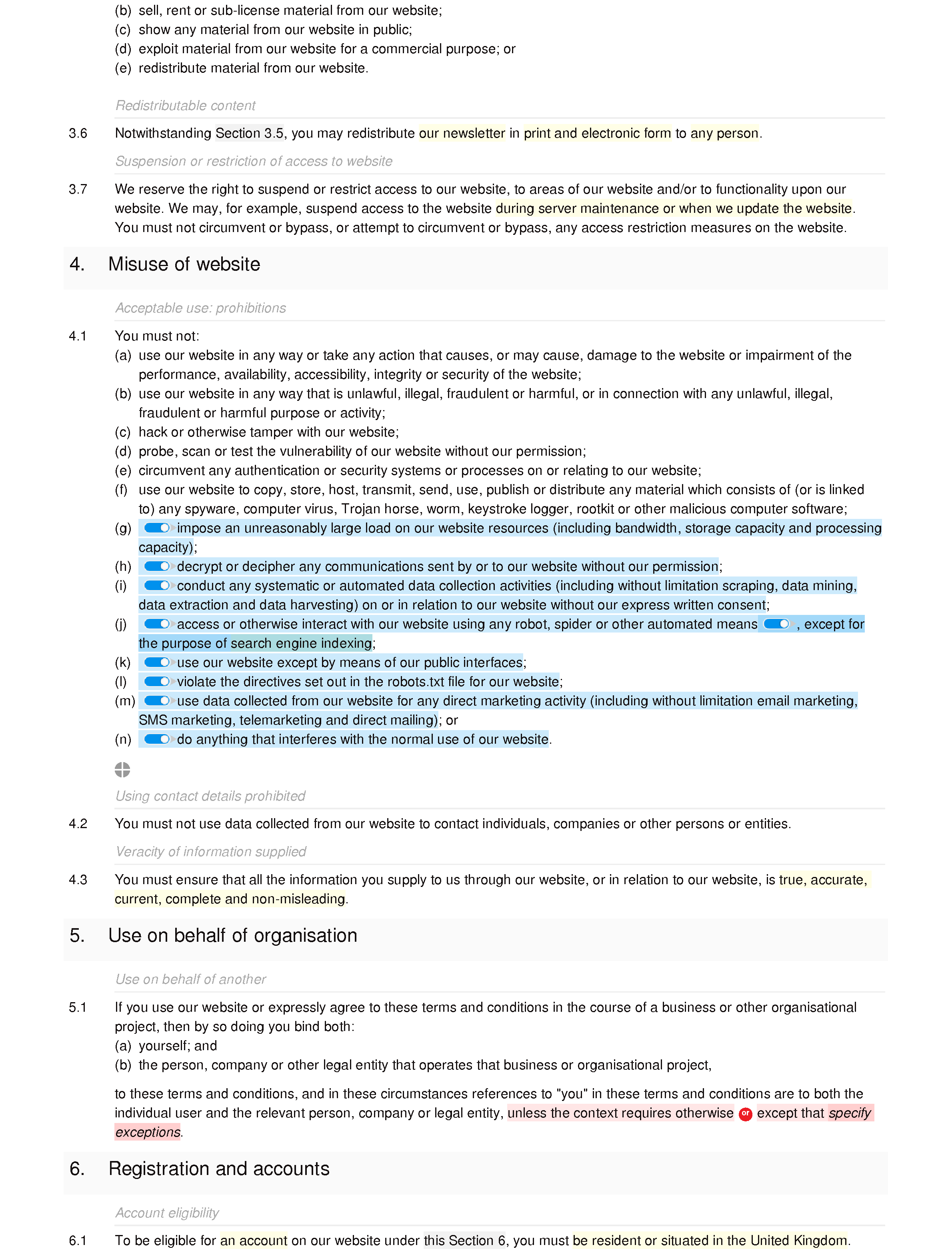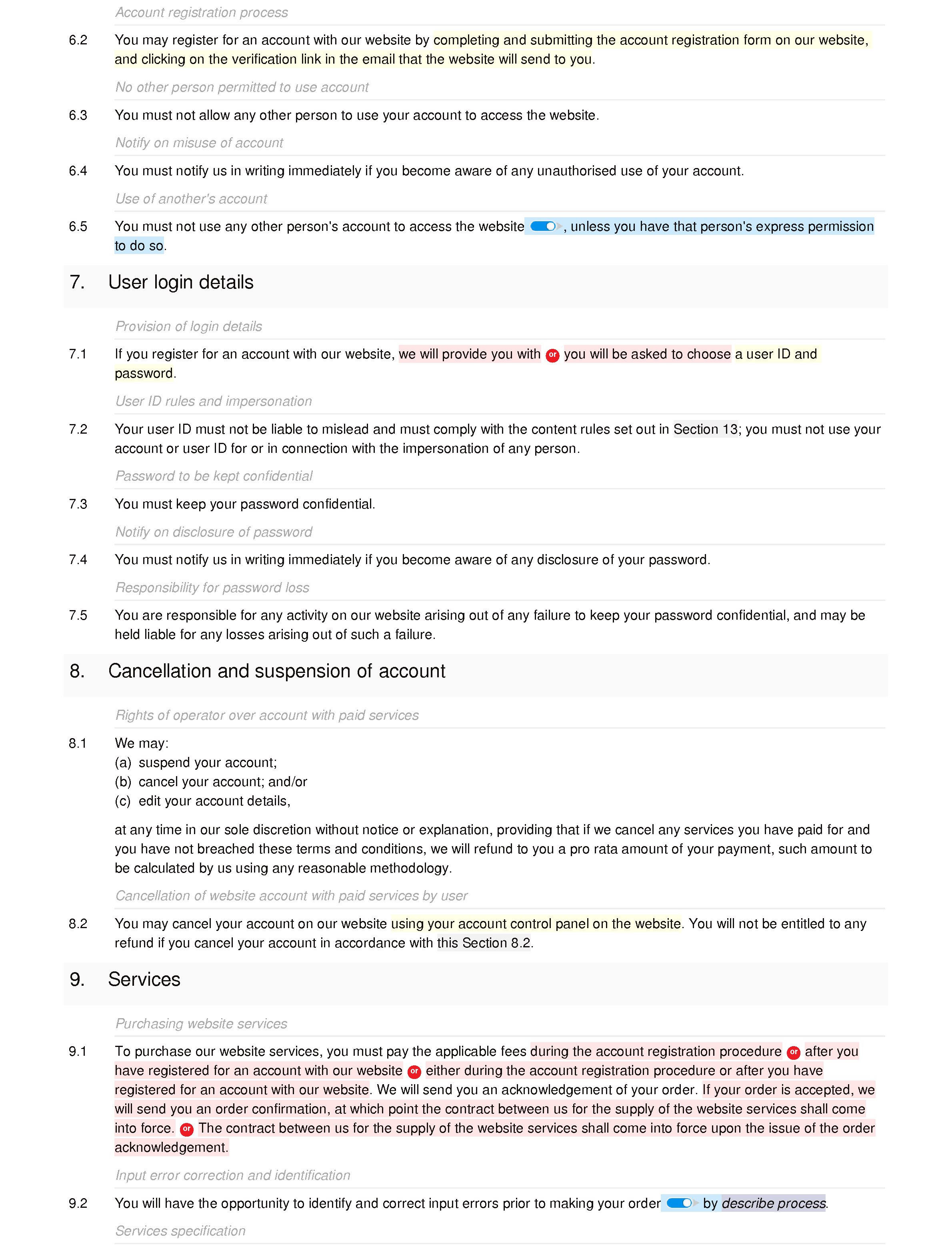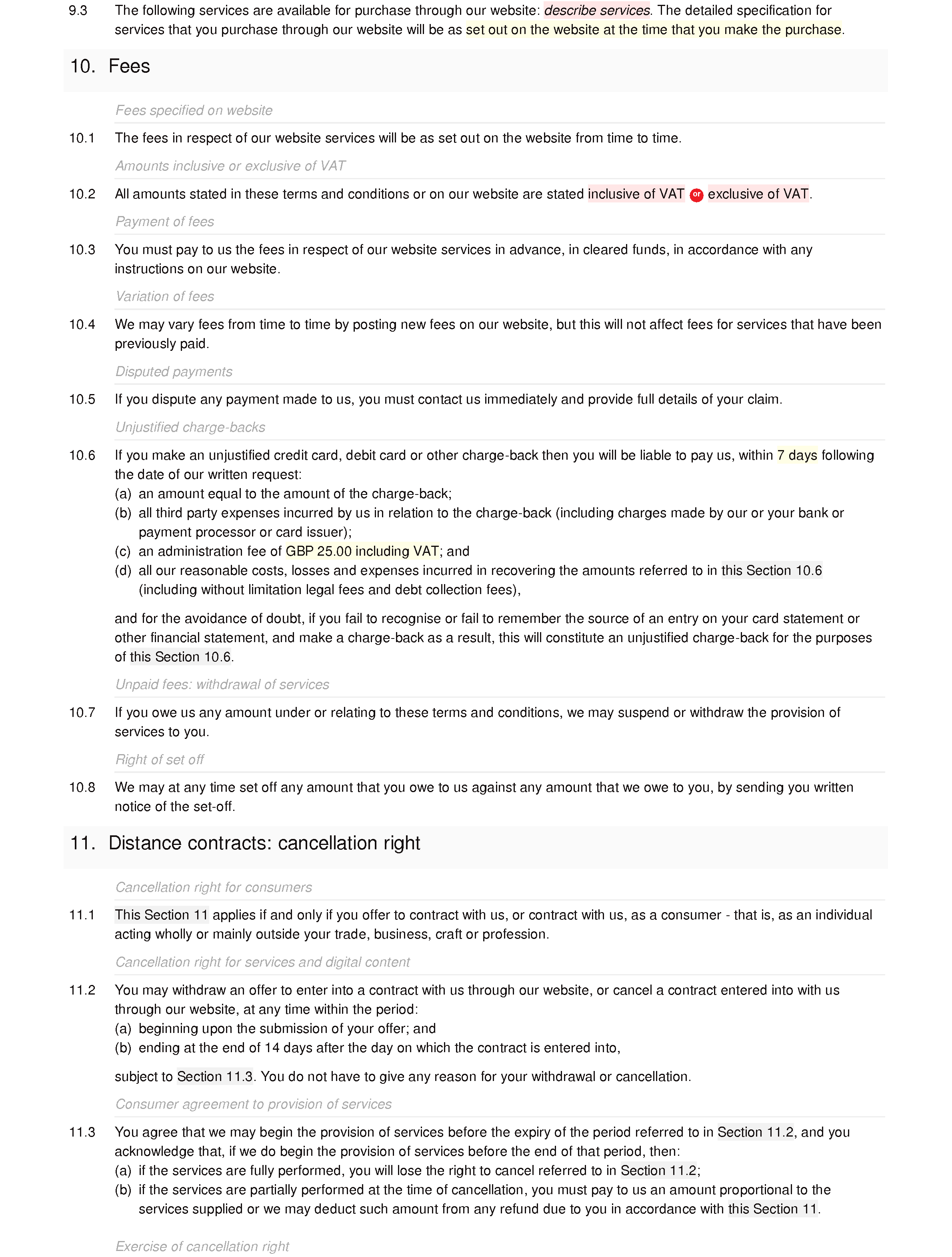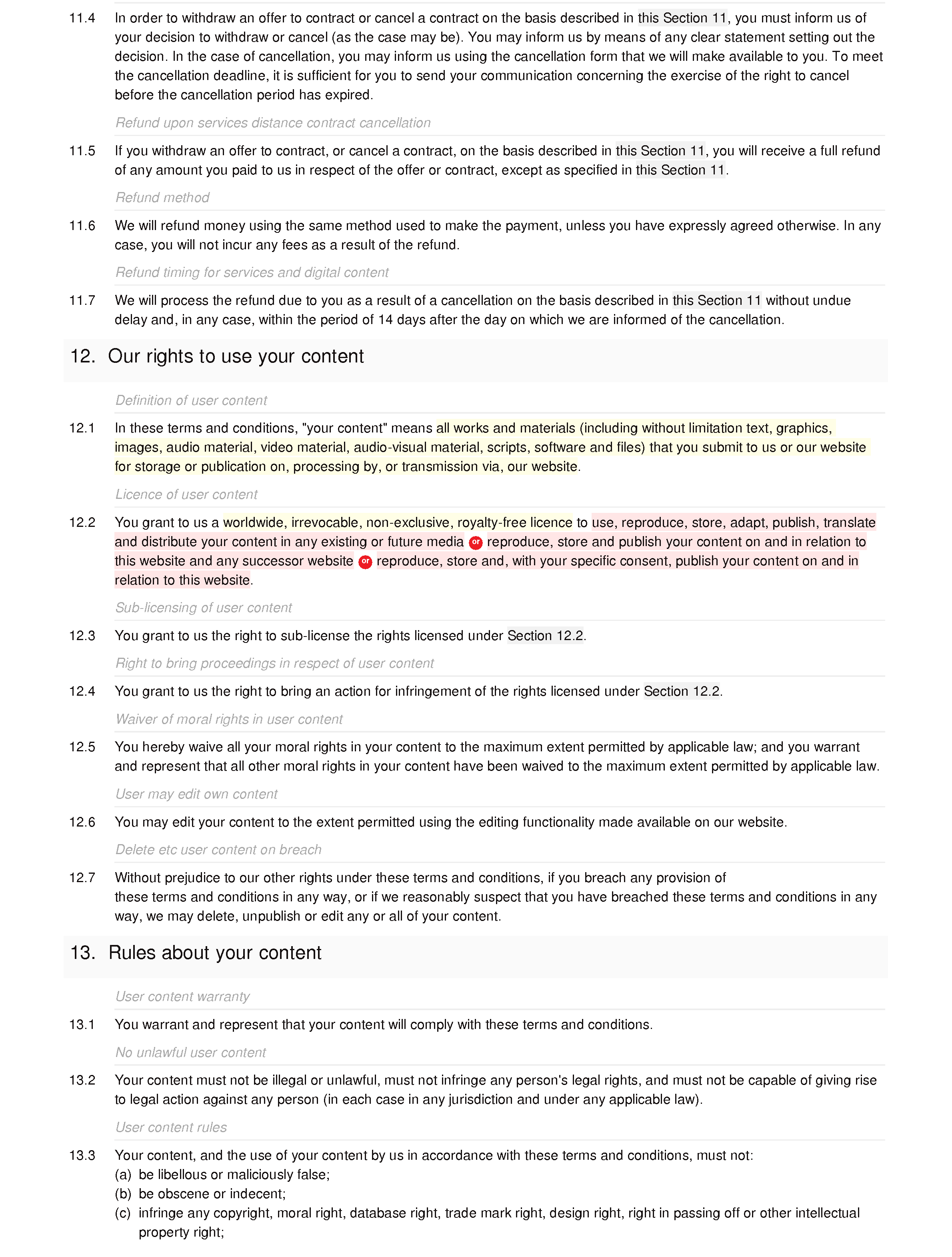 This is a shortened preview of the editor interface; once you create your instance you'll be able to edit the full document in our online editor.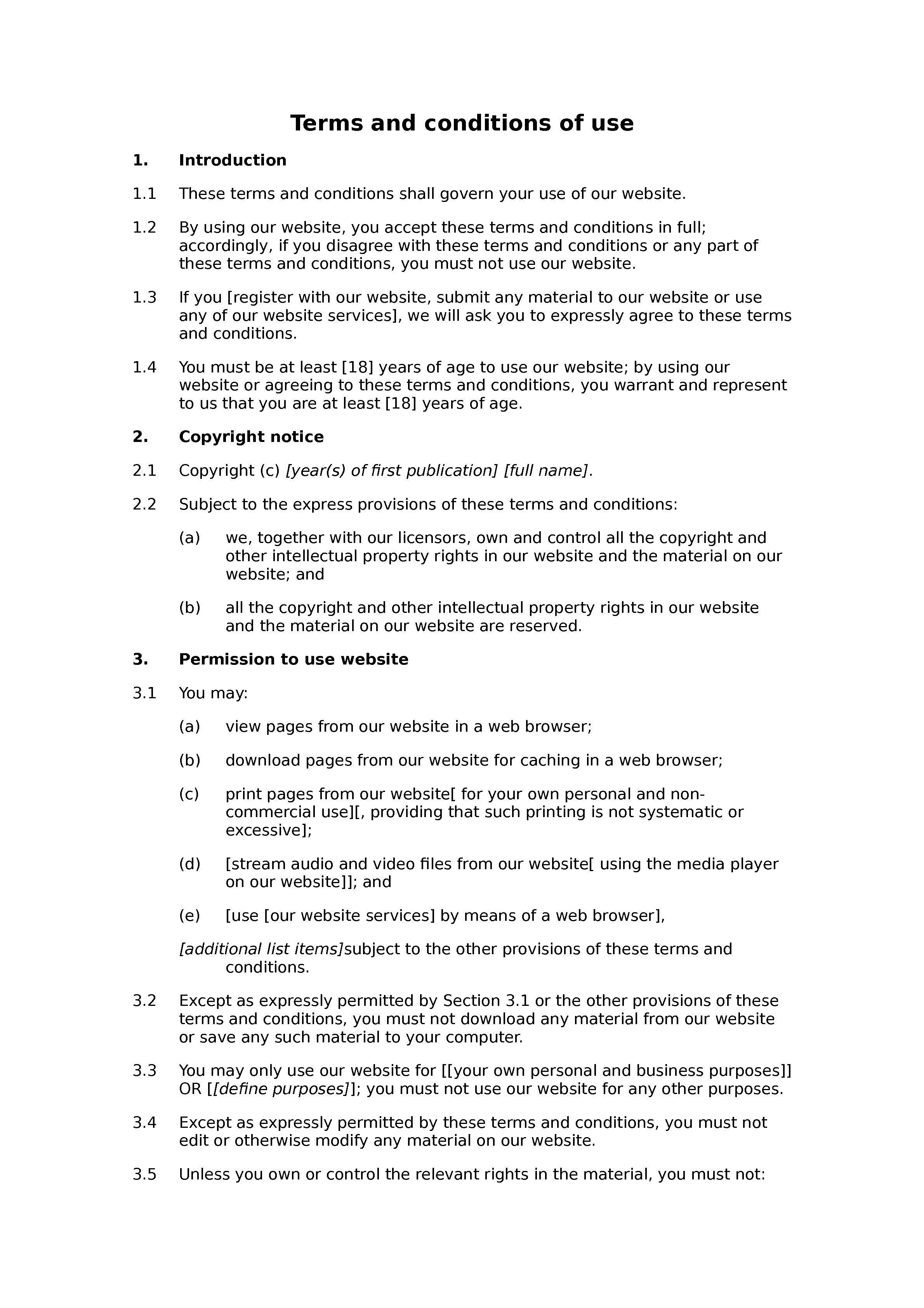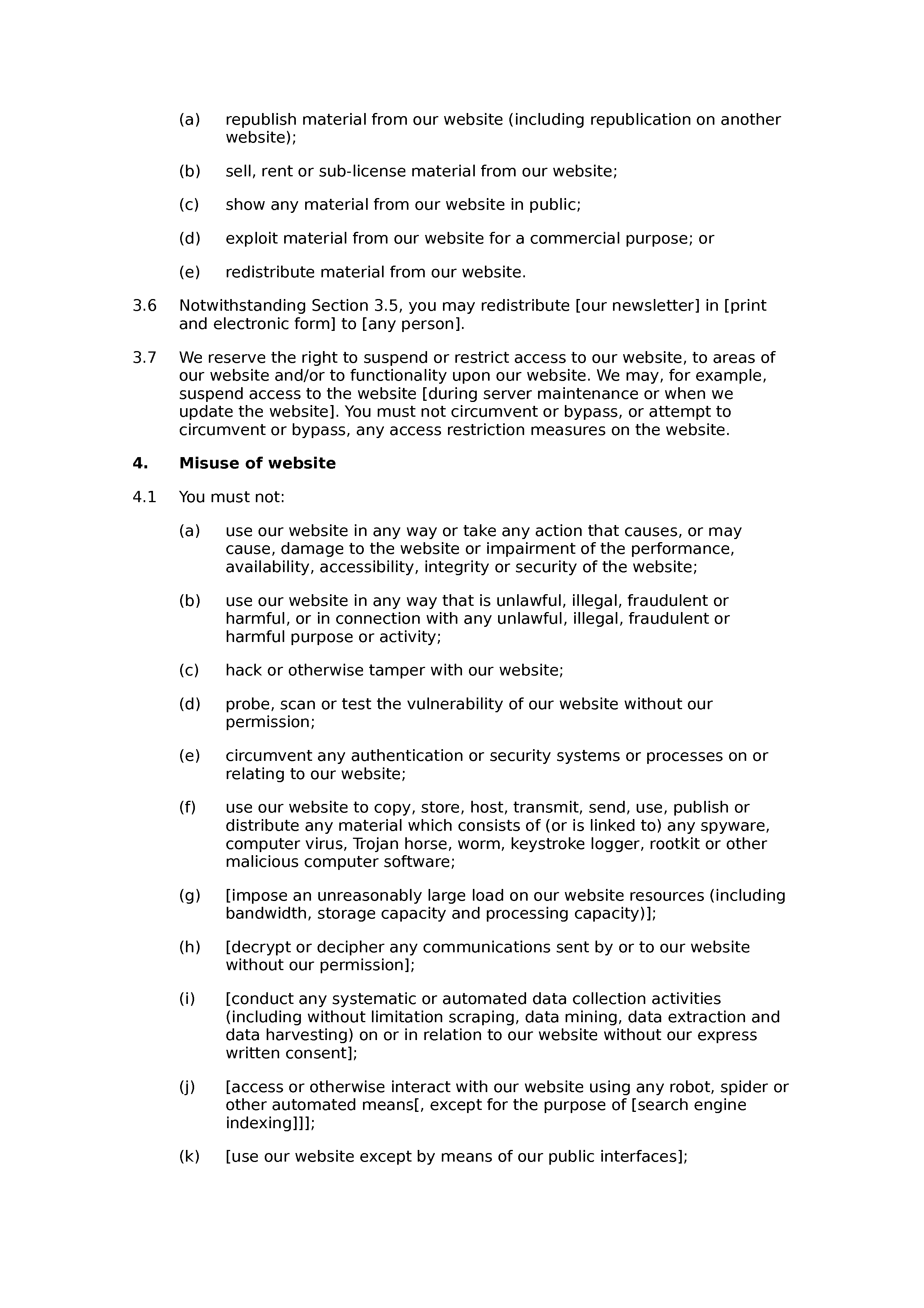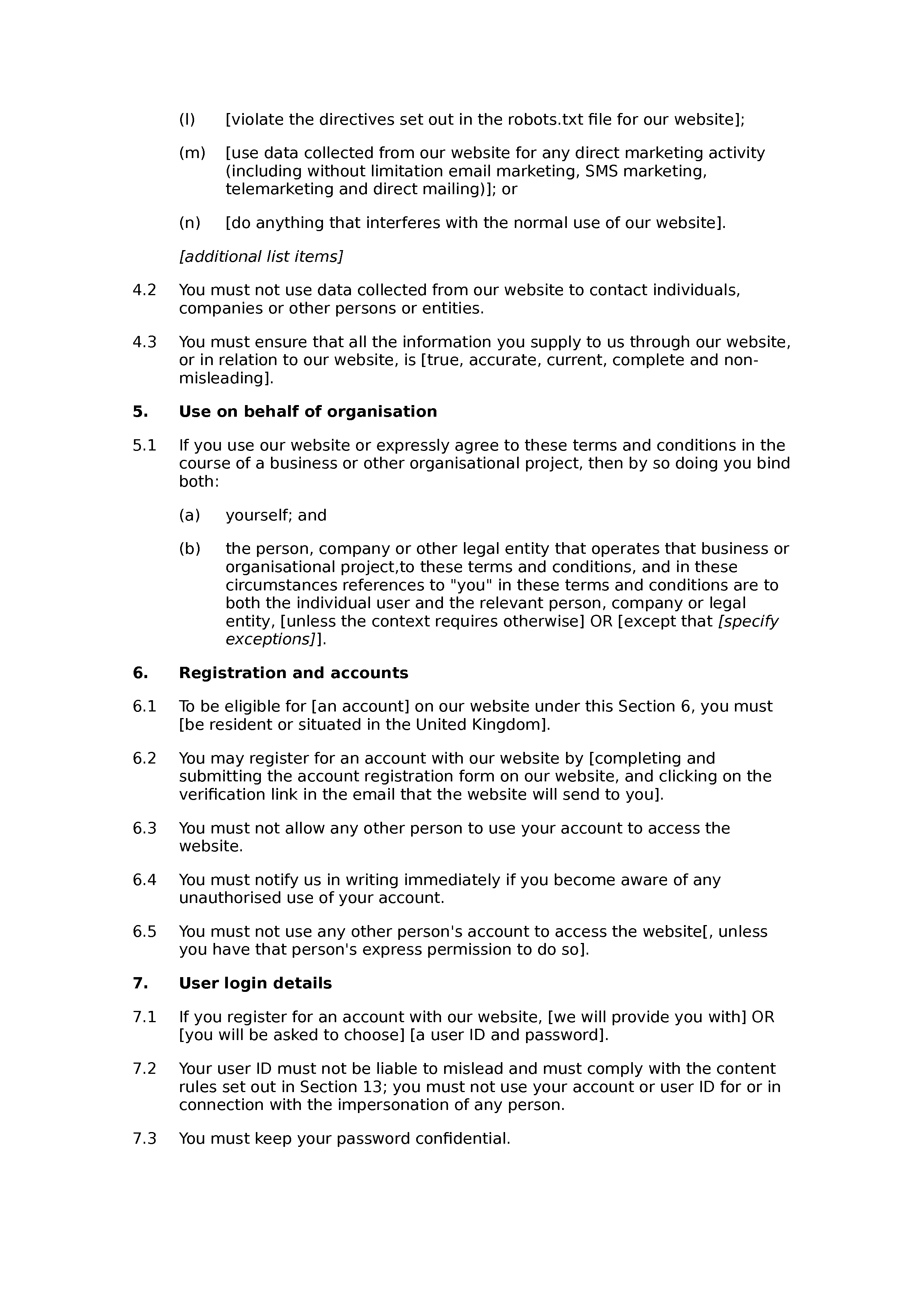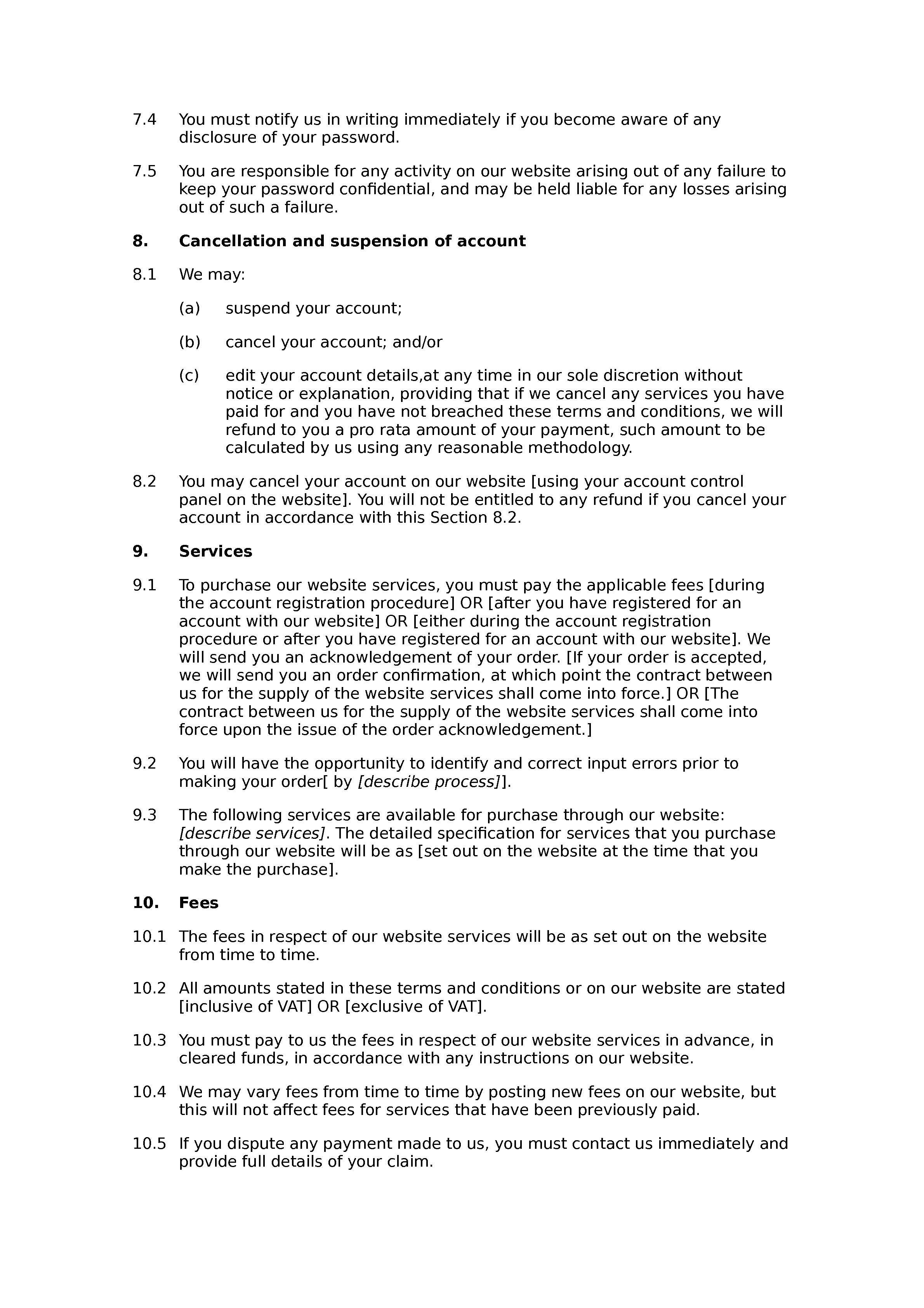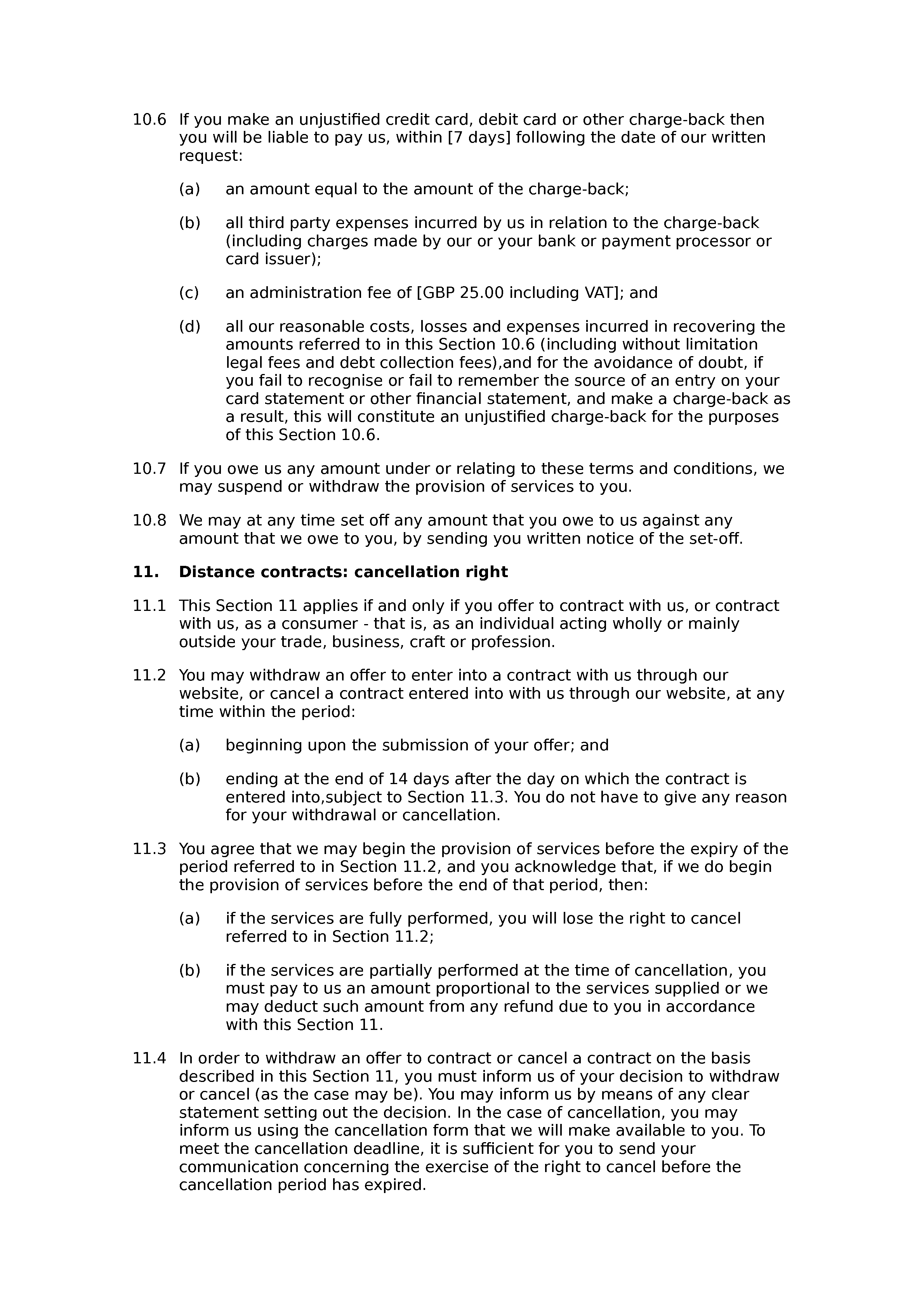 This is a shortened preview of the DOCX output; once you create your instance you'll be able to download the full document in PDF, HTML, RTF and/or DOCX (Microsoft Word) format.