What's new in Docular?
Two-factor authentication
September 2019
Security is an increasingly important factor in our online interactions, particularly when the information in our online accounts is important or confidential. So, on top of our secure authentication system we have introduced two-factor authentication.
This means, as well as a password, we ask you to type in a code sent to your phone via the Google Authenticator App. The app is free and available for both iPhone and Android. We will only ask you for the extra code once for each browser/device you log in from. Your authentication will then last for 30 days before needing to be renewed.
Two-factor authentication is optional and you can turn it on from your settings menu if you want the additional security.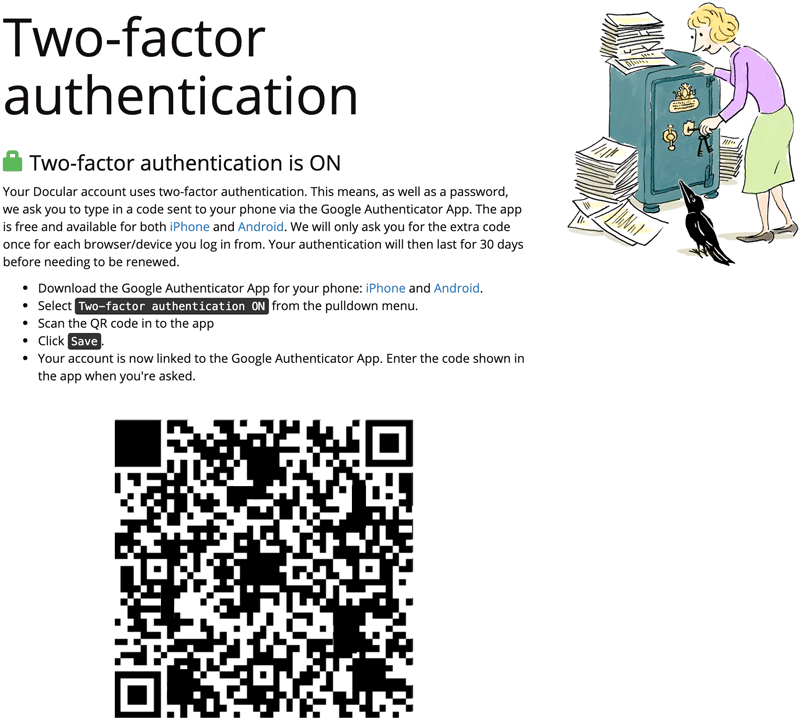 Unedited template downloads
September 2019
You are now able to download a DocX file with the original unedited version of your template, even if you've edited the instance on which the document is based. You can, optionally, download all the editing notes along with the document to reference offline. Just go to the download [ ] button and click on one of the two new download options at the bottom of the list.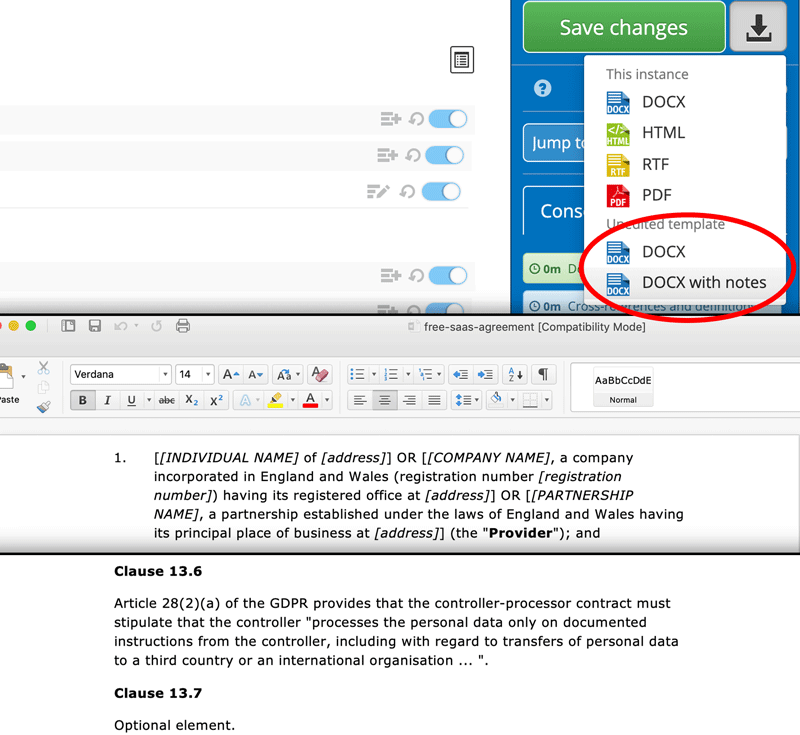 New notes display
May 2019
The guidance notes in Docular can really help you to edit your document - but it's not always easy to read the notes and on mobile they've previously not been available at all. We have moved the notes so that, when opened, they appear above the provision to which they apply (1). We have also added a voice command (2) that will read your notes aloud if your browser supports text-to-speech.
The console has now moved to where the notes previously displayed in the sidebar (3), making the sidebar more compact and easier to navigate.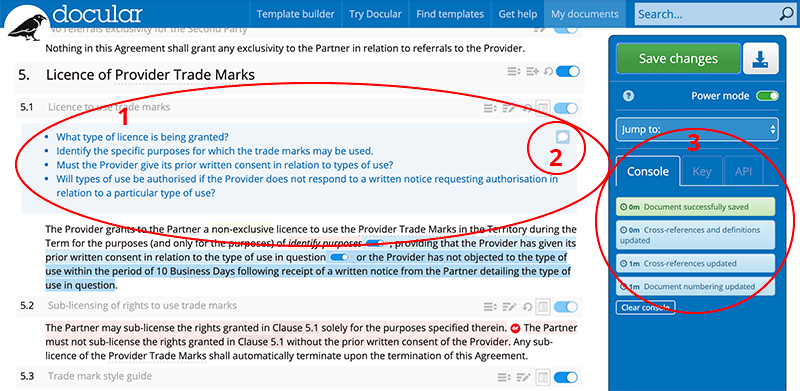 Redesigned sidebar with console
December 2018
If you use Docular on a desktop or laptop you'll see a new, streamlined sidebar in the instance editor. We've reduced clutter and that's allowed us to add a useful new feature.
We've slimmed down the Save and Export buttons so they're on one line. You can still access the full range of download options via the [ ] button.
We've created a feedback console where we keep you informed of changes that our software makes to your document as you work. For example, when you add or remove a provision, the software will automatically update numbering and cross-references. It will also tell you what's happening with instance saving and document downloading.
To reduce clutter we've moved the document API information to a new tab alongside the Notes and Key. Click on the tab to see the same features as before, just neater.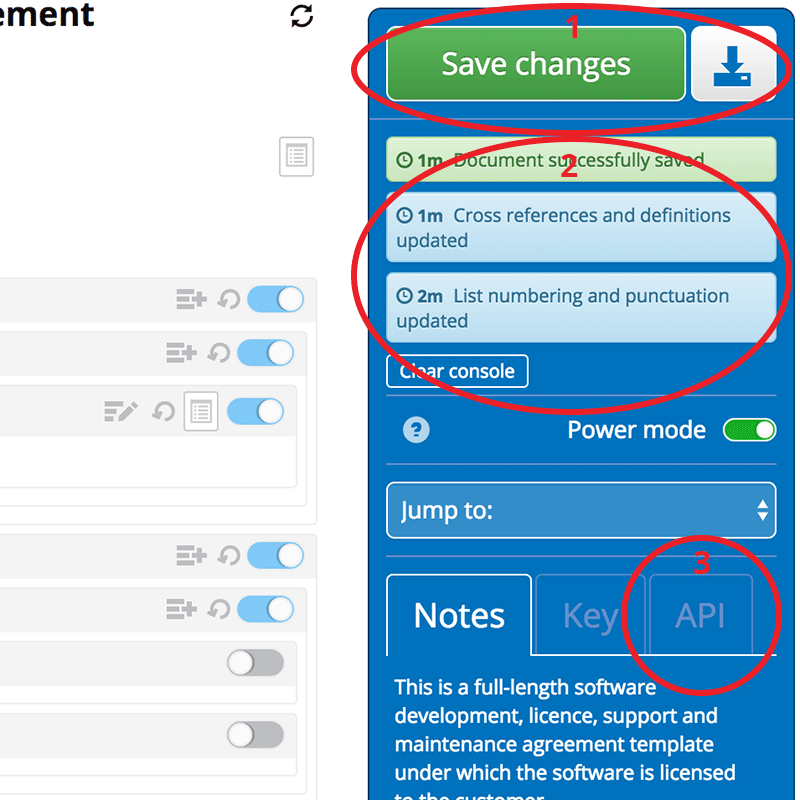 Jump to:
April 2018
Some Docular documents are long. Very long. Sometimes, finding the clause you need to edit is a long scroll. So, to make it easier, we've added a Jump to: menu on the blue panel on the right. Click the button and select the clause you want to jump to and it'll scroll quickly there.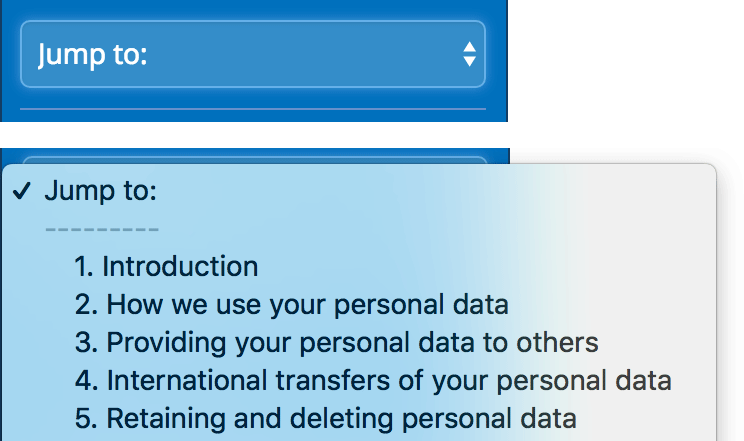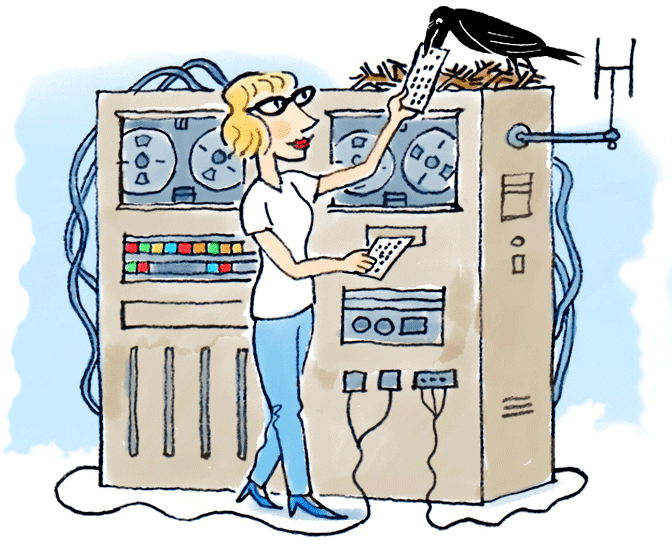 Revert
January 2018
We've added a Revert button to the document editor. Now, you can go back to any point you saved the document. We only keep the revisions for your current logged in session, but if you've edited yourself in to a hole, there is a quick way to get back to where you were.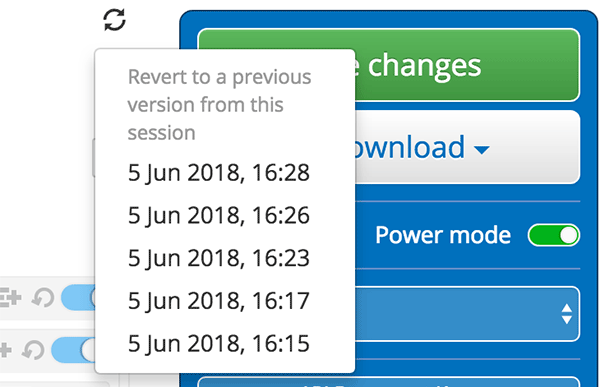 Custom definitions
December 2017
The new power mode tools allow you to add custom provisions or freely edit existing ones. You might also want to add a new definition. The new custom definition tool allows you to write your own definitions. Just click the dictionary-like icon, and an edit box will appear. Your custom definition will automatically slot in to the correct place. You can easily edit your definition at any time.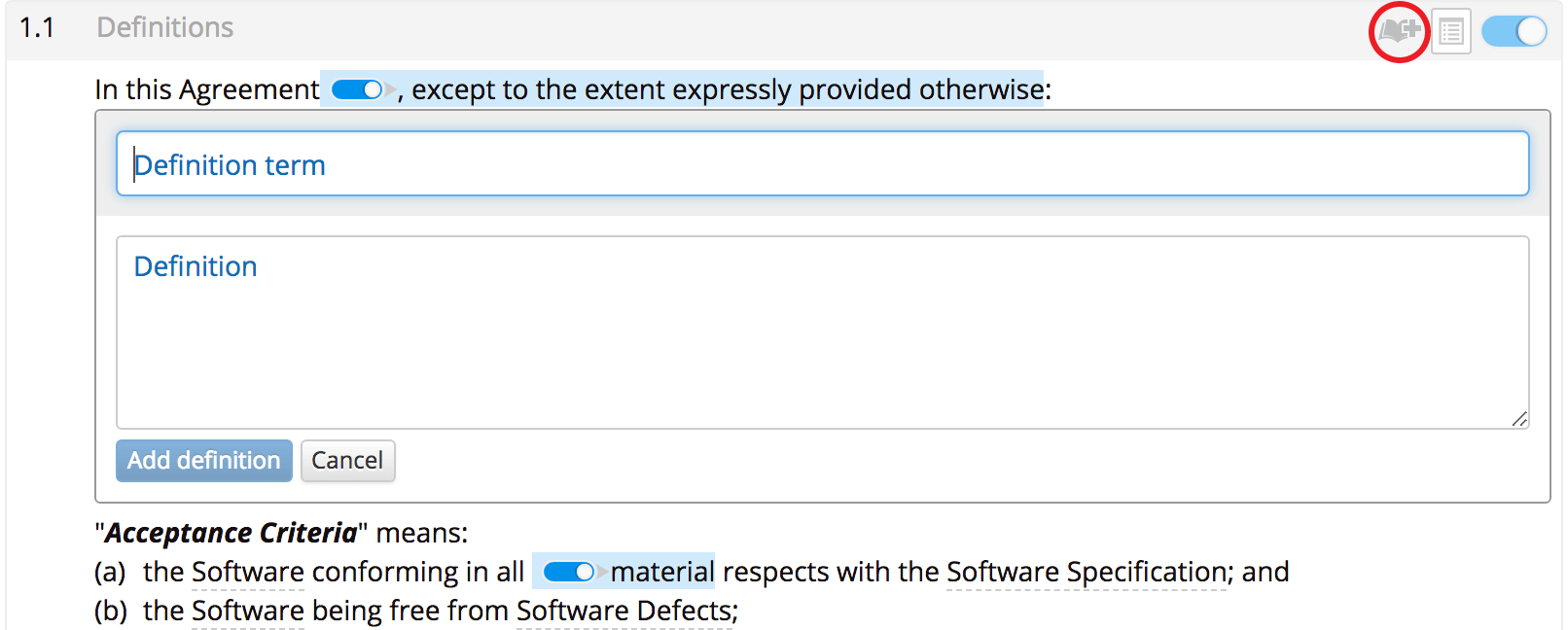 Power mode
October 2017
Docular does a great job at helping you draft your legal documents but sometimes you just need a little more freedom. So, we added Power mode. Power mode gives you a suite of advanced editing tools that allow you to customise your document to your needs.
| Item | Description |
| --- | --- |
| | Include or exclude this element from the document (but exclusion is likely to leave inconsistencies or lacunae in the document). |
| | The element is in its standard assisted edit mode. Click to turn the element in to freely editable text. (You can change it back later.) |
| | Click to move the element up or down the document. You can move an element multiple times to place it where you want. |
| | Add a paragraph of freely editable text to the end of the section. (The paragraph can be moved like any other.) |
| | If this document includes a list of provisions surviving termination, this provision will be included. Click to change. |
| X.X | This provision is numbered. Click to make it unnumbered. Click again to make it numbered again. |
| | Add a custom definition to the list of definitions. |