Confidentiality and non-solicitation agreement (unilateral)
A business's confidential information may include information enabling others to solicit the business's customers, suppliers, contractor or employees, and thereby cause damage to the business. For this reason, you should consider including specific non-solicitation provisions in your non-disclosure or confidentiality agreement.
This is a unilateral (or one-way) template, and so it will only serve to protect the information and business relationships of one of the parties; you should consult the mutual (or two-way) version of this template that we publish if both parties' confidentiality interests need protecting. Because this is a unilateral template, a special "consideration" clause has been included to help ensure the basic requirements for an English law contract are met.
The confidentiality provisions of this document are relatively flexible. The definition of "confidential information" covers: (i) information that is marked as confidential; (ii) information that should have been understood by the recipient to be confidential; (iii) the terms of the agreement (optionally); and (iv) user-defined categories of information.
The second party must keep the information confidential, not disclose it to any person except as expressly permitted by the agreement, protect it with at least a reasonable degree of care, act in good faith in relation to the information, and (optionally) only use the information for some defined "permitted purpose". The usual exceptions to confidentiality obligations are included, such as disclosures required by law.
Various optional and flexible provisions are included to deal with termination. Following the termination of the agreement, the second party can be prohibited from using the confidential information further. The second party may also be required to return storage media containing information to the first party, or to destroy such media. The confidentiality obligations generally can be specified to continue indefinitely, or for some specific period after termination.
Key concepts in the non-solicitation provisions are the "restricted associate" and the "restriction period". Restricted associates may include employees, directors, agents, subcontractors, customers, clients, licensors, licensees, suppliers, service providers, principals, joint venture partners, business partners, group companies, and so on. The period of restriction is defined as the term of the agreement plus an additional defined period (eg 6 months).
The majority of the non-solicitation restrictions prohibit defined types of action in relation to restricted associates during the restriction period. For instance, the second party may be prohibited from enticing any restricted associate to terminate a relationship with the first party. In addition, there is a more general restriction covering interference with business relationships.

Ask about this document
Confidentiality and non-solicitation agreement (unilateral) contents
Definitions: definitions.
Term: commencement of term; end of term.
Consideration: consideration benefiting second party.
Non-solicitation: restrictions on

Second Party

: non-solicitation restrictions period; non-solicitation restrictions on second party; non-solicitation restrictions on affiliates; restrictions in section are reasonable; general exception to non-solicitation restrictions.

Second Party

's confidentiality obligations: second party confidentiality undertaking; disclosure of confidential information by second party to certain persons; exceptions to second party's confidentiality obligations; disclosures of first party confidential information mandated by law etc; second party to stop using confidential information upon termination; second party to return or destroy confidential information following termination; second party confidentiality obligations after termination.

Second Party

's publicity obligations: no public disclosures by second party; permitted public disclosures by second party.
Intellectual property rights: no assignment of first party intellectual property rights; no licence or limited licence to use first party confidential information.
Warranties: first party warranty of authority; second party warranty of authority; exclusion of implied warranties and representations.

Second Party

indemnity: second party indemnifies first party upon breach.
Termination: termination by either party at will.
Effects of termination: surviving provisions upon termination; termination does not affect accrued rights.
Notices: methods and deemed receipt of contractual notices; contact details for contractual notices; substitute contact details for notices.
General: no waiver; severability; variation written and signed; no assignment without written consent; no third party rights; caveats to limits of liability; entire agreement; governing law; exclusive jurisdiction.
Interpretation: statutory references; section headings not affecting interpretation; calendar month meaning; no ejusdem generis.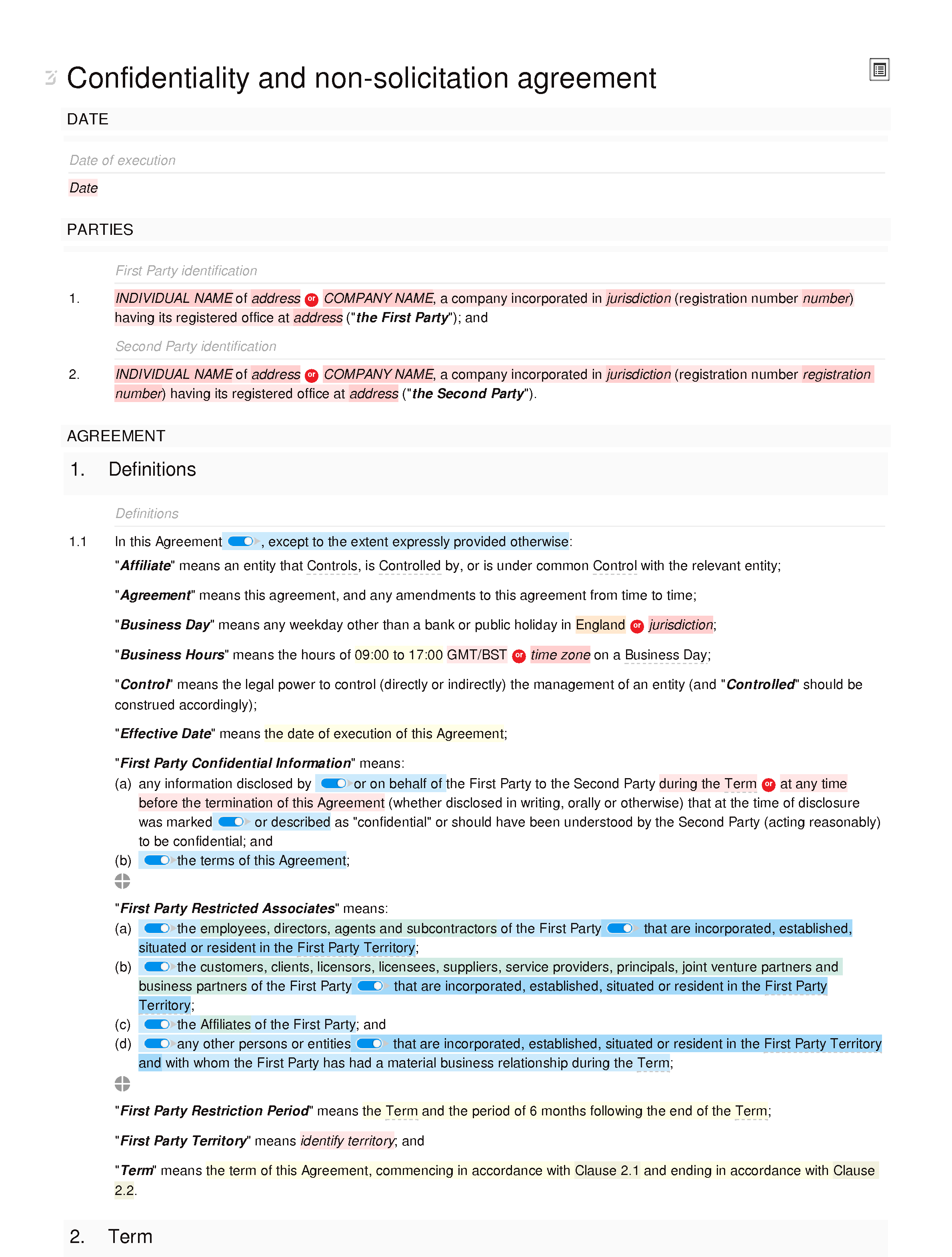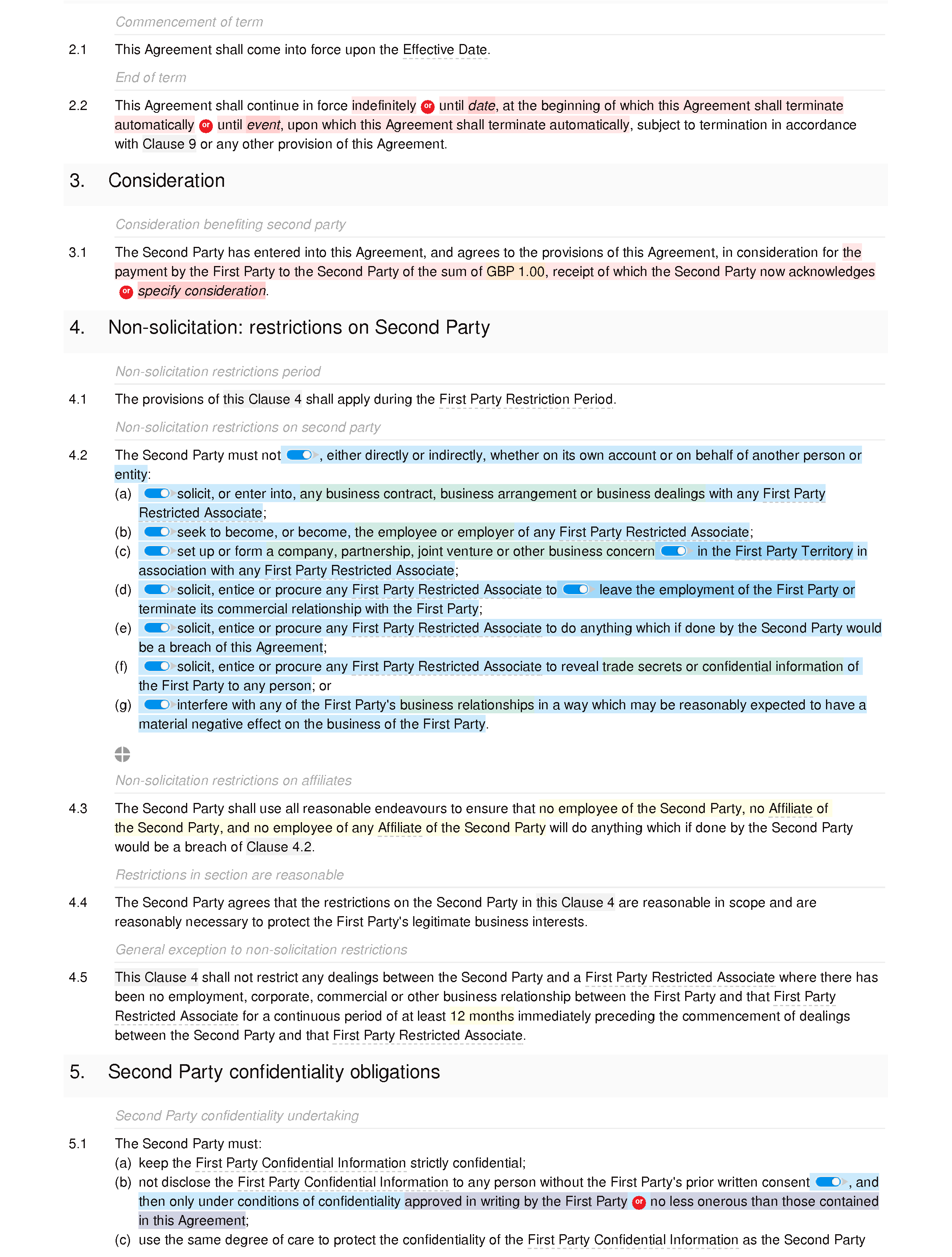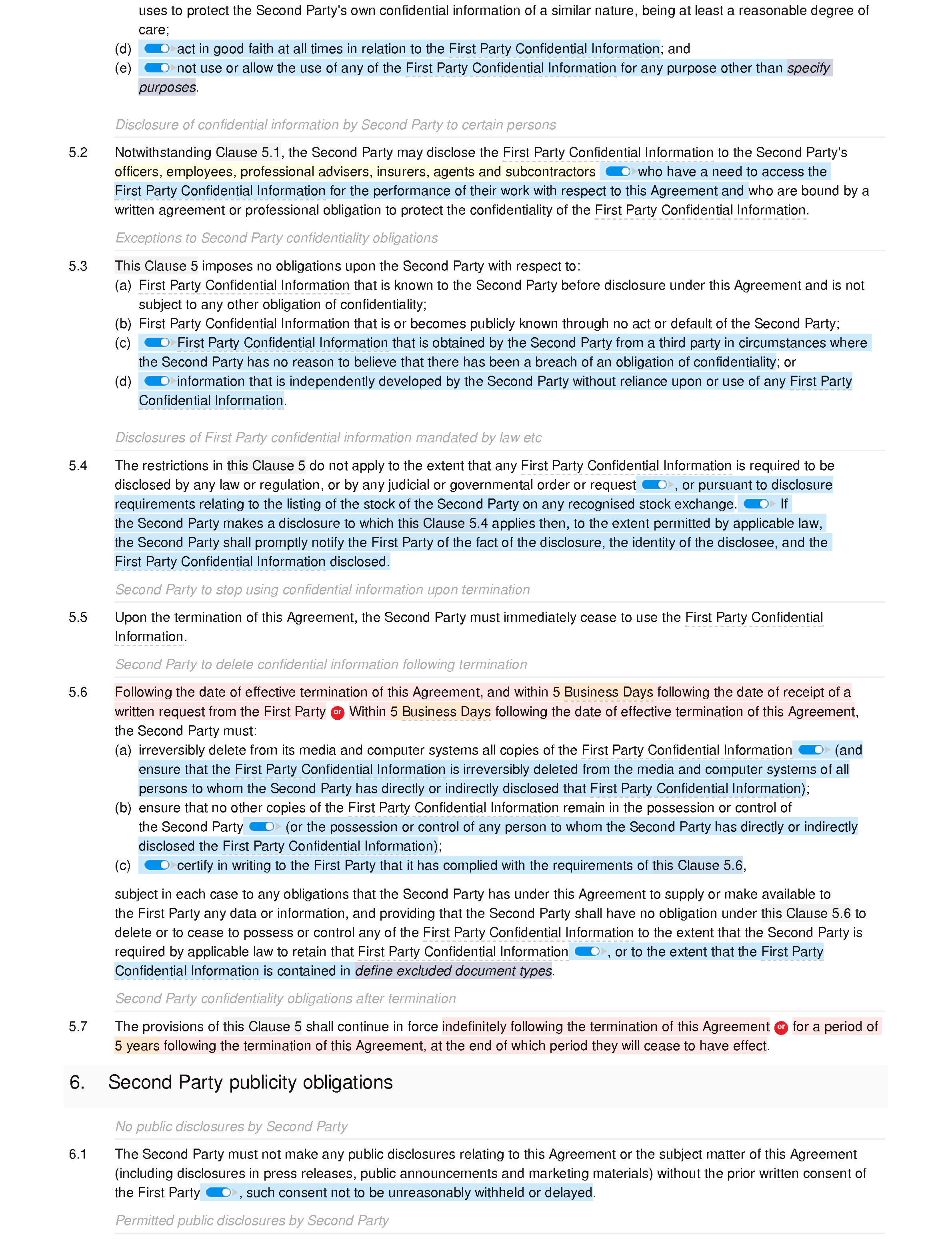 This is a shortened preview of the editor interface; once you create your instance you'll be able to edit the full document in our online editor.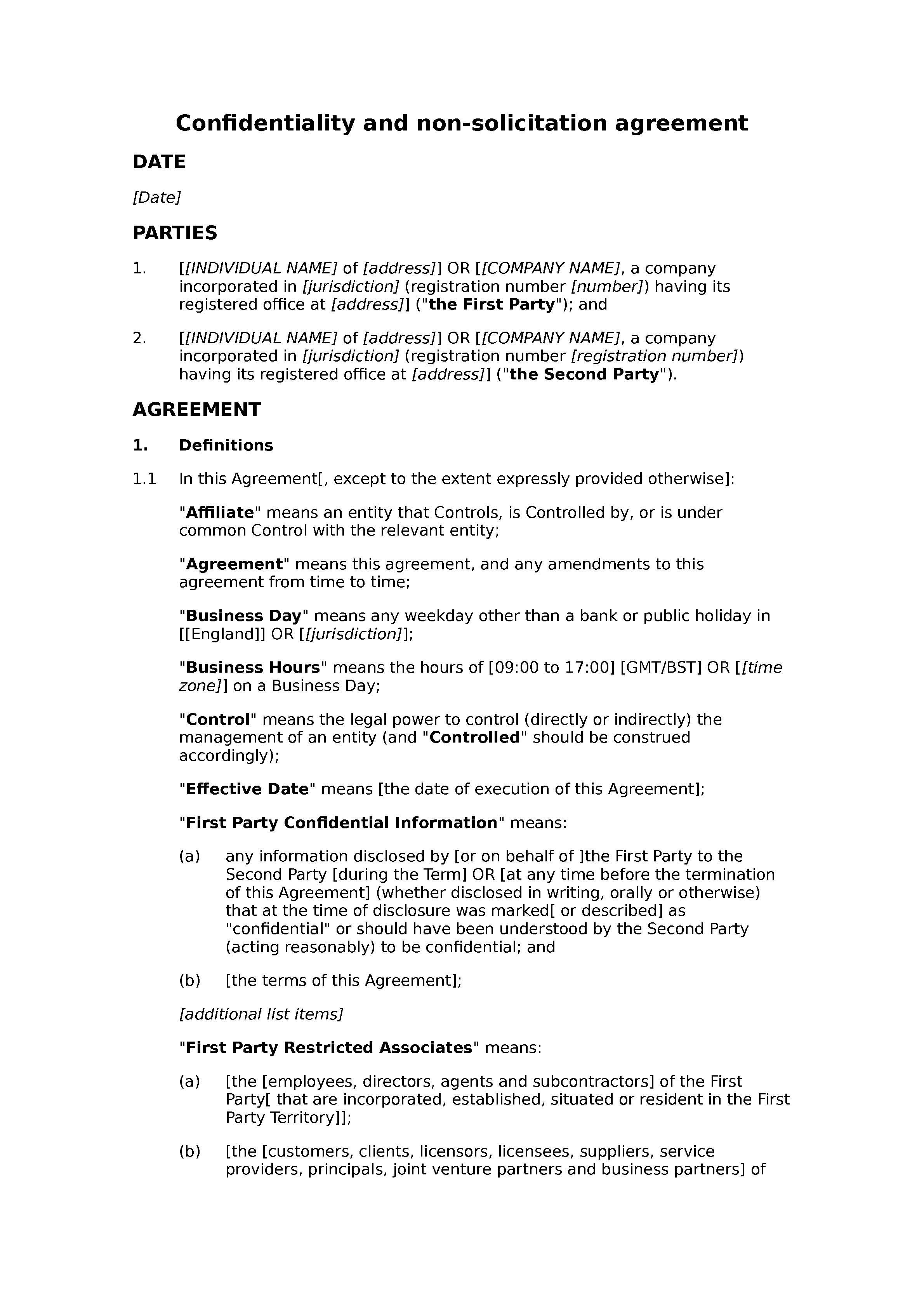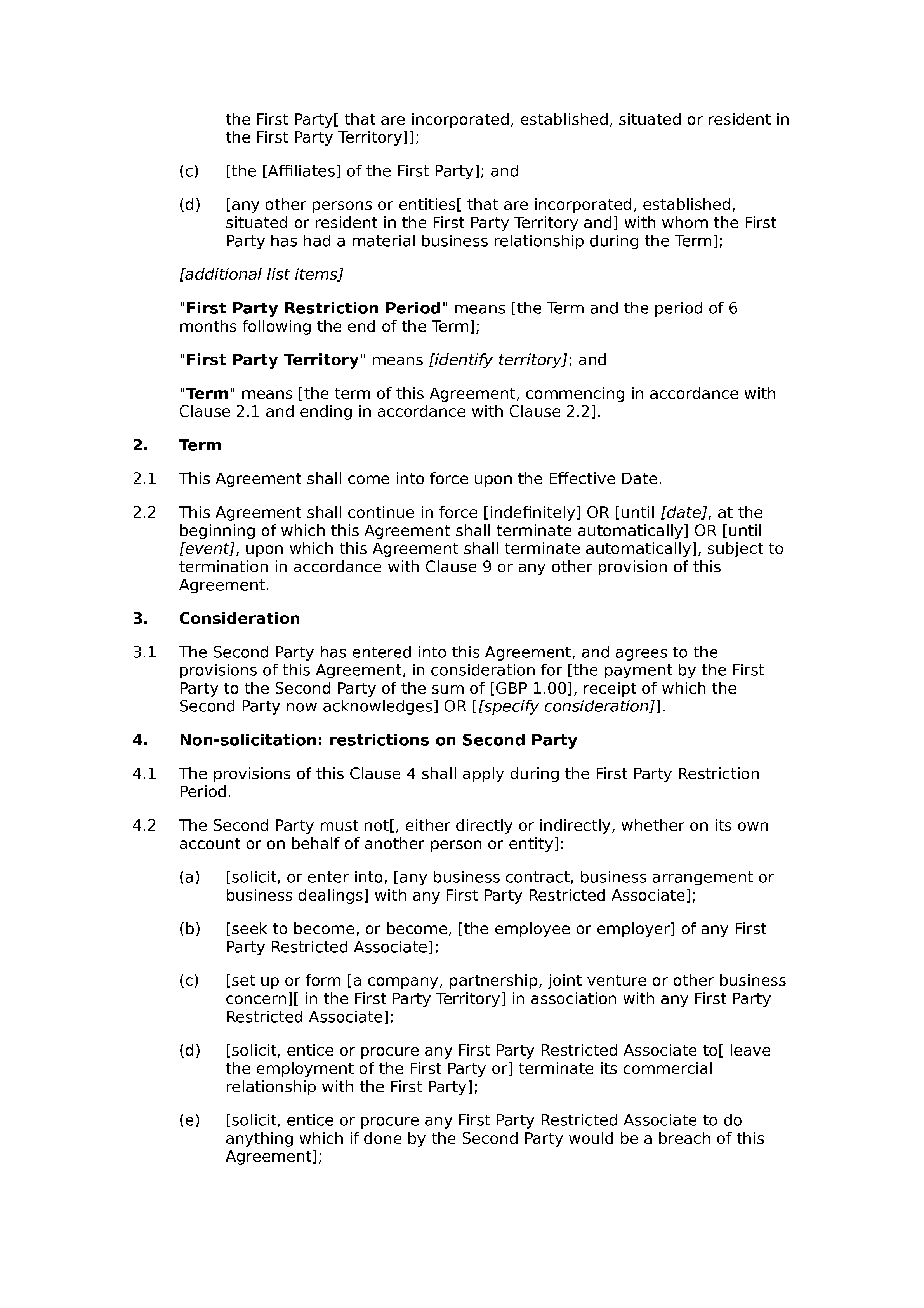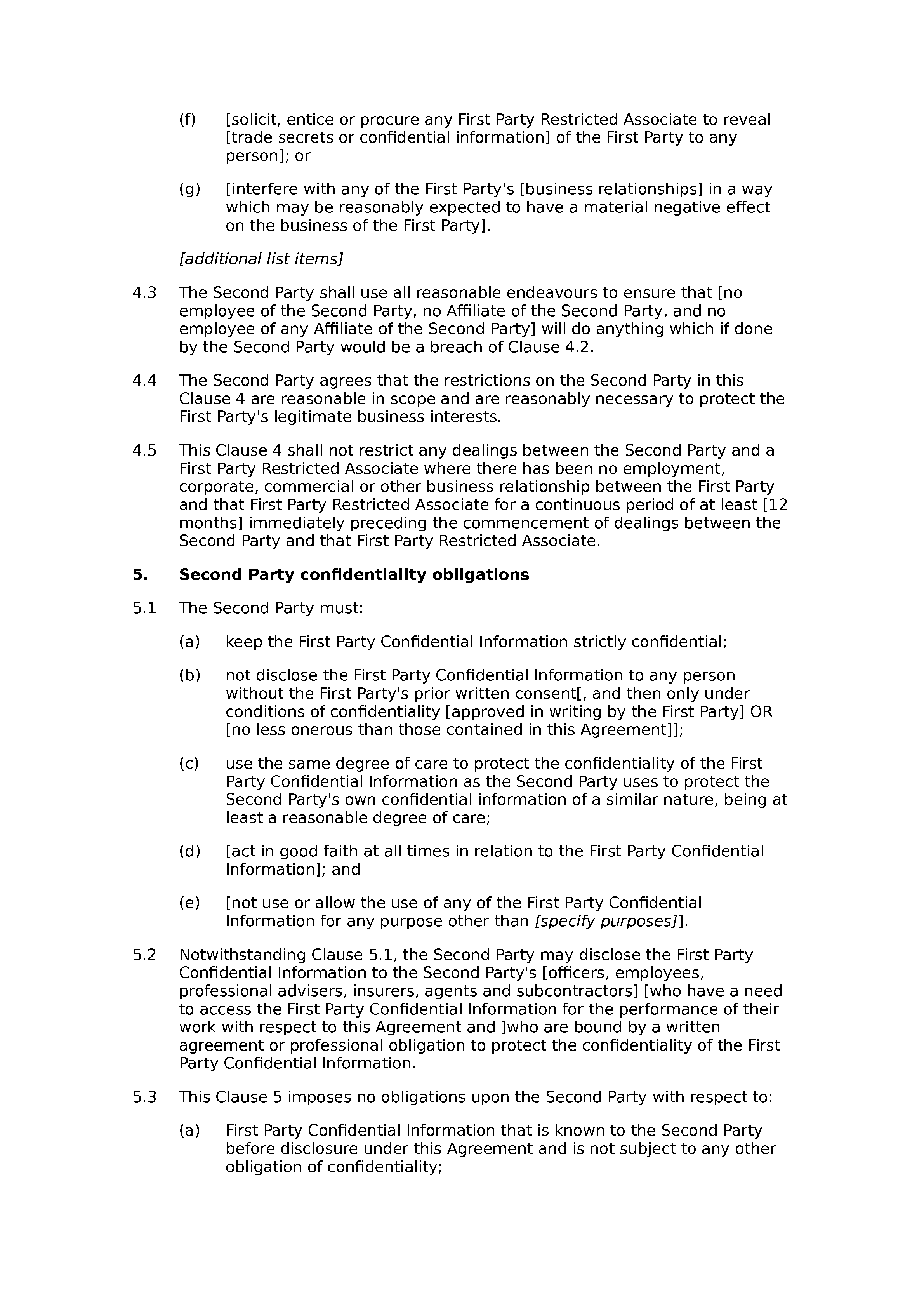 This is a shortened preview of the DOCX output; once you create your instance you'll be able to download the full document in PDF, HTML, RTF and/or DOCX (Microsoft Word) format.