Website contributor agreement (commission)
This contributor agreement defines the relationship between a person who creates material for a website on the one hand, and a website operator on the other, where the creator is remunerated by way of commission. This agreement may be useful, for example, where the creator produces digital files and those digital files are sold by the operator.
Under the agreement, the creator undertakes to supply to the material to the operator, to ensure that the material is of an adequate quality, and to ensure that the material does not infringe third party intellectual property rights.
The operator may also supply (or be obliged to supply) materials to the creator for incorporation into the creator's deliverables. The creator licences the deliverables to the operator for defined purposes, but the operator's materials are expressly excluded from this licence.
The contributor agreement includes an optional acceptance procedure, although in many cases this will be overkill.
The commission provisions included in the agreement are relatively flexible. The commission payable is calculated by reference to a "Base Amount" with respect to each "Trigger Event" - and these phrases can be defined in a number of different ways.
The agreement also includes an optional two-way confidentiality clause.
This contributor agreement is not suitable for a true marketplace website, where the contributor sells to customers through the website: see our separate marketplace website terms and conditions templates.

Ask about this document
Website contributor agreement (commission) contents
Definitions: definitions.
Term: commencement of term; end of term.
Deliverables: obligation to deliver deliverables; feedback on deliverables; timetable for delivery of deliverables; deliverables warranties.
Acceptance: acceptance test or review by second party; deemed acceptance of deliverables; deliverables do not meet acceptance criteria in tests or review; subseqent failures of deliverables to meet acceptance criteria in tests or review; consequences of acceptance of deliverables.

Operator

Materials: supply of second party materials; licence of

Operator

materials; warranties relating to second party materials.
Intellectual Property Rights: assignment of intellectual property rights in deliverables; licence to use deliverables; mixed assignment and licence of rights; licensing of third party materials; waiver of moral rights in deliverables; further assurance (intellectual property).
Commission payments to

Contributor

: obligation to pay commission upon trigger event; notification of trigger event; issue of invoice for commission; consequences of failure to notify trigger event.
Interest on late payments: interest on late payments.
Audit: right of audit in case of disputed payment; costs of audit; limits on audit right.
Confidentiality obligations: first party confidentiality undertaking; second party confidentiality undertaking; disclosure of confidential information to certain persons; exceptions to confidentiality obligations; disclosures of confidential information mandated by law etc; parties to stop using confidential information upon termination; parties to delete confidential information following termination; confidentiality obligations after termination.
Warranties: first party general warranties; second party warranty of authority; exclusion of implied warranties and representations.
Indemnity: first party indemnifies second party upon breach (deliverables); conditions upon first party indemnity; limitations of liability vs indemnities.
Limitations and exclusions of liability: caveats to limits of liability; interpretation of limits of liability; no liability for force majeure; no liability for loss of profits; no liability for loss of revenue; no liability for loss of use; no liability for loss of opportunities; no liability for loss of data or software; no liability for consequential loss; per event liability cap upon services contract; aggregate liability cap upon services contract.
Termination: termination by either party without cause; termination by either party upon breach; termination upon insolvency.
Effects of termination: surviving provisions upon termination; termination does not affect accrued rights.
Status of

Contributor

: first party is independent contractor not employee; no redundancy or compensation.
Notices: methods and deemed receipt of contractual notices; contact details for contractual notices; substitute contact details for notices.
Subcontracting: no subcontracting without consent; subcontracting permitted; first party responsible for subcontracted obligations.
General: no waiver; severability; variation written and signed; no assignment without written consent; no third party rights; entire agreement; governing law; exclusive jurisdiction.
Interpretation: statutory references; section headings not affecting interpretation; calendar month meaning; no ejusdem generis.
SCHEDULE 1 (DELIVERABLES PARTICULARS)
Specification of Deliverables: specification of deliverables prompt.
Timetable: timetable prompt.

Operator

Materials: second party materials prompt.
Financial provisions: financial provisions prompt.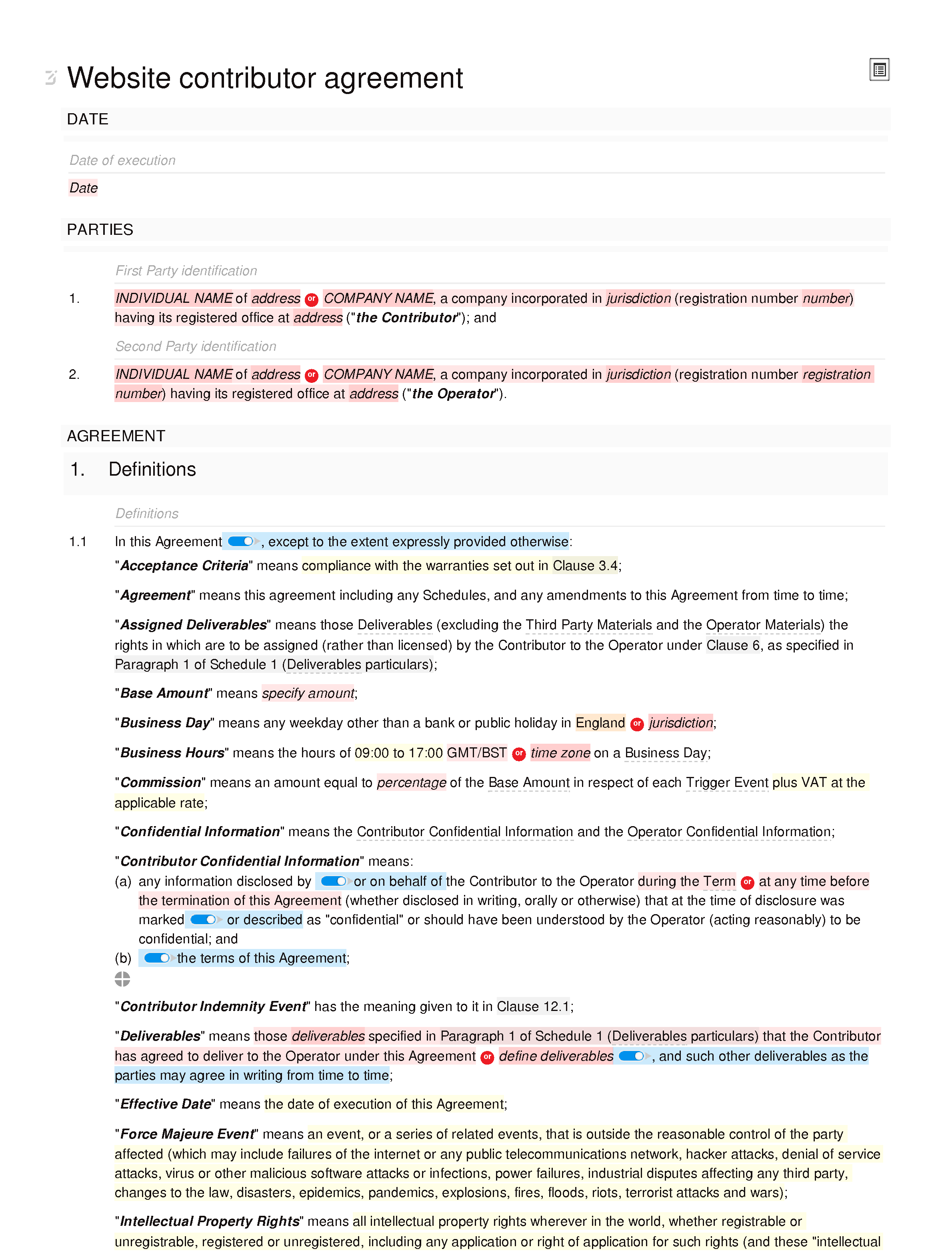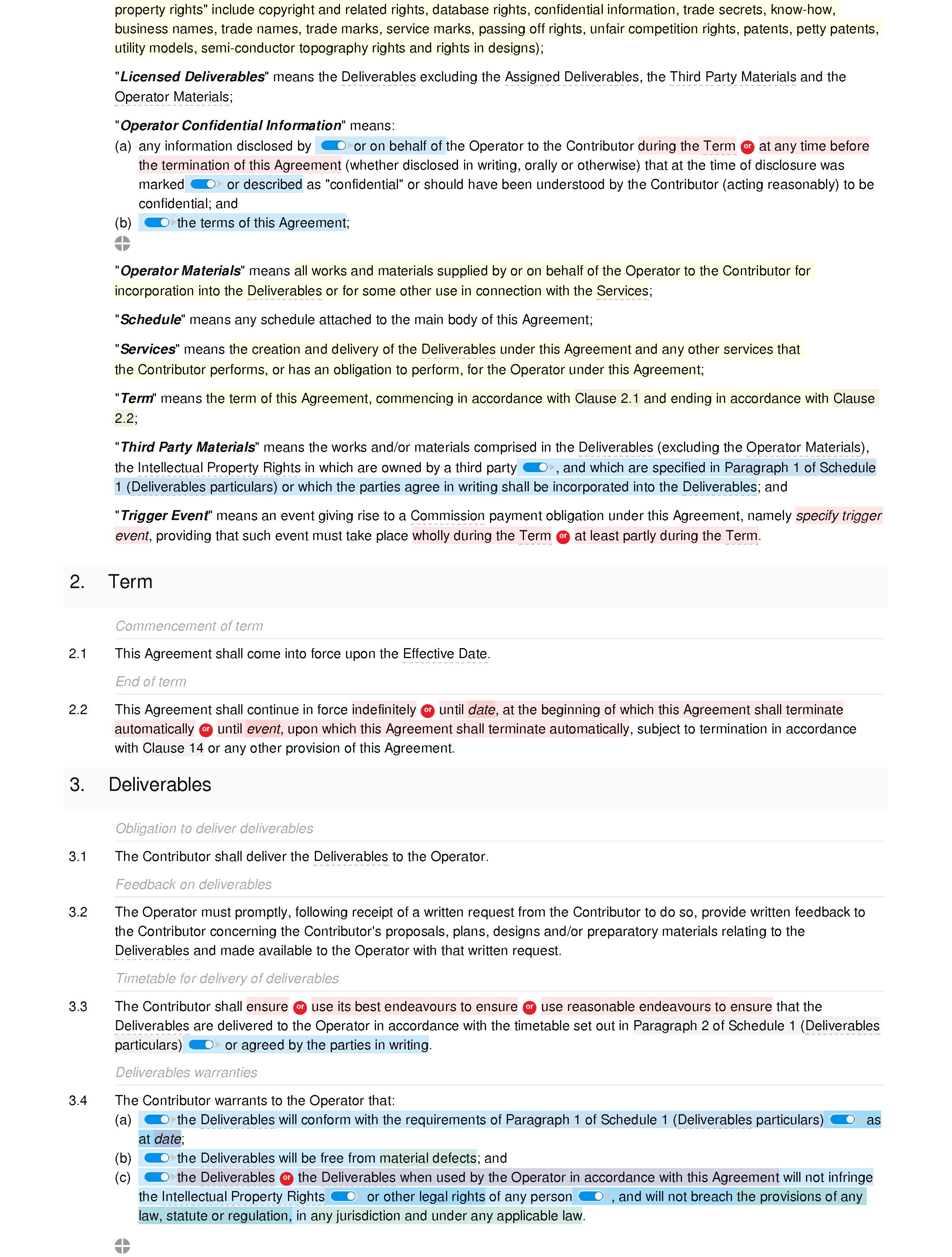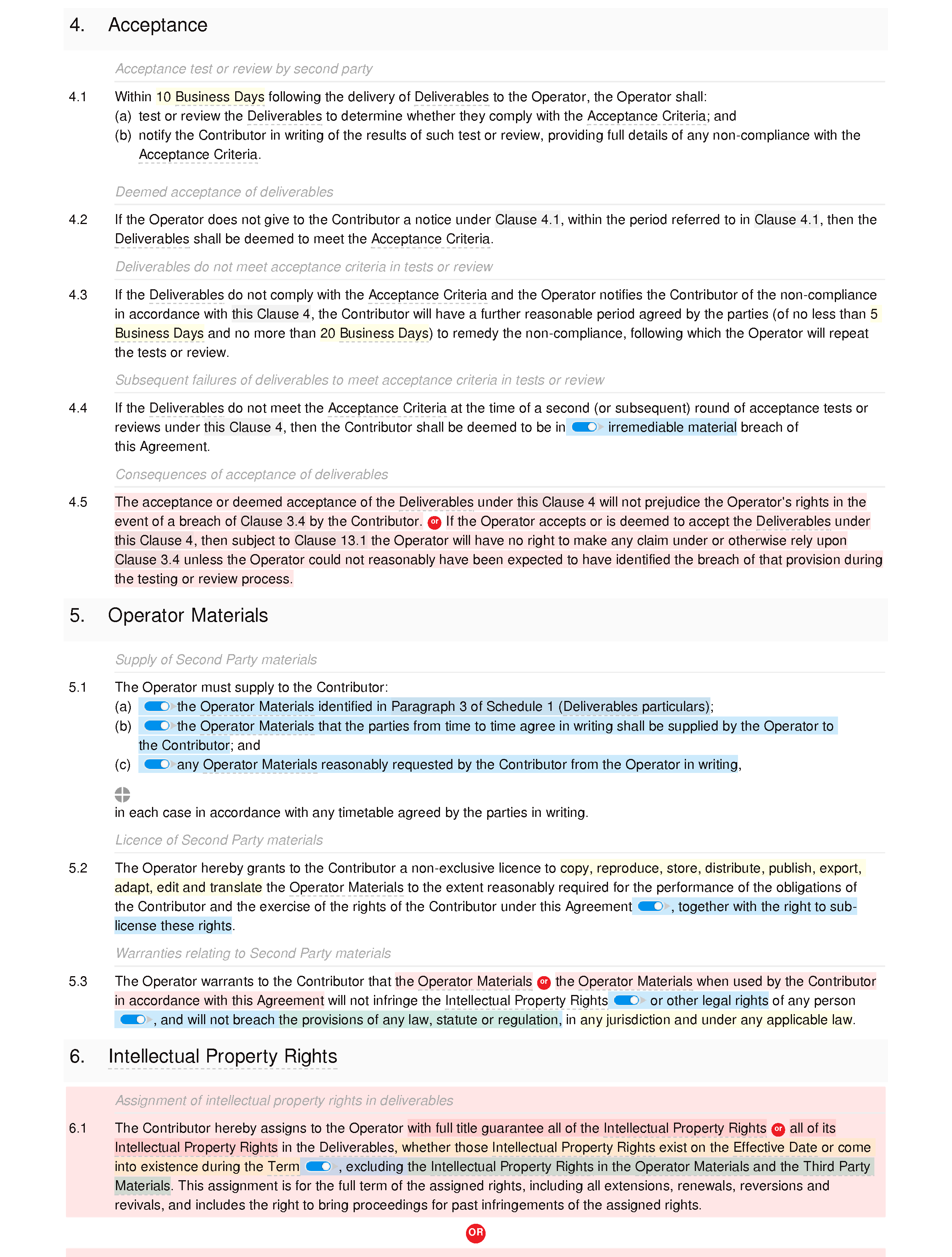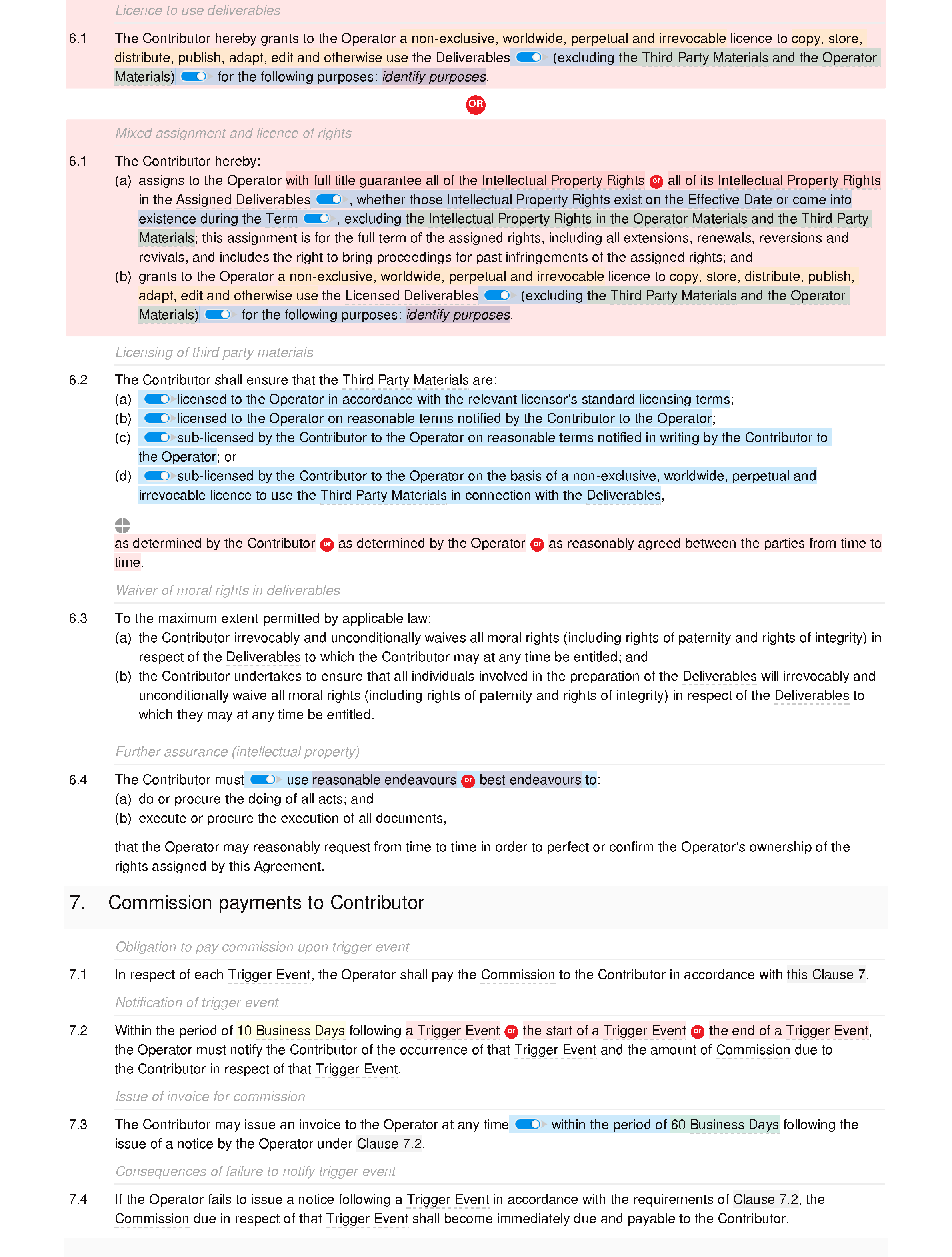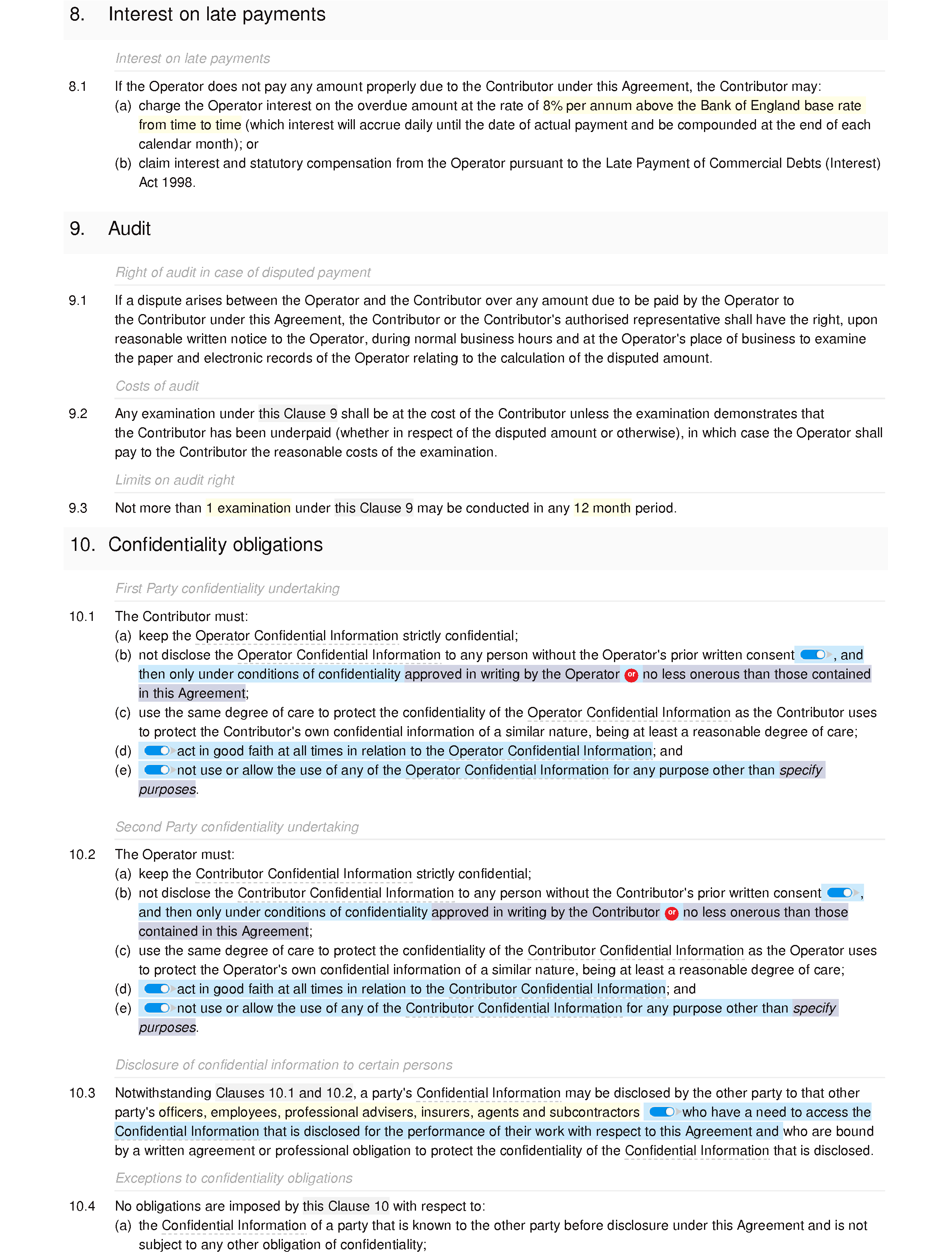 This is a shortened preview of the editor interface; once you create your instance you'll be able to edit the full document in our online editor.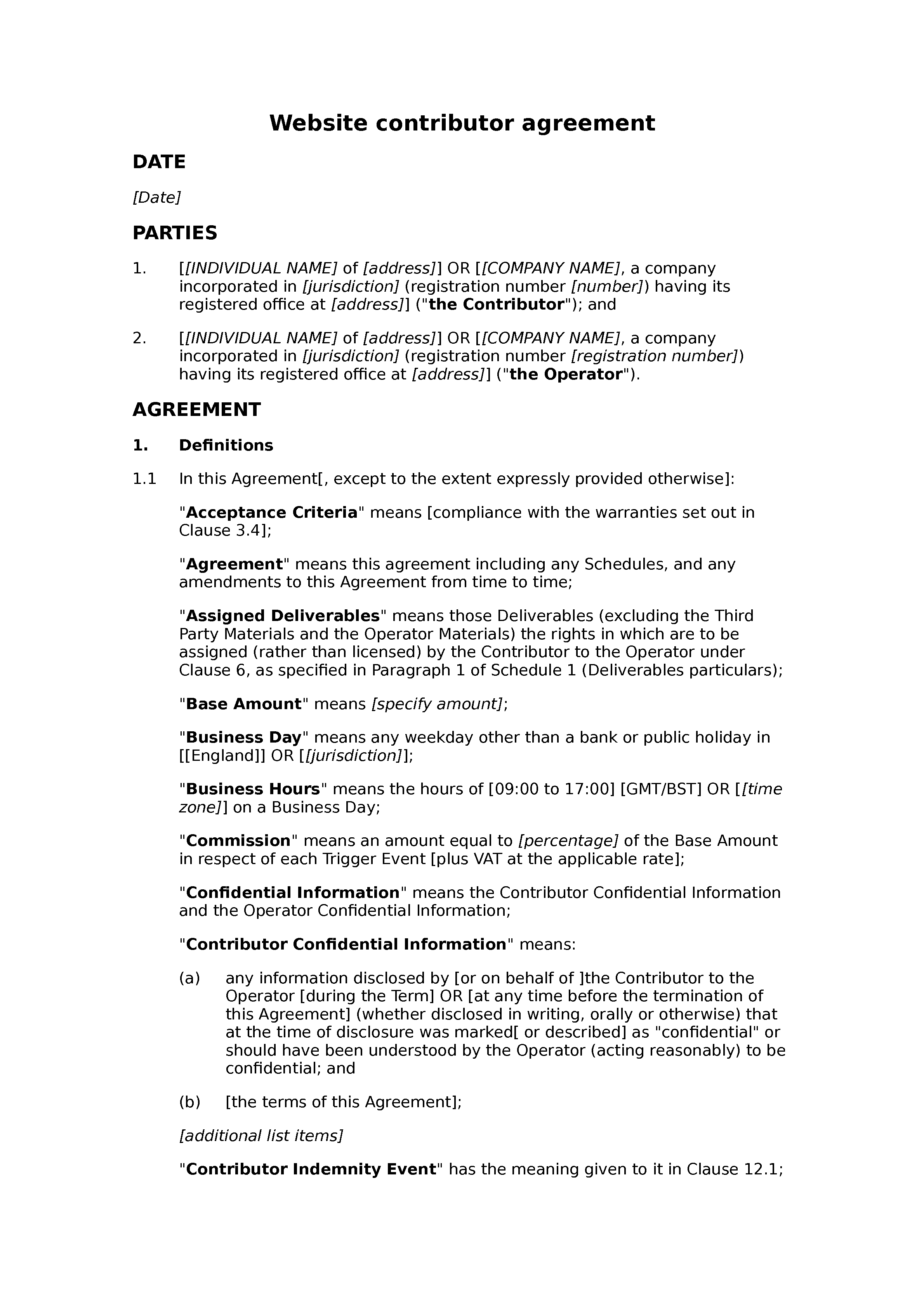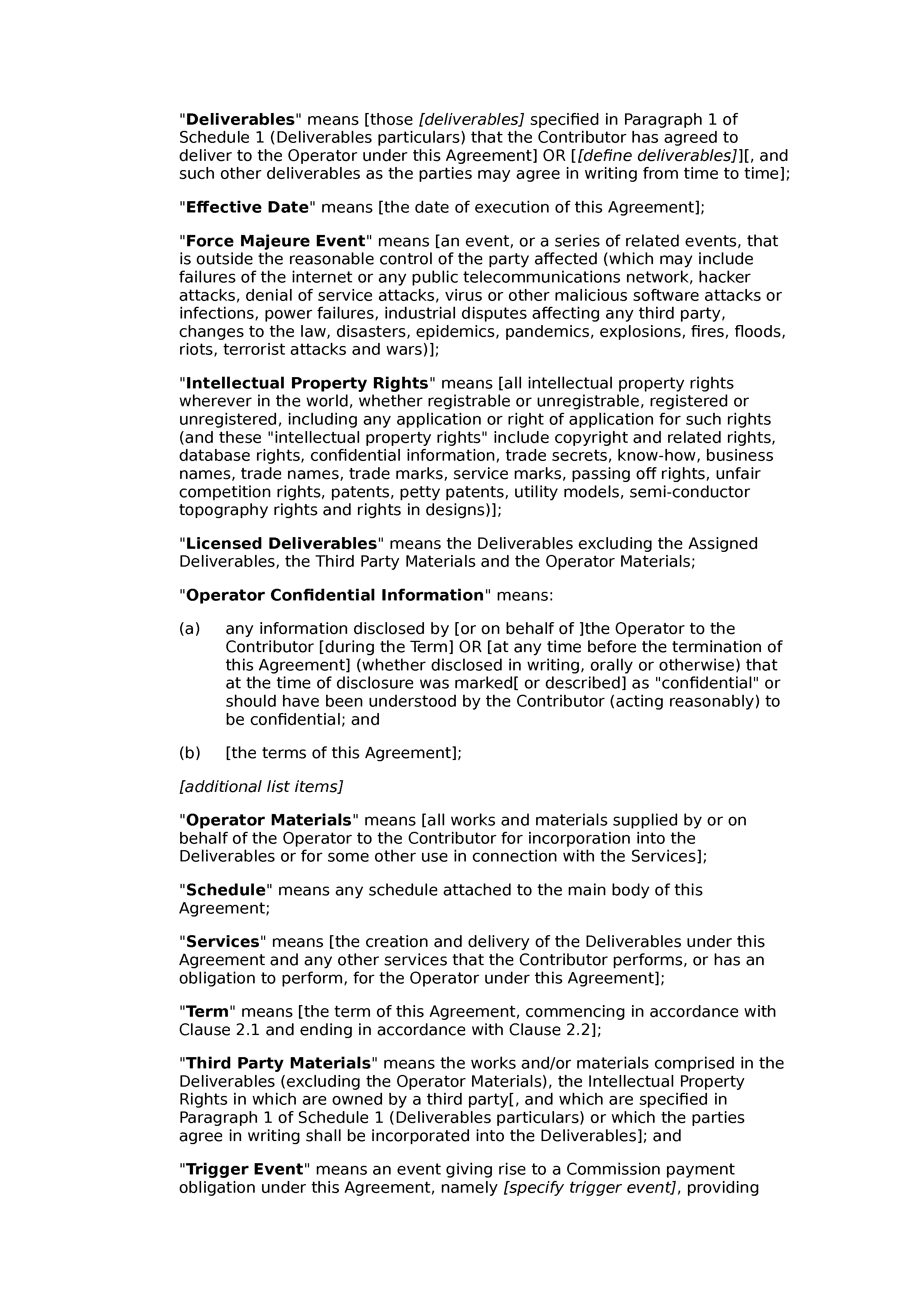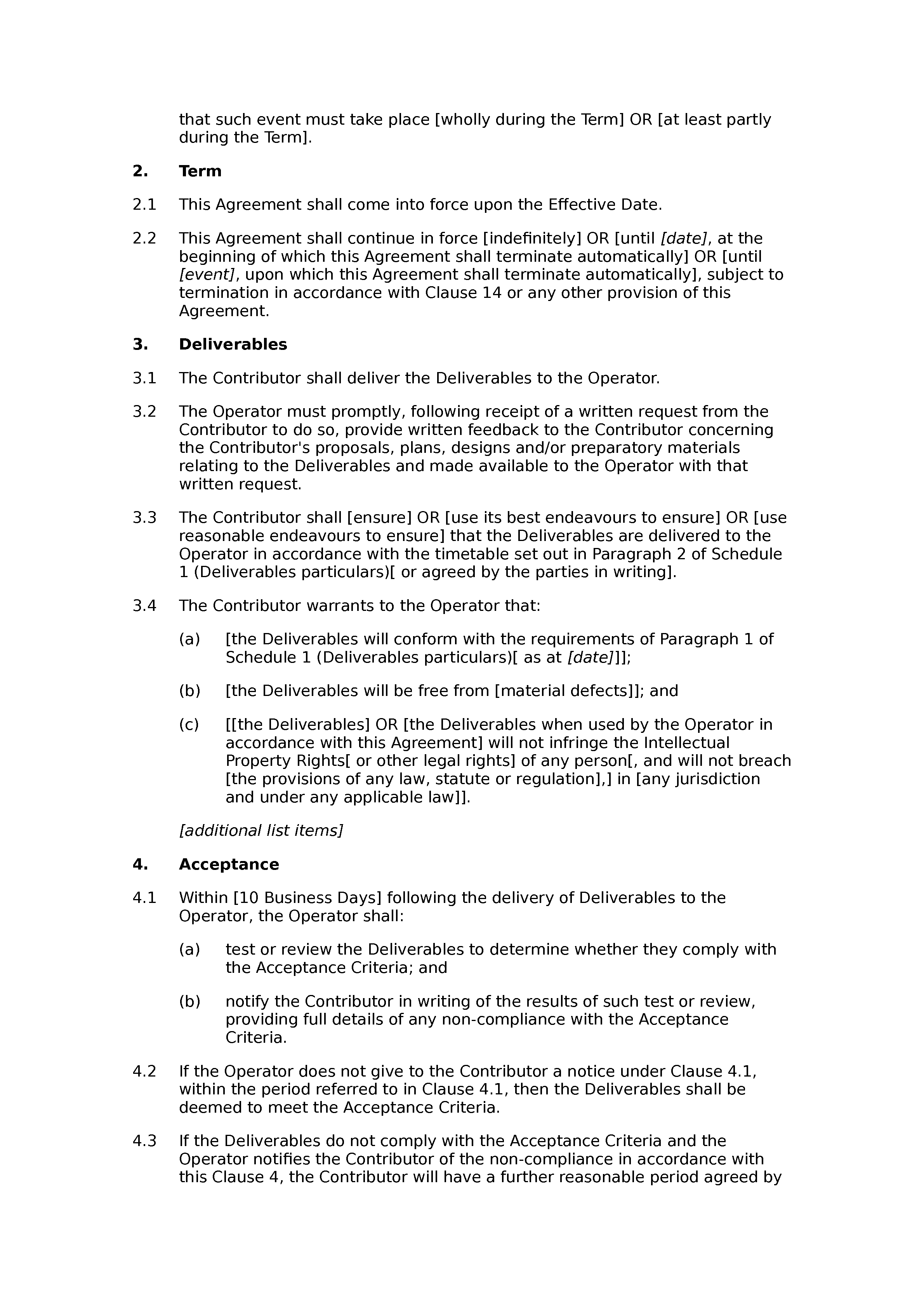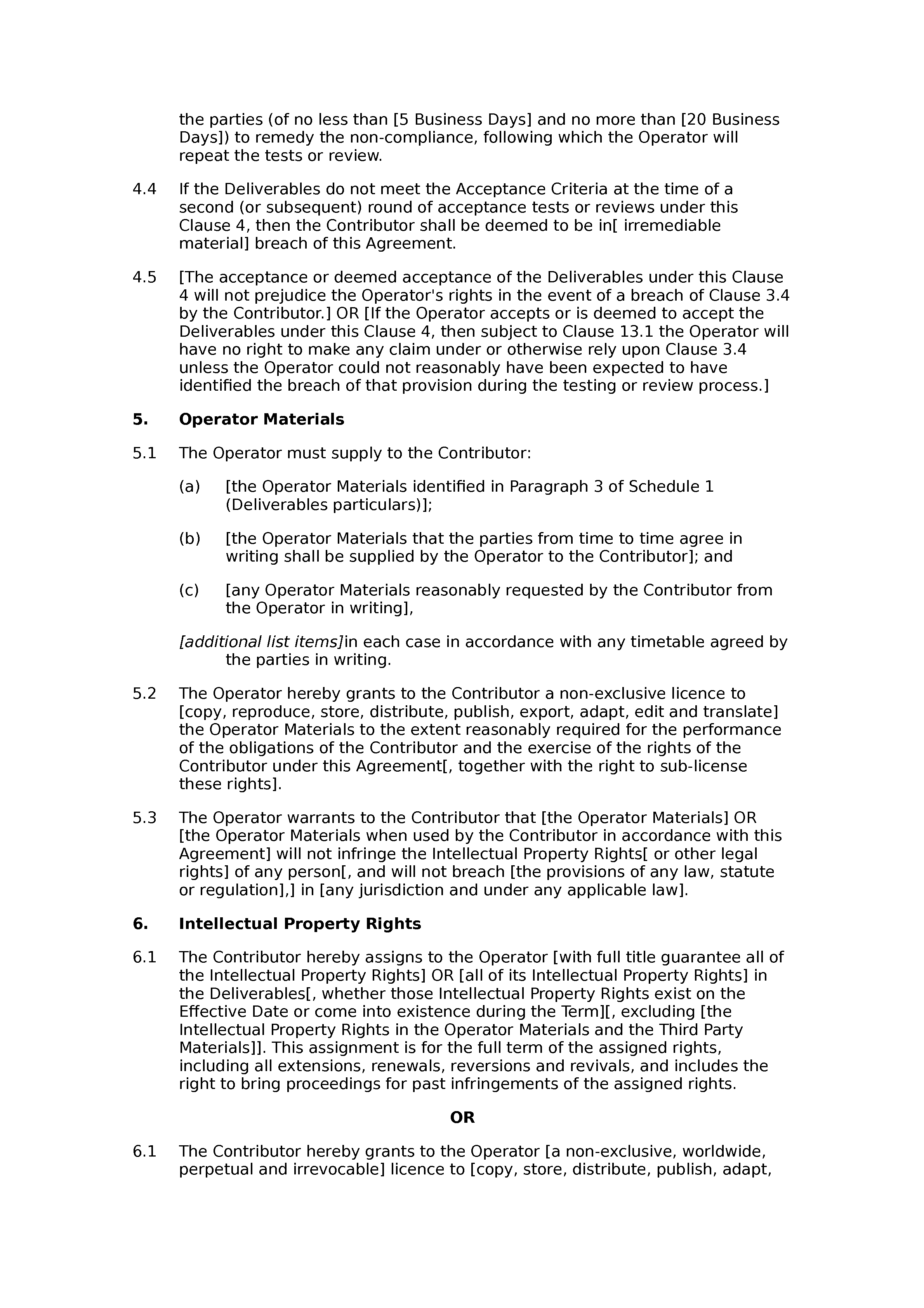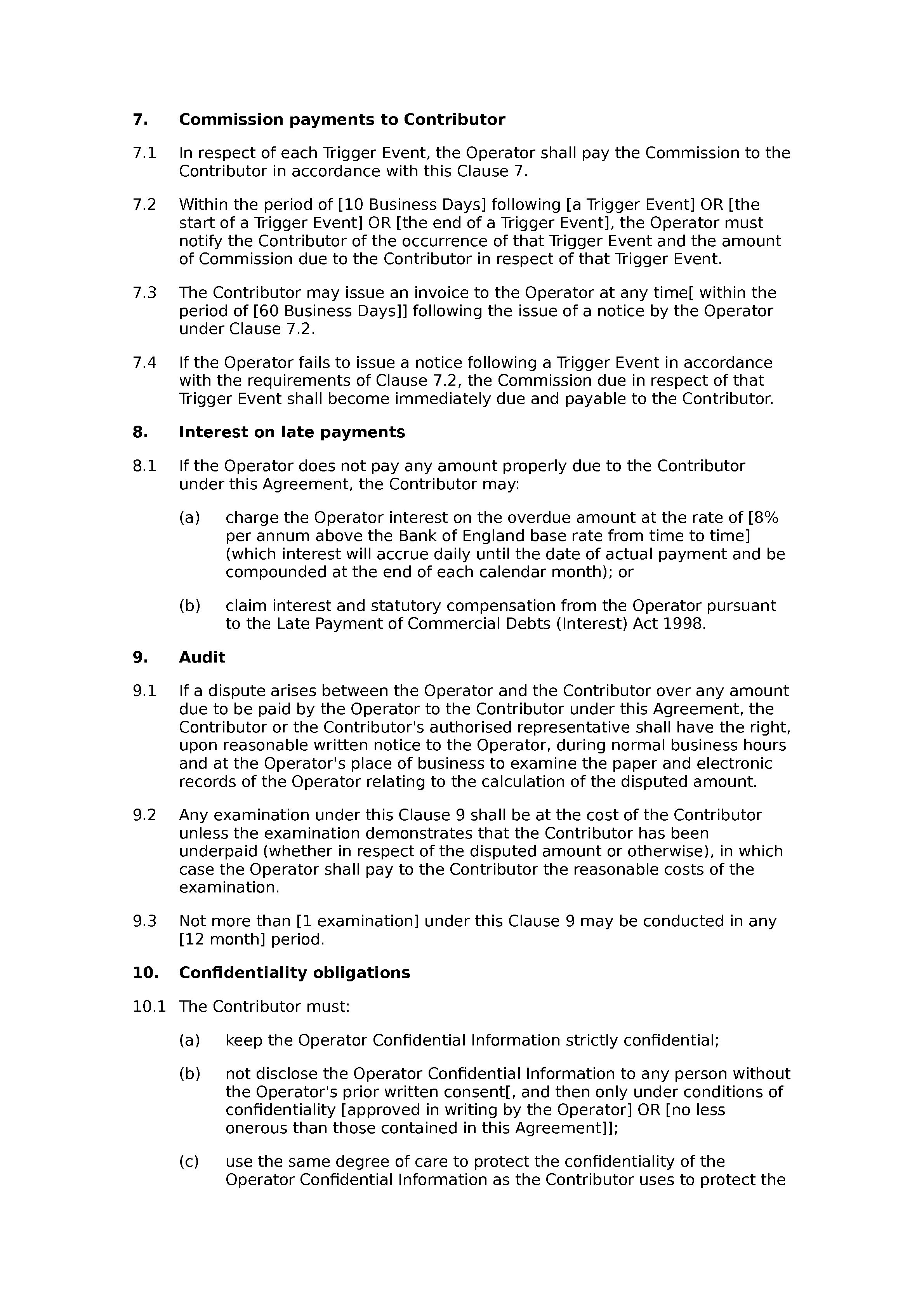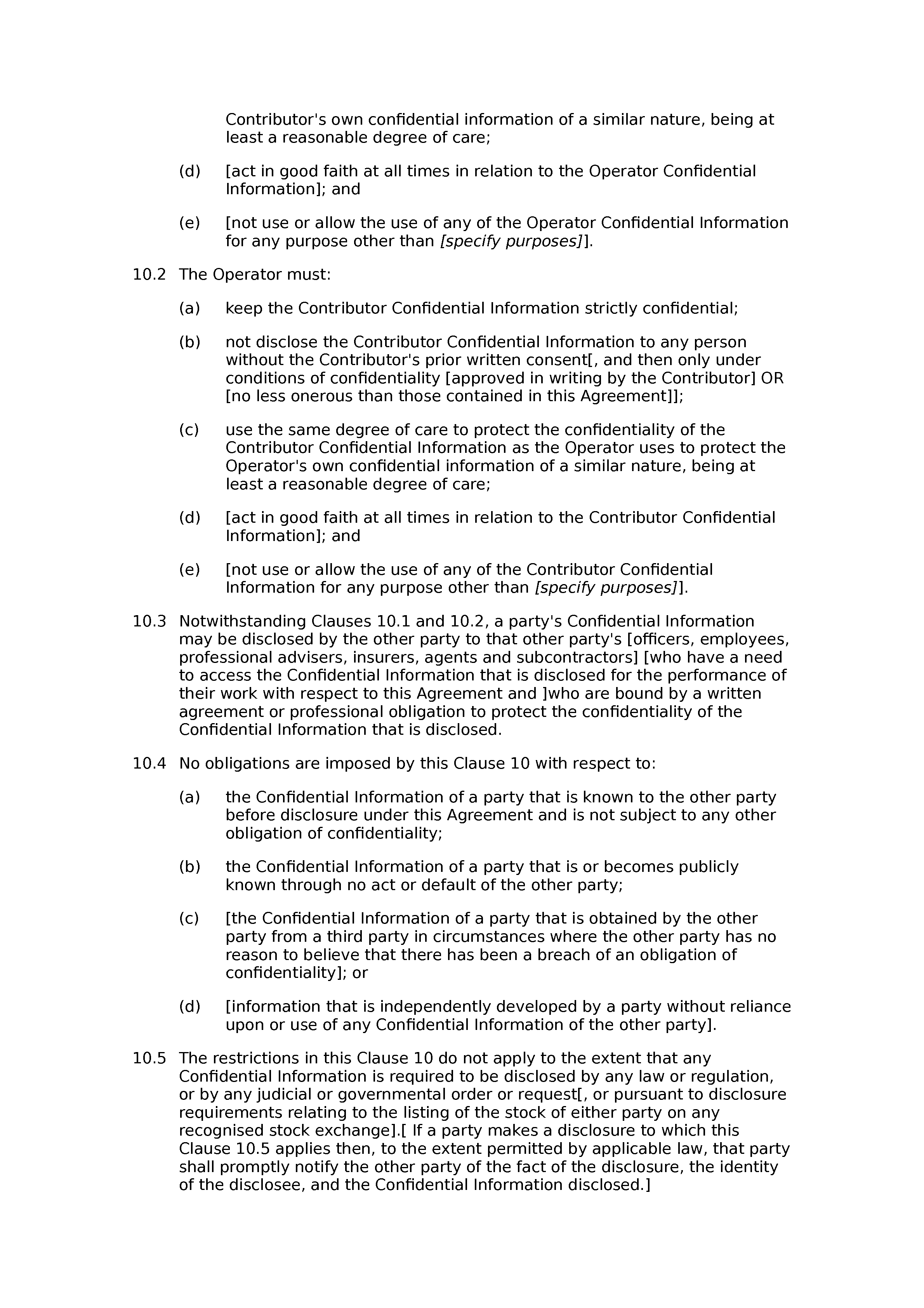 This is a shortened preview of the DOCX output; once you create your instance you'll be able to download the full document in PDF, HTML, RTF and/or DOCX (Microsoft Word) format.