App EULA
This end user licence agreement (EULA) has been designed for software developers that publish applications for smartphones and similar devices. It can be used for both B2B and B2C software, and for both free and paid software, subject to the comments below on cancellation rights.
The vast majority of smartphone apps are delivered to users through a distribution platform, such as the Google Play store. The distribution platform terms and conditions will typically have an impact upon the legal relationship between the developer on the one hand and end users on the other. For instance, the developer may be required to license the smartphone app to end users on defined terms.
Optional clauses are included covering cloud services, maintenance services and support services.
The services that may be provided in connection with the software (cloud services, support and so on) are specified to be provided during the term of the contract. Accordingly, if the contract is terminated, the services will terminate, although the licence of the software may (eg if specified as perpetual) continue after termination.
This document has been drafted with one eye upon the Google Play Terms and Conditions and the Google Play Developer Distribution Agreement. Notwithstanding this drafting approach, it is perfectly possible to edit this EULA in such a way that it no longer complies the the requirements of the Google legal documents. You should therefore familiarise yourself with those documents before editing. For relevant Google documentation, see:
https://play.google.com/intl/en_uk/about/play-terms/index.html
https://play.google.com/intl/ALL_uk/about/developer-distribution-agreement.html
The EULA assumes that all terms and conditions relating to charges and payments (including in relation to initial purchases, subscriptions, in-app purchases, in-app-subscriptions and independent subscriptions) will be set out elsewhere. Provisions relating to charges and payments in respect of initial purchases and in-app transactions are typically covered in the relevant app store terms and conditions.
In addition, this EULA assumes that consumer rights to cancel distance contracts will be covered elsewhere, for instance as in the Google Play Terms and Conditions.
In respect of personal data of users processed by the licensor, the EULA assumes that the licensor will be a data controller rather than a data processor. If the licensor will act as a data processor, the EULA should be supplemented by a data processing agreement or addendum.

Ask about this document
App EULA contents
Definitions: definitions.
Term: commencement of term; end of term (indefinite or subscription).
App Stores: application of app store terms and conditions; conflict with app store terms and conditions;

Licensor

benefits from app store terms and conditions; matters covered by the app store terms and conditions; rights of app store operator.
Licence: grant of licence to use app; licence for app use by family group; no sub-licensing of software with optional exceptions; software licence prohibitions.
Source Code: no licence of source code.
Hosted Services: grant of licence to use hosted services via software; prohibitions on the use of the hosted services as per software prohibitions; availability of hosted services; no damaging use of hosted services; no unlawful use of hosted services; software liability limitations apply to hosted services.

User

Data: licence of

User

data; warranties relating to

User

data.
Maintenance Services: maintenance services provision (no obligation); obligation to apply updates and upgrades; consequences of failure to apply update or upgrade; upgrades may be chargeable.
Support Services: discretion to provide support services; support services provision; helpdesk obligation for support services; support services to be provided remotely; support services responses to be prompt; specific exceptions to support services; no guarantees in relation to support services.
Privacy policy: personal data processed subject to privacy policy.
No assignment of Intellectual Property Rights: no assignments of intellectual property rights.
Suspension of Services: suspension of services.

User

indemnity:

User

indemnifies

Licensor

upon breach.
Warranties: first party warranty of authority; software intellectual property infringement warranty; breach of software infringement warranty; second party warranty of authority; exclusion of implied warranties and representations.
Acknowledgements and warranty limitations: software not error free; software not entirely secure; no legal etc advice with software.
Limitations and exclusions of liability: caveats to limits of liability (B2B or B2C); interpretation of limits of liability; no liability for force majeure; no liability for loss of profits; no liability for loss of revenue; no liability for loss of opportunities; no liability for loss of data or software; no liability for consequential loss; per event liability cap upon services contract; aggregate liability cap upon services contract.
Termination: termination without cause by first party; termination without cause by second party; termination upon breach; termination upon insolvency; termination upon non-payment.
Effects of termination: surviving provisions upon termination; termination does not affect accrued rights.
General: no waiver; severability; variation written and signed; asymmetric variation; asymmetric assignment of contractual rights (B2B, B2C or mixed); no third party rights; entire agreement: documents; governing law; exclusive jurisdiction.
Export control: application of export laws; compliance with export laws; specific export control compliance obligations.
Interpretation: statutory references; section headings not affecting interpretation; calendar month meaning; no ejusdem generis.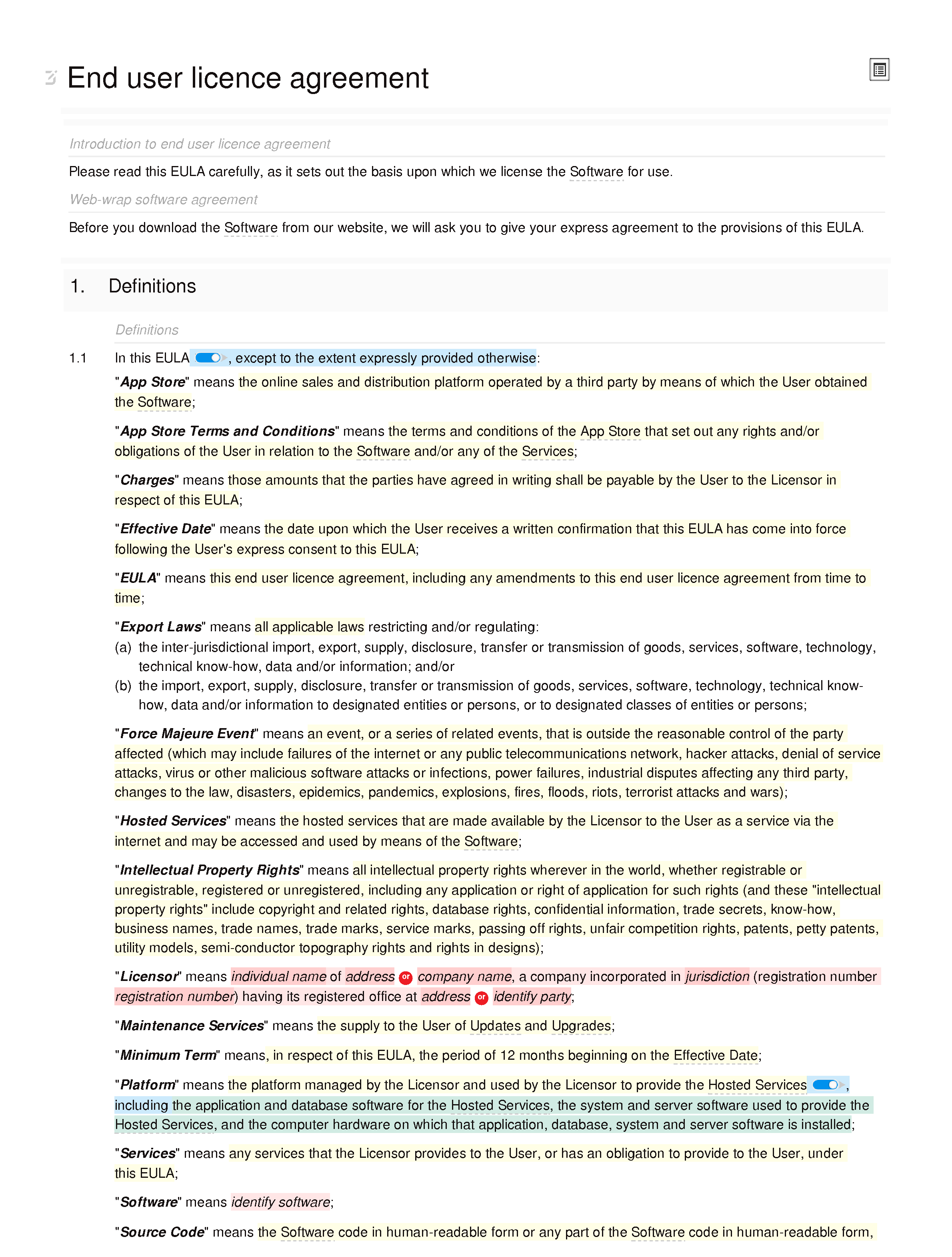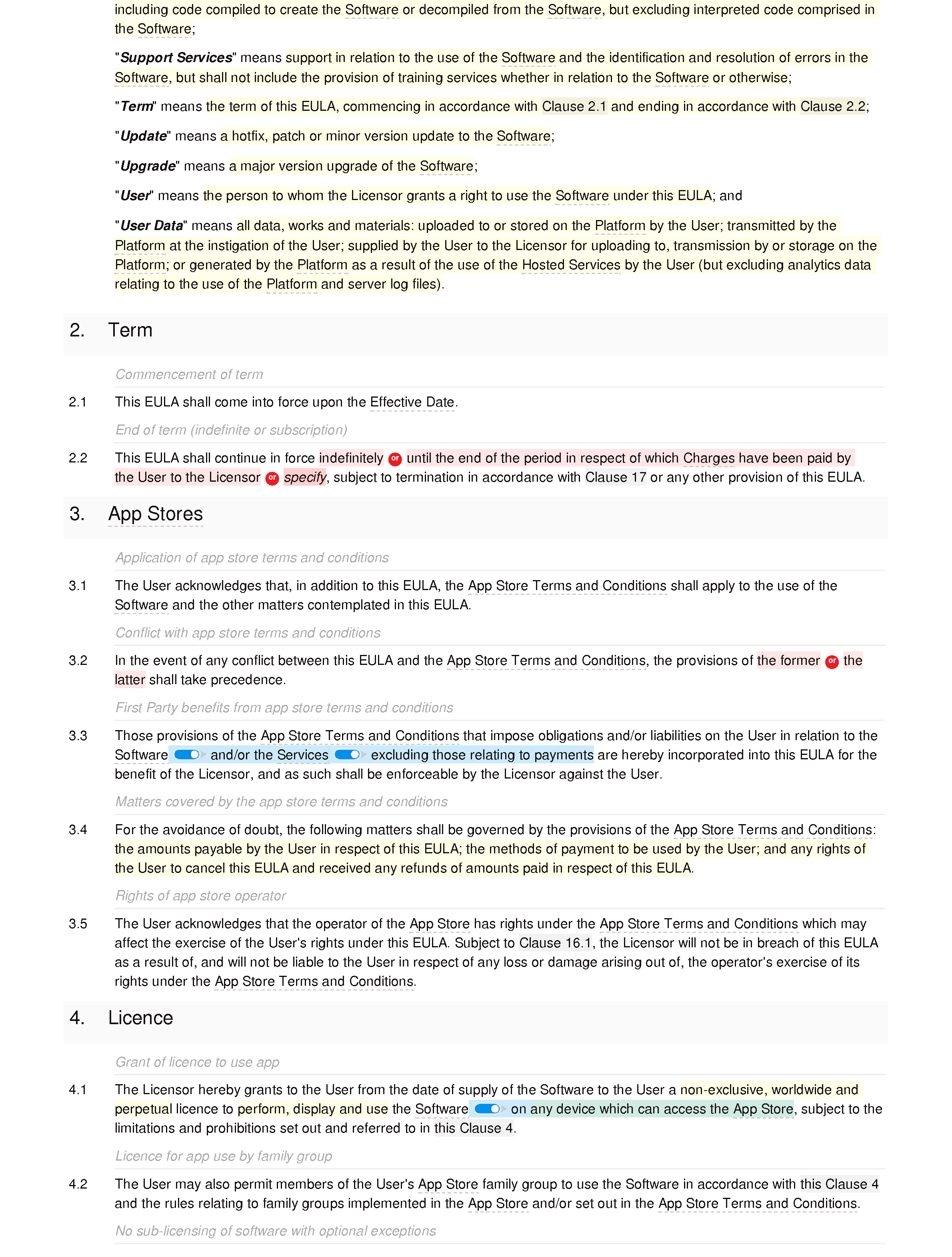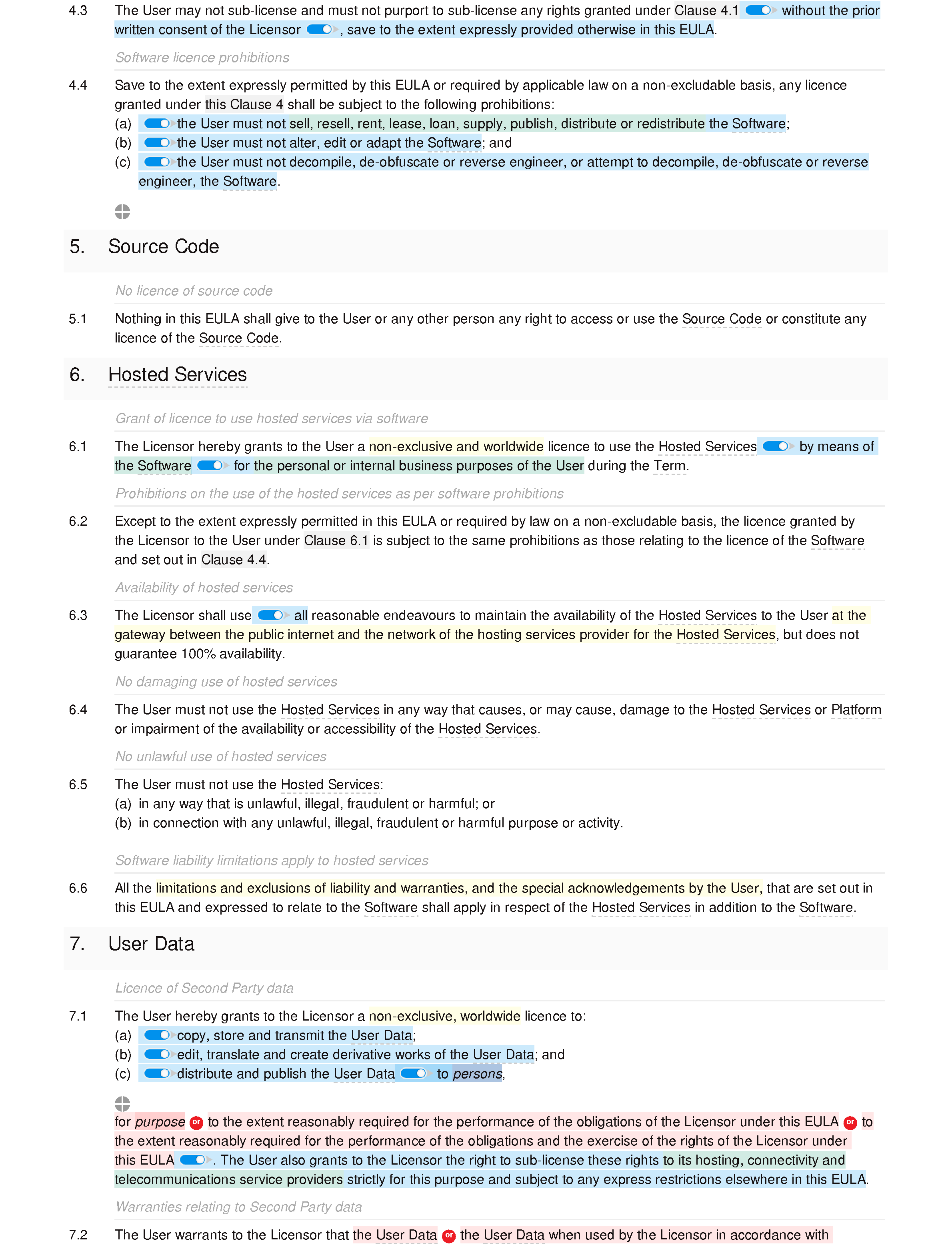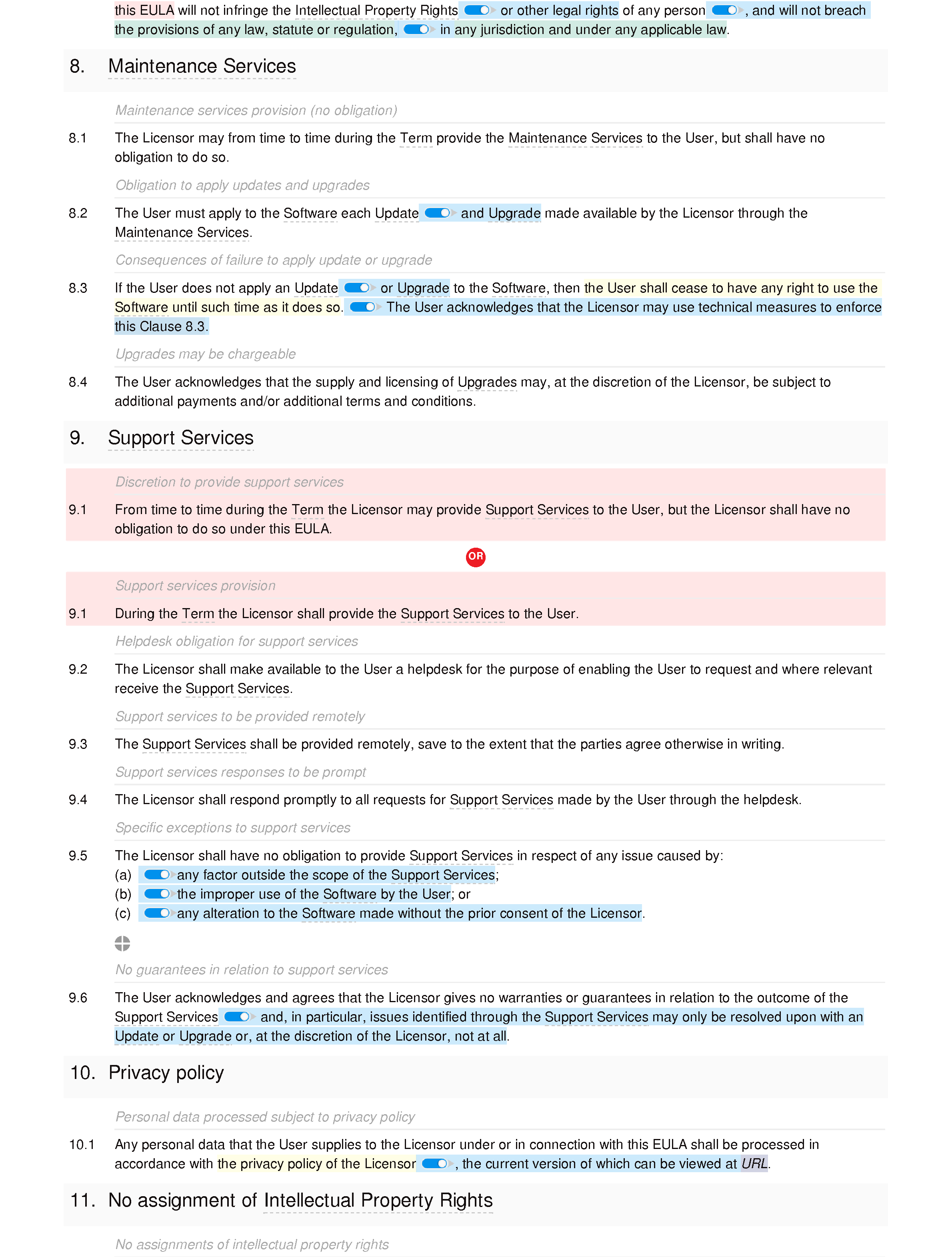 This is a shortened preview of the editor interface; once you create your instance you'll be able to edit the full document in our online editor.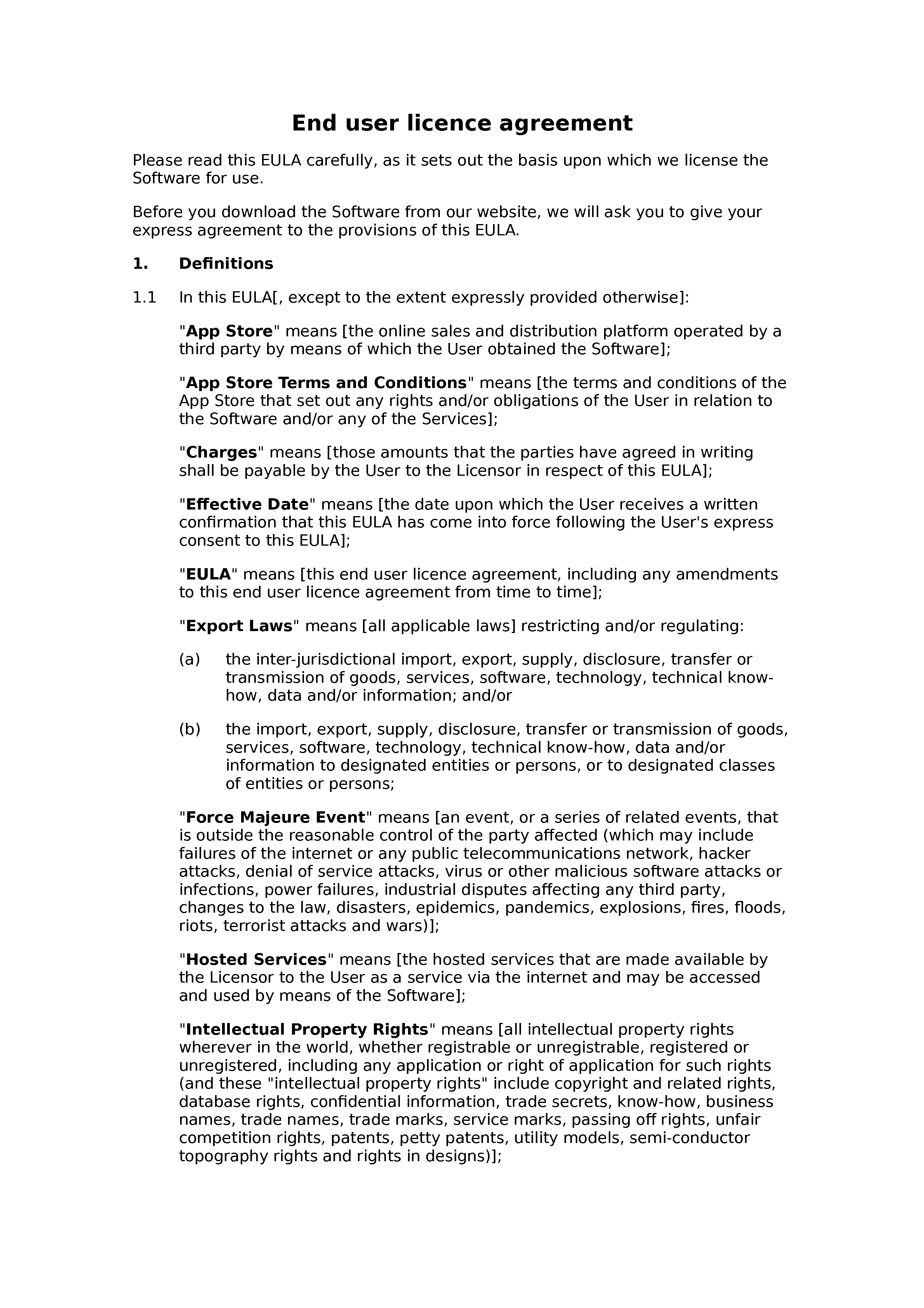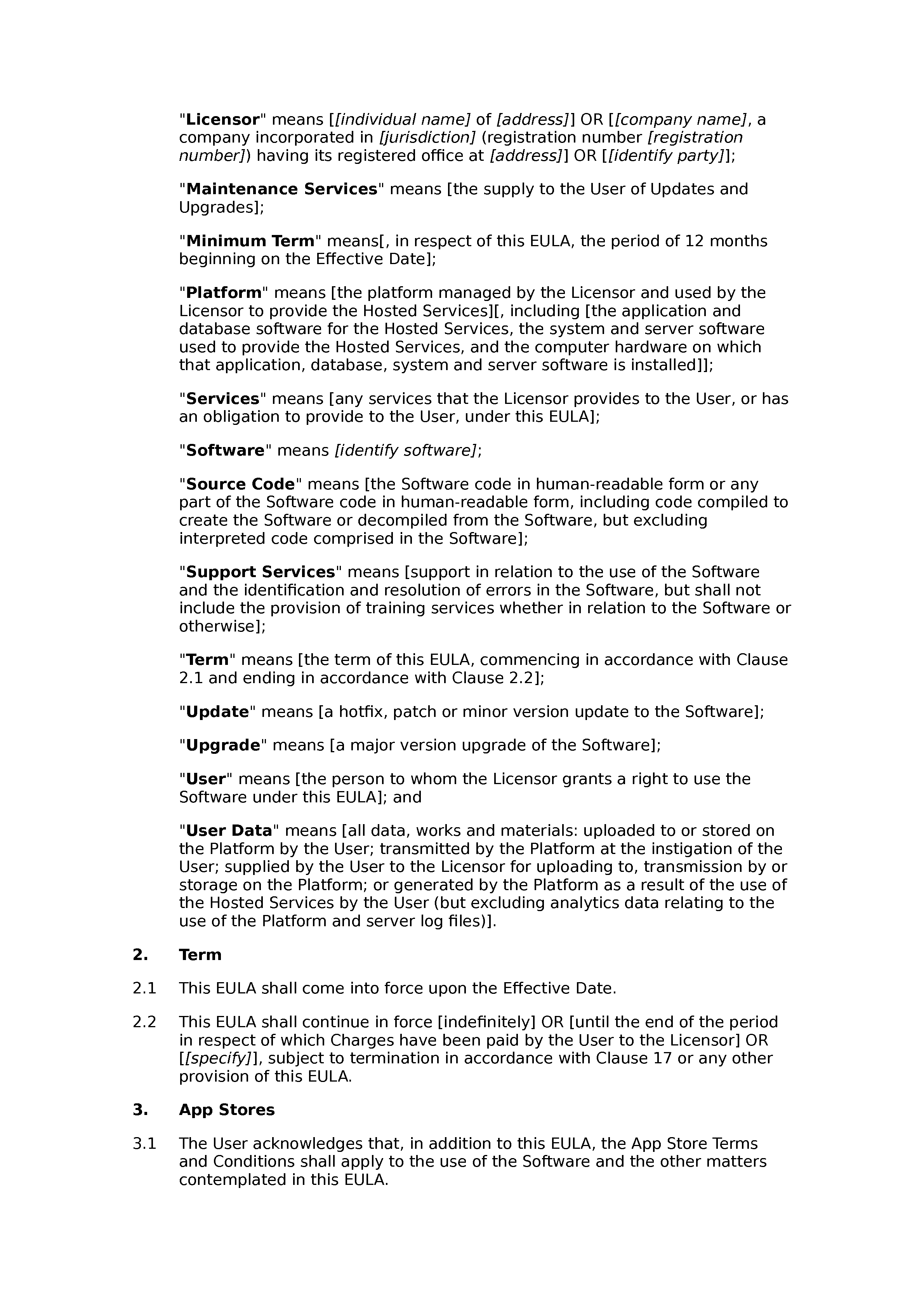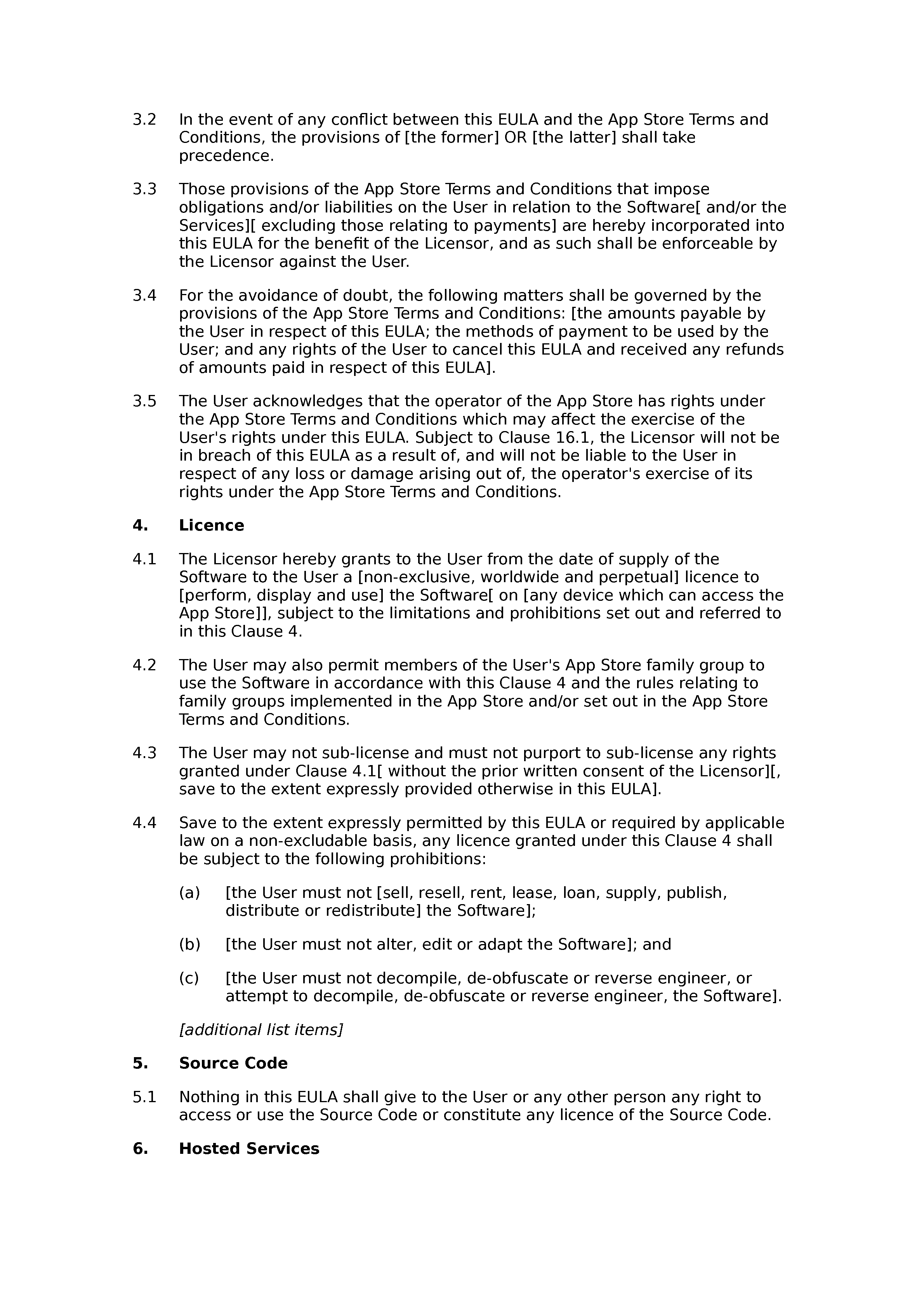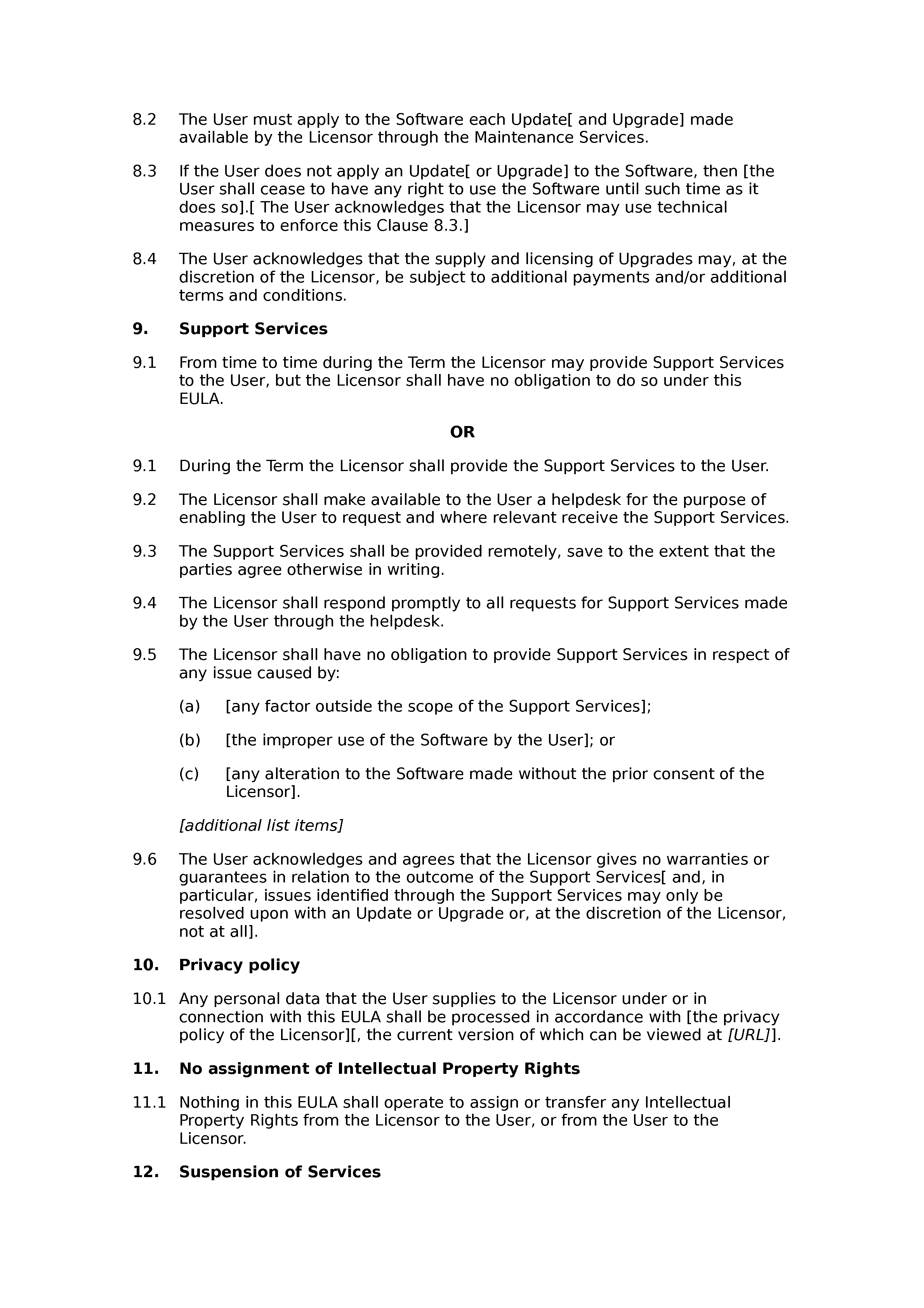 This is a shortened preview of the DOCX output; once you create your instance you'll be able to download the full document in PDF, HTML, RTF and/or DOCX (Microsoft Word) format.