Referral partner agreement
Under this referral partner agreement, a service provider may appoint another business to refer customers. In exchange for each referral, the service provider will pay commission to the referral partner.
The agreement assumes that the service provider will operate some kind of referral tracking system, and that commission will be payable in respect of customers attributed to the referral partner by that system. There may be limitations on the partner's rights; for example, where a prospective customer is already attributed to a third party.
This document is not suitable for use in relation to agency-type relationships; nor is it suitable for commission payments in respect of the supply of goods or products.
NB The "referral partner" referred to in the agreement is not a partner in the technical legal sense.

Ask about this document
Referral partner agreement contents
Definitions: definitions.
Term: commencement of term; end of term.
Referrals: appointment of

the Partner

as referral partner; right or obligation to market

Provider

services; procedure for referrals; right to reject referral registration; compliance with law relating to referrals.
No exclusivity: no referrals exclusivity for

the Partner

.
Licence of

Provider

Trade Marks: licence to use trade marks; sub-licensing of rights to use trade marks; trade mark style guide; standard of use of trade marks; use of trade mark symbols; prohibition on actions liable to damage trade marks; restrictions relating to similar trade marks; goodwill in trade marks; trade marks further assurance; exceptions to territorial restrictions in trade mark licence; specific request to cease use of trade marks; right to make reasonable demands in relation to use of trade marks; identify trade mark licensor on each public use; no assignment of trade marks; no implied rights to trade marks; trade marks upon termination.

Partner

obligations:

Partner

not agent etc; protection of first party reputation and goodwill.
Commission: obligation to pay commission upon referral; notice of commission payable in respect of referrals; issue of invoice for commission; time for payment of commission following invoice; referral commission after termination.
Interest: interest on late payments.
Audit: right of audit in case of disputed payment; costs of audit; limits on audit right.
Confidentiality obligations:

Provider

confidentiality undertaking;

Partner

confidentiality undertaking; disclosure of confidential information to certain persons; exceptions to confidentiality obligations; disclosures of confidential information mandated by law etc; parties to stop using confidential information upon termination; parties to delete confidential information following termination; confidentiality obligations after termination.
Publicity: limited public disclosures; limited public disclosures by

Provider

; limited public disclosures by

Partner

; confidentiality obligations overriding.
Warranties: first party warranty of authority; second party warranty of authority; exclusion of implied warranties and representations.
Indemnities: indemnity (flexible, with definition); conditions upon first party indemnity; indemnity (flexible, with definition); conditions upon second party indemnity; limitations of liability vs indemnities.
Limitations and exclusions of liability: caveats to limits of liability; interpretation of limits of liability; no liability for loss of profits; no liability for loss of revenue; no liability for loss of use; no liability for loss of opportunities; no liability for loss of data or software; no liability for consequential loss.
Termination: termination without cause (optionally asymmetric); termination by either party without cause; termination upon breach; termination upon insolvency.
Effects of termination: surviving provisions upon termination; termination does not affect accrued rights.
Non-solicitation of personnel: non-solicitation of employees by second party; non-solicitation of employees by first party.
Notices: methods and deemed receipt of contractual notices; contact details for contractual notices; substitute contact details for notices.
No partnership: no partnership.
General: no waiver; severability; variation written and signed; no assignment without written consent; no third party rights; entire agreement; governing law; exclusive jurisdiction.
Interpretation: statutory references; section headings not affecting interpretation; calendar month meaning; no ejusdem generis.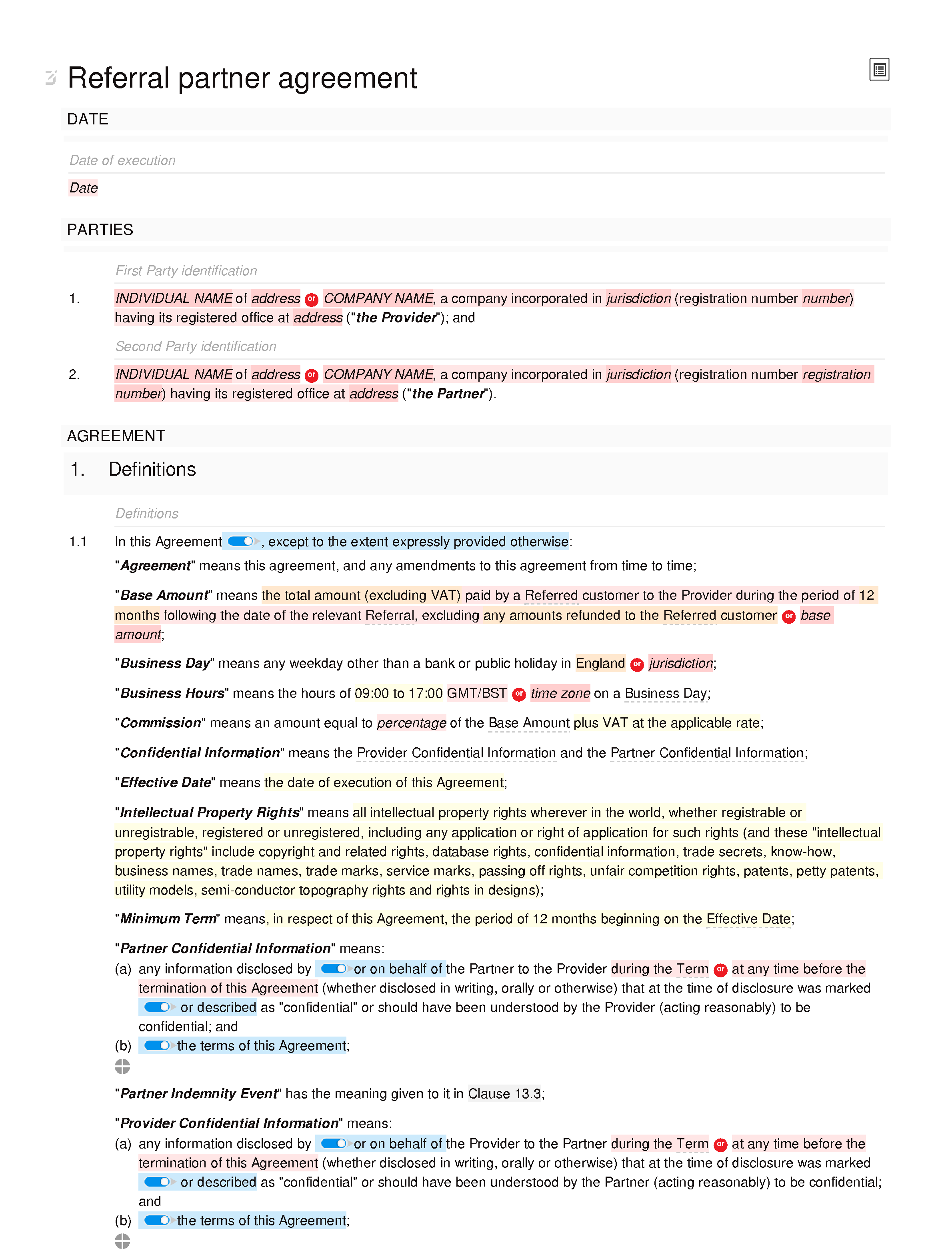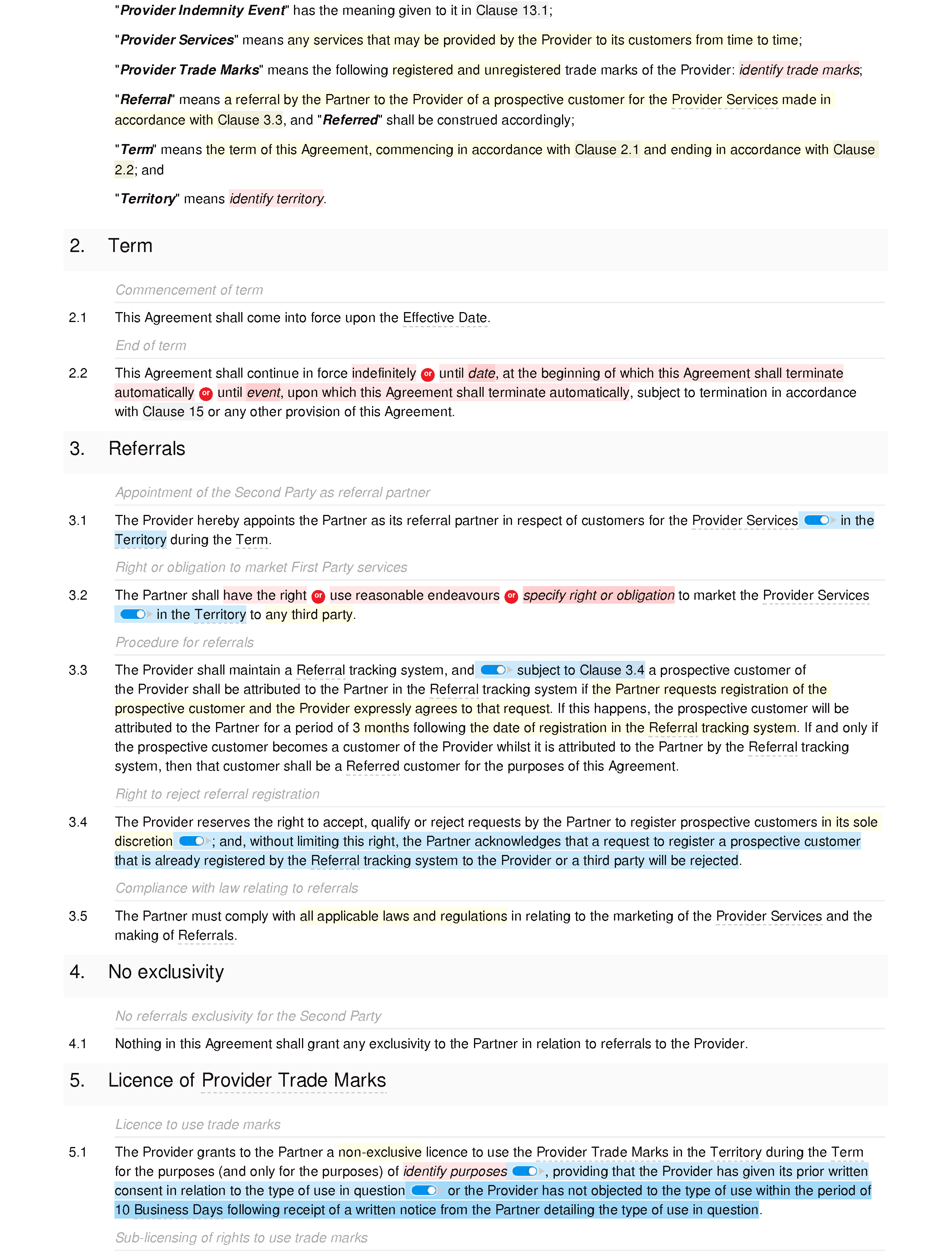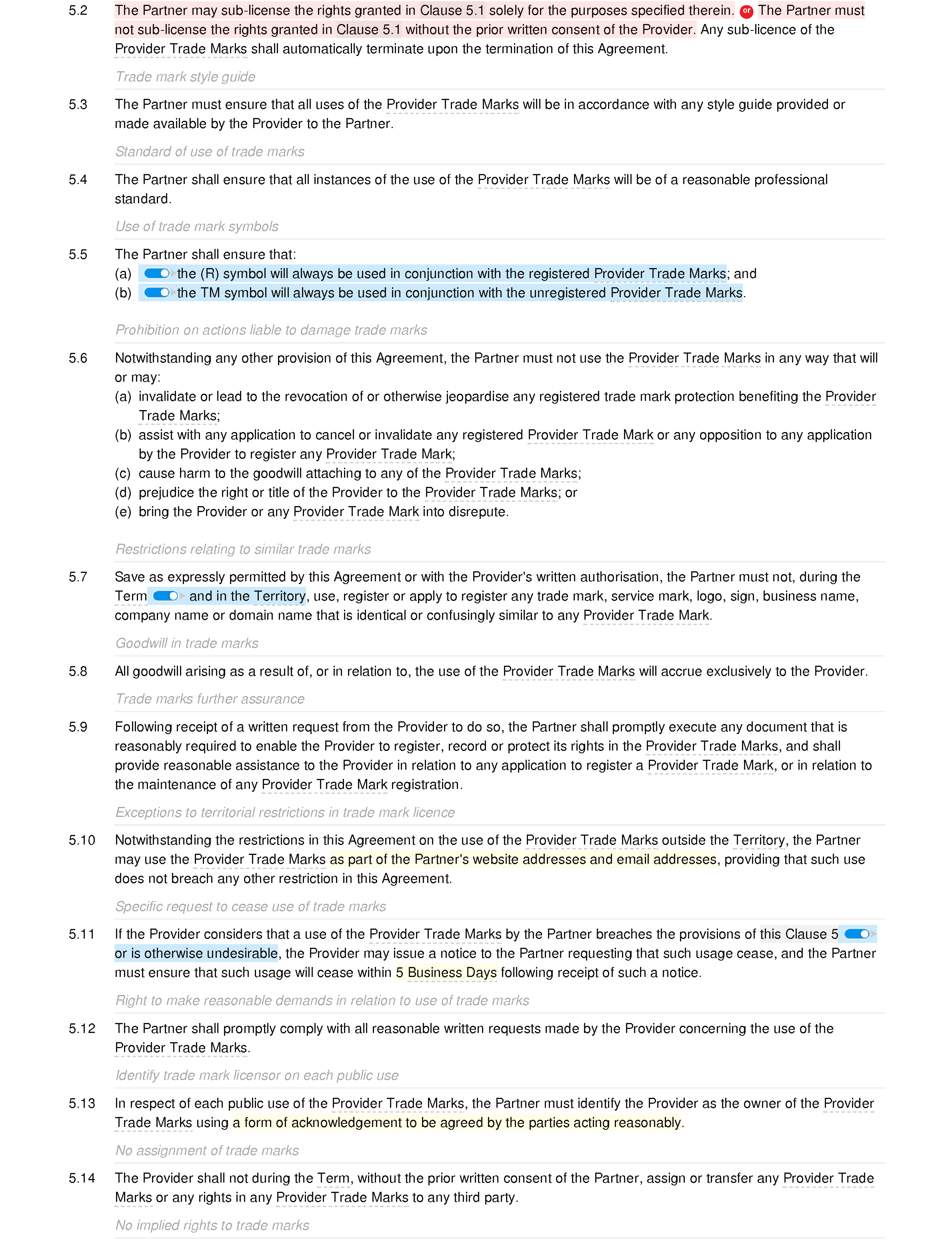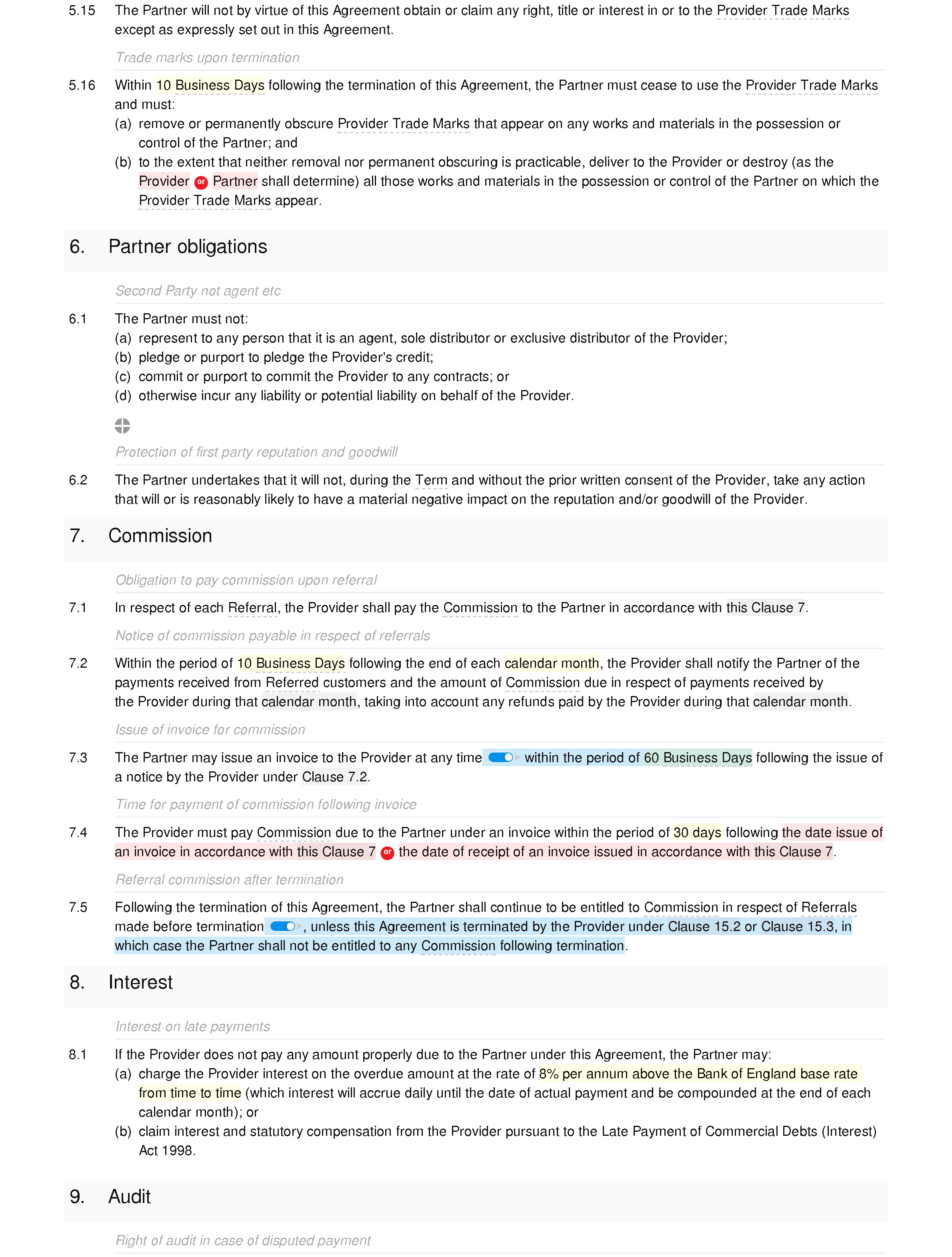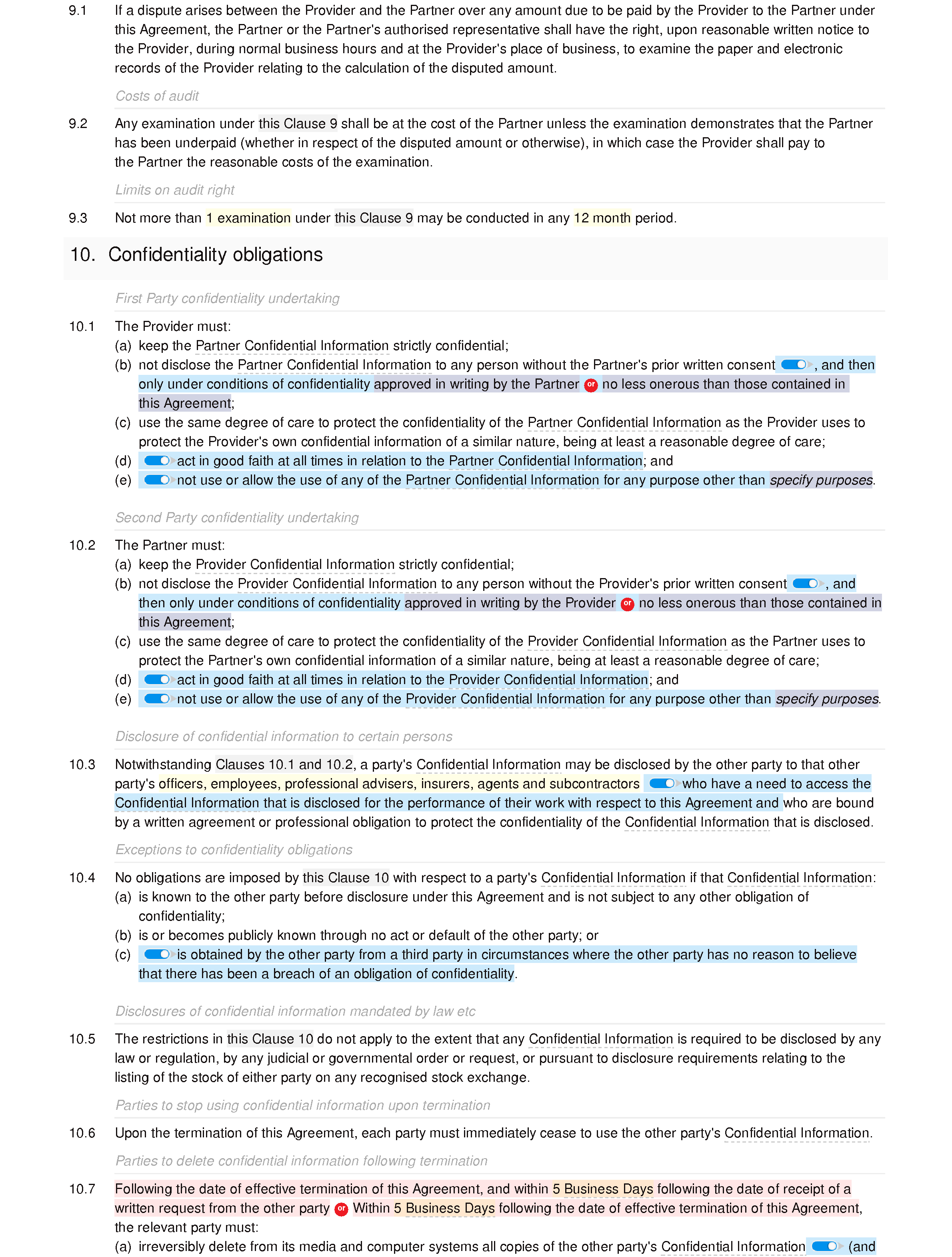 This is a shortened preview of the editor interface; once you create your instance you'll be able to edit the full document in our online editor.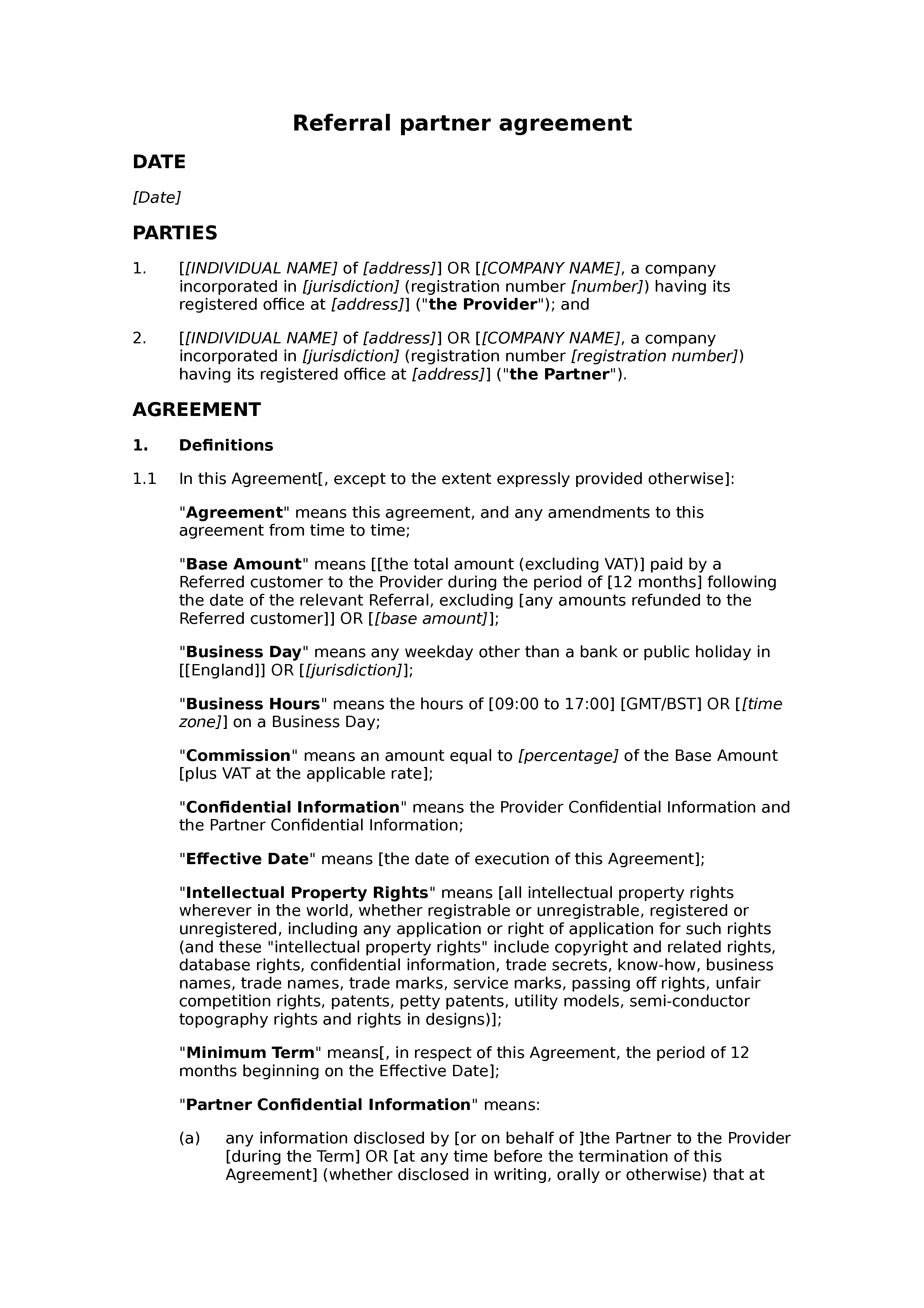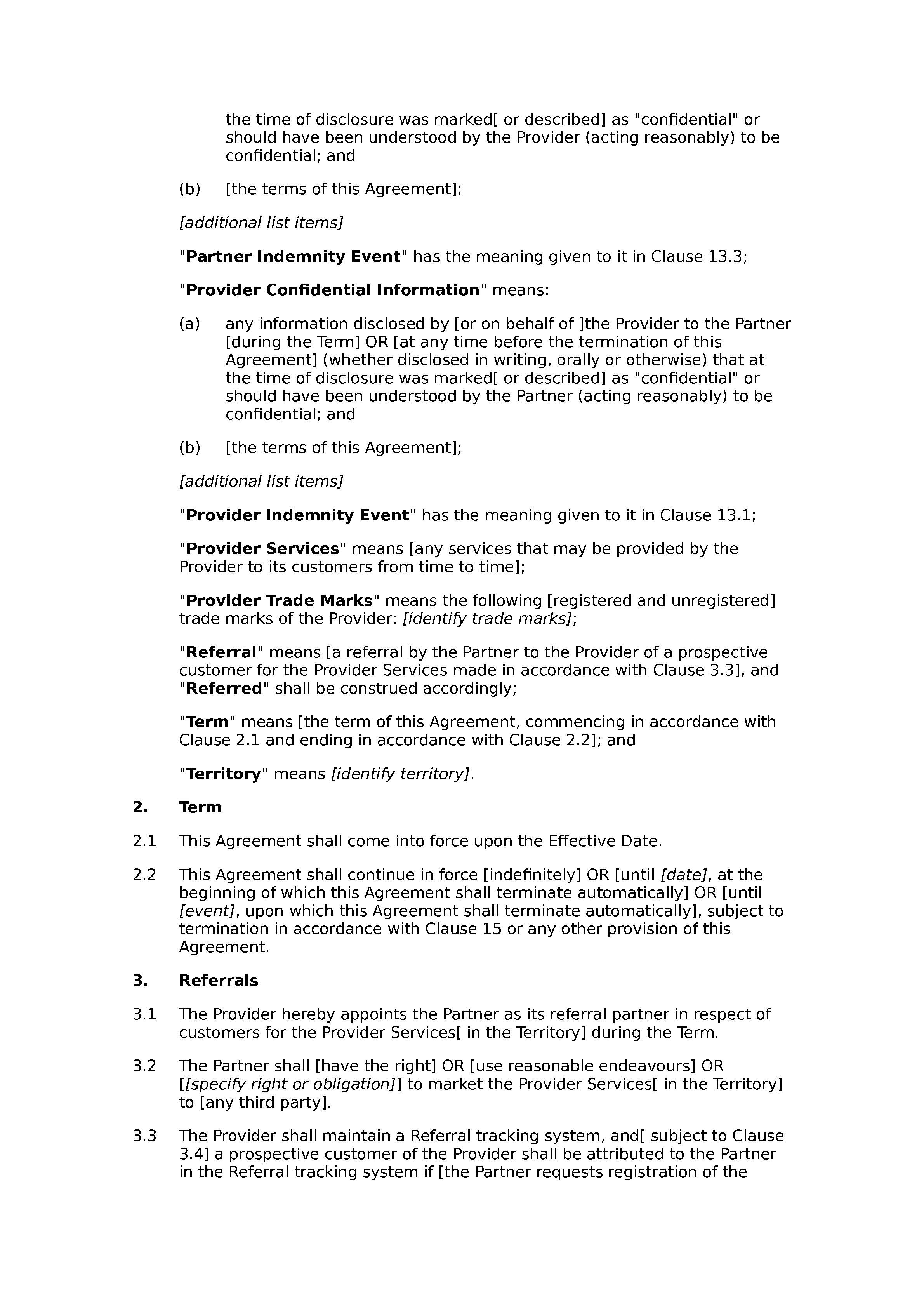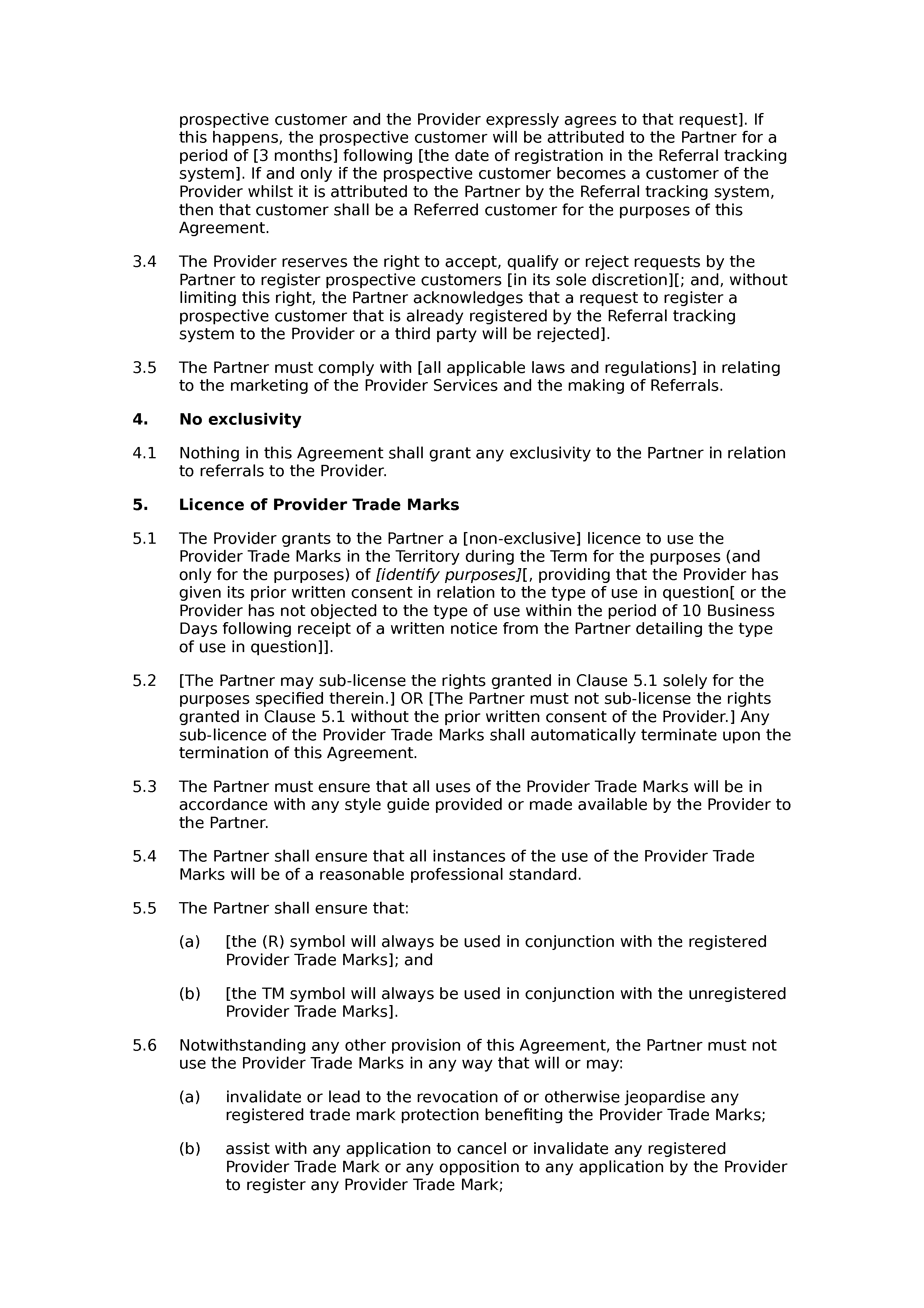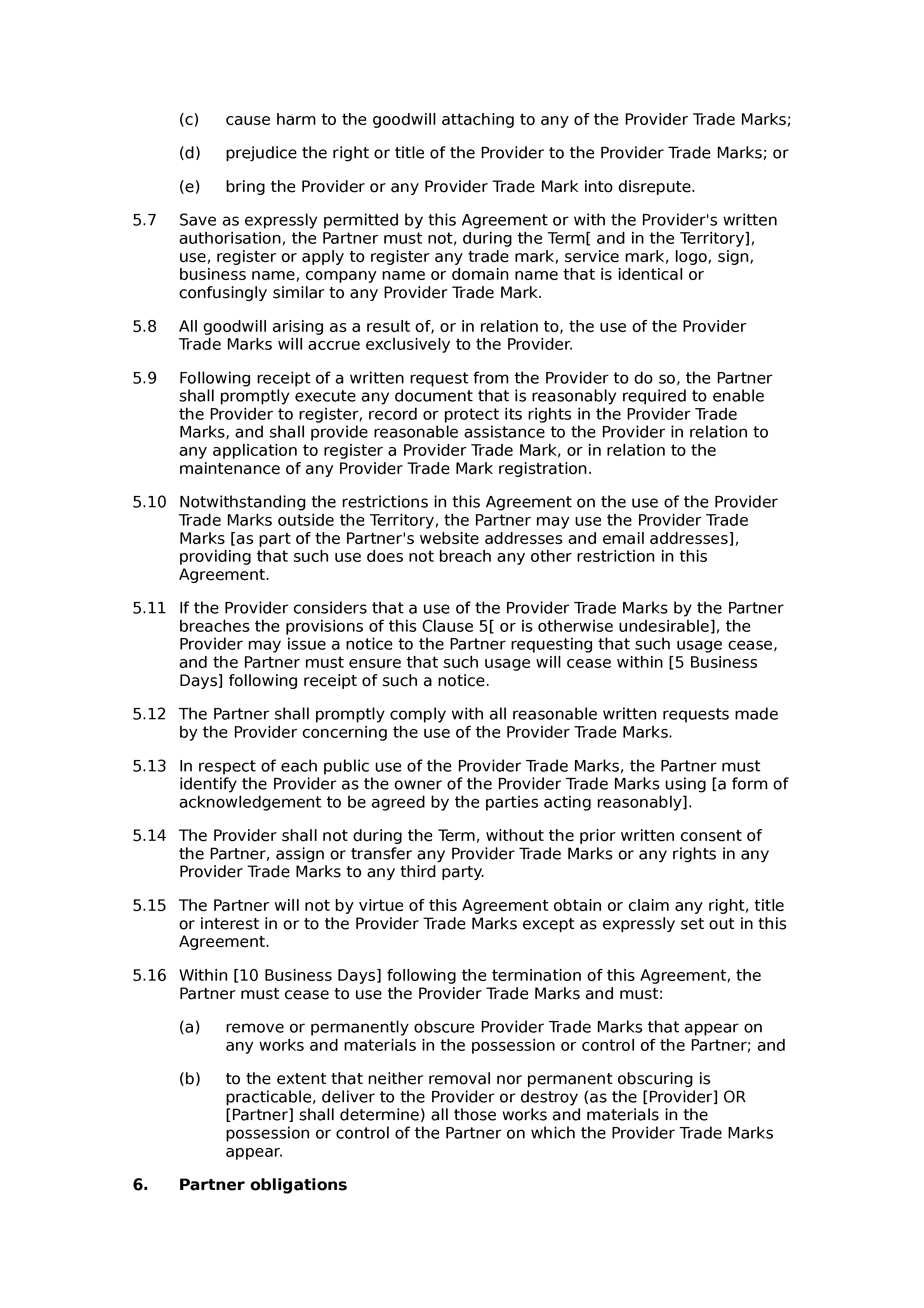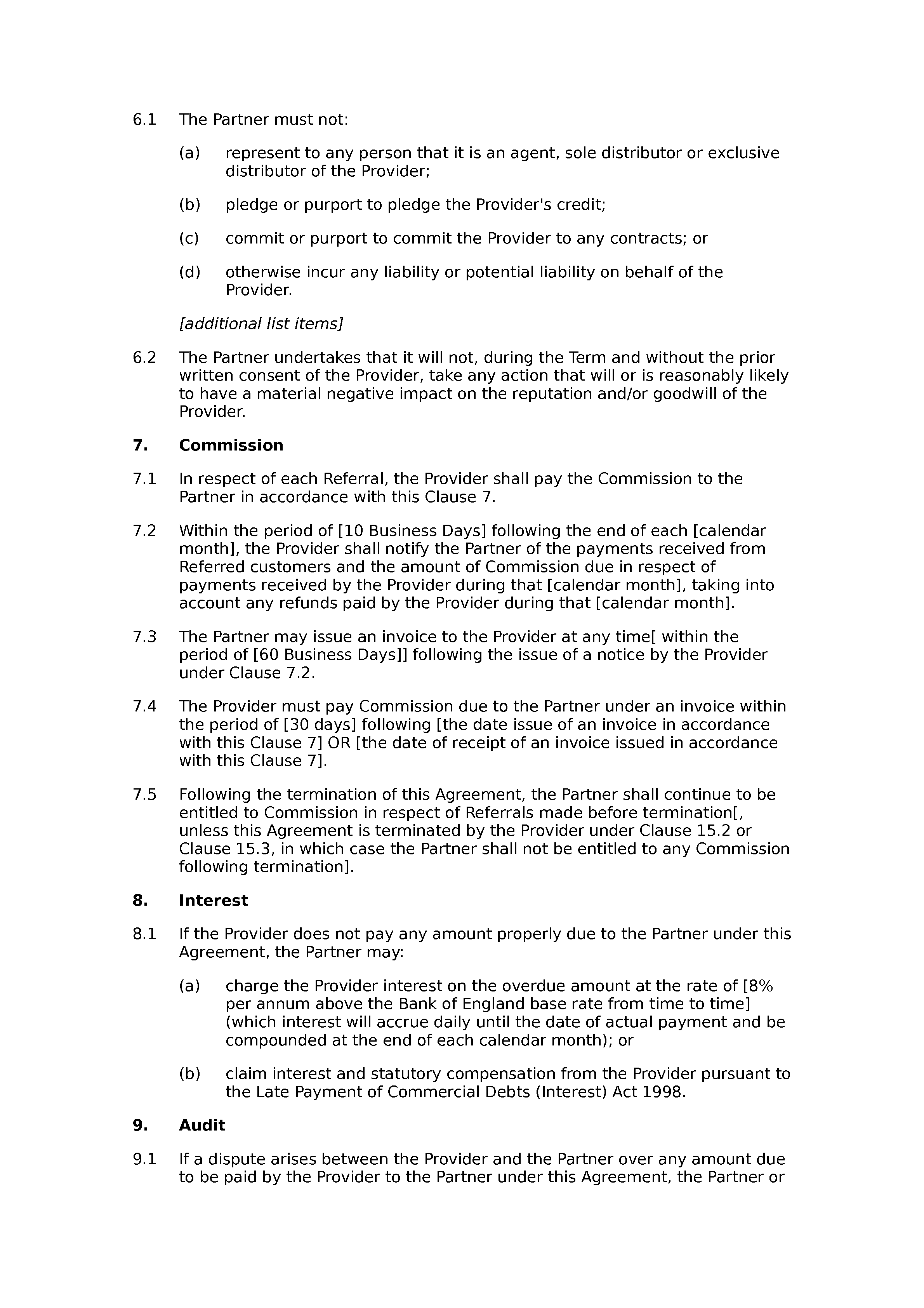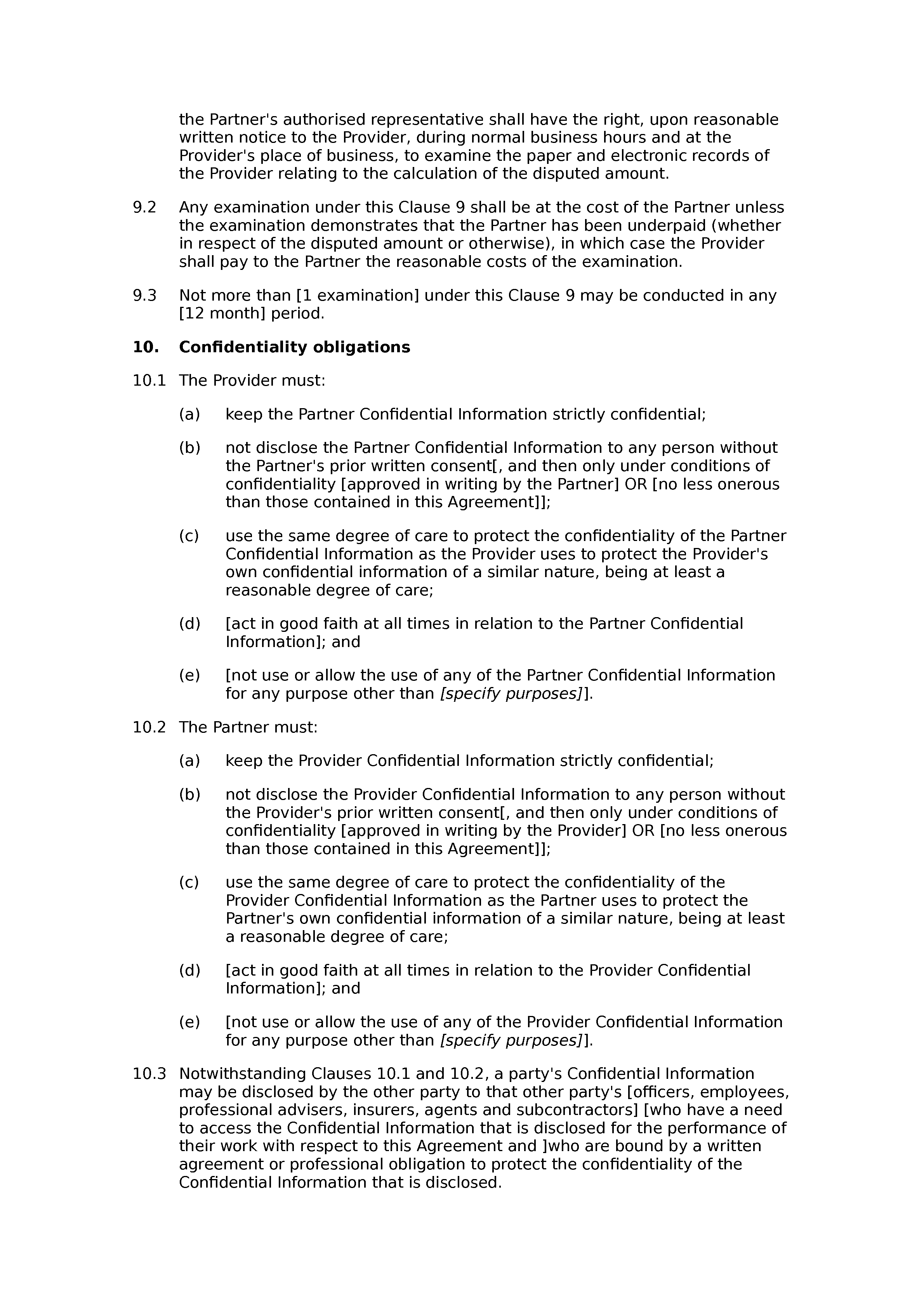 This is a shortened preview of the DOCX output; once you create your instance you'll be able to download the full document in PDF, HTML, RTF and/or DOCX (Microsoft Word) format.