Assignment of intellectual property rights
This document can be used to assign intellectual property rights - in other words, to transfer ownership of the intellectual property rights from one person to another.
Those rights may be registered and/or unregistered rights. Registered rights include trade marks, patents and registered design rights. Unregistered rights include copyright and database rights.
The rights may be assigned with or without a title guarantee. The default assignment wording covers "extensions, renewals, reversions and revivals", as well as rights in relation to past infringements. There is also an optional waiver of moral rights.
This assignment template incorporates a nominal consideration clause. This clause may be required to ensure that an assignment is enforceable under English law where there is no quid pro quo. Alternatively, such assignments can be executed as deeds.
An assignment of registered intellectual property rights should usually itself be registered with the appropriate authorities. For instance, an assignment of a UK registered trade mark should be registered with the UK Intellectual Property Office using Form TM 16 (Application to record a change of ownership).

Ask about this document
Assignment of intellectual property rights contents
Definitions: definitions.
Consideration: consideration benefiting

Assignor

.
Assignment: assignment of intellectual property rights with full title guarantee option; assignment of owned intellectual property rights in works; assignment for full term of rights; assignment includes right to claim for past infringements.
Moral rights: warranty that rights of paternity in works have been waived; acknowledgement of assertion of right of paternity in works; assertion of moral right of paternity in works; warranty that right of integrity in works has been waived.
Warranties: first party warranty of authority; first party warranties relating to assignment IP; exclusion of implied warranties and representations.
Indemnity:

Assignor

indemnifies

Assignee

upon breach.
Limits upon exclusions of liability: caveats to limits of liability.
Further assurance: further assurance (intellectual property); assistance with registration of intellectual property rights; assistance with proceedings relating to assigned intellectual property.
General: no waiver; severability; variation written and signed; no assignment without written consent; no third party rights; entire agreement; governing law; exclusive jurisdiction.
Interpretation: statutory references; section headings not affecting interpretation; calendar month meaning; no ejusdem generis.
SCHEDULE 1 (INTELLECTUAL PROPERTY RIGHTS: IDENTIFICATION)
Assignment IP: registered rights: identification of registered intellectual property to be assigned.
Assignment IP: works: identification of unregistered intellectual property to be assigned.
Excluded IP: identification of intellectual property rights to be excluded from assignment.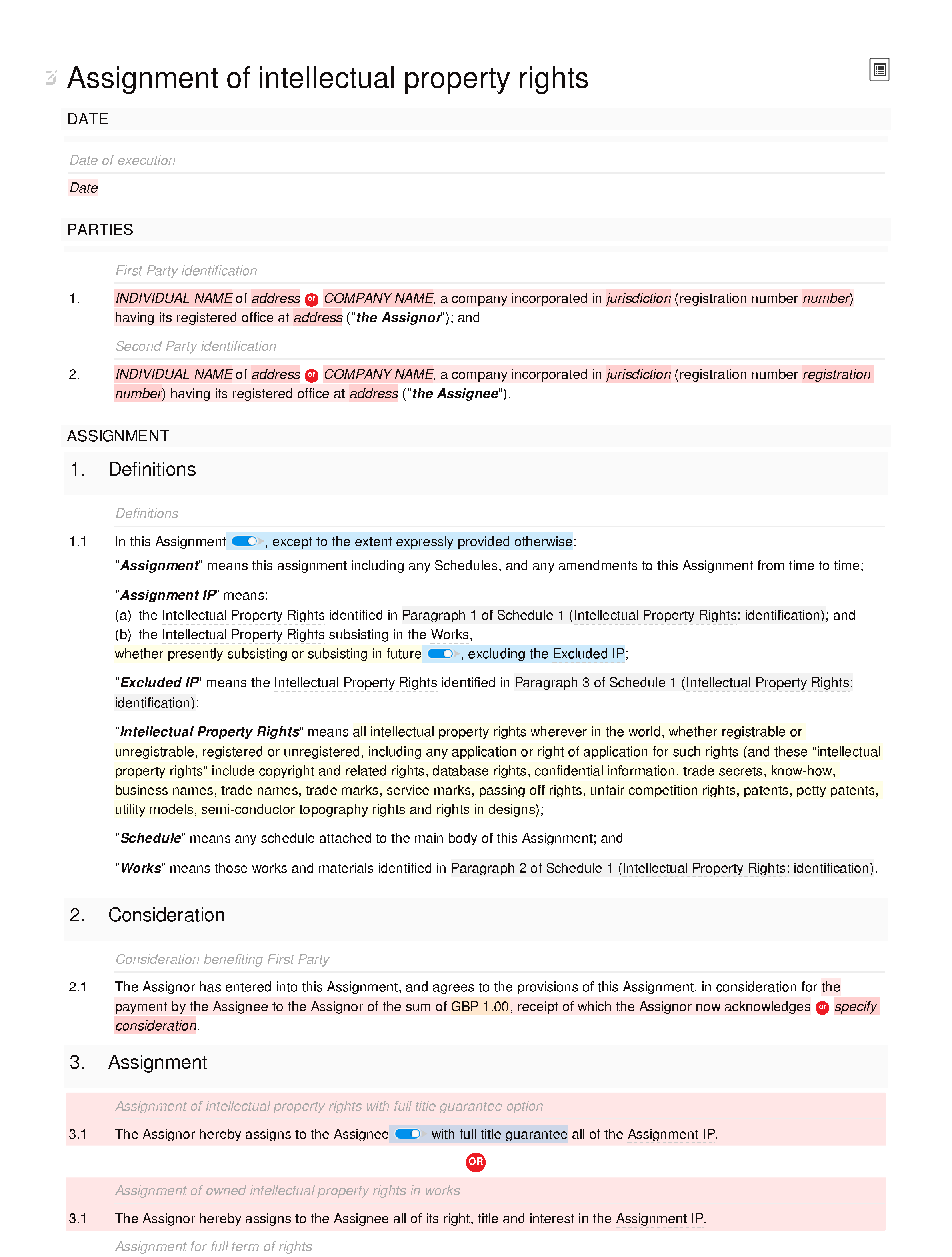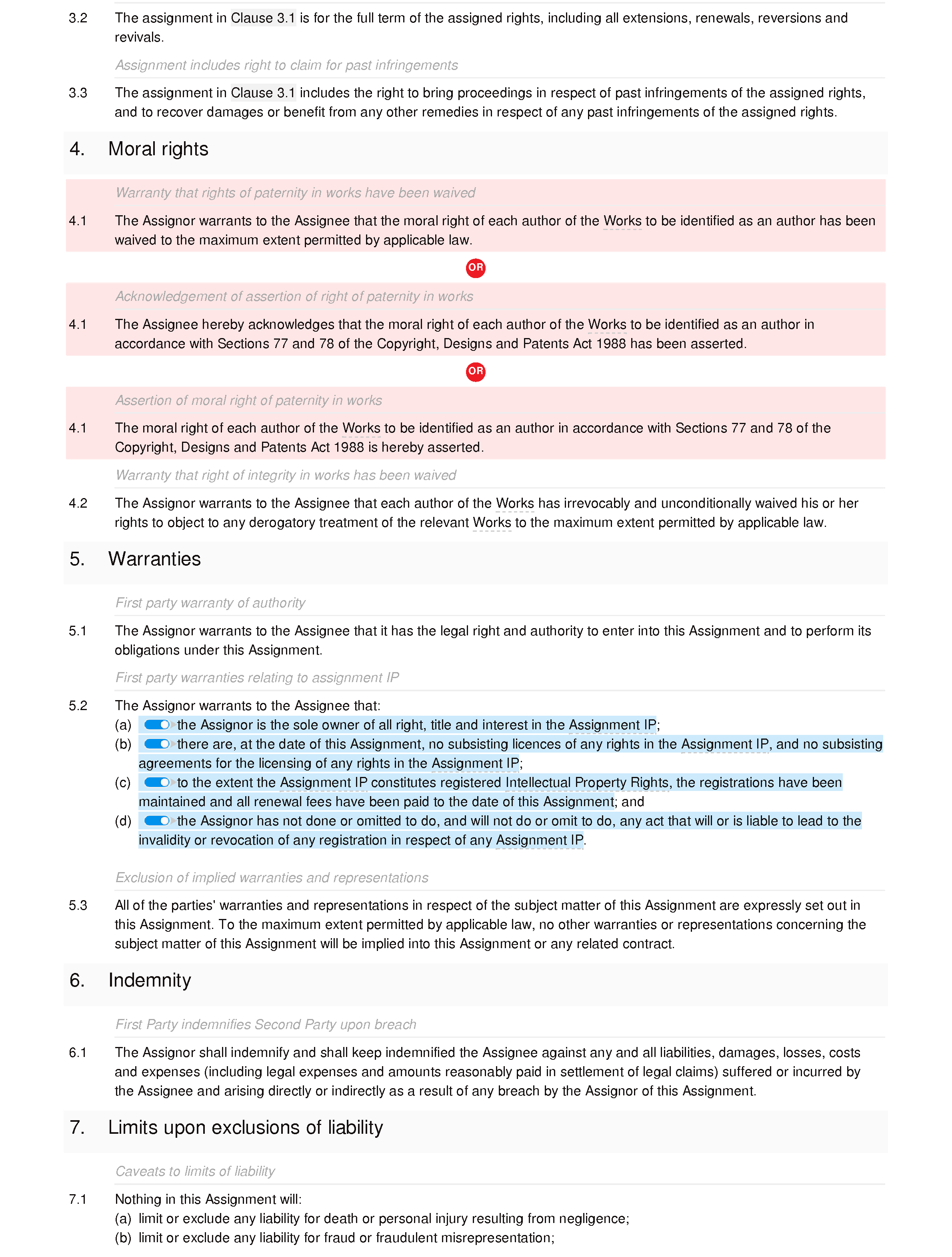 This is a shortened preview of the editor interface; once you create your instance you'll be able to edit the full document in our online editor.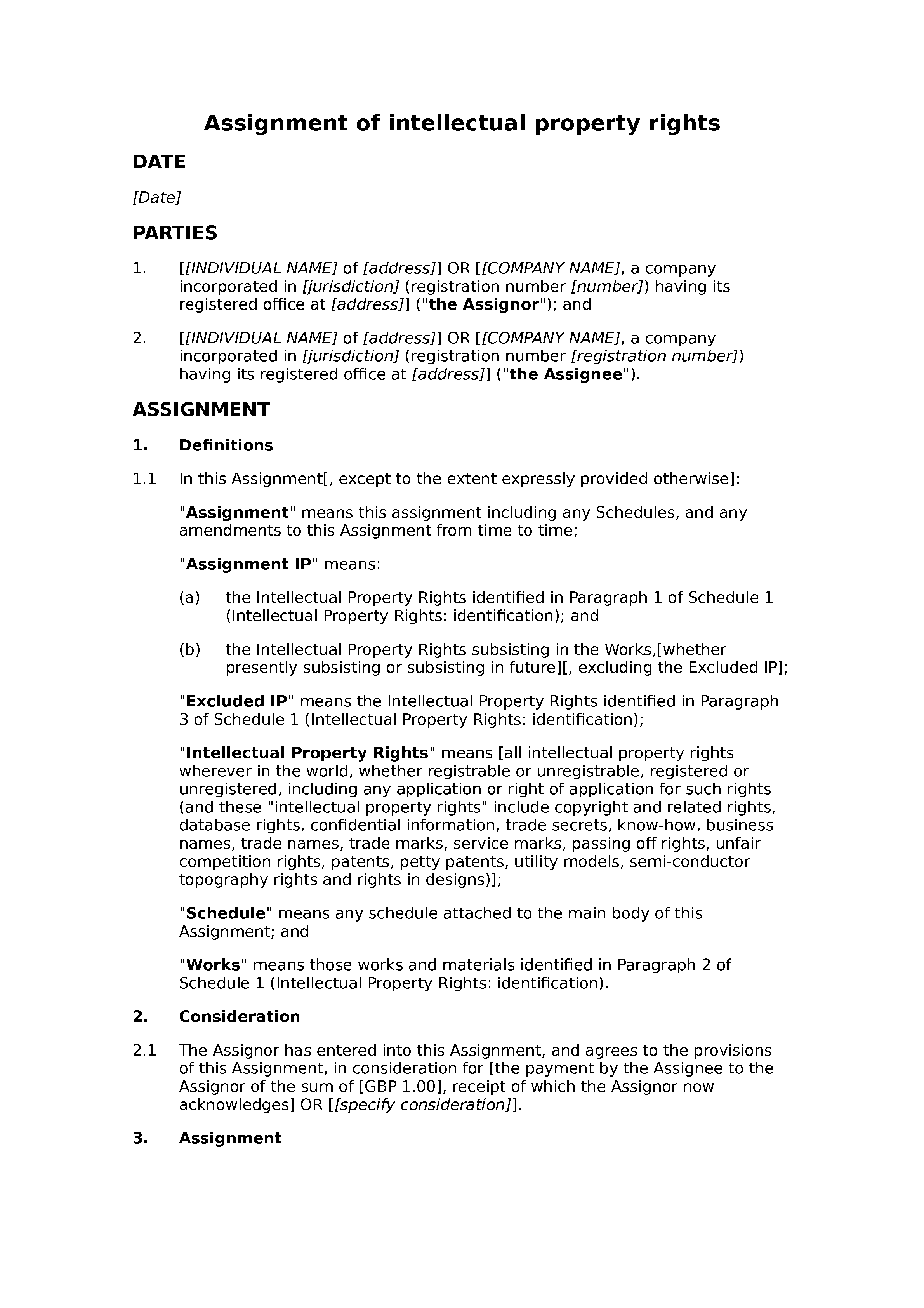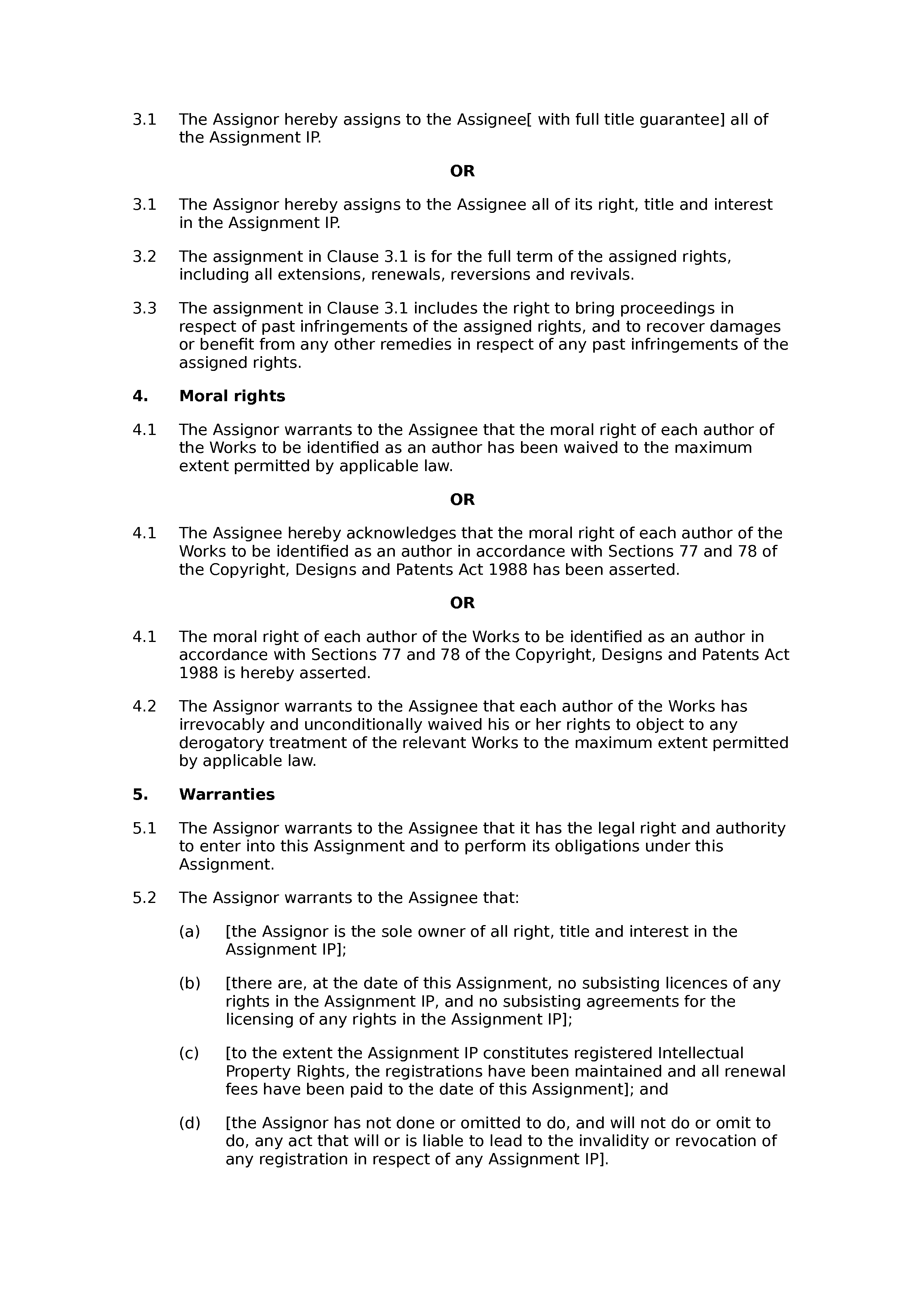 This is a shortened preview of the DOCX output; once you create your instance you'll be able to download the full document in PDF, HTML, RTF and/or DOCX (Microsoft Word) format.