Copyright agreement
This copyright agreement is concerned with the assignment and licensing of copyright and other unregistered intellectual property rights in work and materials. An assignment is a transfer of ownership of the rights, whereas a licence is grant of a right to do some defined act or acts in relation to the protected work.
The assignment and licensing provisions are organised using the idea of deliverables. These are particular works and materials that the assignor has delivered or must deliver to the assignee. The rights in the deliverables are split into four categories: rights to be assigned; rights to be licensed; third party rights; and assignee rights. Each category of rights is subject to different treatment. If there are no third party rights or assignee rights in the deliverables, the provision relating to these rights can easily be removed.
The copyright agreement incorporates provisions regarding the charges payable with respect to the assignment and licence. In this kind of agreement, charges will usually be one-off rather than periodic. However, the agreement can be adapted for either. If you remove the payment provisions, you must ensure that there is some form of consideration (i.e. quid pro quo), so that the agreement meets the English law criteria for an enforceable contract.
Under the default drafting, the term of the copyright licence is the same as the term of the agreement. In other words, if the agreement is terminated, the licence will be terminated. However, you may wish to amend the agreement so that the licence can continue beyond termination of the agreement.
If you are looking for a document that only transfers copyright, see our assignment of copyright template; similarly, if you are looking for a document that only licenses copyright, see our licence of copyright template.
In some ways, this document is similar to our standard consultancy agreement, but it does not include any provisions relating to the supply of services: it is exclusively concerned with the handling of intellectual property rights.

Ask about this document
Copyright agreement contents
Definitions: definitions.
Term: commencement of term; end of term.
Deliverables: acknowledgement of delivery of deliverables; obligation and timetable for delivery of deliverables; deliverables warranties (no acceptance procedure).
Intellectual Property Rights: assignment of intellectual property rights in assigned deliverables; licence to use licensed deliverables; licensing of third party materials; waiver of moral rights in deliverables; further assurance (intellectual property).
Consideration: consideration benefiting first party.
Charges and payments: obligation to pay charges; amounts inclusive or exclusive of VAT; issue of invoices; time for payment of charges following invoice; payment methods; interest on late payments; interest on late payments.
No implied warranties: exclusion of implied warranties and representations.
Limitations and exclusions of liability: caveats to limits of liability; interpretation of limits of liability; no liability for force majeure; no liability for loss of profits; no liability for loss of revenue; no liability for loss of use; no liability for loss of opportunities; no liability for loss of data or software; no liability for consequential loss; aggregate liability cap upon services contract.
Termination: termination without cause by first party; termination without cause by second party; termination upon breach; termination upon insolvency; termination upon non-payment.
Effects of termination: surviving provisions upon termination; termination does not affect accrued rights; licensed deliverables on contract termination; licensed deliverables copies on contract termination.
Notices: methods and deemed receipt of contractual notices; contact details for contractual notices; substitute contact details for notices.
General: no waiver; severability; variation written and signed; no assignment etc without written consent unless specified otherwise; no third party rights; entire agreement; governing law; exclusive jurisdiction.
SCHEDULE 1 (COPYRIGHT PARTICULARS)
Specification of Deliverables: specification of deliverables and rights prompt.
Timetable: timetable prompt.

Assignee

Materials: second party materials prompt.
Financial provisions: financial provisions prompt.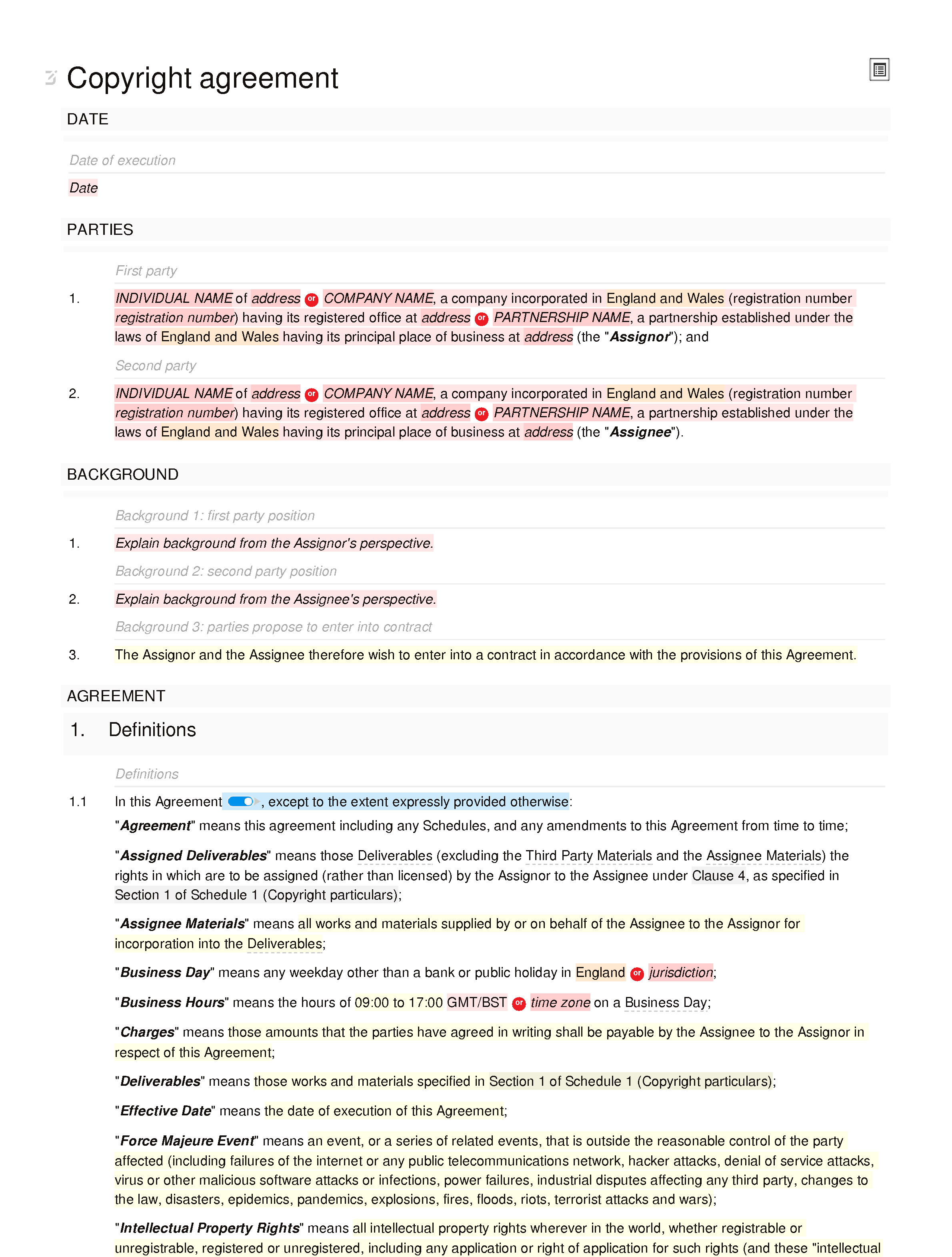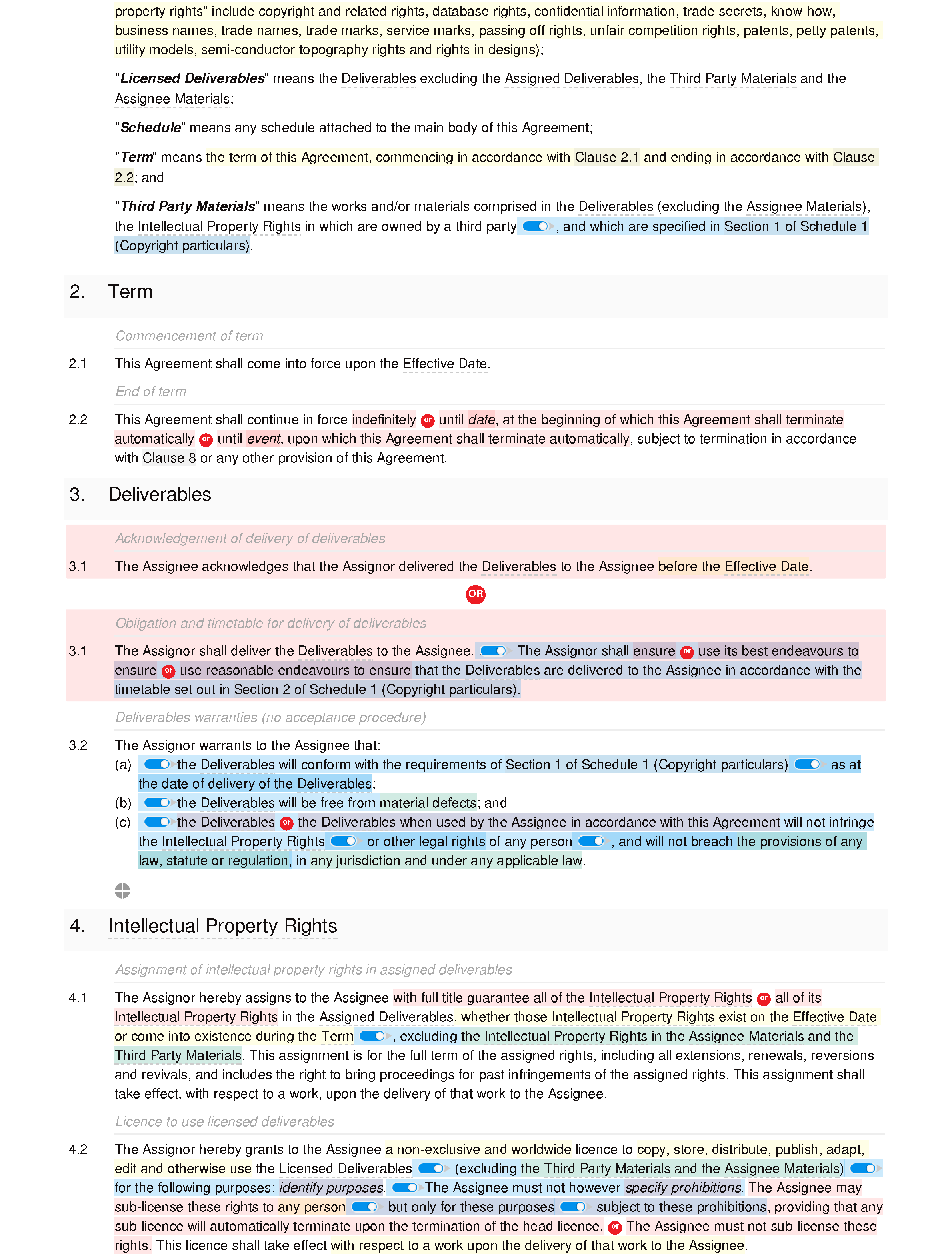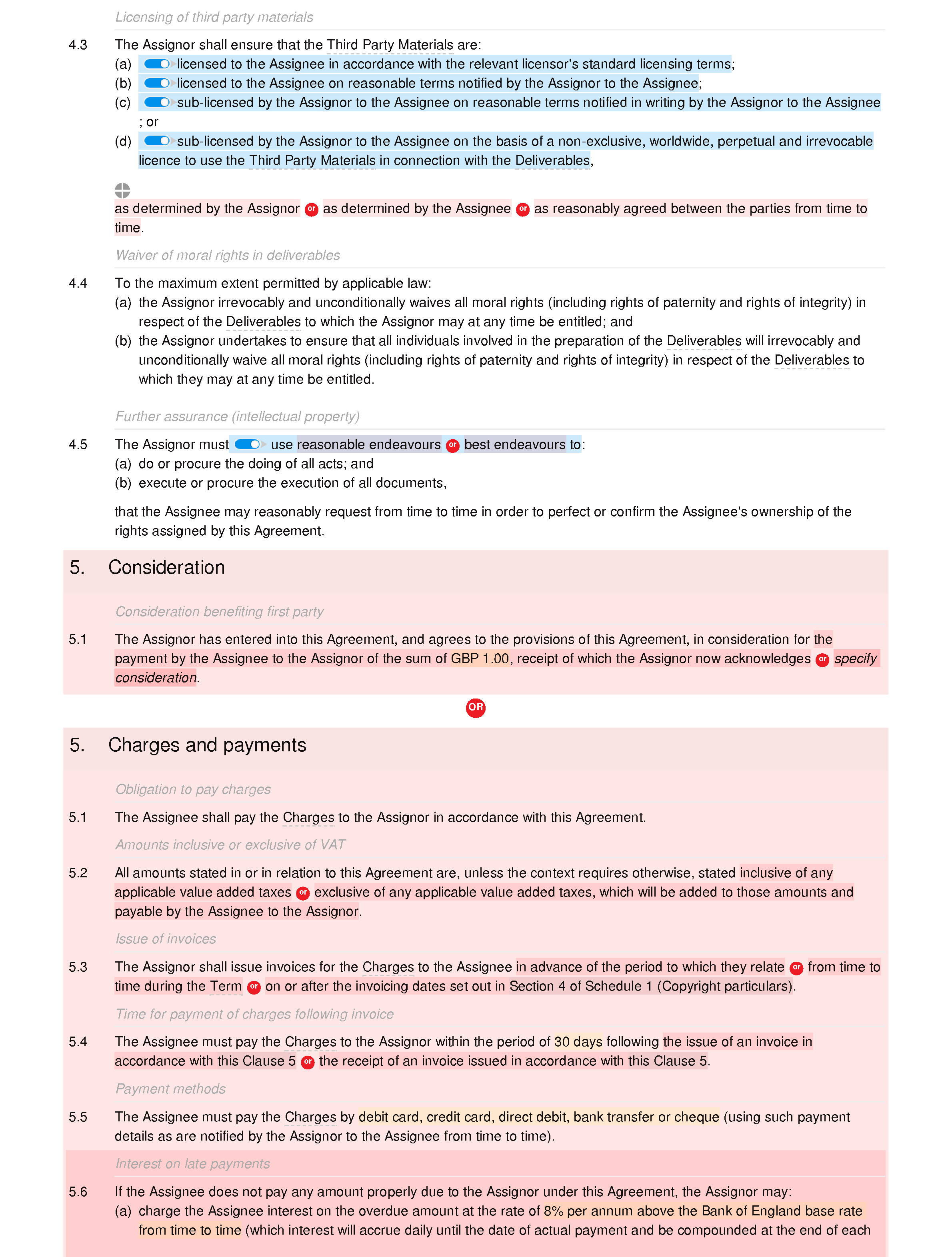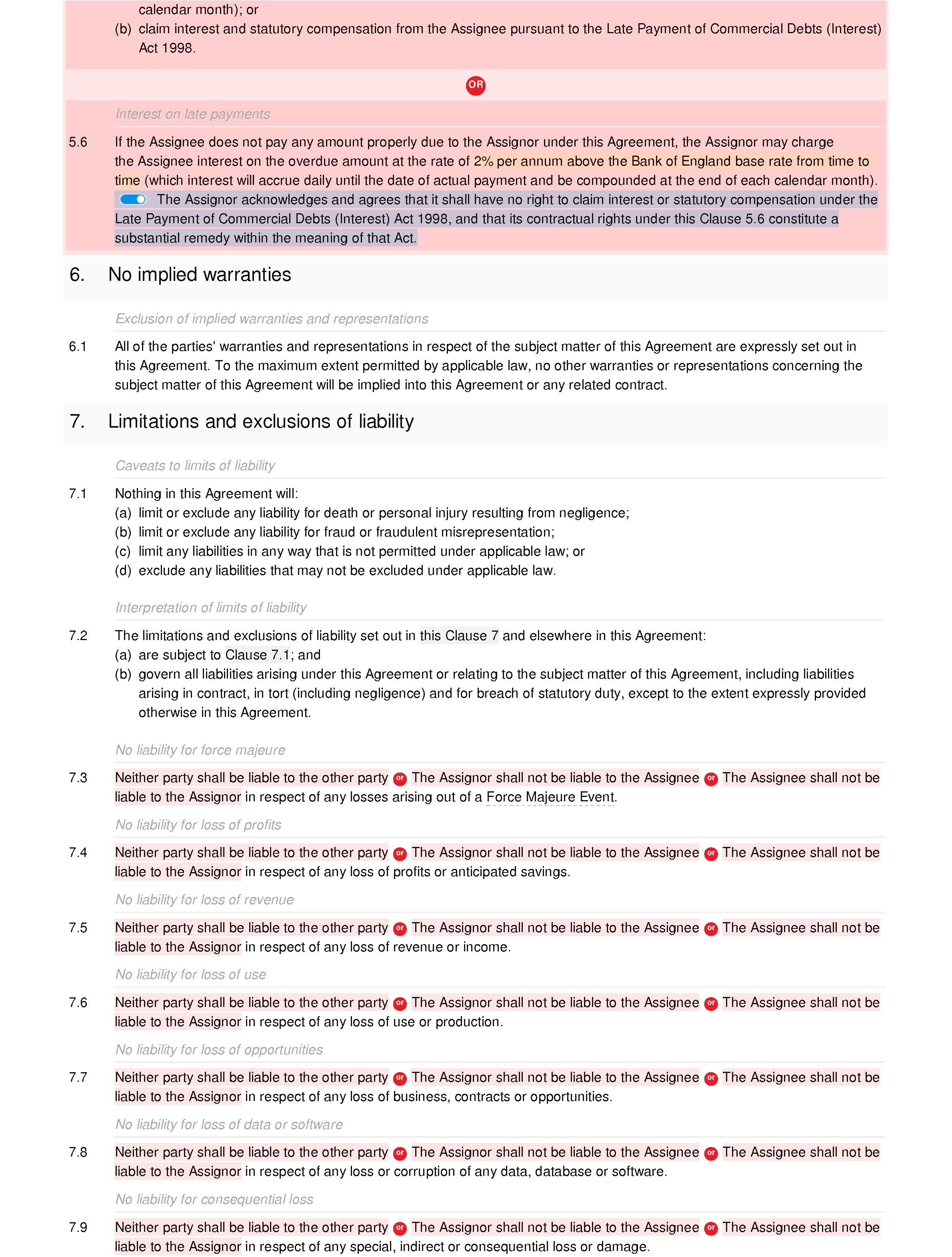 This is a shortened preview of the editor interface; once you create your instance you'll be able to edit the full document in our online editor.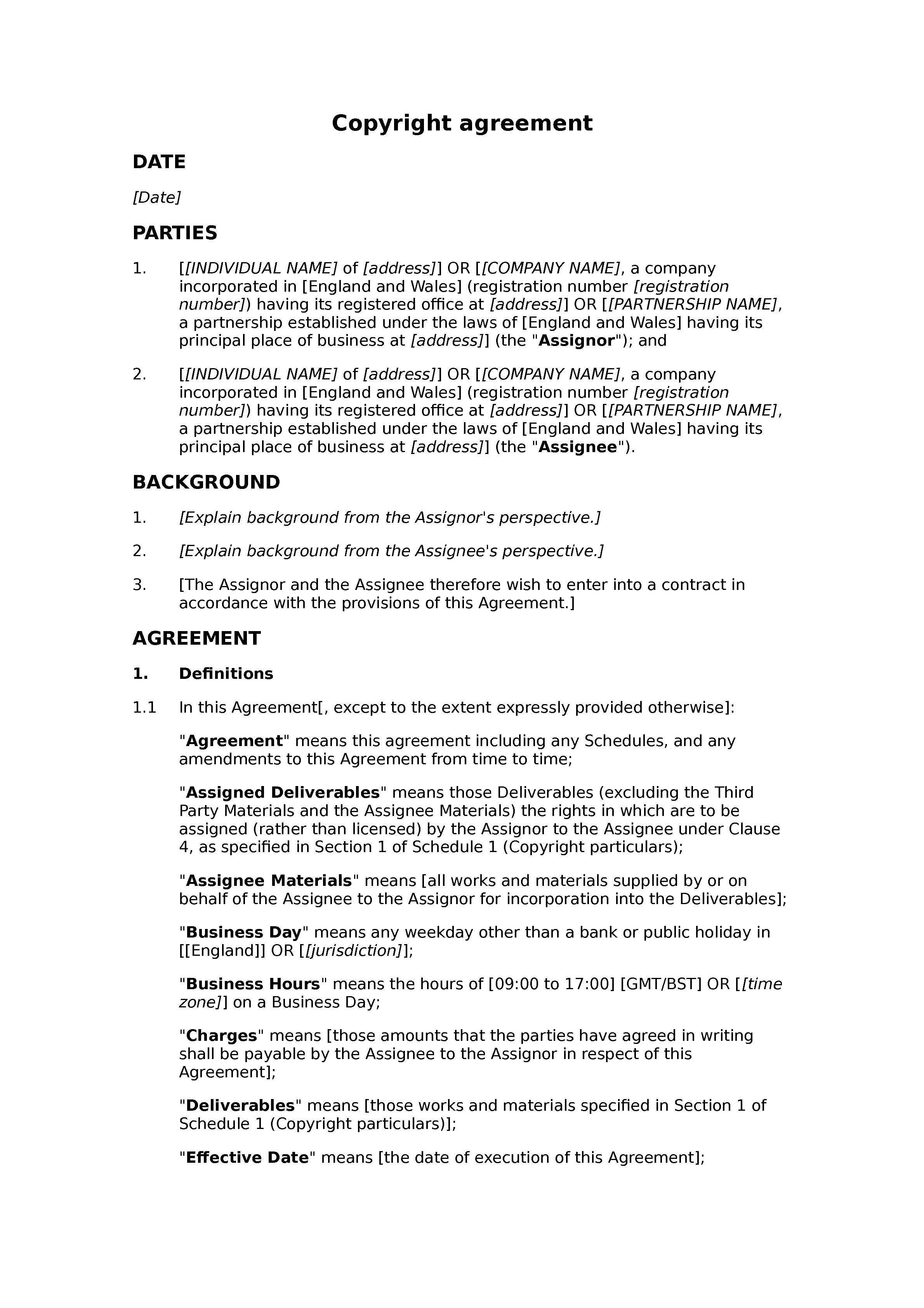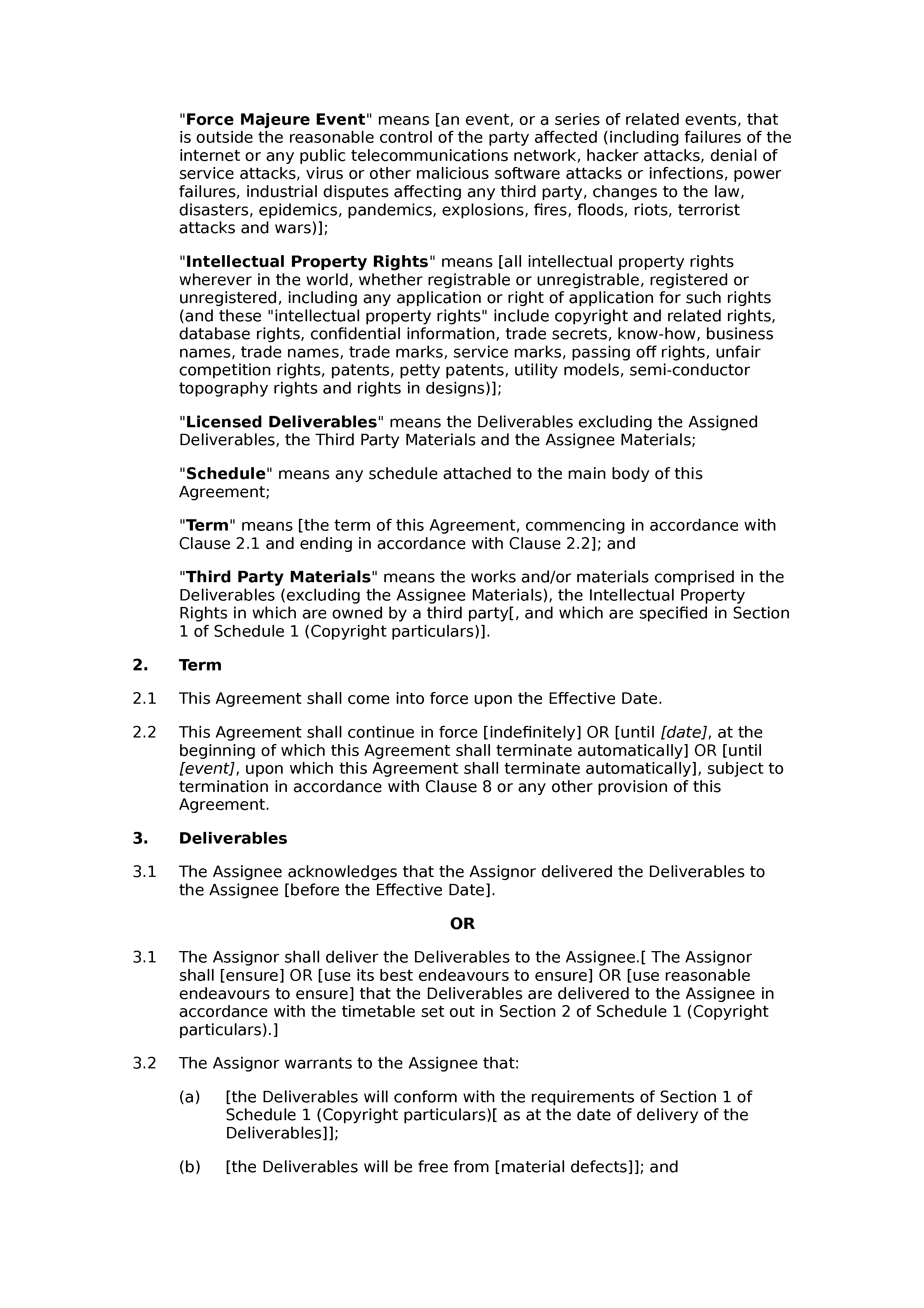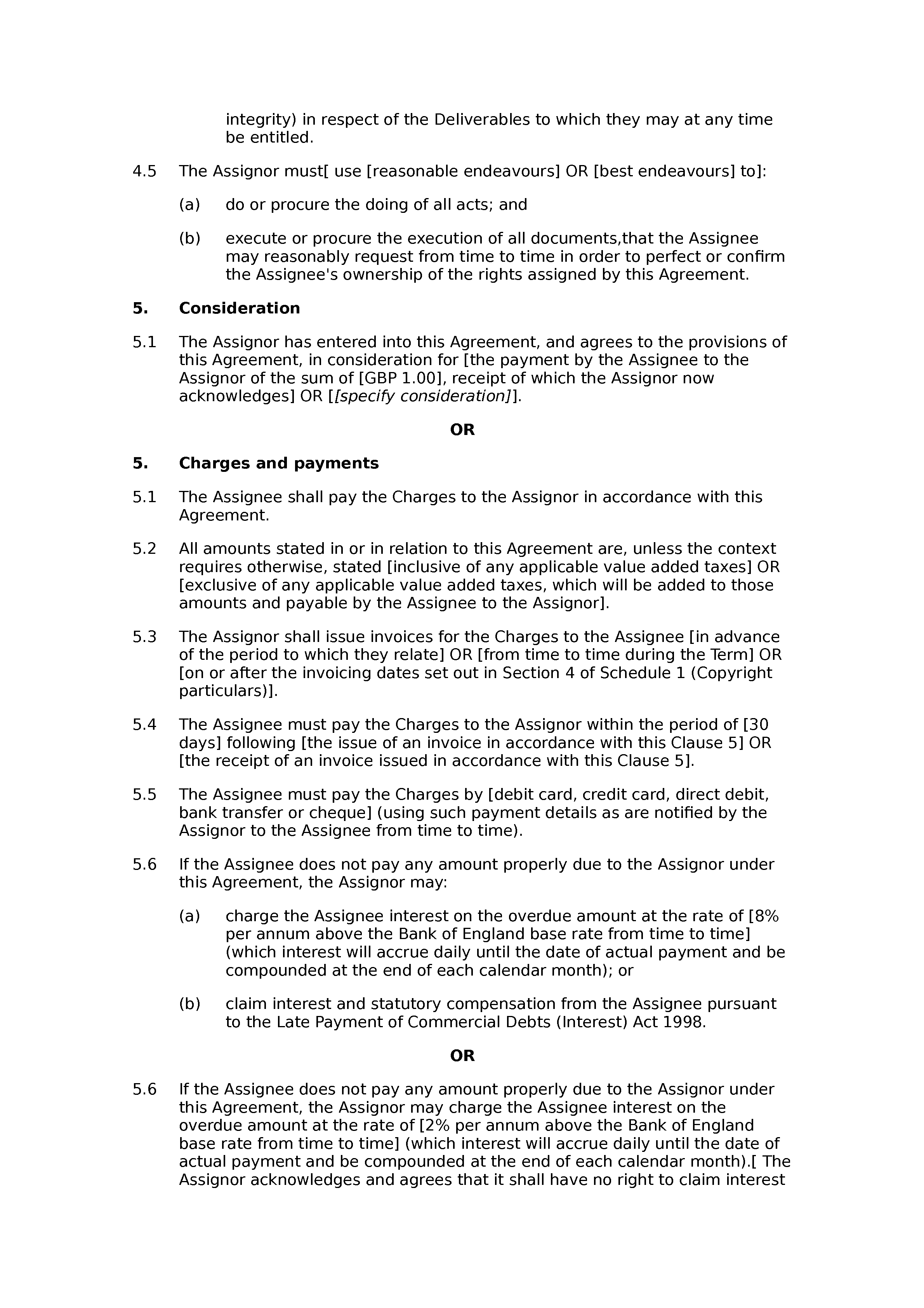 This is a shortened preview of the DOCX output; once you create your instance you'll be able to download the full document in PDF, HTML, RTF and/or DOCX (Microsoft Word) format.