Source code licence agreement
Although software developers may jealously guard their source code, from time to time it may need to be disclosed to others. For example, a developer may be required to disclose source code to another developer who is quoting for the provision of development services; alternatively, source code may need to be disclosed as part of a security review.
This source code licence agreement might equally be described as a source code disclosure agreement.
Under this source code licence agreement, source code is doubly protected. First, the source code may be made available on restrictive licensing terms. The licence might, for instance, prohibit the licensee from doing anything other than storing and reviewing the code. Second, the source code may be treated as confidential information, and subject to security requirements and disclosure restrictions.
The licence agreement assumes that no charges are payable in respect of the licence of source code. This may give rise to a question of whether there is sufficient consideration. A nominal consideration clause is included in the template. Depending upon how you edit the template, this clause may be useful to ensure that you have an enforceable contract. If consideration flowing from the licensor to the licensee is clear, you can remove the nominal consideration clause.

Ask about this document
Source code licence agreement contents
Definitions: definitions.
Term: commencement of term; end of term.
Source Code: supply of source code; grant of licence to use source code; sub-licensing of rights to use source code; use of source code limited to specified persons; source code licence prohibitions; security of licenced source code.
Licence audit: right to audit licences; notice of audit; cooperation in relation to audit; costs of licence audit; limits on audit right.
No assignment of Intellectual Property Rights: no assignments of intellectual property rights.
Consideration: consideration benefiting second party.

Licensee

's confidentiality obligations: second party confidentiality undertaking; disclosure of confidential information by second party to certain persons; exceptions to second party's confidentiality obligations; disclosures of first party confidential information mandated by law etc; second party to stop using confidential information upon termination; second party to return or destroy confidential information following termination; second party confidentiality obligations after termination.
Warranties: first party warranty of authority; warranties of source code non-infringement; second party warranty of authority; exclusion of implied warranties and representations.

Licensee

indemnity: second party indemnifies first party upon breach.
Limitations and exclusions of liability: caveats to limits of liability; interpretation of limits of liability; no liability for loss of profits; no liability for loss of revenue; no liability for loss of use; no liability for loss of opportunities; no liability for loss of data or software; no liability for consequential loss.
Termination: termination without cause (optionally asymmetric); termination by either party without cause; termination upon breach; termination upon insolvency.
Effects of termination: surviving provisions upon termination; termination does not affect accrued rights; source code licences on contract termination; source code copies on contract termination.
Notices: methods and deemed receipt of contractual notices; contact details for contractual notices; substitute contact details for notices.
General: no waiver; severability; variation written and signed; no assignment without written consent; no third party rights; entire agreement; governing law; exclusive jurisdiction.
Interpretation: statutory references; section headings not affecting interpretation; calendar month meaning; no ejusdem generis.
SCHEDULE 1 (SOURCE CODE LICENCE PARTICULARS)
Specification of Source Code: specification of source code prompt.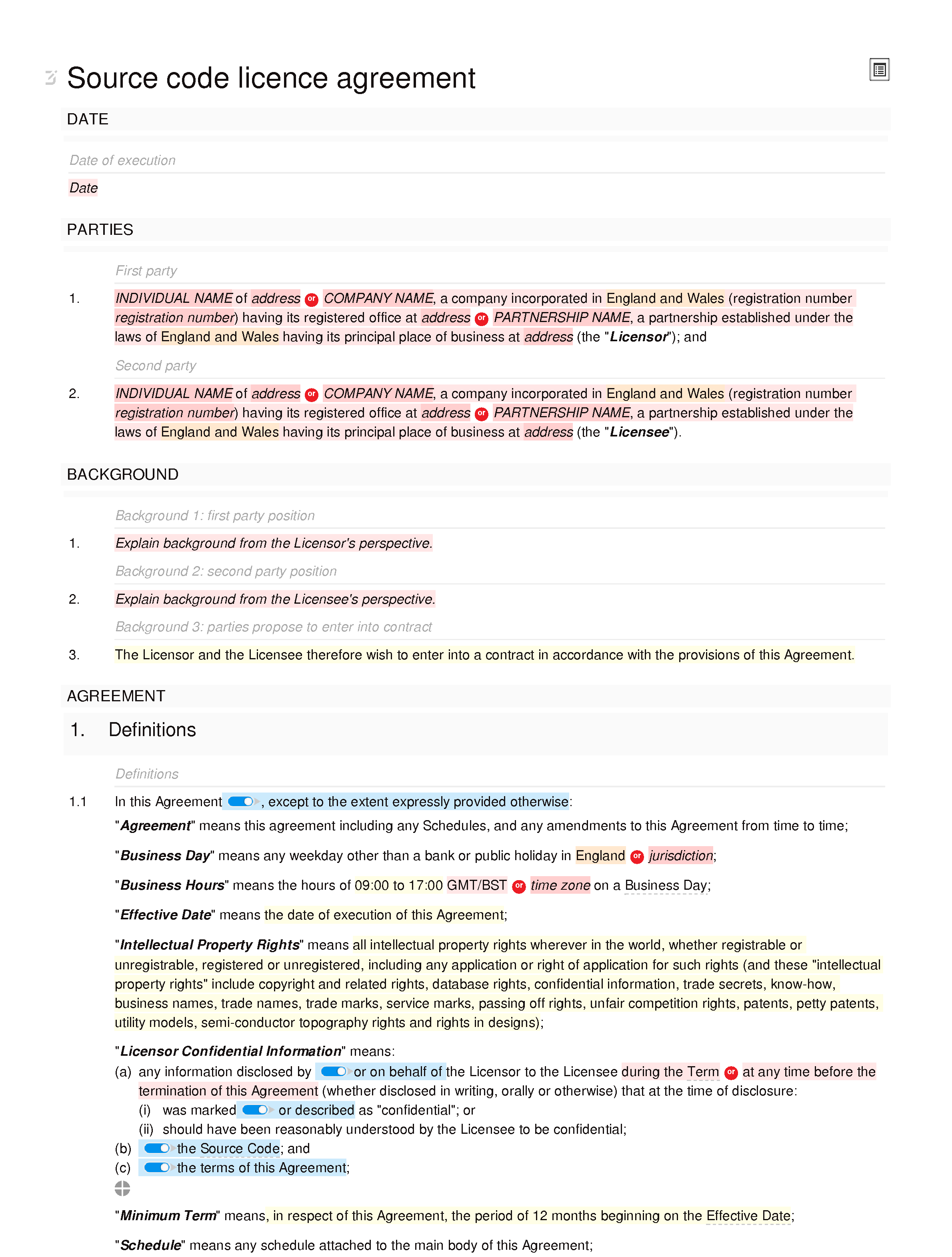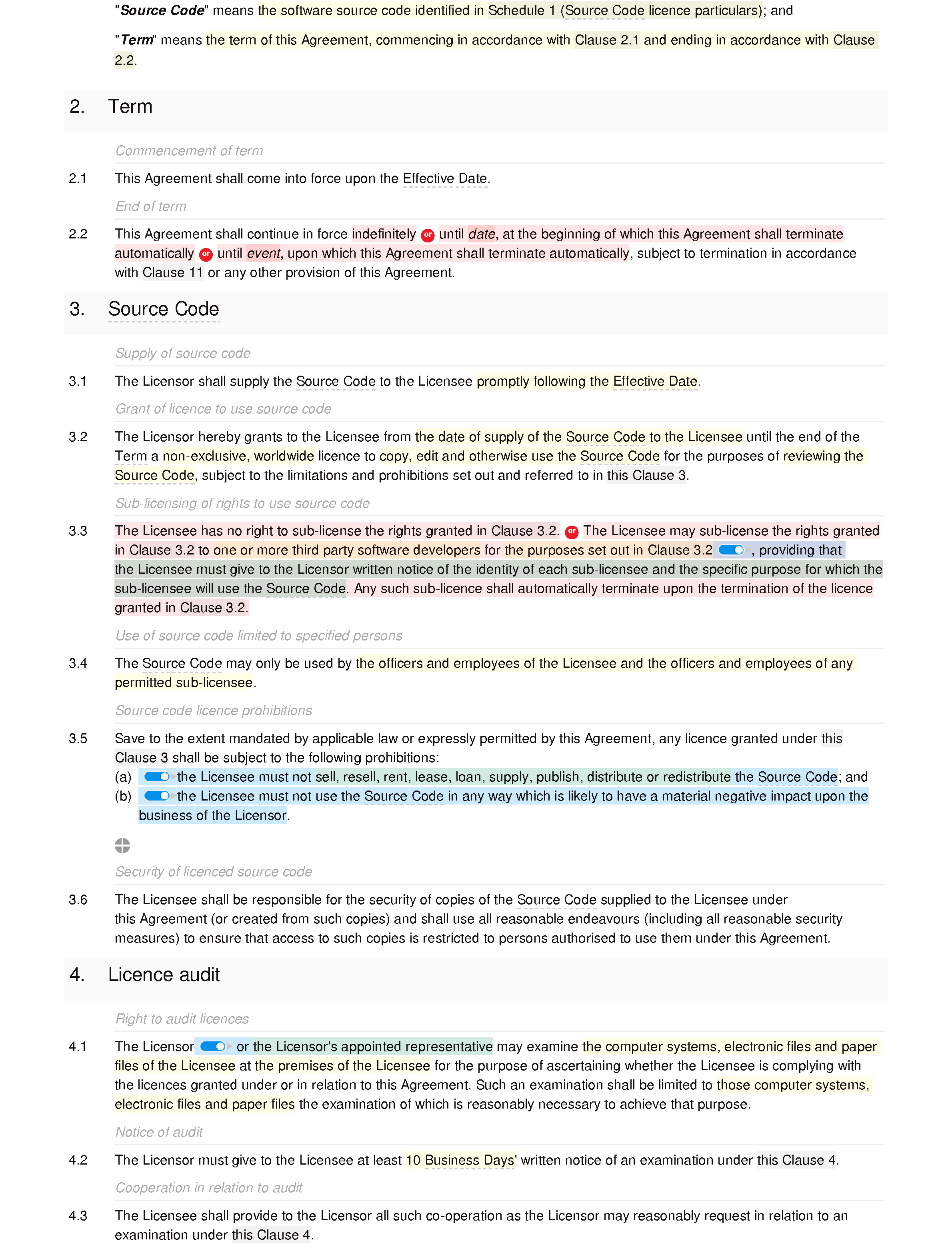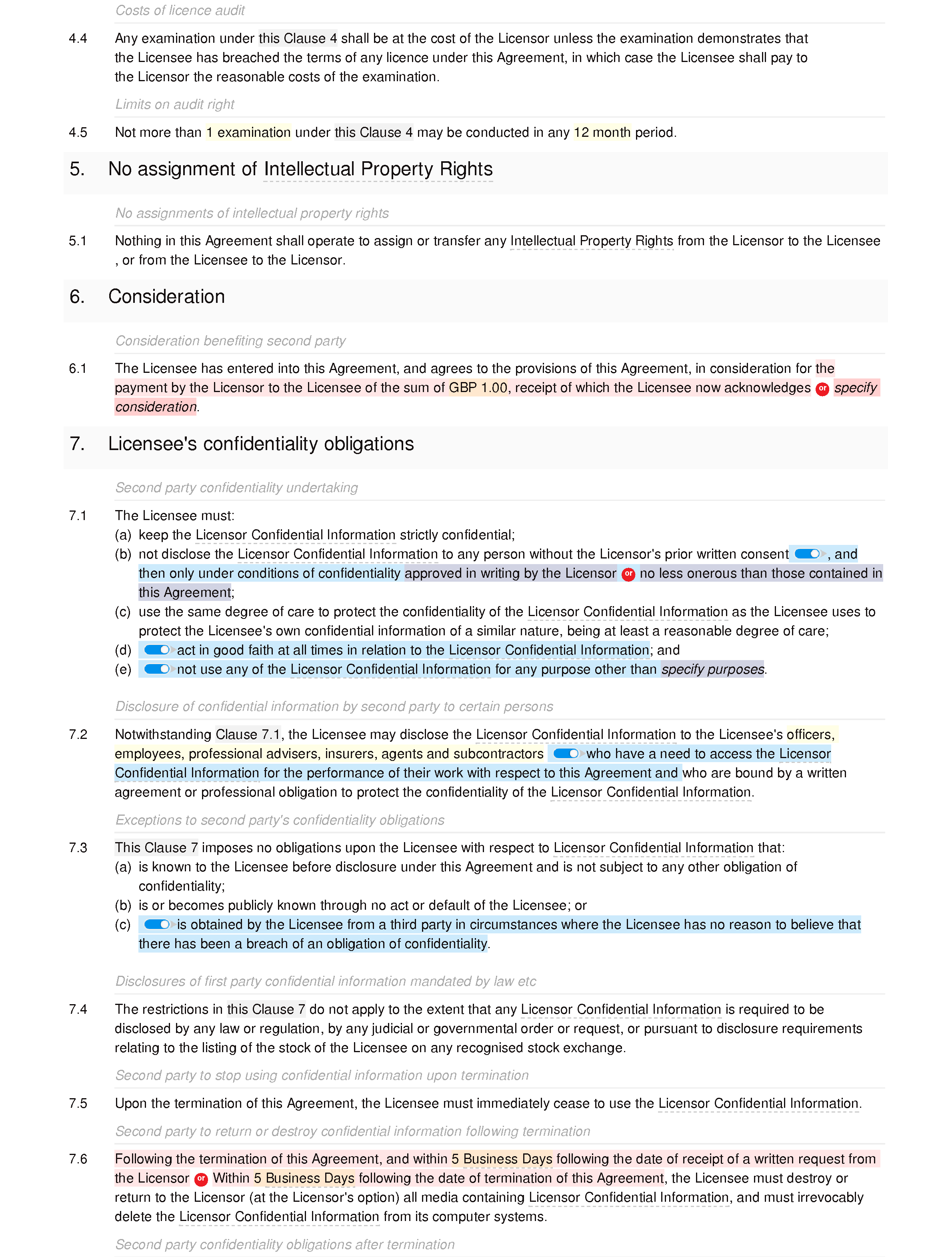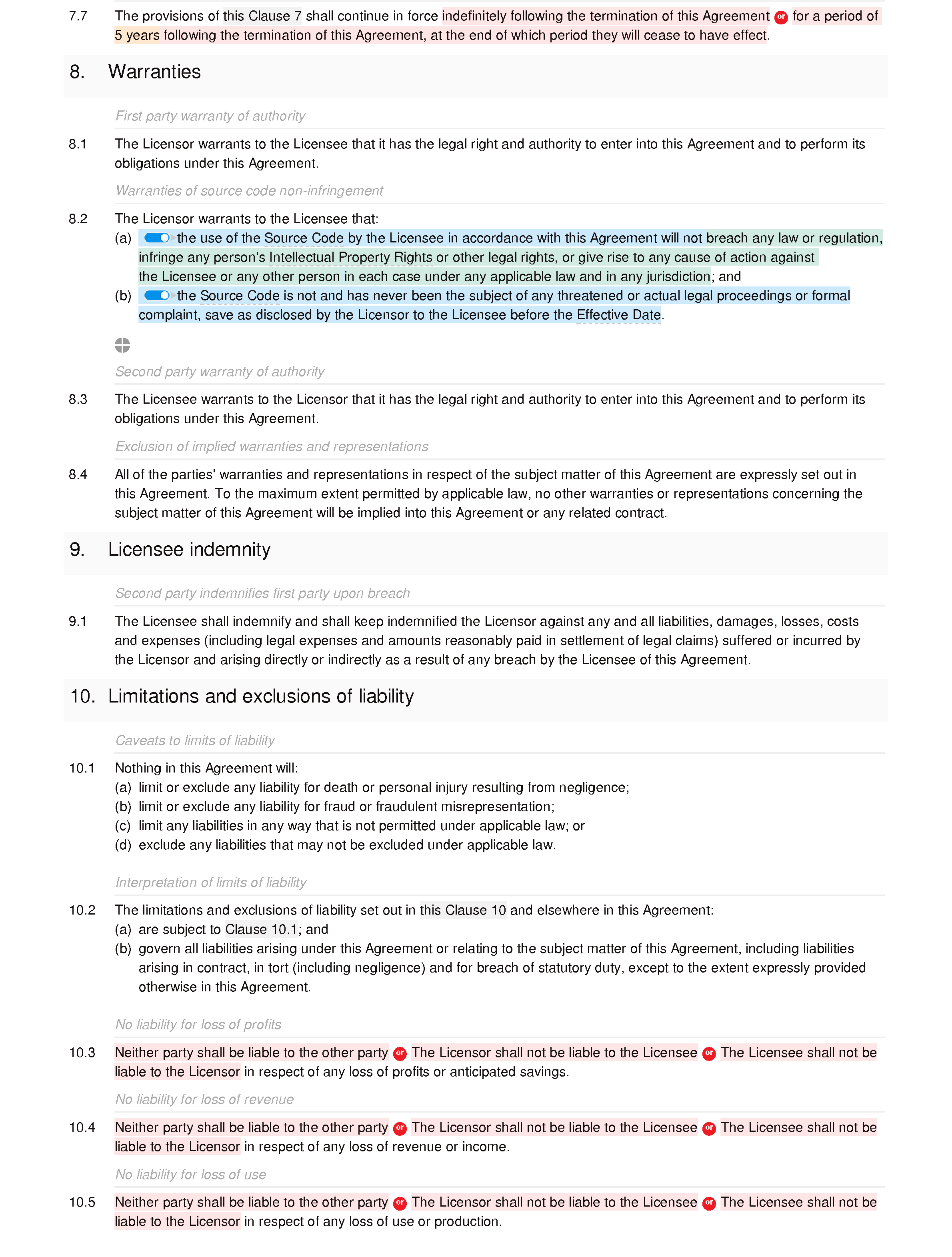 This is a shortened preview of the editor interface; once you create your instance you'll be able to edit the full document in our online editor.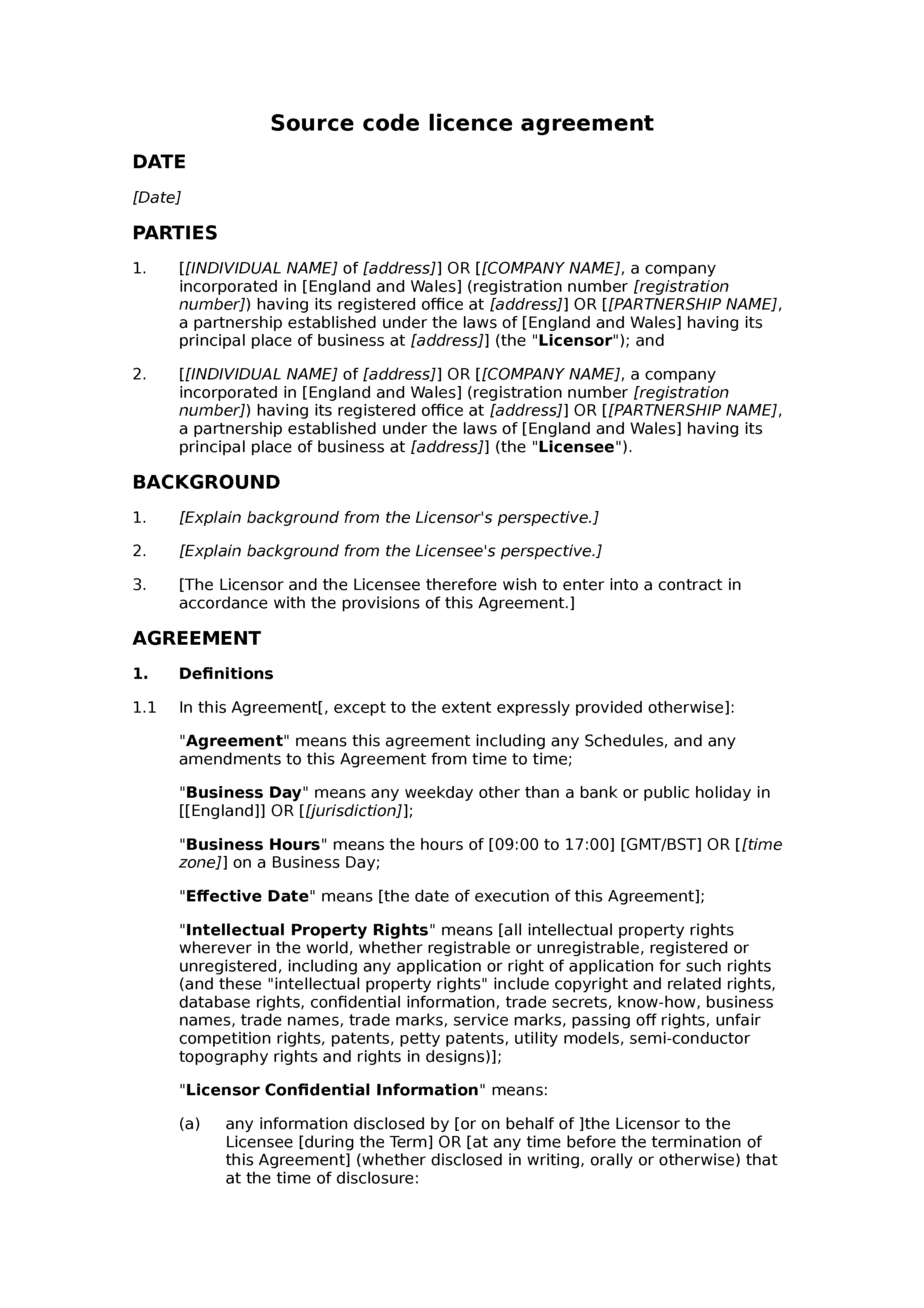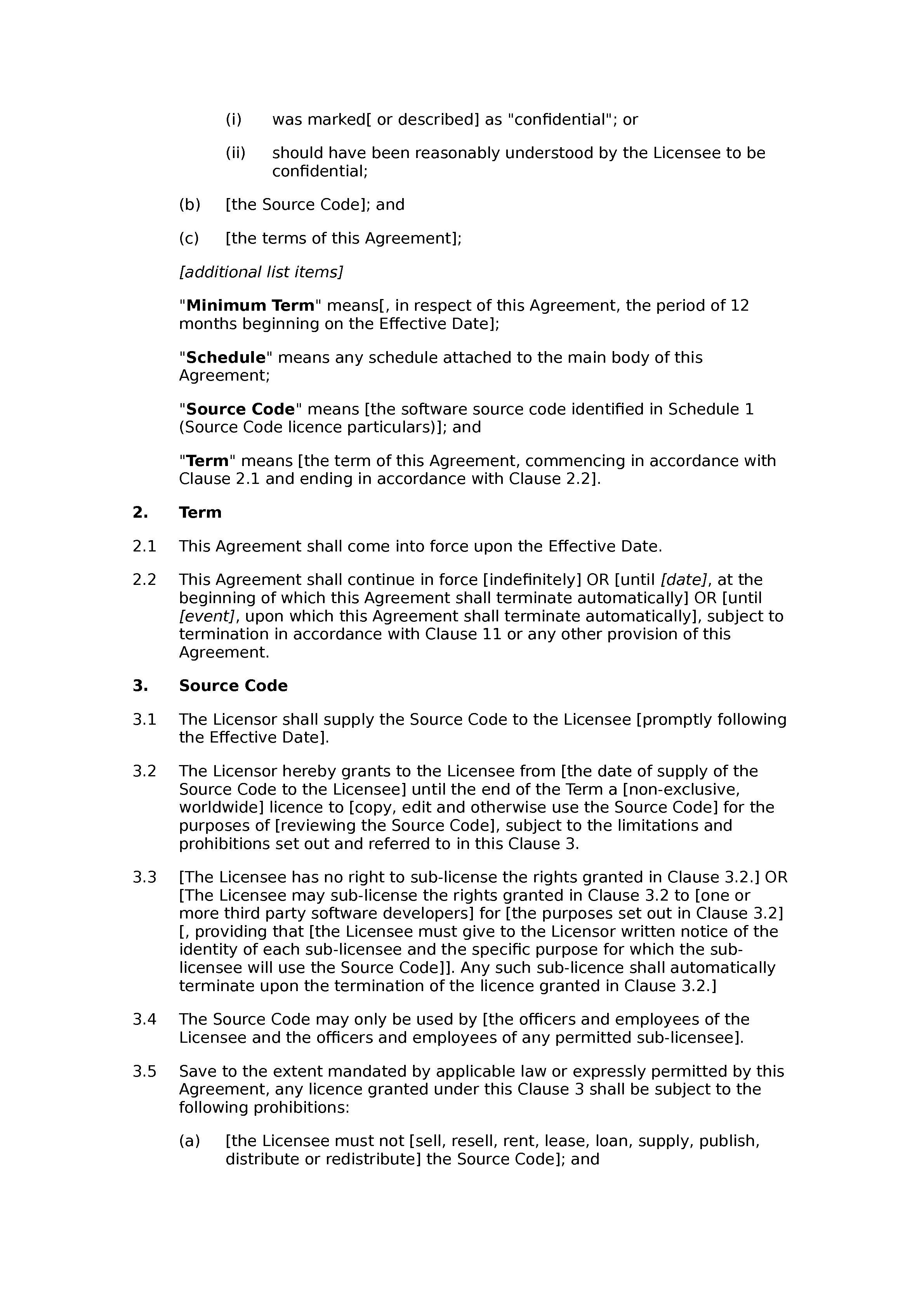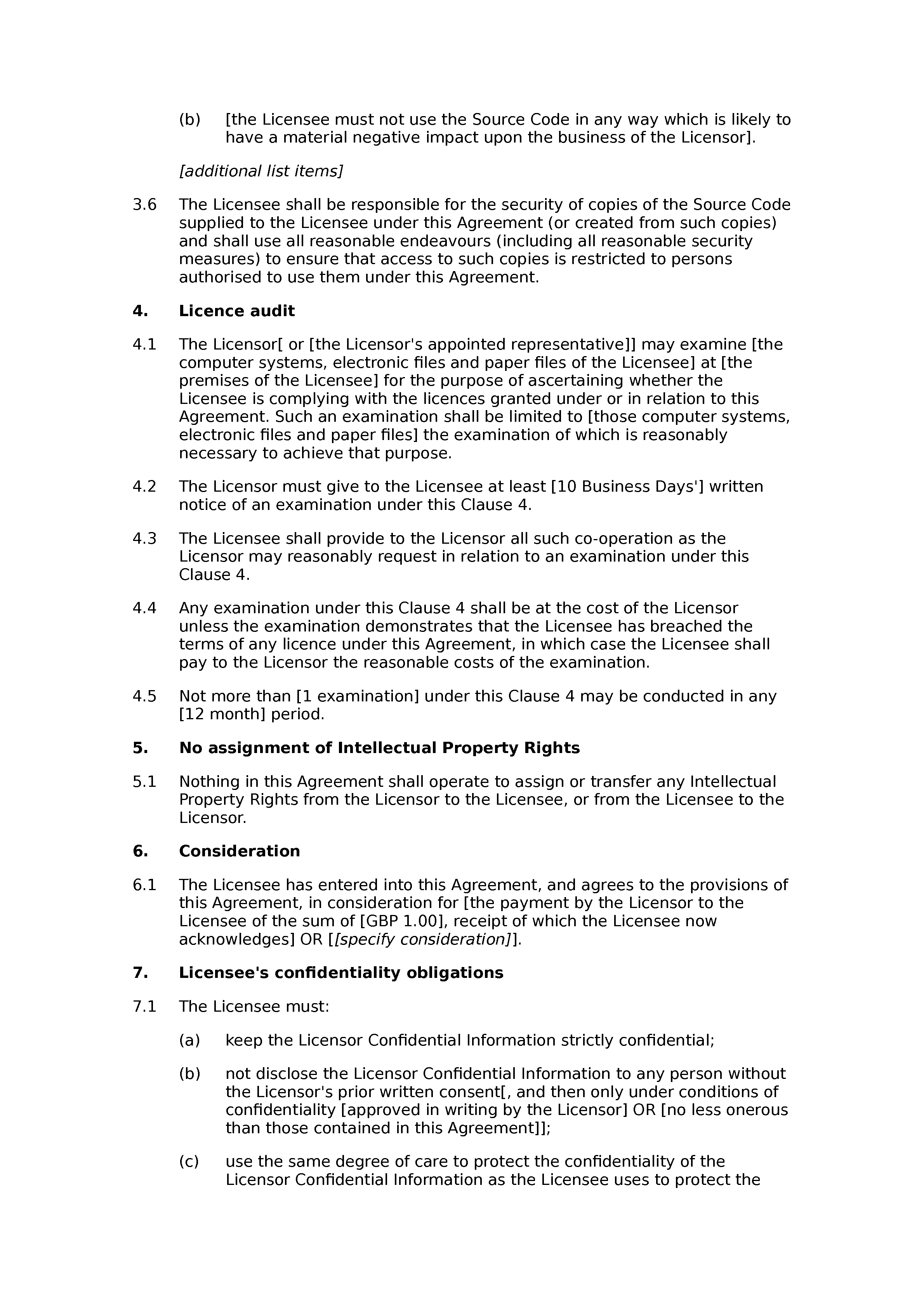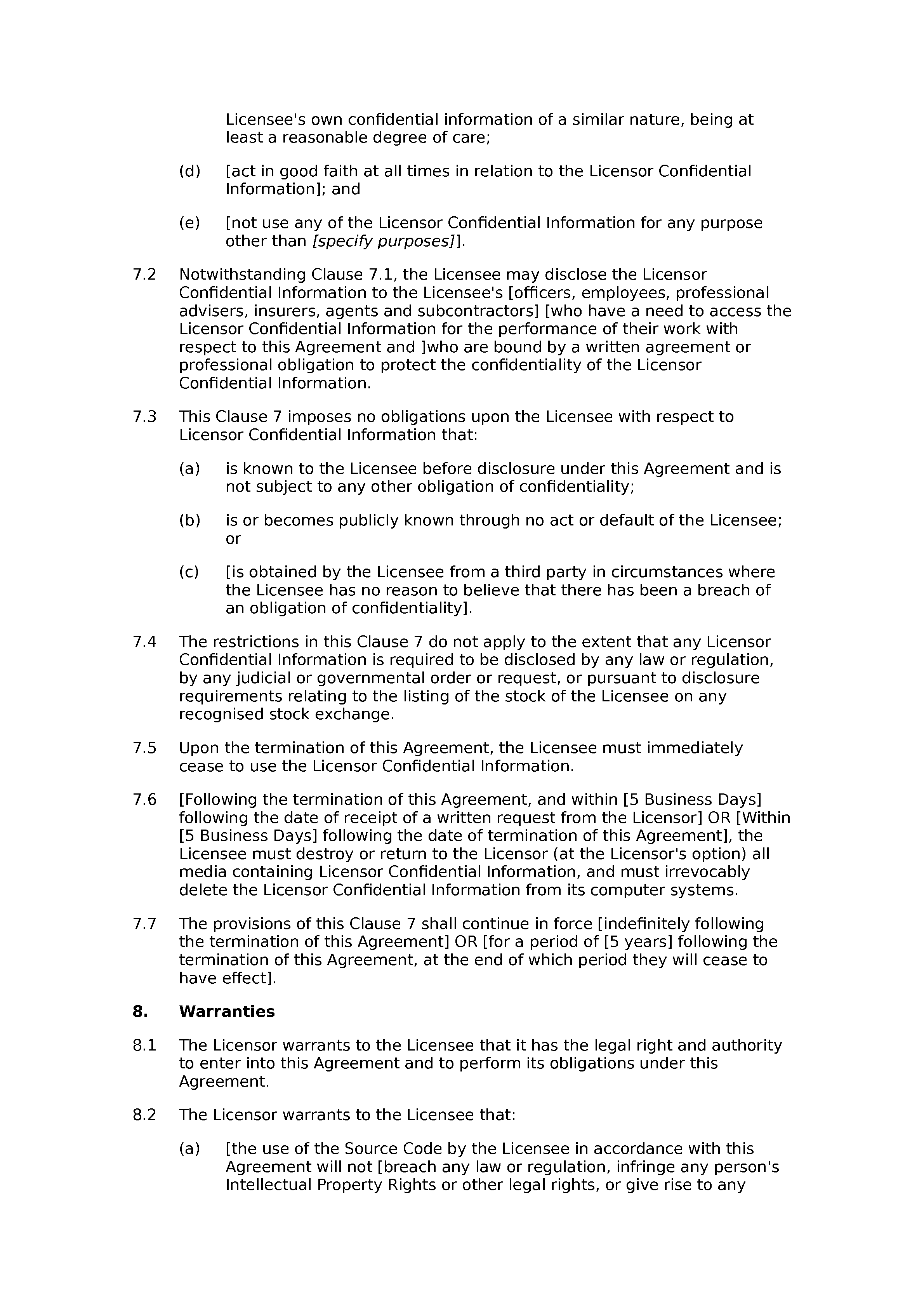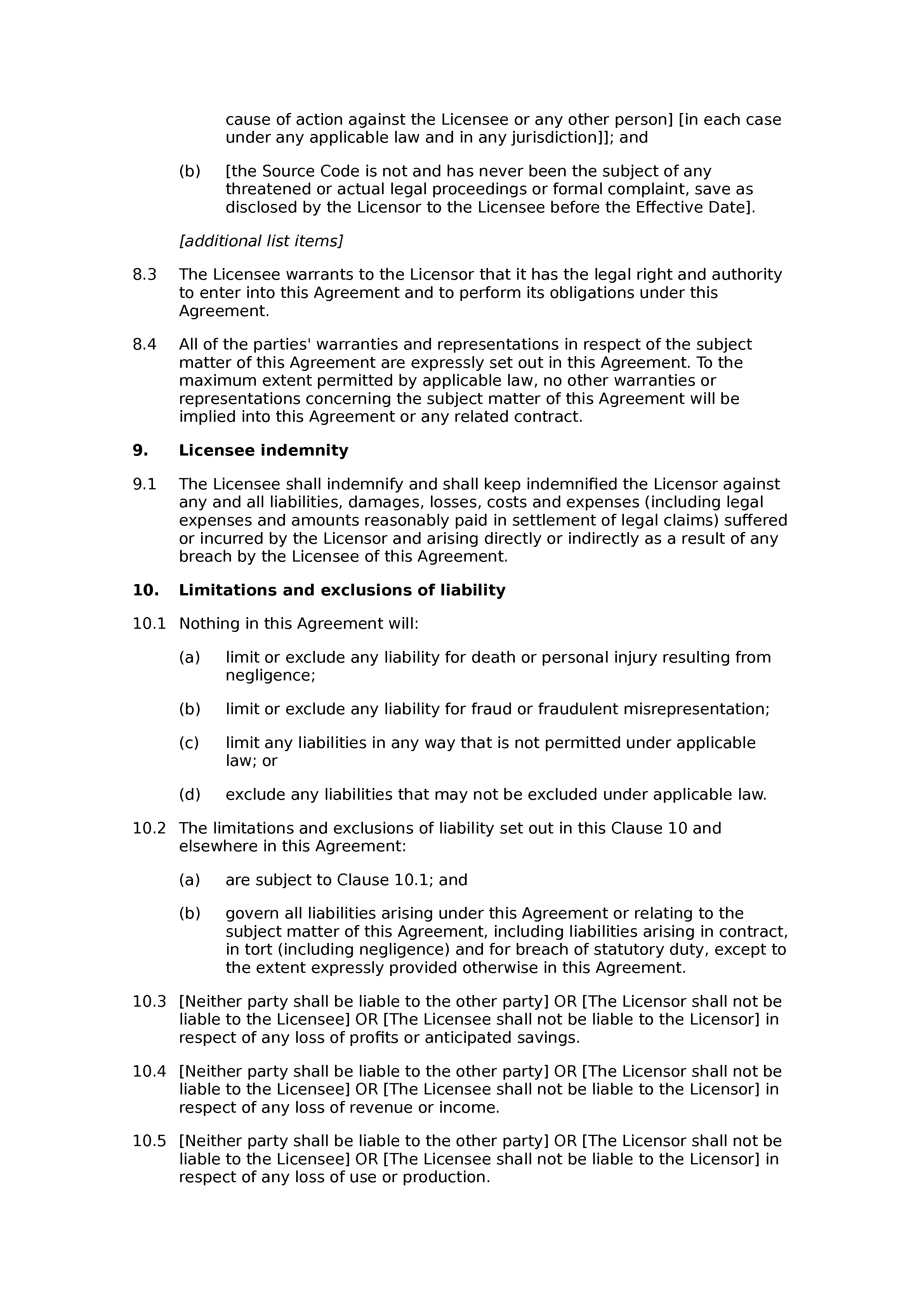 This is a shortened preview of the DOCX output; once you create your instance you'll be able to download the full document in PDF, HTML, RTF and/or DOCX (Microsoft Word) format.