Non-disclosure letter (unilateral, premium)
This letter template can be used to protect the confidential information that one person discloses to another.
A flexible definition of "confidential information" is included in the document, allowing it to be used in a range of different circumstances. The document also includes an optional limitation upon the purposes for which the confidential information may be used, together with optional post-termination provisions (dealing with the question of what happens to the confidential information once the parties' relationship comes to an end).
This template is substantially identical to our premium one-way NDA template, save that it comes in the form of a letter. A letter format may be more appropriate when dealing with a person who is unaccustomed to signing legal agreements.

Ask about this document
Non-disclosure letter (unilateral, premium) contents
Definitions: definitions.
Term: commencement of term; end of term.
Consideration: consideration benefiting second party.

Recipient

's confidentiality obligations: second party confidentiality undertaking; disclosure of confidential information by second party to certain persons; exceptions to second party's confidentiality obligations; disclosures of first party confidential information mandated by law etc; second party to stop using confidential information upon termination; second party to return or destroy confidential information following termination; second party confidentiality obligations after termination.

Recipient

's publicity obligations: no public disclosures by second party; permitted public disclosures by second party.
Intellectual property rights: no assignment of first party intellectual property rights; no licence or limited licence to use first party confidential information.
Warranties: first party warranty of authority; second party warranty of authority; exclusion of implied warranties and representations.

Recipient

indemnity: second party indemnifies first party upon breach.
Termination: termination by either party at will.
Effects of termination: surviving provisions upon termination; termination does not affect accrued rights.
General: no waiver; severability; variation written and signed; no assignment without written consent; no third party rights; caveats to limits of liability; entire agreement; governing law; exclusive jurisdiction.
Interpretation: statutory references; section headings not affecting interpretation; calendar month meaning; no ejusdem generis.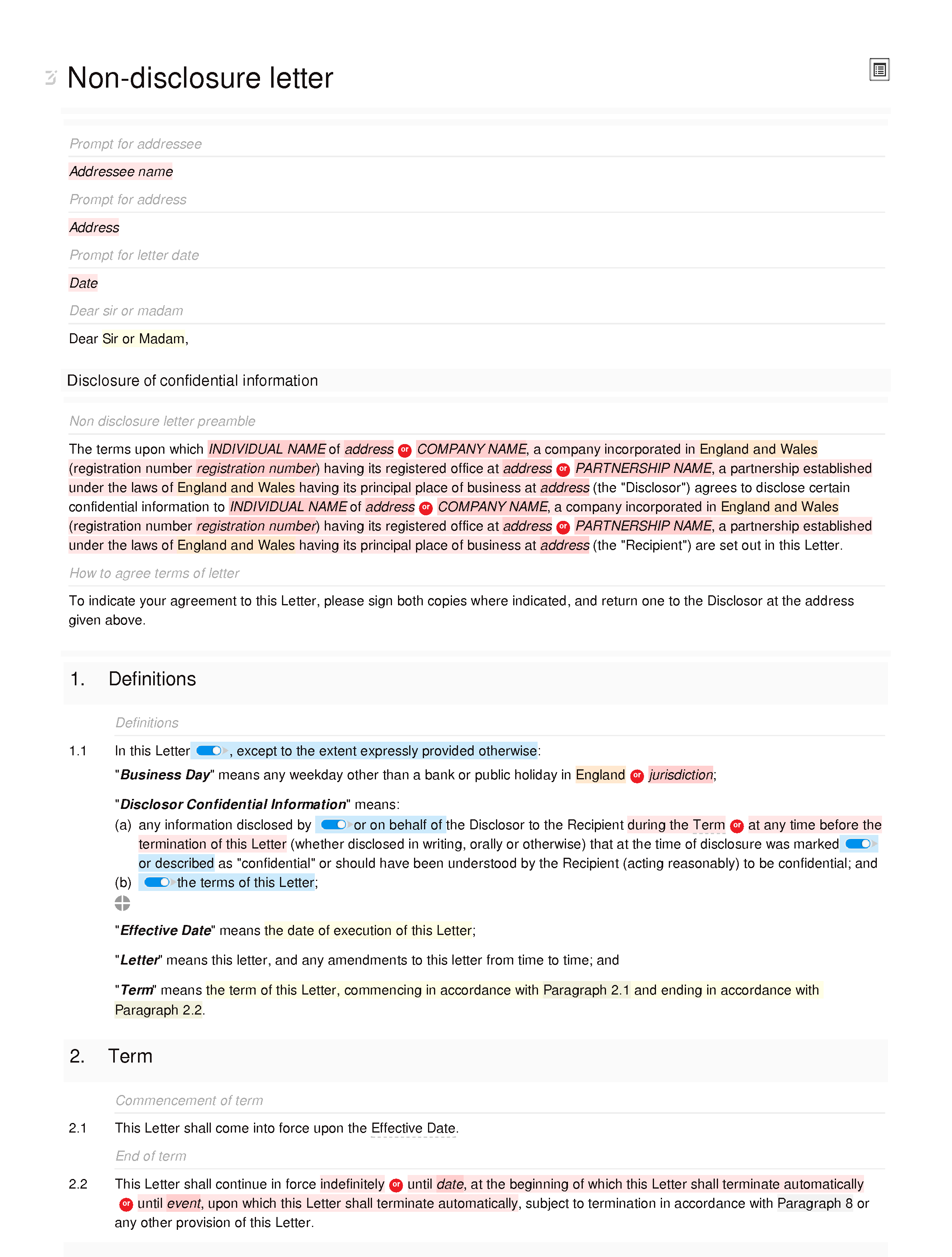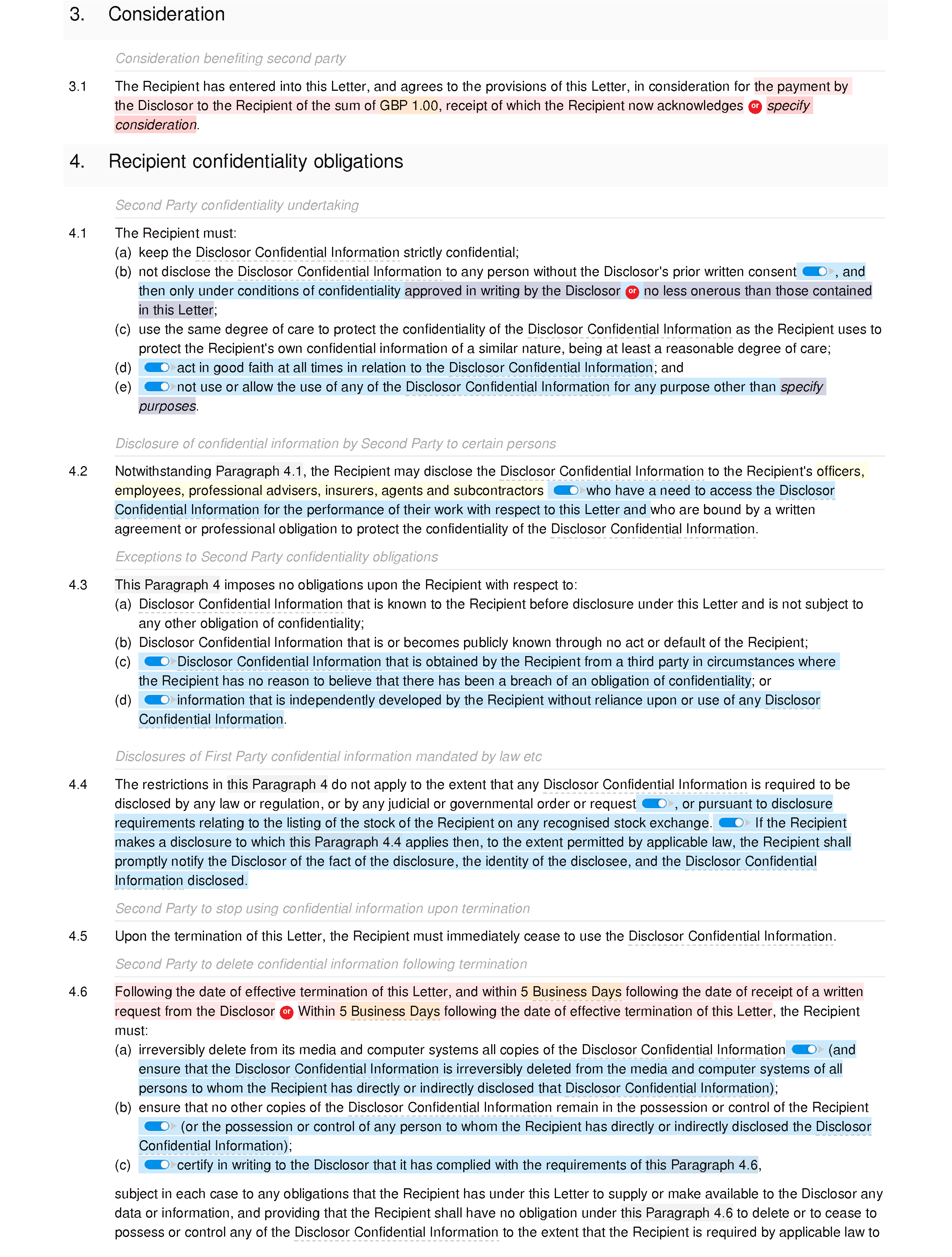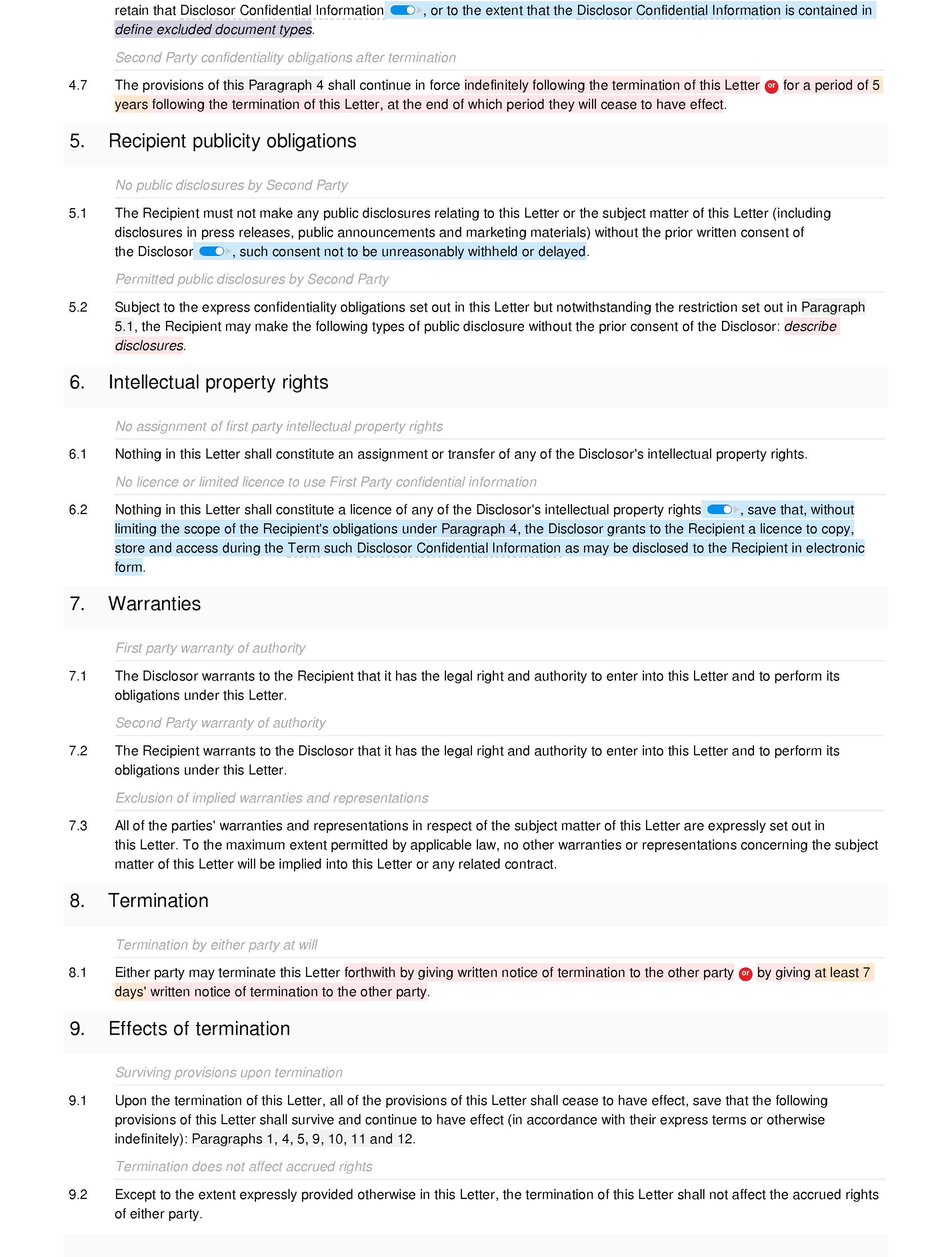 This is a shortened preview of the editor interface; once you create your instance you'll be able to edit the full document in our online editor.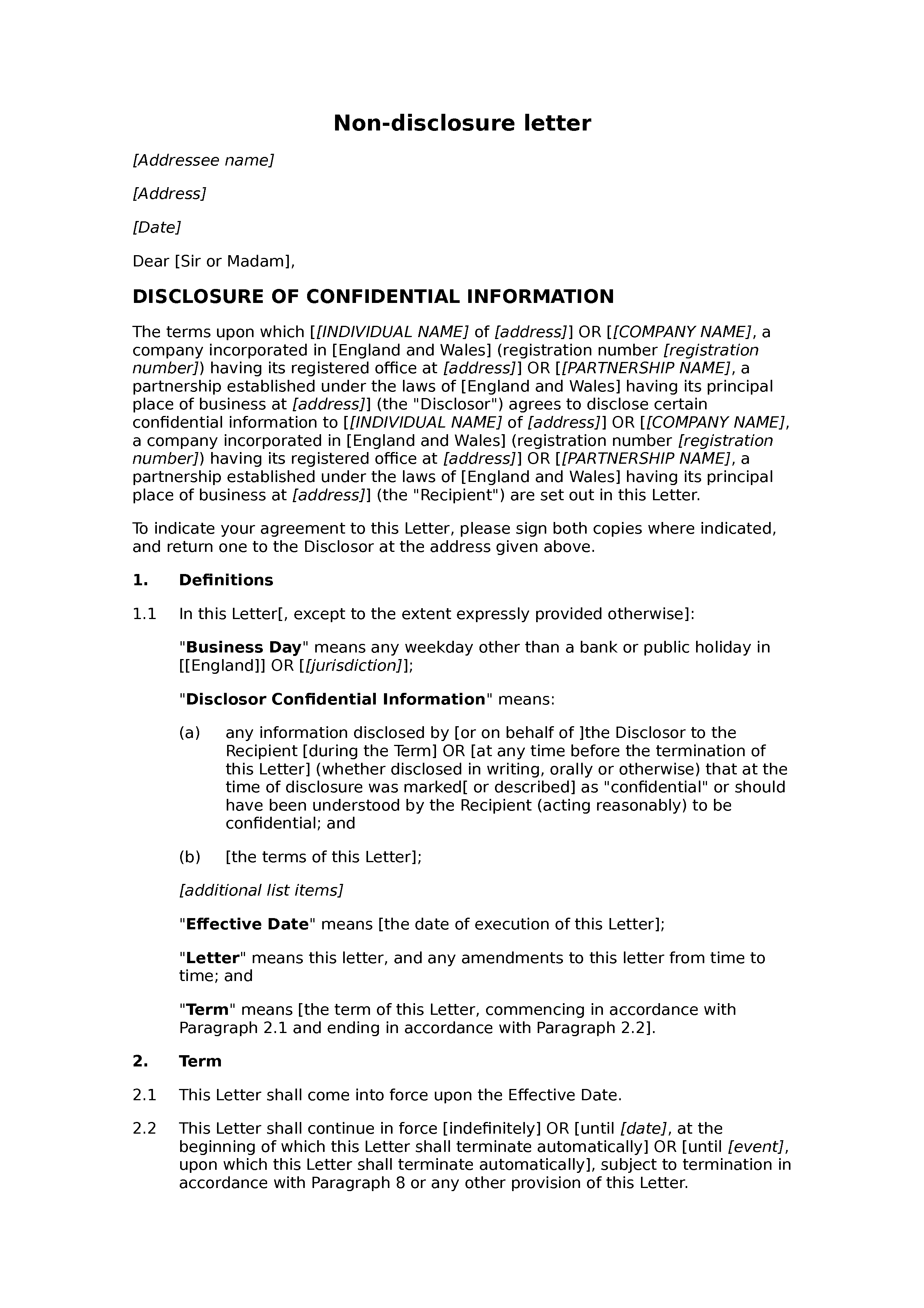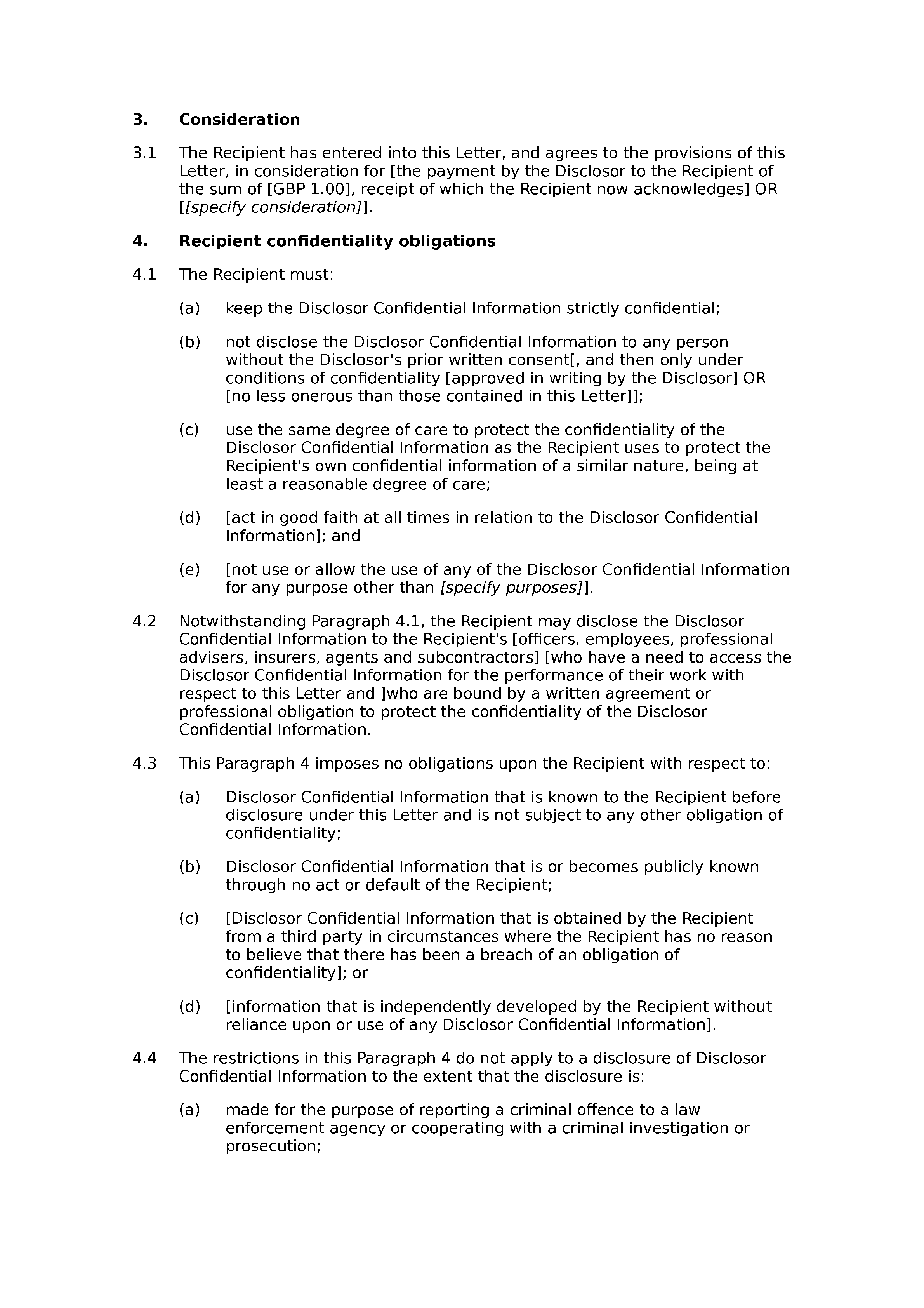 This is a shortened preview of the DOCX output; once you create your instance you'll be able to download the full document in PDF, HTML, RTF and/or DOCX (Microsoft Word) format.